Possibly as expected, the Volvo V90 Cross Country has not set sales charts alight. In a market where buyers prefer SUVs, including Volvo's own highly acclaimed XC90, a high-riding station wagon was always going to be an eclectic choice. Nevertheless, it remains one of the underestimated gems on the market, especially so in D5 form...
We like: Practicality, understated prestige, superb cabin, exclusivity, safety
We don't like: Overly firm low-speed ride, pricey
Alternatives:
A road-biased premium SUV: Jaguar's entry into the SUV market has not only been highly successful (the F-PACE is the reigning World Car of the Year), but it has been achieved while retaining a distinct Jaguar character. As such, the F-PACE is one of the more dynamic SUVs, yet doesn't mind getting its boots dirty. At this price level you can have the F-PACE 20d R-Sport, which looks the part and is similarly equipped as standard, but lacks the Volvo's grunt and load space.
A smaller, but prestigious German: The Mercedes-Benz GLC is one of our favourite offerings from the stable of the 3-pointed star and marries all that remains class-leading of the C-Class with greater versatility, stylish looks and a modicum of off-road ability. No wonder the GLC is such a strong seller! At this price level you can get the 350d 4Matic Exclusive which out punches the Volvo in performance terms, but lacks the Swede's boot space and a few other features.

Compare the Volvo V90 Cross Country D5 Inscription with the Jaguar F-PACE 20d R-Sport and Mercedes-Benz GLC 350d 4Matic Exclusive by clicking here
Facts & Figures
Price: R880 466 (August 2017 - no options)
Engine: 2.0-litre, 4-cylinder turbodiesel
Transmission: 8-speed automatic
Power: 173 kW
Torque: 480 Nm
Fuel consumption: 5.3 L/100 km (claimed)
0-100 kph: 7.5 seconds (claimed)
Top speed: 230 kph (claimed)
Do you own a Volvo? We'd like to hear from you! By completing our in-depth Ownership Satisfaction Survey, you will be contributing to next year's Cars.co.za Consumer Awards - Powered by WesBank. Click here to have your say!
Market oddball

Excellent ground clearance, all-wheel drive and SUV cladding add to the V90 Cross Country's presence and ability.
With fewer than a dozen V90s having found new homes in the first half of this year, Volvo's handsome new premium, all-wheel drive station wagon is clearly not for everyone. That said, it was never meant to be. What we have here is an entirely practical, eminently stylish and thoroughly up-to-date product that can fulfill a staggeringly wide variety of roles. Let's see how it shapes up in D5 turbodiesel form, which is likely to be the "top-seller" in the lineup.
The Good
Classy looks, inside and out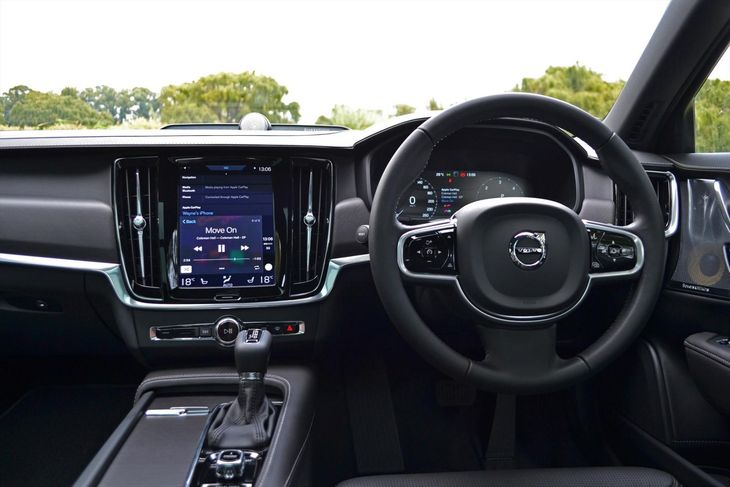 Premium finishes, elegant design and high-tech features are characteristics of all modern Volvos.
Station wagons are often described as "fuddy-duddy", but this V90 Cross Country garnered plenty of praise for its looks as well as plenty of stares in traffic. It's a big car, rides high and looks particularly handsome when fitted with these big 20-inch wheels (R12 750). All the SUV-inspired addenda has been tastefully applied and the result is a car that would equally look the part on a dirt road to a far-off adventure, on the school run, or dropping guests at a luxury, exclusive event.
Inside, we can think of few cars at this price level that can match the V90 Cross Country's combination of modern technology, build quality and overall design. The attention to detail is simply staggering with authentic materials being used for all the touch points, including the knurled starter switch and drive mode selector. The perforated Nappa leather (R11 000) feels of a superior quality, too, and in this test unit extended to the fascia (R15 500).
Pride of place goes to the digital displays, particularly the large 9-inch Sensus Connect infotainment system with its tablet-like functionality. It remains a talking point for anyone travelling in the vehicle, and while it takes a while to get used to it, it certainly contributes to the theme of cutting edge technology married with traditional materials that make modern Volvos so desirable.
Spaciousness and Practicality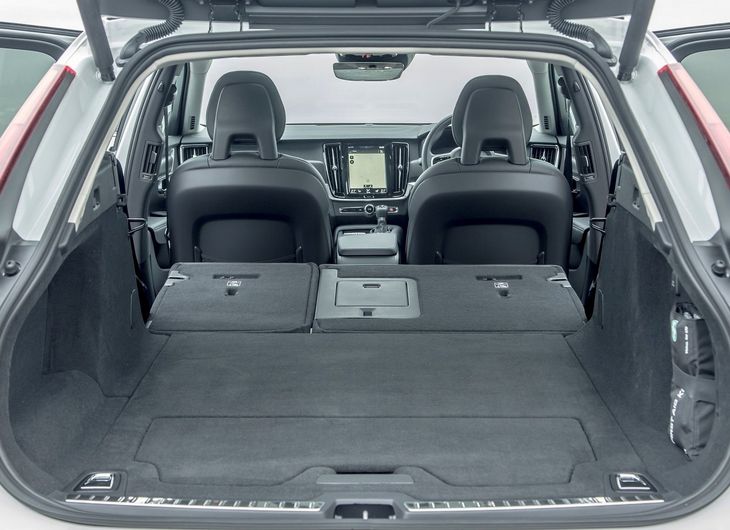 The boot is large and with the rear seats folded flat, total utility space is very impressive.
Riding on a long wheelbase (2 941 mm) the V90 Cross Country offers plenty space, even for 5 passengers. Rear legroom is unlikely to ever be a concern, and with 5 adults in the cabin, comfort levels are high. Rear ventilation outlets are fitted, too. Boot space is generous, with Volvo claiming a volume of 560 litres as a minimum (loaded to the tonneau cover). This can be expanded by folding the rear seats to a commodious 1 526 litres, which compares very favourably with large premium SUVs. Power folding rear seats are optional and are very handy as they allow the rear seats to be folded without any fumbling or stretching into the loadbay.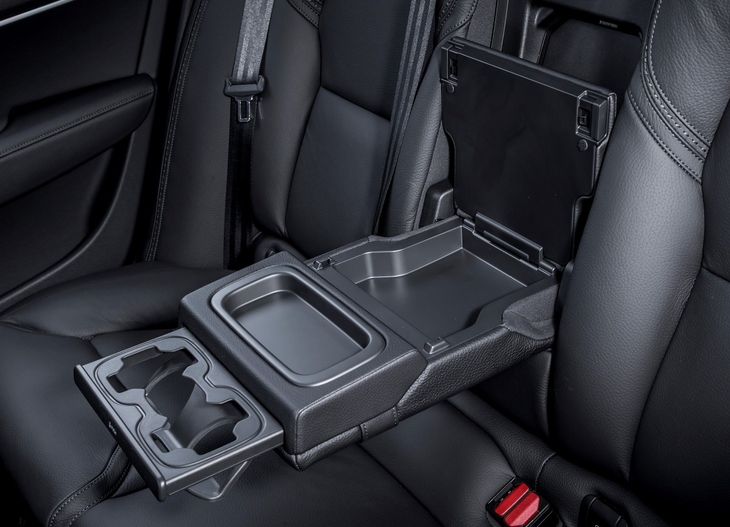 A large rear fold-out armrest with sliding drinks holders and extra storage is provided at the rear.
In the V90's case, however, we must also highlight the actual shape of the load area – the rear seats fold completely flat and the shape of the load area is relatively free of intrusions, so very large box-shaped items can easily be accommodated. A powered tailgate is an optional extra, as is an automated luggage bay cover (R2 000).
Modern functionality

With its latest products, Volvo has upped its technology game significantly, even in aspects beyond the brand's traditional strengths in the various safety departments. As illustrated in the Instagram video above, it is worth highlighting some of the safety features again, however, as they do contribute significantly to the overall appeal (and cost) of the vehicle.
Adaptive Cruise control with Pilot Assist, which can facilitate autonymous driving at speeds of up to 130 kph in certain conditions, is standard fitment. By the way, the V90 Cross Country was recently announced as one of the 3 safest cars ever tested by EuroNCAP, with the other 2 being from Volvo as well and sibling vehicles based on the same architecture (XC90 and S90). Impressive stuff...
Also standard is City Safety (with automaking braking when required) which incorporates a host of features, including pedestrian, cyclist and large animal detection as well as auto-braking at intersections (when turning into the direction of oncoming vehicles) etc. View the video (on the new XC60) below to see all its functions in action.
An underrated feature remains Cross Traffic Alert, which warns when vehicles approach the rear of the vehicle from a position where they are hard to see from the driver's seat (such as reversing out of a parking spot). This option was fitted to our test unit and in one situation, certainly assisted in avoiding a pricey accident.
With regards to infotainment, the aforementioned Sensus system is comprehensive and includes navigation as standard. Based on the functionality of a modern smart device, the system is simple to use once it has become familiar to the operator. Pinch, zoom, slide, select... all these actions will be familiar to most modern consumers and in the case of the V90 Cross Country, allows you to access or control pretty much everything in the car, including the climate control (4-zone as an option in this test unit).
A 10-speaker sound system is standard but our test unit also featured a 19-speaker Bowers & Wilkins premium sound system that costs R39 500 and which delivers magificent sound quality. The infotainment system also offers Voice Control as standard and Apple CarPlay and Android Auto (not available in SA yet, Aug 2017) are offered through the optional Smartphone integration package (R4 000).
Powerful and Efficient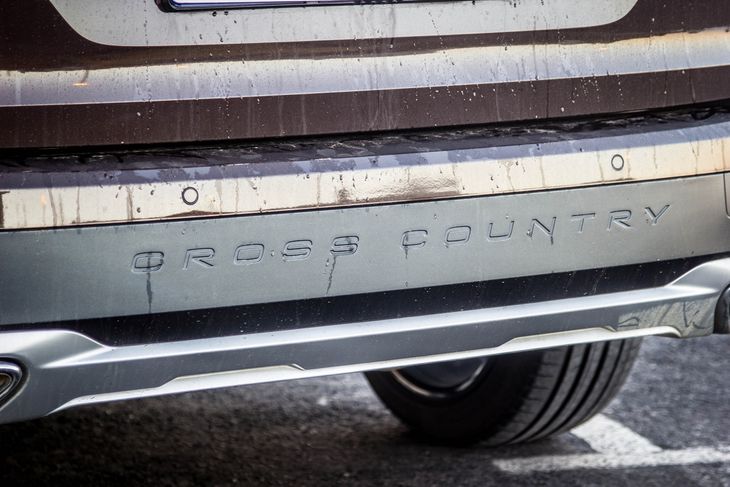 The Cross Country's off-road mode adjusts throttle and gearbox mapping to better suit likely challenges off the beaten track.
The V90, like all new-generation Volvos, is powered by a relatively small capacity 2.0-litre turbocharged engine, in this instance a diesel. It is likely to be the most popular choice in the lineup and develops impressive outputs of 173 kW and 480 Nm of torque. Consequently, the large V90 never feels like it's struggling for performance, and is claimed to be able to sprint to 100 kph in 7.5 seconds and to reach a top speed of 230 kph. In comparison with the turbopetrol engine on offer from Volvo, we found this diesel to be significantly less laggy at the bottom end of the rev range, so the V90 feels responsive even when pottering around. The 8-speed 'box is well-matched to the engine, too, and generally finds the correct gear without fuss or delay.
Another area where the diesel convincingly defeats its petrol sibling is in terms of fuel economy. Volvo claims a combined cycle consumption figure of 5.3 L/100 km, which we obviously couldn't match, but the achieved 7.0 L//100 km was nevertheless impressive for such a large vehicle. With a full 60 litre fuel tank, you should be able to travel up to around 1 000 km between fill-ups, further enhancing the V90's touring appeal. Due to what we presume is exemplary cabin insulation, the diesel engine is remarkably muted throughout.
The (not so) Good
Firm low-speed ride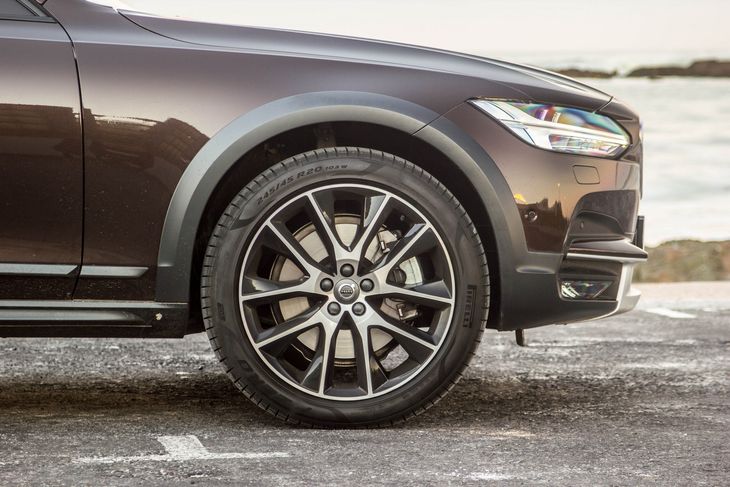 Low-profile 245/45 tyres on large 20-inch alloy wheels may contribute to an overly firm low-speed ride.
Our previous review of the T6 (read it here) highlighted surprising ability off the beaten track. The 210mm of ground clearance actually rivals many SUVs and the air suspension with active chassis (fitted as part of the R75 000 Adventure Pack) copes well with rough gravel surfaces and also allows for greater wheel articulation compared with the standard set-up which uses the integral axle/transverse composite leaf spring set-up of the XC90 at the rear. By selecting the Off-Road drive mode, the ride characteristics are further enhanced to better suit off-roading conditions. So, in terms of offering the type of varying road-surface versatility that the Cross Country name promises, this V90 certainly delivers.
Furthermore, while always on the firm side, the V90 Cross Country is a quiet, comfortable cruiser that makes touring particularly pleasant. We only found the damping at low speeds to be too firm, which means that on really poor surfaces and over speed bumps and the like, the V90 CC can come across as "thumpy".
Pricing and Warranty
As standard the Volvo V90 Cross Country D5 AWD Inscription sells for R880 466, but our test unit was equipped with a number of optional extras, pushing the price to R1 063 785. A noteworthy addition is the Adventure Pack (R75 000) which comprises a number of items such as heated seats, panoramic sunroof, powered tailgate, power-folding rear seats and air suspension with active chassis among many more. The striking 20-inch wheels cost a reasonable R12 750 while the banging 19-speaker Bowers & Wilkins premium sound system adds R39 500. The standard warranty is for 5-years/100 000 km and the V90 also comes with a full maintenance plan of 5-years/100 000 km.
Verdict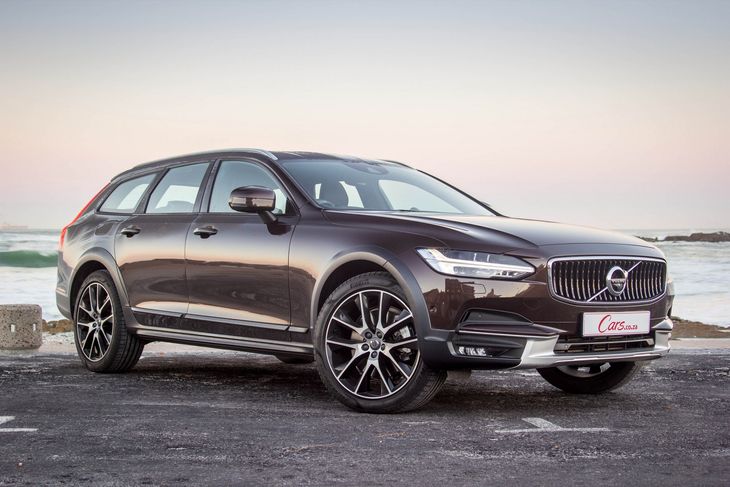 Handsome, luxurious, practical and... eccentric? Can the V90 CC help make station wagons cool again?
As likeable as the V90 Cross Country is, it will remain an odd-ball (and slow seller) in the local market. As it stands it has no direct rivals, but could appeal to someone who would otherwise buy an SUV, but is looking for something less run-of-the-mill, but without sacrificing any functionality. It is also worth noting that even with its high ground clearance and off-road optimised suspension, the V90 Cross Country still feels more like a traditional car on the road, which in some regards is a major benefit. Does it offer the widest spread of talents at the price point? We think it's certainly in the running...
So, ironically, in a world that slavishly follows the SUV market trend, Volvo's slick new spin on the station wagon formula could be seen as avant-garde and borderline eccentric. For whatever reason it is ultimately purchased, practical or emotional, those buyers are settling into a very desirable, excellent car.
You may also be interested in;
Volvo V90 Cross Country T6 AWD (2017) Review
Mercedes-Benz E-Class 4x4 All-Terrain could happen
Volvo V60 Cross Country D4 AWD Extended Test with video
Volvo XC90 D5 Inscription - Cars.co.za Consumer Awards Premium SUV winner 2015/16
Looking to buy a new / used Volvo V90?