Volvo has opted to bring only its raised V90 – the Cross Country – to South Africa, a market in which wagons are usually shunned in favour of SUVs. We test out this raised station wagon that may just represent the perfect compromise between an executive sedan and a mild off-roader.
We like: Styling inside and out, comfortable, dirt road capable.
We don't like: Low down power delivery, low-speed ride quality.
Alternatives:
With no real competitors, we had to think outside the box a bit here.
What is it?
Volvos of yore had certain characteristics: they were spacious, practical and safe. If they looked like bricks, it was a bonus. New generation Volvos (the best examples of which are the 90 series sedan, 'wagon and premium SUV, plus the new XC60 executive SUV) are starkly different... They're stylish, characterful and at the forefront of modern technologies. But wait, what do we have here? An all-new Volvo that's spacious, practical, very safe and shaped like a chiselled brick.
Granted we're being a bit harsh on the V90 Cross Country (CC): it's a very, very good-looking brick. The 90 nomenclature denotes the wagon's shared platform with the S90 and XC90 – the brand's first all-new products since it came under the custodianship of Geely. And the CC tag means that it gets an additional 60 mm of ground clearance over the standard V90.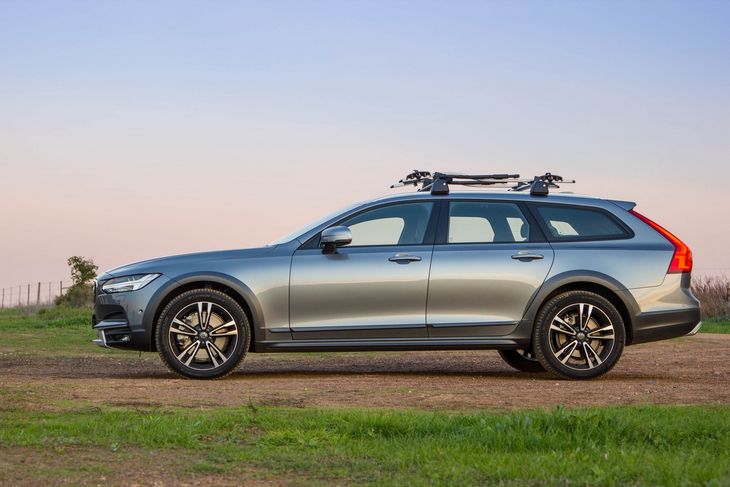 The V90 CC is raised by 60 mm over the standard model (taking it to 210 mm). That's more than a BMW X4 and similar to an F-Pace.
It's not just a raise though, Volvo has tried to make this a proper all-purpose wagon. The tyres have been upgraded to deliver a more comfortable ride when you venture off-road and multiple electronic systems that control stability and ride handling have been tinkered with to improve the V90 CC's handling specific to its intended use.
Our model is the very top-spec V90 CC currently on offer. The T6 is powered by a 2.0-litre turbo and supercharged petrol engine. It delivers 235 kW and 400 Nm through an 8-speed automatic transmission. The all-wheel-drive system is predominantly front-wheel drive, but when required, can send 50% of the power to the rear wheels.
As you can see from the images above, our model was also fitted with a 2-bike roof rack, an accessory that can be fitted by the manufacturer.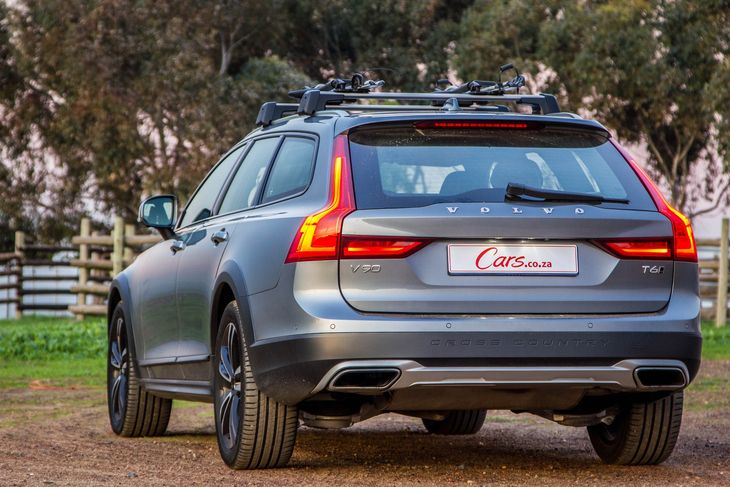 It's a stylish car that harks back to Volvo's old credentials of safe, spacious and practical.
How does it fare in terms of....
Being an off-roading wagon?
The V90 CC may just be the perfect middle ground for luxury car buyers who don't need a low range-equipped, gas-guzzling SUV, but require a modicum of off-road ground clearance with AWD capability to fall back on if things get a little tricky.
With a total of 210 mm of ground clearance, the Volvo actually sits as high as SUVs such as the BMW X4 and Jaguar F-Pace. But, as it is a sedan-based wagon derivative, you sit in a more car-like driving position that's in the car rather than on the car. The added ground clearance and rugged-looking fenders give it some off-road credentials that are actually backed up by a bit of substance. The wet, muddy dirt roads of the Western Cape in winter are a good test of traction, which the V90 CC felt planted and tied down on. As you move away from a standstill, the V90 CC immediately adopts a 50/50 power distribution setup between the axles to reduce/negate any slippage that may result in a break in traction.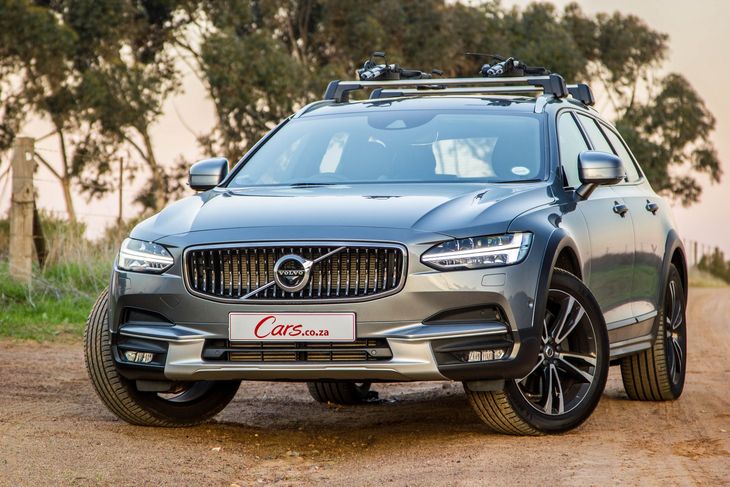 Just enough AWD capability to get you out of trouble but still a very comfortable road car.
The extremely long wheelbase of 2 941 mm means that over sharp ridges or drops, you can scrape the car's underbelly, but most buyers are unlikely to traverse terrain of that nature very often. A good example of the type of off-roading a V90 CC could generally be required to deal with was the sandy tracks of Cape Columbine Nature Reserve near Paternoster. Here we found the off-road driving mode almost too deliberate in its interventions for the only-slightly slippery driving conditions, but we appreciated the Volvo's poise and comfort nonetheless.
Practicality?
As you would expect from a wagon, there is a capacious luggage bay (a claimed 560 litres, to be exact). And, because a station wagon is essentially a stretched hatchback, it's extremely easy to load/slide things into/around the rear of the car. Despite being built on the same platform as the XC90, the V90 CC doesn't offer quite as much capacity as its sibling, but bear in mind that the SUV is a much taller car. With the seats folded down, the Volvo's loading capacity grows to a completely-flat 1 526 litres of utility space, which is nothing short of cavernous.
And how easy is it to access full utility mode? If you've already removed the luggage cover cartridge and have specified the Adventure Pack (for R75 000, as on the test unit), just press 3 buttons. The powered tailgate opens remotely via the key fob and the split rear seatback folds forward electrically! (see below). Our model was also fitted with the optional grocery bag holder (R800) – it's essentially a flap in the boot floor that lifts up to stop shopping bags rolling about. It's a neat option if the shopping hooks in the corner aren't enough for you.
Passenger space is excellent all round and rear occupants, in particular, have loads of head-, shoulder- and legroom. Volvo's exquisite use of leather, brushed metal and plush carpeting creates a luxurious and cosy cabin aura. By the prevailing standard of executive-class car interiors, the 90-series Volvos don't need to fear the opposition... The Adventure Pack further includes luxury must-haves such as; heated front seats; panoramic roof; keyless entry, automatic parking; cross traffic alert and air suspension – to name just a few items.
Munching the miles?
Despite the extra ground clearance, the V90 CC's ride quality doesn't feel too soggy; in fact, it feels well sprung and provides a solid, sure-footed driving experience. The air suspension is an excellent addition, it smoothes out those pesky potholes and freeway joints. At slow speed, the knocks (like those caused by mounting a kerb or bouncing over a pesky manhole cover) are more noticeable, but suffice to say that the level of open-road cruising comfort afforded by the Volvo befits a R1-million car.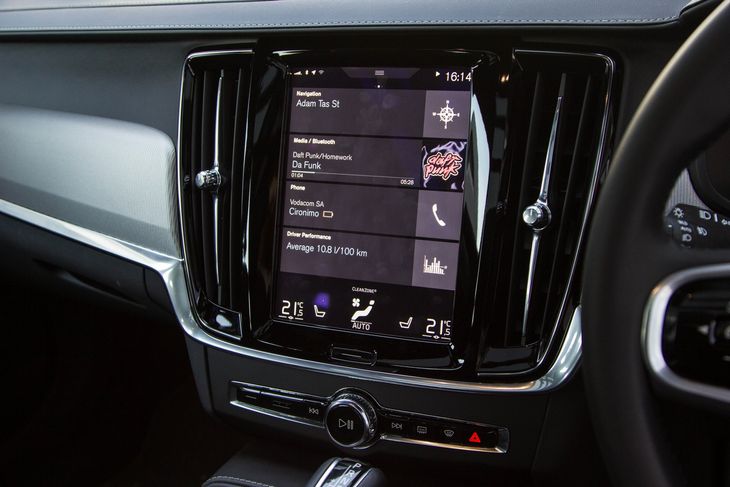 The much-loved Volvo infotainment screen is easy to use and integrates well with Smartphones, but attracts fingerprints too.
The engine has dual charging, which means it's super as well as turbocharged. It's a simple solution to reduce lag and provide a more linear power delivery across the rev range. Unfortunately, it hasn't worked out as well as Volvo hoped. It still delivers the power in heaps and then when off the boil, the powerplant feels lethargic and struggles to get going. This feels worst at slow speed where you want to make a quick getaway or resume acceleration. A mix of multiple shifts down the transmission and real lag gets frustrating as you wait for the power to arrive. Out on the freeway at cruising speeds, it's perfect as the petrol engine sits nicely on the crest of power, allowing for quicker reactions to throttle adjustments.
Fuel economy on the twin-charged unit is claimed at 7.7 L/100 km and we were content with the indicated 9.5 L/100 km, considering the extra drag created by carrying the bikes on the roof rack to Grabouw. We also marvelled at the adaptive cruise control with Pilot Assist system, which allowed us to leave the "driving" to the V90 CC for protracted stretches...
Modern gadgetry?
The Volvo infotainment system is much-loved because it works a lot like a Smartphone (with swipes and prods of the finger). It integrates with phones particularly easily and media is easily accessible via the menu. For an extra R4 000, the system gets Apple Carplay and Android auto, which is a much better solution for Smartphone integration. The R39 500 Bowers & Wilkins 19-speaker system is expensive, yes, but takes the in-car sound to a whole new level. If you're a lover of clean, crisp and voluminous sound then this is the audio setup to have.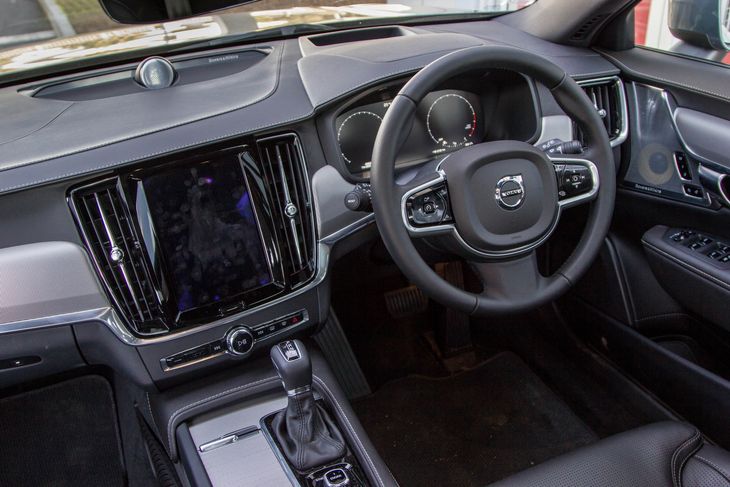 Spot the Bowers and Wilkins speakers in the door. It may be an expensive option (R39 500) but the sound is epic.
Apart from the encompassing infotainment system, the instrument cluster features a digital display that's high in resolution and has a customisable trip computer, although it has to be said this is the hardest system to operate on the entire car as the display's symbols and combinations never quite seem to make sense. Perhaps it just requires more familiarisation.
Pricing and warranty
The V90 CC Inscription's base price is R936 584. Our test unit, replete with Adventure pack options (R75 000) and a few other bits and bobs totalled R1 095 475. It's just about as fully loaded as you can spec an executive car these days. It comes with a 5-year/100 000 km warranty and a 5-year/100 000 km full maintenance plan.
Verdict
The Volvo V90 CC may be the perfect lifestyle vehicle for the buyer who doesn't need low range or go-anywhere ability. It deals with a dirt road and mild obstacles with ease and the AWD system is there for you when the going gets a little tougher. Its road manners are near impeccable and the driving position feels more natural and comfortable than a high-riding SUV.
The wagon's air suspension feels more comfortable out on the open road than around town; bumps and thumps are more noticeable at slow speeds, where the big 19-inch wheels/low-profile rubber combination has a negative effect on the ride quality. The engine, while delivering some impressive figures for a 2.0-litre twin-charged 4-cylinder, has a noticeable dead spot at the bottom end, therefore it still takes a while for the big Volvo to get underway as everything seems to need to spool up before real power is delivered.
In conclusion, the V90 CC looks like a wagon, but hopefully it won't fall prey to the negative stigma attached to estates, especially large ones, in our market. It looks more like a low slung SUV with its raked windscreen, but drives like a sedan and we think it has a major "cool factor" about it. Currently, the V90 CC has no direct competitors, so it has 100% of the (admittedly rarefied) market to itself. It's a very capable car and has all the boxes ticked for success, but does it have the appeal of the SUV in SA? We think not.
Related content
Volvo S90 R-Design in SA (2017) Specs and Price
Volvo to go "fully electrified" from as early as 2019
Volvo Polestar to build standalone models
Volvo XC60 (2017) Launch Review Video
Interested in buying a V90?