The 3rd generation of Volkswagen's flagship SUV, the Touareg, has arrived in South Africa, replete with crisp, modern styling, a sumptuous interior and excellent refinement. Can it finally gain a notable foothold in the fiercely-contested premium SUV segment?
We like: Cabin design, comfort, build quality, power/efficiency
We don't like: Expensive options
Fast Facts
Price: R999 800 (August 2018)
Engine: 3.0L V6 turbodiesel
Gearbox: 8-speed automatic
Fuel economy: 7.1 L/100 km (claimed)
Power/Torque: 190 kW/600 Nm
SERIOUS ABOUT BUYING?
Where does it fit in?

New Touareg is longer and wider than its predecessor, but also lower and significantly lighter.
Based on the same platform as other ultra-desirable vehicles in the Volkswagen Group, such as the Porsche Cayenne, Bentley Bentayga and Lamborghini Urus, the new Touareg certainly boasts impeccable pedigree. Previous Touareg offerings couldn't quite break into widespread Premium SUV segment consideration, but a few things may play into the new car's favour.
The most important factor is that the traditional German luxury brands' offerings are getting too pricey, beyond the reach of many would-be large SUV buyers. A new BMW X5 will arrive soon (it will undoubtedly be more expensive), and the next Mercedes-Benz GLE should follow in 2019. That means buyers shopping around the R1-million mark will struggle to match to the new Touareg's combination of spaciousness, luxury and power when they head to an Audi/BMW/Mercedes-Benz dealer.
Also Read: Is VW's Touareg a bargain Bentley?
Of course, the Touareg has always been claimed to offer "more premium SUV" for less, but perhaps for the first time ever, its launch coincides with a time when the A-listers' challengers are not particularly up-to-date, and Volkswagen's new entrant, as you'll shortly see, certainly is.
What's good about it?
Crisp design and superb packaging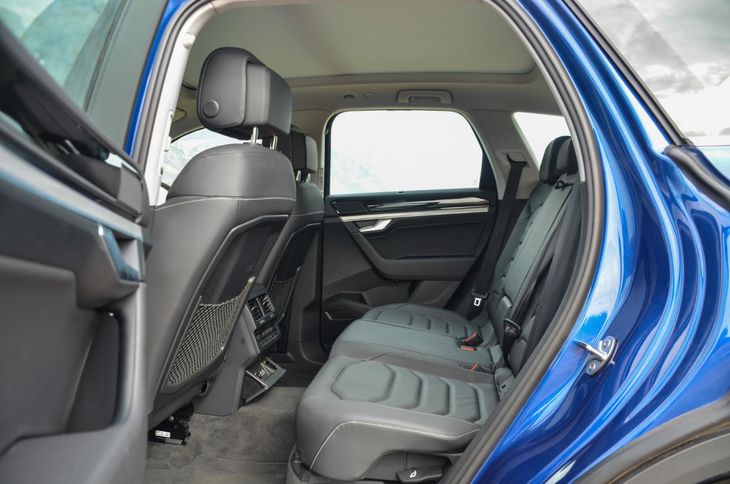 Rear legroom is excellent. Note the rear climate controls on this test unit.
With its gains in length (+77 mm) and width (+44 mm), the new Touareg offers significantly more luggage space than its predecessor. At present, there are few premium SUVs (at least at this price level), that offer similar levels of occupant space and such a capacious luggage bay. Using levers placed along the sides of the bay, one can easily fold the seats down. Given the likely usage pattern of this vehicle, the standard electrically folding tow hitch will be widely appreciated.
In terms of overall design, the new Touareg also holds significant appeal, though we suspect many owners will opt for the more expressive looks of the R-Line package (more on that later). Still, we like the square-jawed front of the newcomer, and the detailing of the LED headlights and tail lamps is particularly attractive. On this Luxury-badged "entry-level" Touareg, there's just the right amount of chrome, and you get 19-inch wheels as standard, which can (at no cost) be replaced with 18-inch wheels and a higher-profile tyre, should you wish to prioritise ride comfort. A vast panoramic sunroof is fitted.
Inside, we appreciate the attention to detail – a hallmark of Volkswagen interiors. The perceived quality is excellent in most areas and the accentuated curve that frames the lower part of the facia is a very strong design feature that works even better when coupled with the InnoVision digital cockpit (not fitted to this test unit). As ever, the driving position is superb with a generous range of adjustment for both the seat and the steering column. Speaking of the 'wheel, it's a weighty, leather-wrapped item that makes a particularly strong quality impression.
Performance/Efficiency balance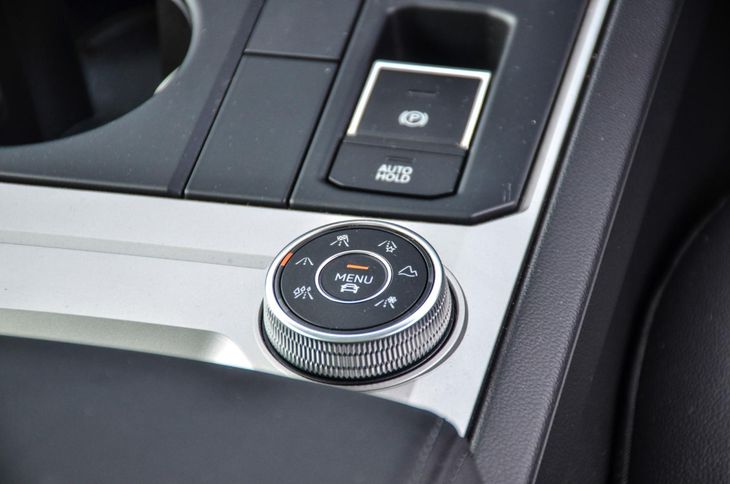 It's highly unlikely to frequently be used off-road, but nevertheless the new Touareg comes with several modes to handle those rare adventures off the beaten path.
This Touareg is powered by the Volkswagen Group's much-admired 3.0-litre V6 TDI (turbodiesel) engine, and it's the powerplant that you'll also shortly see in the upcoming flagship Amarok. It punches out 190 kW at 4 500 rpm and 600 Nm of torque from 2 250 to 3 250 rpm. These are almost unbeatable peak outputs for a similarly-sized luxury SUV priced at around R1 million – yes, the 3.0-litre turbodiesel in the Jaguar F-Pace offers more power, but it's a slightly smaller vehicle.
The motor is very smooth and refined, but when a sportier mode is selected it certainly is capable of delivering impressive thrust. Volkswagen doesn't quote a 0-100 kph time, but we expect the number to be around 8 seconds. More importantly, overtaking power is excellent and there is also a quoted 3 500kg tow rating (braked).
The engine is mated with an 8-speed automatic transmission (with paddle shifts), which works fine in most instances, but can at times be a little too hesitant to change ratios as circumstances require. Volkswagen claims a combined-cycle consumption figure of 7.1 L/100 km, which of course will be hard to match on a daily basis, especially if most of your driving is around town. We achieved figures of between 8.5 and 9.1 L/100 km, which we believe to be more than acceptable, given the usage patterns during the review period. The impressive efficiency is undoubtedly aided by the drop in vehicle mass of around 100 kg compared with its forebear.
Good standard specification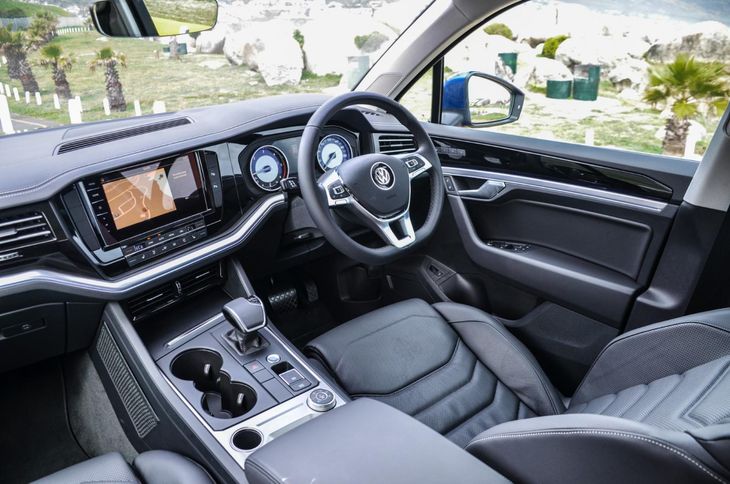 Superb front seats, good connectivity features and a focus on comfort and luxury, as opposed to flashy design, make the Touareg Luxury's cabin a very nice place to be.
This is a R1-million vehicle and so, regardless of its technical prowess, spaciousness or refinement, prospective owners will want as many toys as possible. The Touareg Luxury delivers a more comprehensive suite of features than similarly (or even more expensively) priced premium-badged competitors. For example, you get a panoramic sunroof, an electrically folding tow bar, electrically-powered tailgate, adaptive cruise control and the Discover Pro navigation system as standard.
The seats are superb, with the leather-trimmed "Vienna" front seats offering climate control in addition to electric adjustment (and memory settings).
The safety specification is also excellent, with no fewer than 8 airbags in addition to the expected package of driver assistance systems. Park Assist (automated parking) and Park Distance Control are also included as standard.
Ride comfort & Agility

Discover Pro navigation system is standard. Also note controls for seat heating/ventilation.
Like most new-generation Volkswagen platforms, this new Touareg delivers a level of ride refinement that is deeply impressive. On most surfaces, including gravel, owners are likely to be pleased with the combination of refined damping and good body control. Only in very rare circumstances will sharp jolts upset the calm ambience in the hushed, insulated cabin.
There are some optional extras that one should consider in pursuit of the ultimate combination of ride and handling. There is a 4-wheel air-suspension system, for example, that costs R51 950 and which incorporates rear-wheel steering to further improve agility. And, as mentioned before, you can also, at no cost, opt for a smaller wheel.
Many SUVs at this end of the market attempt to achieve "sportscar"-like dynamic ability, and the MLB platform is certainly capable of delivering such dynamism in sibling vehicles (the Cayenne and Urus spring to mind), but in the Touareg, the focus falls on comfort and luxury. In our view, there's nothing wrong with that.
Where does it fall short?
The really nice stuff costs A LOT extra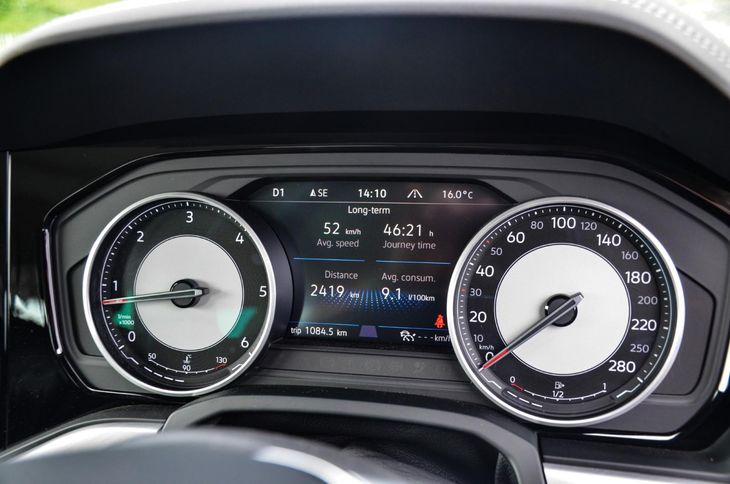 The Touareg Luxury's standard instrument cluster is certainly functional and attractive, but many shoppers will likely be tempted by the striking (optional) InnoVision premium digital cockpit that costs a whopping R74 900 more.
While we do think the new Touareg offers a commendable package of features as standard, and certainly a better suite of equipment than most rivals, the really nice stuff costs A LOT extra. At this end of the market, appealing design and cutting-edge tech are important factors – these are prestige vehicles, after all – and so we think the sporty R-Line styling kit, in particular, will be tempting for many customers. It makes the reasonably conservative Touareg's design come alive, and will turn far more heads. But... that cosmetic upgrade costs a whopping R60 500.
Then there's a major talking point of the new Touareg: it's startling InnoVision digital cockpit, which blends a vast and strikingly crisp 12-inch instrumentation display with a 15-inch Discover Premium infotainment system to really turn the Touareg's already impressive cabin into a real showstopper. It costs an eye-watering R74 900.
There are more optional extras of course (including a very high-tech Advanced Safety Package with night vision etc.), but for us, the above 2 items turn the new Touareg into a visual feast, albeit one that suddenly hurts the wallet significantly more.
Pricing & Back-Up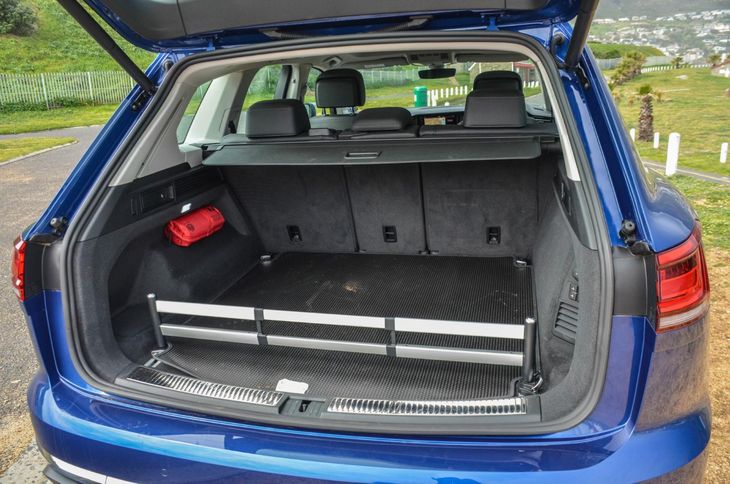 The boot is large and practically shaped. Test unit features optional Cargo Package (R6 850). A folding tow hitch is standard fitment.
In standard trim, this entry-level Touareg sells for R999 800 (August 2018), but there are a number of optional extras available. Our test unit also came with the Ambient Light Package (R7 900) and a Cargo Package (R6 850). In fact, you only have to specify metallic paint (R4 950), to take it over R1 million. Four-zone climate control adds a further R8 850. The product comes backed with a 3-year/120 000 km warranty and a 5-year/100 000 km maintenance plan. Services are scheduled for every 15 000km.
Verdict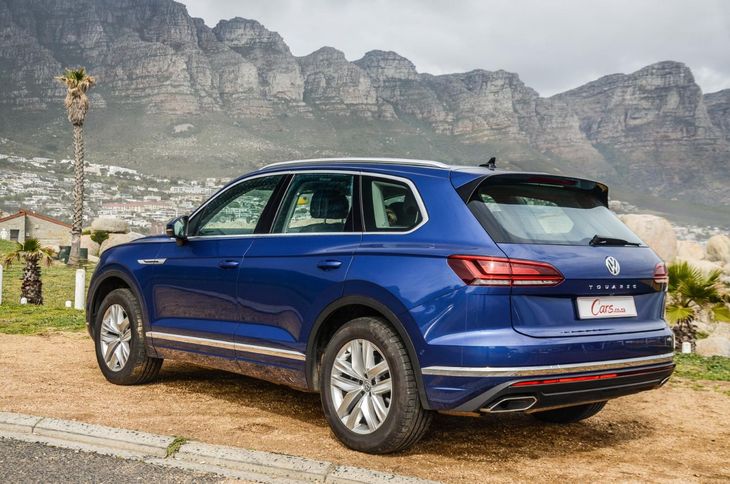 New Touareg is a superb offering that offers a blend of refinement, luxury and spaciousness that's hard to beat at the price.
More than ever before, Volkswagen's Touareg is now a very serious challenger to the perennial favourites in the Premium SUV segment. It no longer gains a competitive edge simply because of its keen asking price, either. This is a quality product that offers excellent refinement, comfort and, if adorned with some of the optional extras such as the R-Line package and the InnoVision cockpit, also a rather large helping of the all-important (in this segment) wow factor.
Alternatives (click on the names for detailed spec info)
Volvo has made great strides in recent years and the resurgence has been led by this vehicle, the 3-time Cars.co.za Consumer Awards - Powered by WesBank, Premium SUV of the Year. In D4 guise it can't match the VW's power and also lacks a few features, but it does counter with more space and an extra row of seating.
A new Mercedes-Benz GLE arrives next year and the current model is certainly no spring chicken. Nevertheless, if you simply MUST have one of the 3 traditional German luxury brands' badges on the nose, the 250d is the most affordable way of getting into a 'Benz. It can't match the VW for power or specification. More importantly, the Benz lacks the modernism of the Touareg's cabin and the refinement of its drivetrain/underpinnings.
The Touareg's sister car is now a few years older, but still a refined, spacious alternative in the Premium SUV segment. Of course, it can't match the Volkswagen for specification, but you can at least get 3rd-row seating if you'd like (at extra cost).
Looking for a new / used Volkswagen Touareg to buy?
Find one on Cars.co.za today by clicking here