In the space of a month, 3 significant luxury SUVs have been launched in South Africa: Bentley Bentayga, Lamborghini Urus and Volkswagen Touareg. They have something vital in common, but which one is a better deal than the others?
They say beauty is more than skin-deep and with automobiles and their inherent value, it's perhaps even more so. Blind your bias to appearance, dissolve the hollow confidence of orchestrated marketing and you might discover some incredibly underrated engineering equals in the market... We're talking about vehicles that share a similar core technical competency, despite vast differences in detailing and price.
As the world's biggest car company, you'd expect the VW Group to have a few overlapping instances of platform engineering. Within its vast portfolio of brands, there are certain models which share a lot – and if you scrutinise the commonalities cleverly, there is also tremendous value to be had. Value anchored in sound engineering and technical principles, but ignored due to a market obsession with brand perception.
The issue of Volkswagen AG's shared platform strategy isn't a new topic, but the staggered local arrival of some hugely impressive premium and first-class SUVs from Bentley, Lamborghini and Volkswagen, all of which share a common technical ancestry, warrants a fresh discussion.
Why MLB is a big deal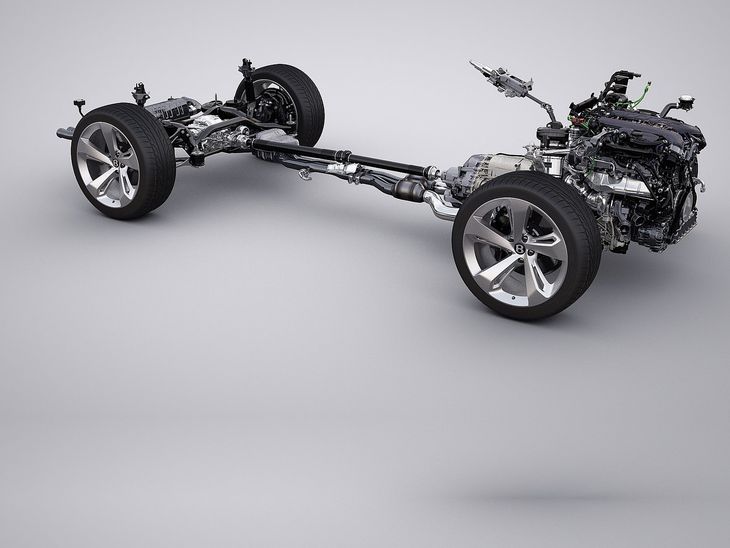 The MLB platform setup for the Bentley Bentayga.
Luxury SUVs are increasingly becoming the profit pony for automotive companies. We are all familiar with them, thanks to a proliferation of previously unimaginable brand associations now proudly marketing SUVs: Bentley and Lamborghini being both the latest and most notable.
These elevated 5-door behemoths can cruise at 250 kph on the German autobahn and navigate South Africa's immense network of secondary gravel roads with equal aplomb. Broadening market demand and a more diverse customer geography has generated sufficient demand for Bentleys and Lamborghinis that can go where no Mulsanne or Aventador owners would ever dare.
The secret to enabling Bentayga and Urus is a simple acronym: MLB. It's one of Volkswagen's immensely overengineered vehicle platforms, the kind of project that occupies thousands of engineers and absorbs massive investment. Its aim? To enable all the brands within VW's corporate organogram to react faster to changes in market demand, whether there is a need for an entry-level hatchback or limited-production supercar.
Aston Martin is still dithering about delivering an SUV to market and Ferrari promises Maranello will have something capable of gravel travel soon, but it has stopped short of committing to a date. In comparison, it's remarkable that both Bentley and Lamborghini, equally storied brands which are decidedly low-volume, have delivered comprehensively accomplished SUVs to market before any of their rivals. The reason is simple: MLB.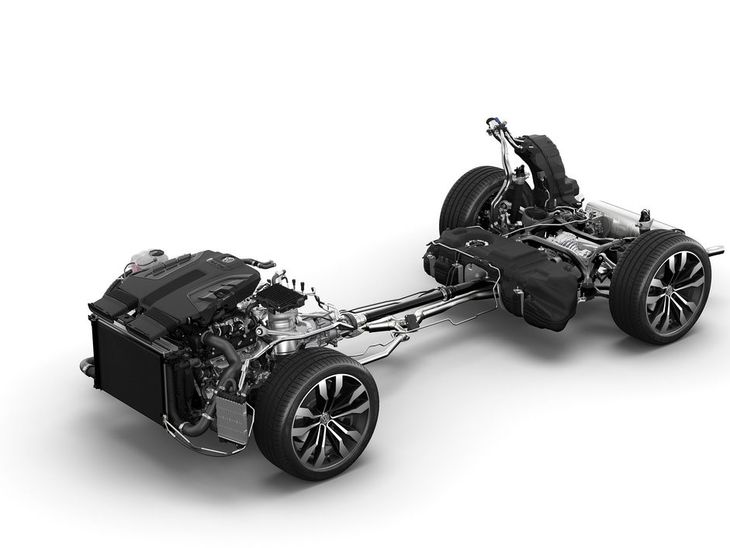 Lamborghini Bentayga disguised as a Volkswagen Touareg platform?
Despite the intimidating German name: Modularer Längsbaukasten, VW's MLB strategy is about simplifying its business without sacrificing engineering competence and ultimately: customer experience. A Bentayga must ride with the necessary decorum and appropriate Bentley-calibre silence on its MLB platform, just as much as Urus is required to corner and accelerate in a manner expected from Lamborghinis, using the same structure. As such, there can be no compromise in the MLB platform's fundamental engineering, one that also underpins the new Touareg…
Only a few elements of MLB are fixed: the windscreen angle, pedal box/firewall location, the orientation of the engine and position of the front wheels. The structure is entirely adaptable in length, which means you can build a variety of different luxury vehicle applications on it, provided you use the same engine orientation. It's a world of industrial engineering simplicity, which enables tremendous scaling of resources.
Is a Bentayga (or indeed an Urus?) merely an overpriced Touareg?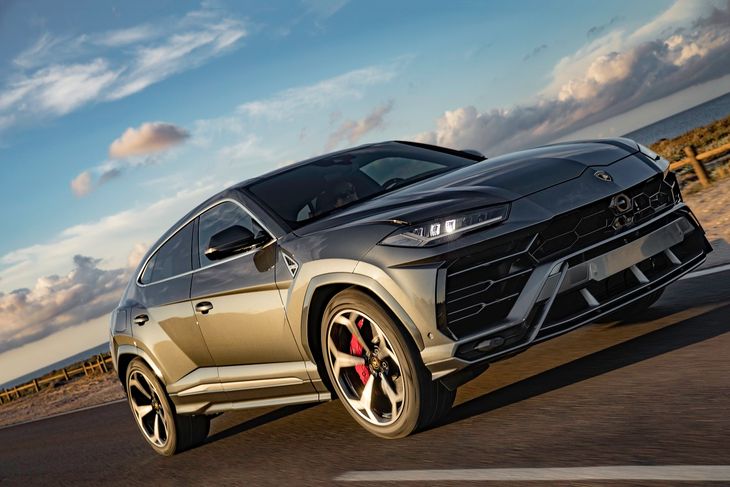 The Urus has used its underpinnings for sporty handling and dynamic acceleration - petrol powered.
It's a burning question. If their structures are similar, why pay 3 times the money for a Bentayga or Urus, when you could have a Touareg instead?
The first fallacy in this comparative argument is that Touareg does not offer nearly the engine options Bentley or Lamborghini do. The Urus is a 478 kW output vehicle powered by a 4.0-litre twin-turbocharged V8 that spins to 6 750 rpm. Bentley will offer you immensely torque-rich options, such as the 900 Nm 4.0-litre tri-turbodiesel V8, which arrived on local shores at the beginning of July 2018. Touareg's engine portfolio is rather limited and less glamorous in comparison: a range of V6s, of which the South African market only has the option of a 3.0-litre V6 turbodiesel, for now.
These incredible engines certainly account for some of the pricing difference between a Touareg, Urus or Bentayga. So does the cabin trim, which is outlandishly luxurious and handmade on the Bentley. To its credit the Urus features an exceptionally sophisticated code of engine, transmission and steering ratio algorithms, which are many times more aggressive than either Bentayga or Touareg's electronically harmonised dynamics.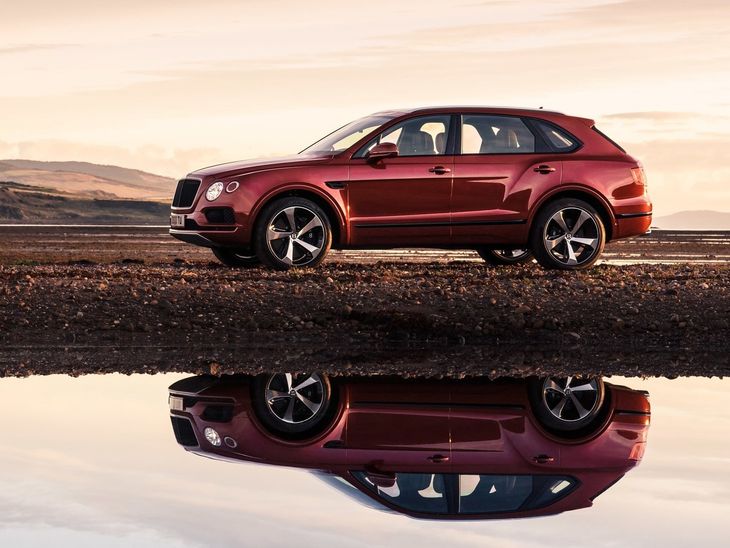 The Bentley Bentayga prioritises torque, a hefty 900 Nm if it in its highest form.
Bentley's claim for their MLB SUV is unparalleled refinement: a quietest-in-class cabin, accounting for its immense mass, which is 500 kg more than a Touareg. Another example of differentiation between the boutique brand MLB SUVs and Touareg is how Bentayga's substantial kerb weight has necessitated a customised engineering solution, with active roll-bars at both axles, gifting Bentayga a matchless combination of air-cushioned ride quality and unrivalled active roll-mitigation. The anti-roll bars are split, with an electric motor in the middle, and the moment it senses lateral weight shift, those motors drive greater rebound pressure onto the outside wheel, flatting the Bentayga's stance when every bit of logic is telling you the big Bentley should be leaving the road and ending up on its roof.
Engines. Sound-deadening materials. Exotic cabin materials. And trick suspension technology. These are inarguable technical elements of differentiation between Bentley and Lamborghini's MLB SUVs and Touareg.
The benefit of buying into superior breeding
Volkswagen's been clever to ensure a sufficient degree of separation in purpose, thereby allowing Touareg, Bentayga and Urus to silo into different niches, and out of any rivalry with each other.
One of the most challenging aspects of engineering a superior vehicle structure is deciding how the engine is going to be orientated, the driver accommodated, and front wheels mounted. Miscalculations or compromises regarding any of these technicalities will deliver a vehicle with compromised weight distribution under braking and clumsiness into tight corners (engine location), an annoyingly compromised driving position (pedal box ergonomics) and lethargic handling (front-wheel placement).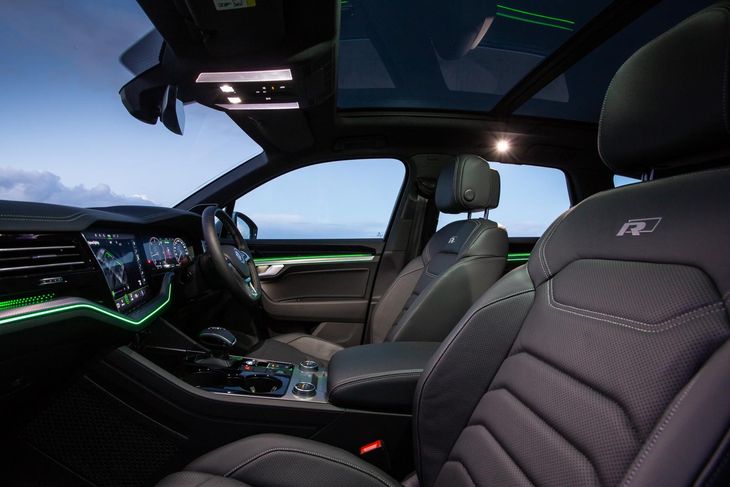 Is the quality markedly different enough to warrant a couple million rands difference in price between the Touareg and its siblings?
Get these platform decisions correct and you are destined to build greatness, irrespective of eventual wheelbase length (which is variable with MLB), cabin materials, sound insulation or engine power. It's here where Touareg presents an amazing value proposition. For years the best buy in VW's portfolio was the rather stealthy Passat (for all intents and purposes a discounted Audi A4). The analogy between Passat/A4 and Touareg/Bentayga/Urus is this: with the VW-branded larger MLB SUV, you're buying into the most over-engineered large SUV architecture there is.
With Bentayga and Urus occupying the rarefied high-performance SUV segment with overwhelming engine power, there is an irony in the Touareg's stealth MLB status. When product planners revealed the original Touareg it was a vehicle so unique within VW's portfolio, there was no risk of cannibalising any sibling brand, as Bentley and Lamborghini weren't remotely interested in SUVs a decade and a half ago. As such, engineers could develop outrageous engine options for the Touareg: which debuted with a 5.0-litre turbodiesel V10. The possibility of a radical high-performance Touareg is less likely now, as it would possibly cannibalise Bentayga or Urus market cache, not necessarily competing on price or exclusivity – but certainly on capability or performance. Because at its core, there is little difference, save for the engines…
The future for Touareg, in collaboration with its MLB SUV siblings, is to be a junior partner in Volkswagen's attempt to dominate the luxury SUV market completely. Expect a future of greater hybridisation, instead of 1000 Nm diesel engines or detuned Urus V8s. But if you want to buy into a vehicle with indisputable Bentley and Lamborghini technical relations, Touareg is a veritable bargain.
It will be interesting to see how many South Africans make the correlation and spend their money so wisely, on what is now certainly the engineer's choice in luxury SUVs. With Passat, South Africans were unable to recognise engineering excellence and separate it from brand bias. For the few who see the MLB value beneath that VW badge, they'll be guaranteed an immensely contented ownership experience, driving a vehicle which was, at its core, designed to cope with the performance demands of Bentley and Lamborghini...
Related content
Volkswagen Touareg (2018) Launch Review
Bentley Bentayga Diesel (2018) Launch Review
Lamborghini Urus (2018) International Launch Drive