Volkswagen's latest SUV seems to be on the lips and shopping lists of compact SUV buyers in South Africa. Is the Tiguan now the default choice in the segment? We look underneath its sexy R-Line kit to see if beauty is more than skin-deep.
We like: Upmarket feel, trendy exterior, superb build quality
We don't like: More turbo lag than we expected, ride quality not as pliant as we have come to expect from VW
Alternatives:
For better value: Mazda CX-5 2.5 Individual offers more equipment as standard and has a sportier drive (if that's what you want from your SUV). It's a bit smaller inside than the Tiguan though. The Mazda CX-5 2.5 Individual is priced from R468 300.
For a stylish alternative: Hyundai Tucson 2.0 Elite auto is closest to equalling the VW on exterior style, but its 2.0-litre engine proves to be quite thirsty and it lacks torque, which is particularly useful when there is a full load aboard. The Tucson 2.0 Elite auto is priced from R454 900.
For something else German: BMW X1 sDrive 18i is priced close enough to tempt those looking for a more premium badge on their bonnet. It's not particularly well-specced at its base price, so review the options list closely. The BMW X1 sDrive 18i is priced from R476 742.
A style revision
The new Tiguan represents a major style upgrade from its predecessor and has gained great road presence. We were occasionally chased through parking lots, plus called out to in traffic and forced to answer rapid-fire questions about the Tiguan's availability, something that's more of a rare occurrence than you would think. The Tiguan pictured here is fitted with an R-Line body kit, which is an R18 000 option. Having seen some Tiguans without R adornments, we would highly recommend paying the premium. Beyond the exterior, there have been vast improvements to the interior quality and practicality.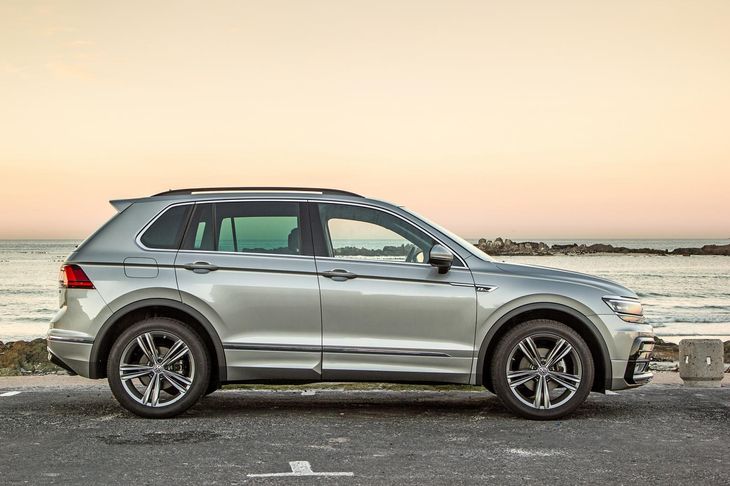 Tiguan's proportions, in tandem with optional R-Line kit, make it a very attractive SUV.
How does it fare in terms of…
Space and practicality?
As you'd expect with a new model, it's bigger inside, but without actually being physically all that much bigger than before. Length wise, it's a touch longer, but height-wise it's shorter and has less ground clearance than before. The wheelbase has been extended, which helped to free up additional interior space.
The luggage capacity is vastly bigger than before – by over 100 litres, in fact. Consequently, the Tiguan has one of the largest loading areas in its class: you can haul 520-litres in the back before you need to fold the rear seats down. The electric tailgate fitted to our model is an optional extra but the ability to open the hatch remotely (via a press of a button on the key fob) is a handy feature when your hands and arms are occupied with shopping. What's more, the shopping hooks fitted to the corners of the bay are also useful for keeping your cargo from moving around in the back while you are driving.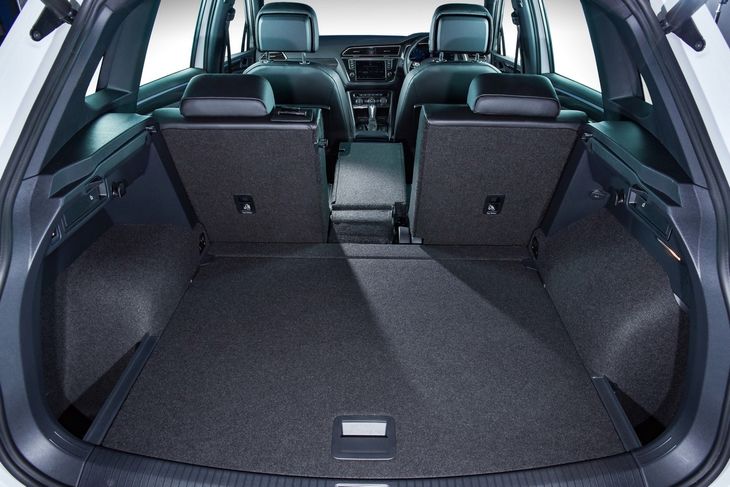 The boot capacity of the new Tiguan is 520-litres, that's more than 100-litres bigger than the previous Tiguan!
The back seats offer ample legroom, even for tall adults, and you won't be bumping your head on the roof either, as headroom is generous. The aeroplane-style table trays are practical, especially the pull-out cup holders that keep rogue splashes of drinking yoghurt from turning the cabin into a Jackson Pollock.
Meanwhile, the front door pockets can accommodate large bottles and the centre tunnel has two retractable cup holders. There is also more than enough space available around the fascia to store your clutter.
Ride and drive?
The new Tiguan is based on the MQB platform, which underpins a variety of the Volkswagen Group's compact products. We've repeatedly praised the ride quality of "MQB cars", but the Tiguan may be an exception because the newcomer seems a little firmly sprung for local road conditions.
The rear suspension, for example, thuds harshly on bigger road imperfections, at least more than you would expect, and the car's overall ride characteristics appear less composed than those of a Golf or Audi Q3. The 19-inch 45-profile tyres that come with the R-Line kit arguably contribute to the slightly firmer ride, so we'd recommend buyers stick with 17s or 18s. That said, the Tiguan's not the worst riding car in its class, it just doesn't meet VW's lofty standards.
As for the driving experience, it's very good. The Tiguan's steering is nicely weighted and progressive. It corners well, dealing with changes in direction quickly and with little body roll. It's a very easy car to jump in and get to grips with and you'll feel confident from the second you set off on your journey.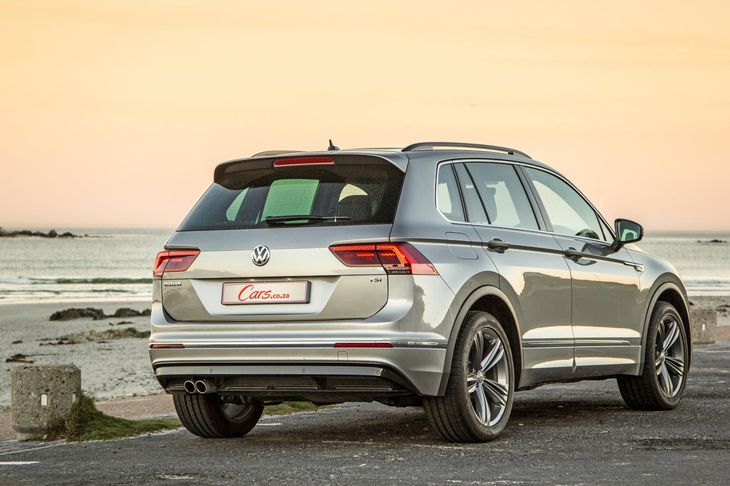 R-Line kit comes with 19-inch wheels that exacerbate a harsher ride quality. There are 17s and 18s on offer.
Performance?
This Tiguan uses the uprated 1.4 TSI turbopetrol engine, which means that it produces peak outputs of 110 kW and 250 Nm of torque. The power is sent to the front wheels via an excellent automatic 6-speed DSG (twin-clutch) transmission that performs shifts almost unnoticeably, as if in the distant background. Freeway acceleration during overtakes feels ample and it will happily cruise at the national speed limit with plenty power in reserve if you need it.
In town, we felt the engine had too much turbo lag at pullaway. If you're turning right at an intersection, it's tricky enough without having to worry about being stranded at the intersection because there wasn't enough poke from the motor to make the turn before the traffic light filter arrow goes out. When the boost does kick in, you've mashed your right foot almost to the floor and mid-intersection wheelspin ensues. It's not the finest driving moment you're likely to have in a car and something you need to be mindful of with this engine...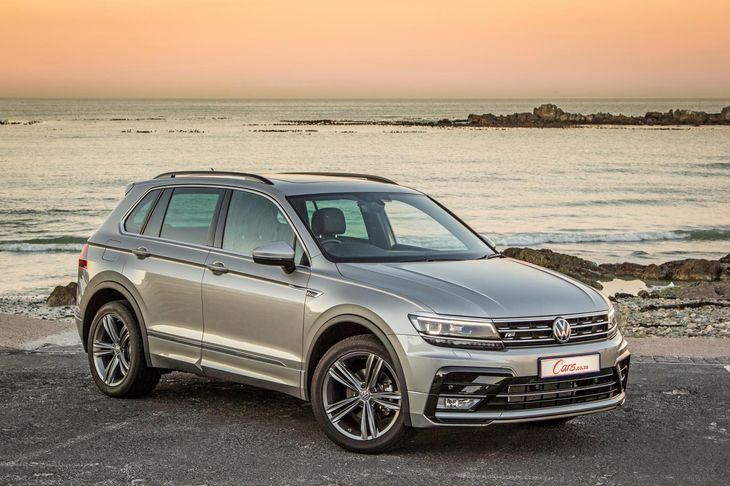 The 1.4 TSI turbopetrol suffers from turbo lag on pull off but once up to speed, it has plenty of torque for overtaking.
Our model also seemed to be prone to holding onto gears too long – something very unusual for a DSG gearbox that aims to get into the high gears as quickly as possible. We would occasionally find the gearbox in 3rd or 4th with the revs quite high up and no shift in sight. A quick manual shift seemed to reset the gearbox and it would go about normal duties again. This obviously had an adverse effect on the fuel consumption as we couldn't get close to the 6.1 L/100 km claimed figure and returned the car after our test with 9.1 L/100 km showing on the onboard computer.
Interior refinement?
Volkswagen has certainly upped the standard of cabin quality availed in a family SUV. The Tiguan's interior exudes quality and upmarket simplicity. While the leather-trimmed cabin appears quite dark/sombre, the tasteful aluminium accents give the fascia and assorted switchgear that fancy corporate boardroom feel. The infotainment system has been upgraded and can optionally be fitted with App Connect, allowing for full Smartphone integration for Apple CarPlay and Android Auto. The infotainment system is responsive and its display is relatively hi-res. It takes a bit of time to figure out the intricacies of navigating the system: many of the buttons have double tap menus that open up more features.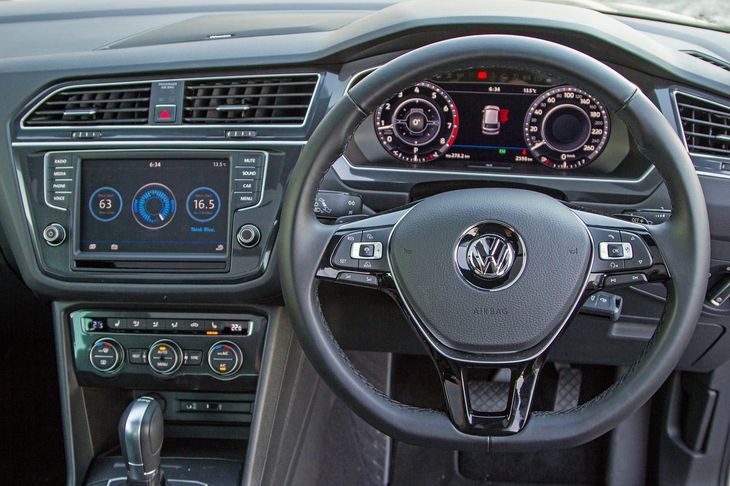 Interior and refinement and quality are top class and the digital display is a must-have.
Additionally, the new Tiguan can be fitted with the Active Info display. It's a stunning upgrade for the instrument cluster that makes everything digital, easy to read and crisp. We first used it on the Passat and it's very similar to Audi's Virtual Cockpit, but it's probably a little bit better if we're entirely honest. Volkswagen certainly knows how to get the mix of family practicality and upmarket comfort spot on.
Verdict
It's very easy to be swooned by the new Tiguan. Its attractive exterior, thanks to the R-Line kit, makes it stand out from the raft of family SUV offerings. The spacious interior is also a cut above with superb build quality and finishes and a fantastic, albeit optional digital instrument cluster. Dig a little deeper and it's not all roses. The ride on 19-inch wheels is jittery, the low-speed turbo lag can be frustrating in traffic and the sporadically erratic transmission behaviour of the test unit detracted from a generally superb product. It's a product that will sell strongly based on its sheer desirability and, to be fair, merit, but once you've considered all the extra-cost options you'll want, you're looking at an asking price of more than R500 000 – that's pricey for a small turbopetrol when there are torquey 2.0-litre turbodiesel rivals available (from new) around the same price.
Related content
5 Cool Things About the New Volkswagen Tiguan
Volkswagen Tiguan (2016) Specs and Pricing Announced
Hyundai Tucson 1.6 Turbo Executive Manual (2016) Review
Search for a used VW Tiguan here
Watch the Volkswagen Tiguan 1.4 DSG (2016) Video Review below:
Interested in buying a Volkswagen Tiguan?