Volkswagen has released a teaser image of the updated Arteon as well as the Arteon Shooting Brake.
German carmaker Volkswagen will be revealing the updated Arteon on the 24th June 2020, but the big news is the range will be joined by an Arteon Shooting Brake.
Given Europe's love for the station wagon, it should fare rather well in the sales stakes, despite the immense popularity of the SUV.
The updated Volkswagen Arteon will feature substantial revisions both inside and out, with many speculating it'll gain the all-new infotainment system that's been seen in the new Volkswagen Golf 8. In terms of engines, we're expecting largely the same engines as before, the option of all-wheel drive on some models, which should find favour in the colder European markets. There's also a strong rumour of an Arteon R, packing the same engine from the Volkswagen Golf R.
The R version of the Volkswagen Arteon would gain a sportier suspension setup, quad exhausts and as you can see in the photo, blue brakes. We also suspect the engine would be given the full R treatment and like other Volkswagen R products, it would be the 2.0-litre turbocharged 4-cylinder delivering 220 kW and 400 Nm. However, we do know that the next-gen Volkswagen Golf R will get 245 kW, so that could also be an option for the newcomer. Power will continue to go to all 4 wheels via a dual-clutch transmission. Expect 0-100 to be in the late 4-second ballpark.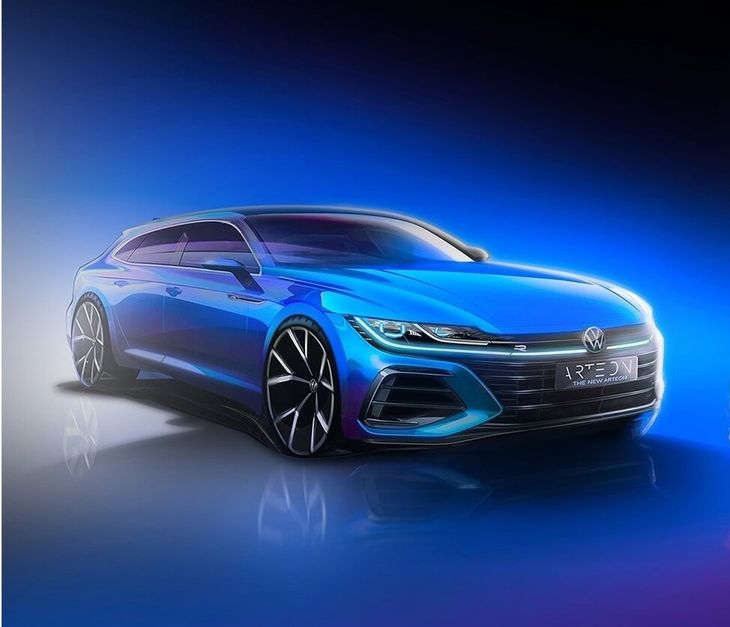 The Volkswagen Arteon Shooting Brake teaser
Further Reading
Spy Shots: 2021 Volkswagen Arteon R
Spy Shots: 2021 Volkswagen Arteon Shooting Brake
Volkswagen Arteon 2.0 TDI R-Line (2018) Quick Review
Volkswagen Arteon 2.0 TSI 4Motion R-Line (2018) Review