Volkswagen is preparing a high-performance variant of its Arteon sedan. Here's what we know so far.
Picture credit: S. Baldauf/SB-Medien. We have paid for these photos and at the photographer's request, have watermarked them.
Not so long ago, we showed you photos of a Volkswagen Arteon Shooting Brake which would be released as part of a facelift to the Arteon range. Now we can share photos of the rumoured Volkswagen Arteon R, the high-performance version of the good-looking sedan. When it was launched to the South African public in 2018, there were 2 engines on offer. There was a range-topping 206 kW/350 Nm 2.0-litre turbocharged petrol engine and a 130 kW/350 Nm 2.0-litre turbodiesel engine.
The R version of the Volkswagen Arteon would gain a sportier suspension setup, quad exhausts and as you can see in the photo, blue brakes. We also suspect the engine would be given the full R treatment and like other Volkswagen R products, it would be the 2.0-litre turbocharged 4-cylinder delivering 220 kW and 400 Nm. However, we do know that the next-gen Volkswagen Golf R will get 245 kW, so that could also be an option for the newcomer. Power will continue to go to all 4 wheels via a dual-clutch transmission. Expect 0-100 to be in the late 4 second ballpark.
Expect the Volkswagen Arteon R to be revealed alongside the Arteon Shooting Brake as part of a facelift to the model range before the end of 2020.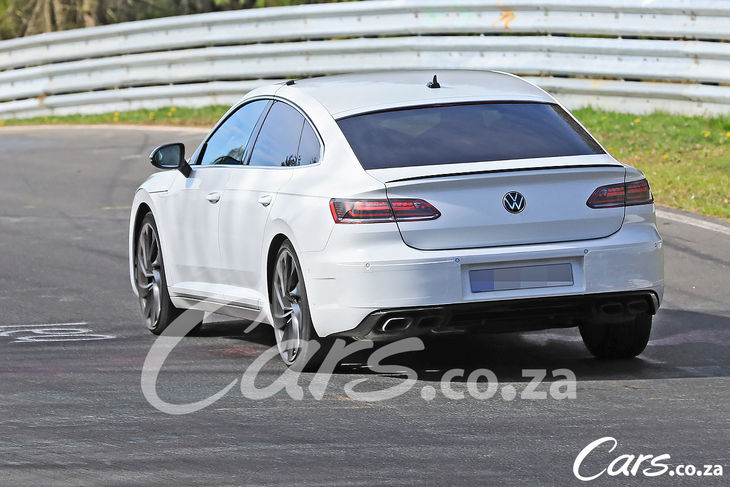 The quad exhausts are a giveaway that this is no ordinary Volkswagen Arteon
Want to buy a Volkswagen Arteon? Browse through new and used stock now.
Further Reading
Spy Shots: 2021 Volkswagen Arteon Shooting Brake
Volkswagen Arteon (2018) Video Review
Volkswagen Arteon 2.0 TDI R-Line (2018) Quick Review
Volkswagen Arteon 2.0 TSI 4Motion R-Line (2018) Review