The iconic Volkswagen Beach Buggy is back! This time, however, it's electric-powered. Meet the Volkswagen ID Buggy concept which was revealed at the 2019 Geneva Motor Show.
Heritage is one of those traits which Volkswagen understands well. Look at the VW Kombi and while the latest version is a far cry from the original hippy wagon, we love them both dearly. Remember the Volkswagen Beetle-based beach buggies? Light, fun to drive and effortlessly simple, they represented endless summers and good times.
Now, for the 2019 Geneva Motor Show, Volkswagen has revived the Beach Buggy with the new all-electric ID Buggy Concept. Like the forthcoming ID electric range, the ID Buggy also rides on Volkswagen's all-new modular electric car platform called MEB. The Volkswagen Group is banking on the new MEB platform being the key to cost-effective and affordable electric cars. Should these be a success, then low-volume specialised products like the ID Buggy could become a reality.
The Volkswagen ID Buggy Concept features a 62 kWh battery located in the middle of the car, mounted low for a low centre of gravity, which, in turn, improves handling. Volkswagen claims the battery compound forms part of the structure and therefore adds rigidity. Keeping with the tradition of the Beach Buggies of yesteryear, the Volkswagen ID Buggy features its motor in the rear and is connected to a single-speed gearbox. Volkswagen has said there is provision for a second motor operating the front axle, which would give the ID Buggy Concept 4x4 capability.
With a claimed range of around 250 km and a claimed 0-100 kph time of 7.2 seconds, the Volkswagen ID Buggy Concept sounds like a fantastic and fun way to cruise around. While it remains a concept, for now, we'd love to see it come to life!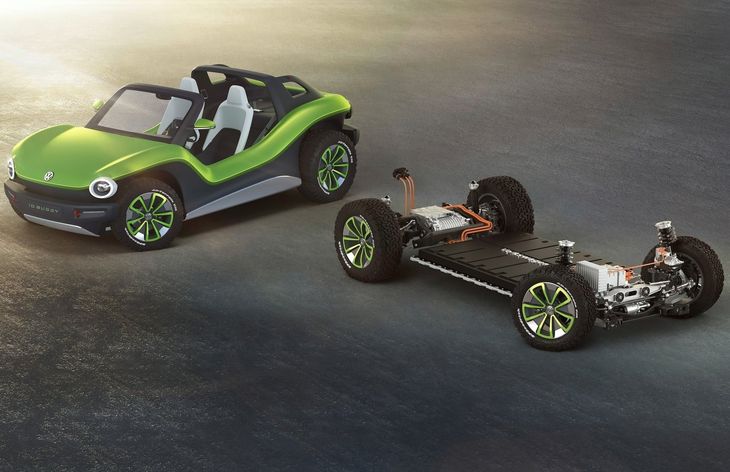 The Volkswagen ID Buggy Concept showing off its low-mounted battery which should result in a fun drive
Further Reading
Video Comparison | Ford Fiesta vs Volkswagen Polo
Volkswagen tests new ID electric car in SA
5 Ways to Beat the Fuel Price Hike
Volkswagen launches app for SA customers
Motoring tech of the future - CES 2018