The 6th-generation Polo, which will be launched in South Africa at the end of January 2018, is bigger and more refined than ever before. But how does it fare compared with the latest Ford Fiesta and Renault Clio? Cars.co.za contributor Greg Kable recently drove the newcomer in Hamburg, Germany, and shares his thoughts...
This Polo represents a big break from its predecessor. It has been conceived and developed anew from the ground up in a design and engineering programme with several other products in the group and production of the newcomer has already begun at Volkswagen South Africa's Uitenhage assembly plant (initially for the European market only).
Based on the latest generation of the German manufacturer's MQB platform architecture, specially adapted for the compact car class, the new Polo has grown significantly: it is 4 053 mm long, 1 751 mm wide and 1 446 mm high. That makes it 81 mm longer, 63 mm wider and 7 mm lower than its predecessor. It has a wheelbase of 2 564 mm, 92 mm longer than the previous model, while the track widths are up by 62 mm at the front (to 1 525 mm) and 49 mm at the rear (to 1 505 mm), giving it a considerably larger footprint.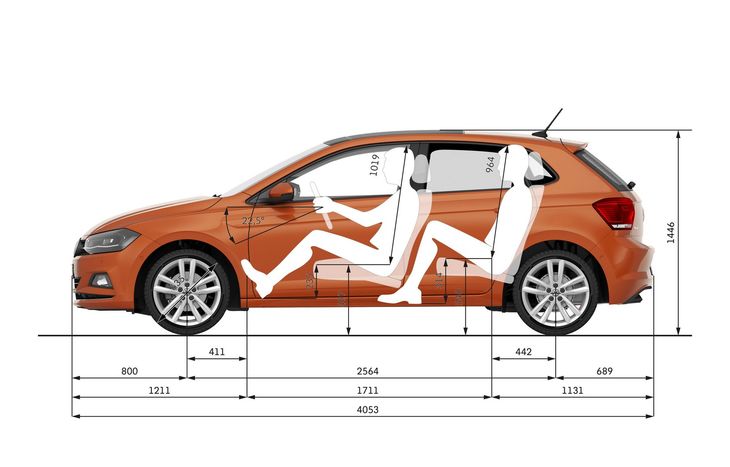 The dimensions of the new Polo make the newcomer much larger than its predecessor.
Many, many engine choices
Depending on the markets in which the cars are offered, buyers will have a choice of up to 6 engines in the launch line-up – the most powerful of which is the turbocharged 2.0-litre four-cylinder unit in the Polo GTI, which will enter production next year with 147 kW, which matches the Ford Fiesta ST, and a peak torque output of 320 N.m from 1 500 to 4 400 rpm.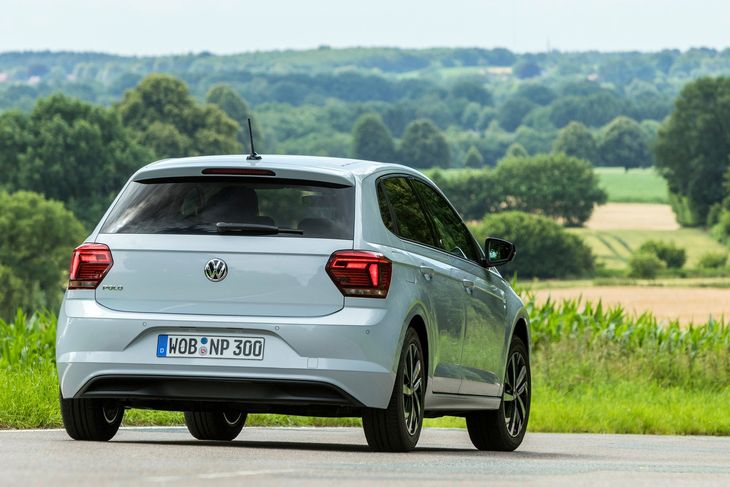 Lots of different engine power outputs will be available from a 1.0-littre naturally aspirated or turbocharged petrol unit. There's a 1.5 turbodiesel in the range too.
The initial line-up comes with the choice of two naturally aspirated 1.0-litre multi-point fuel-injected 3-cylinder petrol engines, with 48 kW or 55 kW. The sweet spot in the range, though, is the new turbocharged 1.0-litre direct-injected 3-cylinder petrol unit, which serves up 70 kW or, as tested here, 84 kW in the 1.0 TSI.
There are also derivatives running Volkswagen's new 110 kW turbocharged 1.5-litre 4-cylinder petrol engine (officials hint that it will likely come in 95 kW guise at a later date) and a 1.6-litre 4-cylinder turbodiesel unit with an SCR filter, offering either 65 or 70 kW. The engines are mated to either a 5- or 6-speed manual or optional 7-speed dual clutch automatic 'box.
What's it like?
Grown up – that description applies well to the new Polo. As well as gaining in size, it has improved in other areas, not least refinement, which is now very much the best in its class. Upcoming comparison tests will reveal if the car can top rivals such as the latest Ford Fiesta, Renault Clio and Nissan Micra for overall competency but, in isolation, it is a very convincing package that will appeal to a wide range of buyers.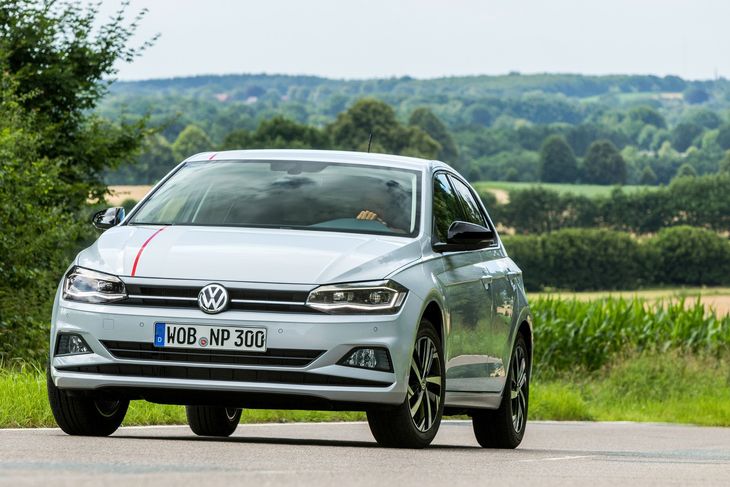 Expect the new Polo to topple all in the segment in upcoming comparisons. It's that good.
It is a smart and thoroughly modern-looking car, with interesting proportions, crisp lines and a confident stance. The key exterior design feature is a double swage line that provides the flanks with a more defined shoulder line. The body is constructed to a level of quality that shames many compact car rivals, with thin panel gaps, well-integrated features and exacting tolerances. You expect this level of fit and finish in the premium car ranks, but it is not a given at this end of the market.
Inside, it delivers a nice balance between customary Volkswagen control simplicity and youthful design flare, with a contemporary-looking cabin dominated by a rather high-mounted dashboard. Available with a wide range of different trim elements and eight colour combinations, it features familiar analogue instruments and a 6.5-inch touchscreen as standard. VW's 11.7-inch Active Info Display digital instrument system is available as an option, along with an 8.0-inch touchscreen.
The dashboard materials, in the top section at least, are soft to touch, with expensive-looking texturing. The seats offer a wide range of adjustment and are supportive with firm cushioning and good side support. Drawing on technology already introduced on the Golf, the new Polo comes with VW's Front Assist, City Emergency Braking and Pedestrian Monitoring systems, a tyre pressure monitoring function and a hill holder function as standard.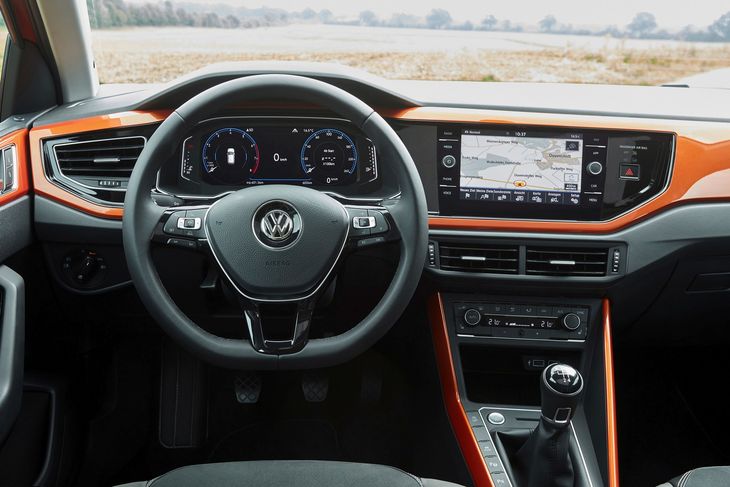 Equipped with a lot of optional extras the new Polo's interior can match cars from segments above for style and technology.
Overall vision is less impressive, hampered by the relatively heavy rake of the windscreen and prominent surround of the instrument binnacle. That leaves a surprisingly narrow line of sight from the driver's seat. The overall interior quality is also spoilt by some rather hard plastic surfaces, especially between the front seats within the centre console.
Separating from Golf
For a car billed as being conceived for the digital age, the lack of a USB port as standard in any of the three specification lines is a major oversight. Model hierarchy plays a role here, of course: too much equipment would push the Polo too close to the Golf, so Wolfsburg has consciously dumbed it down to keep a respectable distance from its larger sibling – while also making it more profitable.
The increase in external dimensions means there's a greater feeling of space up front; the generous width of the footwells, improved shoulder room and excellent headroom being particular strong points. Accommodation in the rear has also increased, although with a higher waistline and shallower rear window you feel a little more enclosed than before. The Polo can accommodate five at a pinch, though VW admits it has been conceived more for four. It also offers a significant 71-litres more luggage space than its predecessor, at 351-litres.
How does it drive?
The maturity evident in other areas is manifested in excellent on-road qualities. Delivering 84 kW at 5 000 rpm, the 1.0 TSI is nippy in nature, delivering determined acceleration on a loaded throttle in lower ratios. There is a hint of low-end turbocharger lag off the line, although the interruption is only fleeting. Once spinning freely, the new engine is smooth and willing through the gears. With 175 Nm on tap from 2 000 rpm through to 3 500 rpm, it also boasts a nice flexible nature that sees it pull taller gear at low revs out on the open road without too much fuss. The suppression of engine noise and vibration is vastly improved over the old Polo.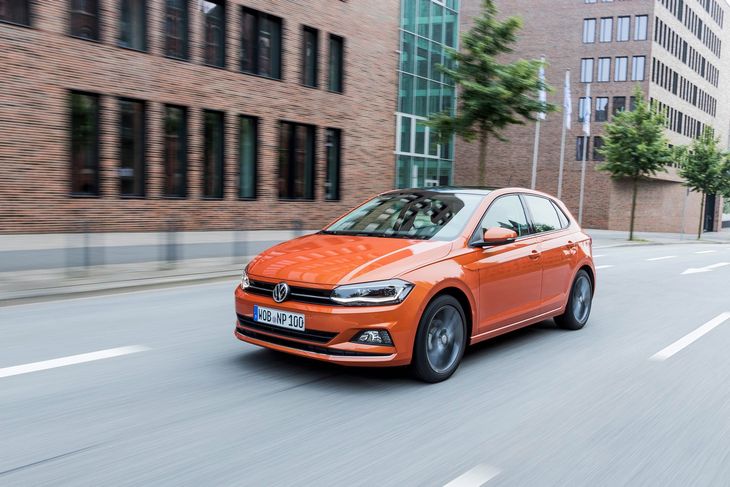 It's still not the most fun hatch in the segment but the ride refinement is excellent for a B-segment hatch.
The standard 6-speed manual gearbox is light and easy to operate, although it is notchy and has a tendency to resist when rushed through the gates. The optional 7-speed dual clutch (DSG) unit provides automatic shifting, but is sometimes a little hesitant on downshifts. Volkswagen claims a 0-100 kph time of 10.8 sec and 186 kph top speed.
The adoption of the MQB platform has brought a significant increase in rigidity and stiffness over the old Polo. Volkswagen says stiffness has increased from 14 000 Nm per degree to more than 18 000 Nm per degree. The result is a supple and superbly controlled ride. Even on badly pitted bitumen with the optional 17-inch alloy wheels and 215/45 profile tyres worn by our test car, it proved outstanding. The combination of superb damping control and fine absorption qualities bring a new-found calmness to the chassis, making for relaxed traits, both around town and on extended motorway runs.
Light and precise electric power steering makes the new Polo impressively manoeuvrable in tight spaces and it feels right at home in city traffic. Dynamically, it is a clear improvement on the earlier Polo, thanks to the inherent qualities of its new platform and a reworked suspension featuring MacPherson struts up front and a thoroughly revised torsion beam arrangement at the rear. Compared with some rivals, though, it lacks the intrinsic character to make its handling truly entertaining.

The wider stance helps it grip better in the corners and prevent it from leaning over as much.
The wider tracks help the front wheels grip well, resisting the urge to push on even when hustled through a series of constant radius bends. The body movements are also nicely controlled, with progressive but never overwhelming lean. It achieves most of what you ask of it with unwavering efficiency, but it is, sadly, without great charisma.
Should wait to buy one?
The new Polo is a very good car, although not without its faults. Its styling is more expressive, the interior feels more upmarket and its increased dimensions make it more practical and accommodating. It also drives extremely well in combination with the 84 kW turbocharged 1.0-litre 3-cylinder, delivering a quiet and absorbent ride, with direct and precise handling traits.
It's also a thoroughly well-built car with outstanding quality and the sort of finish to match any rival hatchback. In many aspects, it feels like a smaller Golf - very much a compliment for a car aiming to rise above the Fiesta, Clio, (Nissan) Micra, (Kia) Rio and (Opel) Corsa. You can detect the odd cost-cutting measure, most notably within the interior, although they are largely outweighed by the overall competence of the new Polo.
On the strength of what we've seen so far, the new Polo is surely set to continue the success of its previous generations.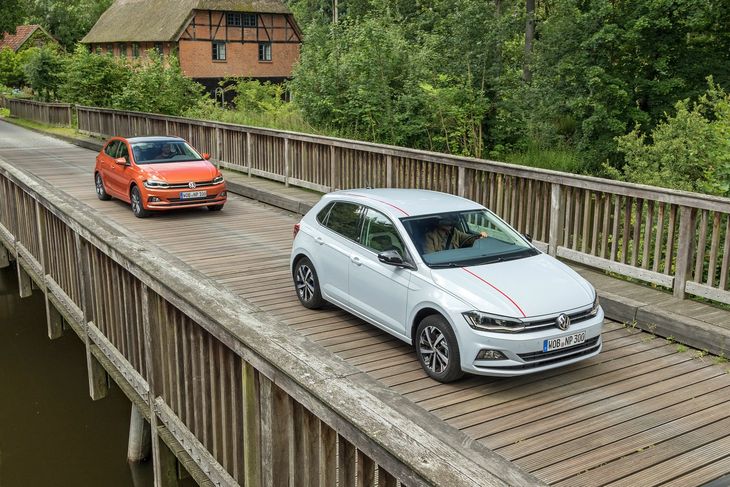 Expect this new model to continue its streak as a top seller in South Africa and globally.
Quick specs
Volkswagen Polo 1.0 TSI
On sale: Q1 2018
Price: est. R280 000 (exact price TBC)
Engine: 3-cyl, 1.0-litre turbopetrol
Power: 84 kW at 5 000 rpm
Torque: 175 Nm at 2 000 rpm
Kerb weight: 1 145 kg
Gearbox: 6-spd manual
0-100 kph: 10.8 secs
Top speed: 186 kph
Economy: 4.4 L/100 km (combined)
Related content:
Volkswagen Polo GTI (2018) International Launch Review
5 New Hatchbacks to Look Forward to in 2018
6 Rivals 2018 Volkswagen Polo Needs to Beat
Preview: 2018 VW Polo vs 2018 Ford Fiesta
Ford Fiesta (2018) International Launch Review
Volkswagen Polo 1.0 R-Line (2017) Quick Review (w/Video)
Renault Clio GT-Line (2017) Review
Opel Corsa (2017) Specs & Price
New Suzuki Swift (2017) First Drive
Want to buy a Volkswagen Polo?