Ford's evergreen Fiesta returns with this "all-new" model and it's coming to South Africa in Q2 of 2018, around the same time that the new Volkswagen Polo will arrive on the local market. How is the new compact hatchback likely to fair? We took it for a drive on the outskirts of Madrid, Spain to find out.
The B-segment hatchback market is in for a shake-up! We've already seen the new Kia Rio enter the market this year and coming next year, we will see 2 other big hitters arrive in the form of the Volkswagen Polo and this new Ford Fiesta. The new Fiesta is more of an evolutionary model than an entirely new car. It runs on the same chassis (with a few tweaks) and the engines are just about identical – the ST will have a 1.5-litre turbo and there's a new 1.1-litre unit that South Africa won't get. Our SA models will continue to run the 1.0-litre turbopetrol and a 1.5-litre turbodiesel.
Is there anything new?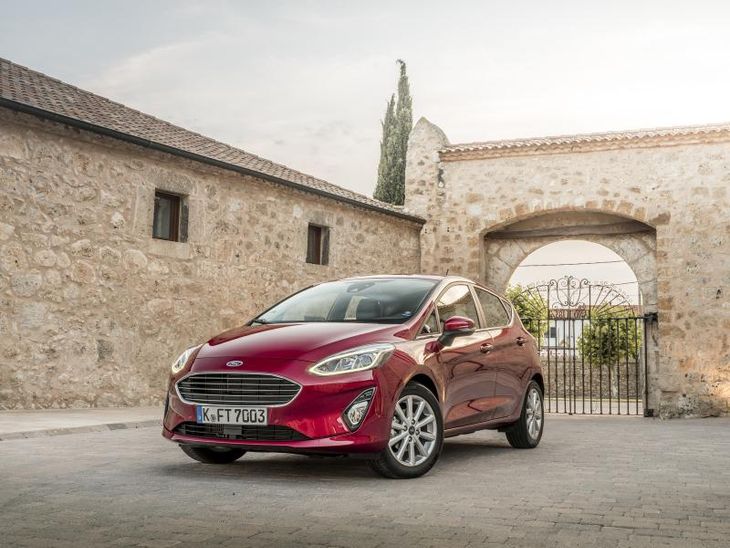 A fresh exterior and interior design will go a long way in ensuring that the Fiesta remains competitive against the likes of the new VW Polo.
The aim of this Fiesta was to make a car that was more fun to drive than its rivals, but upgrade it in areas such as technology, ride comfort, safety and refinement. The exterior keeps much of the same design as the previous model but the major change is the front and rear lighting design. Even the length and height are nearly identical. A bit more passenger space has been created and the luggage area is a reasonably sized at 303 litres.
Inside, the changes are more visible. The infotainment screen that (kind of) looks like a child's etch-o-sketch is modern and the display resolution is excellent. The steering wheel has more buttons to control the radio, adaptive cruise control, telephone and the trip computer. The touch and feel items are soft-touch rubber for the most part, but things like the door handles and gear lever surround still have hard-plastic finishes. The instrument cluster is distinctly Ford with its blue analogue dials and the digital trip computer system is a nice upgrade from the old model.
Is it still fun to drive?

The Fiesta remains a fun and entertaining car to drive and this new iteration's ride quality has improved too.
With the new Fiesta still based on the same basic structure as its predecessor, the fun factor hasn't gone away. It's quieter inside thanks to new rubber bushings and some other minor suspension adjustments, but the typical fun, hurl-it-at-will character is still evident. It's also more stable at freeway speeds with a 120 kph cruise feeling more like 100 kph. A brisk drive along some of Spain's billiard-table smooth asphalt was hardly likely to show up any ride discomfort, but the suspension feels compliant and nicely cushioned. We'll have to wait for our South African test to get a better feel, but ride comfort has always been a strength of the Fiesta and we expect it to cope sufficiently well on our deteriorating roads.
We did get a chance to whip the Fiesta from side to side in a few Spanish back roads. They have some good driving roads on the outskirts of Madrid and the Fiesta remains a pint-sized ball of fun when the time calls. The 1.0-litre turbocharged petrol engine we are familiar with remains a powerful unit and now with a six-speed manual gearbox, feels like it remains on the boil better than before. The 1.5-turbodiesel sounds a little rougher than expected, but returns very impressive fuel efficiency figures. Even after our very spirited assault of the Spanish back roads, we averaged 5.2 L/100 km over 200 km.
What new tech does it have?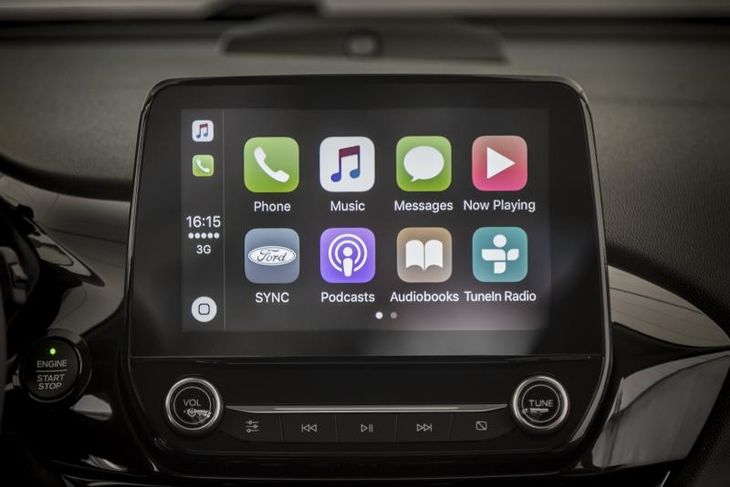 The new Fiesta ushers in a host of new technology, but it remains to be seen what specification will be offered in SA.
Firstly, it's not yet clear how much technology we'll get, but there is an impressive list of new tech features available in the new Fiesta. The list of driver assistance systems reads like the spec sheet of a D-segment sedan with all the options ticked. Adaptive cruise control, automatic parking (perpendicular and parallel), high beam assist, cross traffic alert, blind-spot assist and lane keeping aid are just some of the features available. Ford has specced its Fiesta highly as more customers are moving down from bigger cars, but not wanting to lose out on features.
The infotainment system is a touchscreen system that's Apple CarPlay and Android Auto compatible. There was a navigation system in our test unit, which, if Ford brings it to South Africa, would be a welcome addition as none of its products offers navigation. There are apps that can be downloaded and it appears to be a simple system to get to grips with. There's even an optional Bang and Olufsen sound system that can be fitted for those looking for premium sound quality – such a high-end audio setup is virtually unheard of in this segment.
Which models are coming to SA?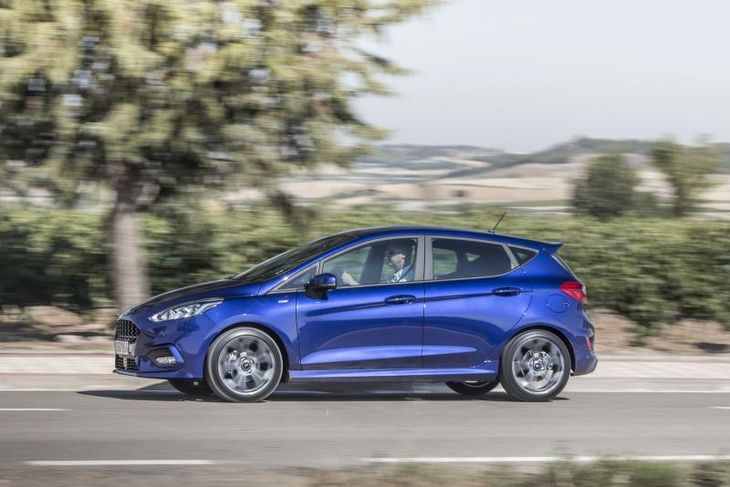 A turbopetrol and turbodiesel engine will be offered in SA when the Fiesta arrives in Q2 of 2018.
Although specification for the South African Fiesta is yet to be confirmed, we do know what engine and gearbox combinations have been earmarked for our market. The 1.0-litre, 3-cylinder turbopetrol with 92 kW and 170 Nm will be available in both manual and automatic guise and will be available in Trend and Titanium trim levels. The automatic only offers 74 kW but has the same torque figure at 170 Nm. The 1.5-turbodiesel with 63 kW and 215 Nm of torque is only available in manual guise and will be offered in Trend trim only. An entry-level Ambiente derivative might be introduced at a later stage.
When is it coming?

The new Fiesta will go head-to-head with the new Polo next year.
Ford SA has pencilled in the second quarter of 2018 for the Fiesta's local introduction. The new Volkswagen Polo is due at roughly the same time, so it should be an interesting head-to-head battle. While not yet planned for South Africa, there is an ST Line model that could be considered. It's a regular Fiesta but with an ST body kit, wheels and interior trim. It's a real looker and could fare well against something like a Polo R-Line, but pricing is likely to be a major inhibitor to its local introduction.
Speaking of pricing, we'll have to wait for official figures as Ford SA is still crunching the numbers, but we would hazard a guess at between R250k to R300k.
Related content:
Preview: 2018 VW Polo GTI vs 2018 Ford Fiesta ST
Ford SA Releases Hotter Fiesta ST
All-new Ford Fiesta ST Revealed [with Video]
Top 5 Cool Facts: Next Ford Fiesta (2017)
Update: Ford Fiesta (2017) unveiled [with Video]
Ford Fiesta 1.0T Ambiente Automatic (2015) Review
Top 10 Most Fuel Efficient Budget Cars
Want to buy a Ford Fiesta?