Volkswagen Australia has revealed it's factory-endorsed' Amarok XL and XXL models, which offer even more carrying capacity.
The Volkswagen Amarok already boasts one of the biggest load bins in the segment, but if you feel you require more length, then how about an Amarok XL or Amarok XXL.
The conversion is done by South Australian-based Adaptive Manufacturing, with the original work completed by Dutch outfit Veth Automotive. Impressively, this aftermarket conversion comes with Volkswagen Australia's 5-year warranty.
What exactly does this conversion entail? Well, the Amarok XL wheelbase has been extended by 310 mm, taking it all the way to 3 405 mm. Want even more space? How about the Amarok XXL then, with an extra 650 mm additional wheelbase, taking it t0 3 745 mm.
With this conversion, the loading length is now rated at 1 865 mm for the Amarok XL and the 2 205 mm for the XXL. In comparison, the standard Amarok load length sits at 1 555 mm.
The extended wheelbase has meant extensive modifications to the prop shaft, electronics and brake lines. The electronic stability control has also needed a recalibration to deal with the increased weight and dimensions.
Back in 2019, Volkswagen SA was investigating the possibility of an Amarok XL and displayed a unit at the NAMPO agricultural expo to gauge public interest. It appears there wasn't sufficient interest, so the project wasn't green-lighted.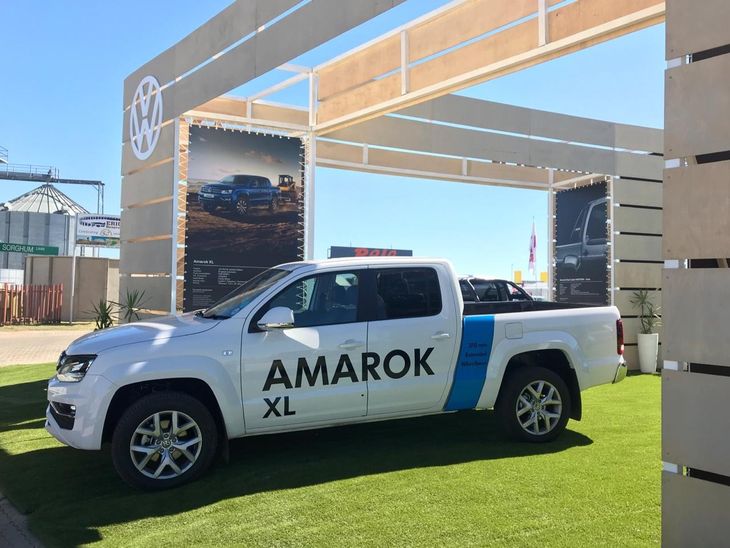 Back in 2019, Volkswagen SA presented an Amarok XL to the NAMPO event to gauge interest. Pic via VWSA Facebook.
Further Reading
190 kW Volkswagen Amarok Coming to SA
2022 Volkswagen Amarok Design Sketch Revealed
2022 Volkswagen Amarok: What We Know So Far