The 190-kW version of the 3.0-litre V6 turbodiesel-powered Volkswagen Amarok double cab quietly arrived in South Africa at the end of 2020 and we've had a chance to drive the eagerly awaited newcomer in and around Cape Town. What is SA's most powerful and fastest (standard) bakkie like to drive? Read on...
Volkswagen South Africa finally introduced its upgraded flagship Amarok in the first week of December 2020. For clarity, Volkswagen SA offers its Amarok V6 in Highline and Extreme trim and, for those whose budgets can't quite stretch to R922 (which is what the cheaper Highline costs), the 2.0-litre biturbo 4-cylinder derivatives still represent fair value. The 165-kW versions of the V6 have fallen away.
So what's special about this new flagship offering? After all, its predecessor was a multiple #CarsAwards – powered by WesBank category winner; many testers fondly nicknamed the bakkie The Kalahari Ferrari due to its thumping motor's immensely strong pulling power. Compared to the then equivalent offerings from Toyota and Ford, the Amarok felt leagues ahead in terms of sheer grunt.
Now the Amarok's 3.0 V6 TDI has been tuned to produce a peak output of 190 kW and, if that isn't eye-opening enough, if you flatten that accelerator pedal the turbo will deliver extra boost for 10 sec, which will push the maximum punch up to 200 kW, albeit momentarily. In a hot hatch, that number is exciting, but in a bakkie? Petrolheads will rejoice, but cynics will probably suggest it's all a bit vulgar.
Maximum torque is 580 Nm (up from 550 Nm), all of which is available from 1 400 rpm, which speaks volumes of the Amarok's overtaking ability. Performance is brisk, with the 0-100 kph sprint said to take 7.6 sec, while the average fuel consumption figure is 9.5 L/100 km (claimed). There's an 8-speed automatic 'box on duty, in combination with selectable 4Motion all-wheel-drive, including Off-road mode.
Specs, features and pricing of the Volkswagen Amarok here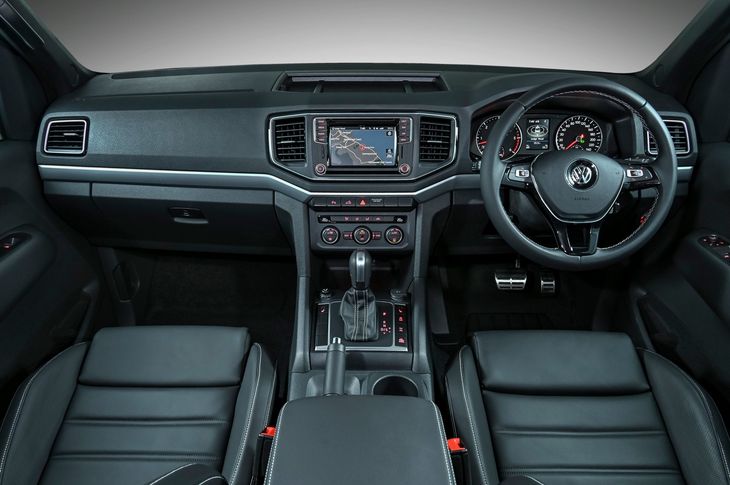 The standard level of equipment is good, but the Amarok's cabin is feeling its age.
What's it like to drive?
The launch of the Volkswagen Amarok 190 kW took quite a different format from the usual new-vehicle presentation. Even though it appears Covid-19's 2nd wave has all but receded, Volkswagen essentially dropped off its new offering at our office and gave us a destination to get to with the vehicle. Our destination wasn't too far in terms of direct distance, but the alternative route was almost double and promised a variety of road surfaces, spectacular scenery, and the best part, this route would be way quieter, avoiding Friday afternoon commuter traffic. It was time to test out that engine!
After our Candy White 3.0 V6 TDI double cab Highline 4Motion test unit had been dropped off, we had a quick glance at the spec sheet – just a solitary optional extra was fitted to bakkie: a set of 19-inch Milford alloy wheels. With road trip snacks at the ready and Android Auto playing our favourite tunes through the Amarok's infotainment system (don't fear, Apple CarPlay is also supported), we hit the road.
Now, what about that improved overtaking ability Volkswagen was crowing about? Well, the Wolfsburg-based brand's newcomer is blisteringly quick – bewilderingly so. With 580 Nm just a stab of the right foot away, the 190-kW Amarok's reserve of in-gear urge effortlessly surpasses everything else in the bakkie segment (that's if you disregard the 3.0-litre V6 turbodiesel-engined Mercedes-Benz X-Class X350d double cab 4Matic, which is on its way out). The VW's transmission, meanwhile, does a fine job of effortlessly slotting each of those 8 cogs with no noticeable lurching on up- or downshifts.
We're surprised Volkswagen didn't slap a GTI badge on the Amarok's rear tailgate – with this kind of performance, it certainly deserves one. We jest, don't send hate mail. The best part is you don't need to put your foot flat either, usually, a half-throttle application is enough to see the Amarok V6 surge ahead of slower vehicles. With all this muscle power, the 190-kW Amarok will make a fine towing vehicle.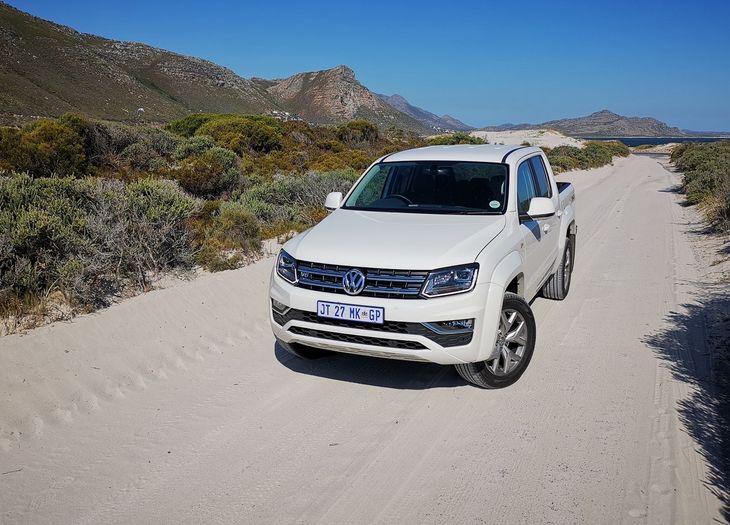 4Motion all-wheel-drive provides plenty of grip when the tar turns into sand or gravel.
While the bakkie's in-gear acceleration/overtaking oomph is breathtaking, we found the fuel economy to be the real eye-opener. Granted, if you're going to make that V6 TDI flex its muscles all day and every day, you'll have to top up that 80-litre tank with diesel rather often. However, drive sedately and resist the temptation to storm off and you'll get very close to Volkswagen's claim of 9.5 L/100 km. Throughout the duration of our test weekend, we saw an indicated 8.9 L/100 km at one stage, but given how addictive it can be to surf on a wave of 580 Nm, that's unlikely to happen very regularly.
Our launch route didn't include any 4x4 trails, but there was a long straight sand road to traverse, so we channelled our inner Giniel De Villiers and "put foot" (to use the very apt and uniquely South African expression). Before you all shout at us about the local motorsport legend being a Toyota star, De Villiers' Dakar win was, in fact, achieved behind the 'wheel of a TDI-powered RedBull Touareg back in 2009 (for context, it was the first Dakar Rally to be held away from the African continent and the first time a turbodiesel-powered vehicle won the gruelling event).
Sails through the sand
TDI trivia aside, the 190-kW Amarok V6 felt remarkably stable on the notoriously low-grip surface. If you are a keen off-roading enthusiast, Volkwagen's bakkie offers 237 mm of ground clearance, plus there is off-road ABS to help you out in tricky situations. As before, there's no low-range ability, but we suspect the short 1st gear and the lockable rear diff will get you out of most trouble spots.
In reality, most bakkies are purchased for their cargo-carrying capacity and despite the Amarok's age, it still offers the largest bin with the widest loading width. While its rear leaf-sprung suspension still jiggles about on uneven road surfaces (especially when not transporting cargo), it's certainly not the worst of the current crop of bakkies...
However, given the recent advances made by the Ford Ranger and Toyota Hilux, the Amarok is starting to show its age in some departments. It's on-road refinement used to be up there, but the latest iteration of the Hilux has it licked in that department, while the Ranger's connectivity and active safety equipment is comparatively better. They don't have a thundering 3.0 V6 TDI motor, however...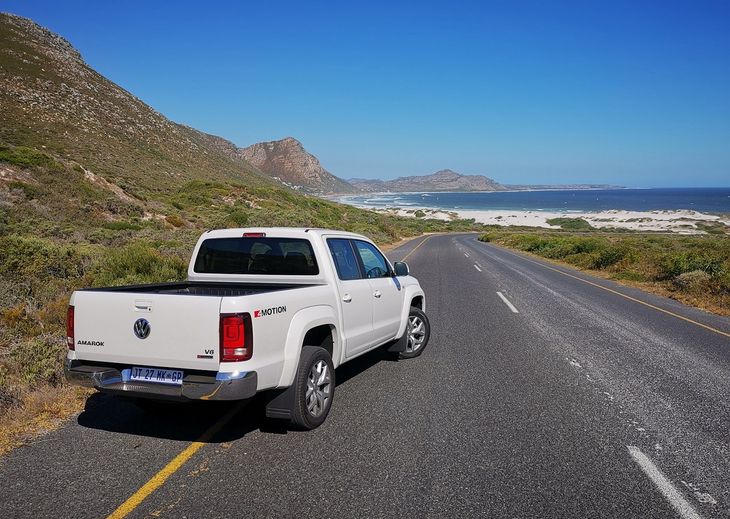 It's the in-gear performance that raises the heartrate and eyebrows. Surely it's unnatural for a bakkie to be this fast!
Summary
Make no mistake, the 190-kW 3.0 V6's sheer performance is hands-down the biggest highlight here, but is it enough to compensate for the advanced age of the Amarok package? While the VW's cabin has virtually all the creature comforts you'd need, like the aforementioned Android Auto/Apple CarPlay connectivity and heated seats, the bakkie lacks some of its rivals' active safety features. Then, of course, there is the question of the price tag – it's oh-so-close to the R1-million mark, which is steep for a bakkie, plain and simple. Just ask Mercedes-Benz how its X-Class pricing strategy worked out.
The good news is that if you do want to be the cool guy at the braai and impress your mates with SA's Fastest Bakkie (straight out of the showroom, we reiterate), the first demo has already been loaded up on Cars.co.za and the chance to own one might just be closer than you think... provided you're prepared to settle for a unit that has already clocked up a few kilometres.
With Ford and Volkswagen joining forces to work on the all-new Ranger and Amarok, this is the last hurrah for this generation of Volkswagen's first double cab, and what a swansong it is! If only this engine had been available a little earlier in the model's lifecycle...
We secretly hope the new platform and collab project will result in a vehicle that has the suspension and off-road capability of the Ranger Raptor, but is powered by this V6 engine. Just imagine that...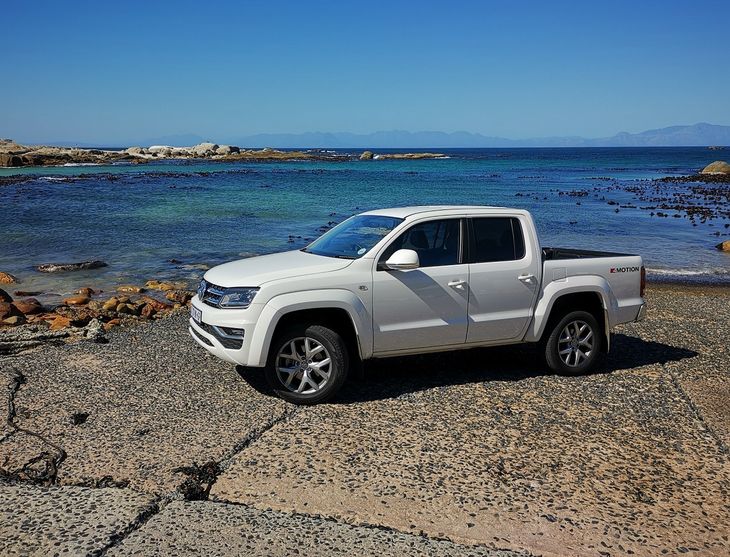 With such a powerful engine, the 190 kW Amarok would be right at home on this slipway towing a boat out of the water
Volkswagen Amarok 190 kW Price in South Africa (March 2021)
The V6-powered Amarok comes standard with a 3-year/100 000km manufacturer warranty, 5-year/90 000 km Genuine Easy Drive Service Plan and a 6-year anti-corrosion warranty. The service interval is 15 000km.
Amarok Double Cab 3.0 V6 190kW Highline R921 900
Amarok Double Cab 3.0 V6 190kW Extreme R996 000
Further reading:
Start your search for a demo Volkswagen Amarok here
Volkswagen Amarok 3.0 V6 TDI Extreme 4Motion Review
W580 is VW's Special Edition Amarok
190-kW VW Amarok: SA's most expensive bakkie