Last week Volkswagen teased a new SUV and it has now been revealed at the Beijing Motor Show and is expected to slot above the Touareg.
The Beijing Motor Show is underway and Volkswagen has revealed a full-size SUV concept called the T-Prime GTE concept. The T-Prime GTE features a curvy design with plastic body cladding and vents on the bonnet. The model also shows long LED strips on the side mirrors and the taillights feature Organic Light-Emitting Diodes (OLEDs) and attractive C-shaped LED lights are seen up front.
Volkswagen is expanding its SUV offering and the T-Prime GTE concept shows what's on the cards for the Wolfsburg-based automaker. Volkswagen has dubbed the T-Prime GTE as "one of the most advanced cars in the world" and it comes packed with technology too.
Hybrid power
The Volkswagen T-Prime GTE concept is a hybrid SUV that features a turbocharged 2.0-litre engine that works in conjunction with an electric motor to develop a total power output of 280 kW and 699 Nm of torque. The engine alone offers 185 kW and 370 Nm of torque while the electric motor develops 100 kW. All four wheels are powered through an 8-speed automatic transmission. The model can accelerate from zero to 100 kph in 6 seconds before reaching a top speed of 223 kph. The model will also be capable of travelling at least 50 km on electric power alone with a claimed fuel consumption of 3.0 L/100 km.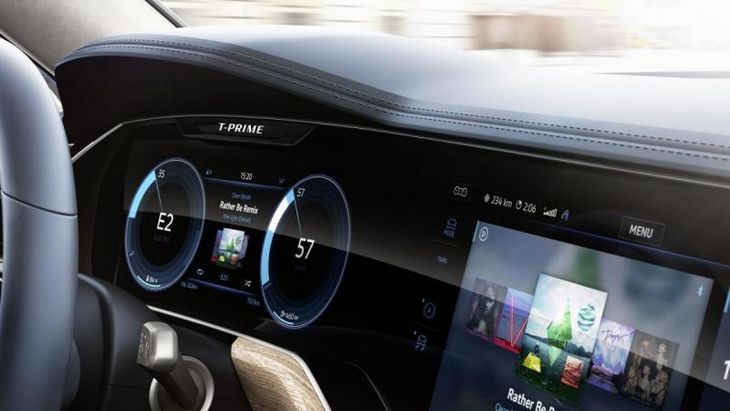 The cabin is spacious and features four individual seats. Infotainment comes in the form of a curved 15-inch touchscreen while the 12-inch digital instrument cluster provides information to the driver. The steering wheel features touch-sensitive controls, which replace conventional buttons. Rear passengers can adjust seat position and the climate control system using a rear-mounted 9.6-inch display with touch-sensitive controls.
Read a review of the Volkswagen Touareg on Cars.co.za
Interested in buying a new/used Volkswagen Touareg? Search for one on Cars.co.za