With the arrival of the Indian-made Urban Cruiser, Toyota has upped its game in the popular compact family-car segment with an offering that's more practical – and affordable – than the boutique C-HR model. Cars.co.za journalist Gero Lilleike spent a weekend with the newcomer and filed this report...
Budget compact crossovers are all the rage at the moment and car manufacturers are wasting no time introducing new products to satisfy the demand for more affordable SUV-inspired cars. Nissan will soon launch the Magnite, Suzuki has already launched the Vitara Brezza and now Toyota welcomes its Urban Cruiser to market.
A couple of years ago, Toyota and Suzuki reached a product-sharing agreement whereby, inter alia, Toyota would supply Suzuki with 2 hybrid vehicles while Suzuki would build Toyotas based on its Baleno and Vitara Brezza, which, as you may have seen, have now arrived in the South African market (as the Starlet and Urban Cruiser). What's more, other shared models could be released in the near future...
The local introduction of the Urban Cruiser follows hot on the heels of the Vitara Brezza; we spent a weekend with the newcomer to find out what it's like to drive and what it offers in terms of features.
Styling of the Urban Cruiser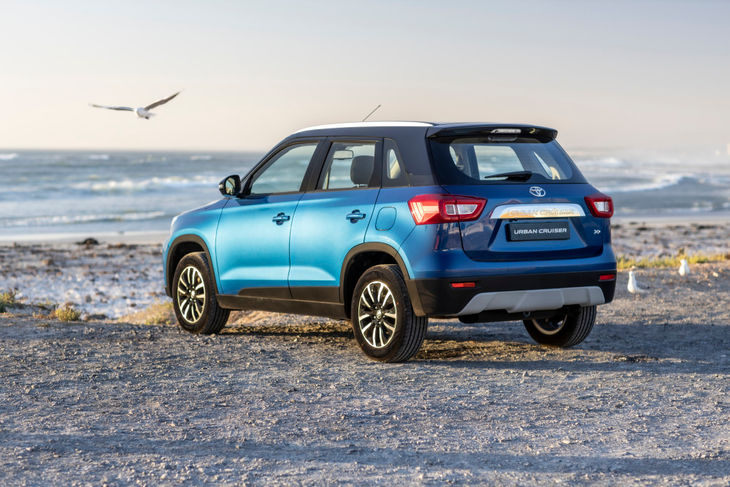 A raised ride height and protective cladding make the Urban Cruiser suitable for navigating potholed roads and mounting kerbs.
The Urban Cruiser certainly looks the part; it features rugged design elements such as plastic cladding (seen around the wheel arches and side skirts), roof rails as well as light-grey bumper guards. The useful ground clearance of 198 mm will not only help the Toyota hop onto pavements in town – it should prove more than handy when you need to traverse a gravel road now and again.
We drove the range-topping Urban Cruiser 1.5 XR automatic derivative, which additionally features automatic LED headlights with rain-sensing wipers and is shod with 16-inch alloy wheels.
See full specification details for the Toyota Urban Cruiser 1.5 XR
What's the interior like of the Urban Cruiser?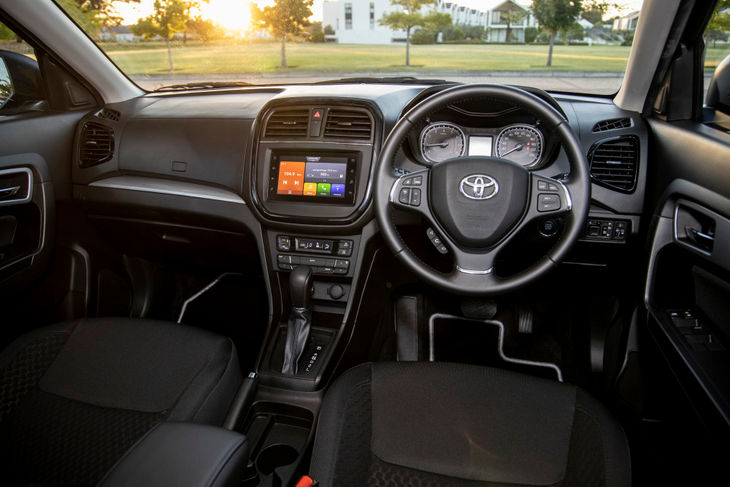 The Urban Cruiser's interior offers most of the basic features that buyers in this segment are looking for.
When you step inside the newcomer's cabin, the first thing you'll notice is the chunky fascia. Hard plastics of varying quality dominate the interior and the perceived build quality is average.
In XR specification, the Urban Cruiser comes equipped with additional features that you won't find in the XI and XS derivatives. Those key features include cruise control, an auto-dimming rearview mirror, 12V sockets, a cooled glovebox and a leather-wrapped steering wheel, to name but a few.
A reverse-view camera is standard and the feed is projected onto the central infotainment touchscreen, which is compatible with Apple CarPlay/Android Auto and includes Bluetooth connectivity. It's a basic system, but it's very easy to use!
The steering column is only adjustable for rake, but the 'wheel is equipped with mounted controls for the audio system and cruise control. The driver's seat does offer height adjustment, which is useful.
Space for rear passengers is sufficient but not generous; taller aft passengers are especially likely to find the legroom a bit tight. Toyota claims a 328-litre luggage capacity, which is good, with a full-size spare wheel located under the load-bay floor. Should you need to load larger items, the rear seats can be folded down in a 60:40 configuration, but note they don't fold completely flat.
What's the Urban Cruiser like to drive?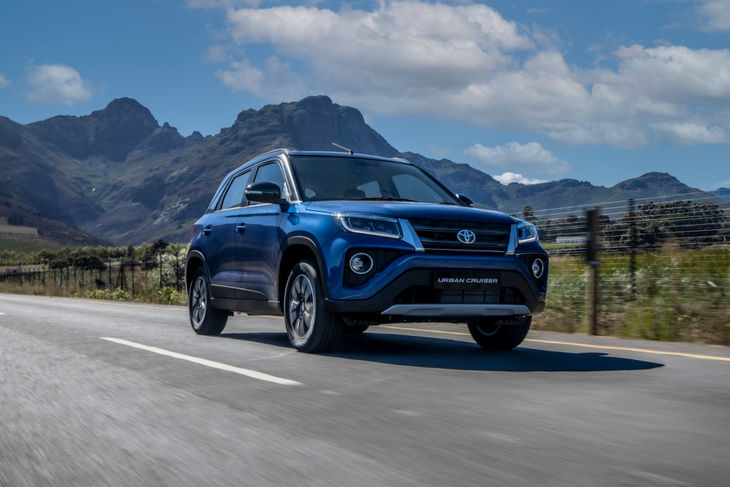 The Urban Cruiser offers good general performance with the benefit of returning pleasing fuel consumption.
Equipped with a naturally-aspirated 1.5-litre petrol engine, the same unit that powers the Suzuki Vitara Brezza, the Urban Cruiser offers outputs of 77 kW and 138 Nm. For a vehicle of this size, those numbers are just about sufficient to propel the 1 140 kg kerb weight with relative ease. However, we do suspect that at altitude, a fully-laden Urban Cruiser might lose its puff on uphill sections.
However, there's a remedy for this kind of situation thanks to the 4-speed automatic transmission. The driver can engage "L" (low gear), which keeps the transmission in the lowest forward ratio so that you can get the most from the engine at slow speeds (such in creeping in traffic), but you can also engage "2", which is useful for pulling away on low-grip surfaces.
I wasn't expecting a 4-speed automatic derivative to be particularly exciting to drive, but I was pleasantly surprised by how responsive the Urban Cruiser's powertrain was to inputs, particularly when being launched from a standstill. The Toyota is quite a nippy car in the urban environment and it gets up to highway speed quite easily/with very little fuss.
In terms of fuel consumption, Toyota claims an average figure of 6.2 L/100 km and during our truncated (2-day) test we saw an indicated 8.5 L/100 km, which is higher than we expected. However, we are certain that lower figures are achievable in the long run if the Urban Cruiser is driven with fuel conservation in mind.
What we liked most about the Urban Cruiser was its balance of ride quality and handling ability. Not only does it feel sure-footed with a comfortable ride, but the steering wheel was responsive to inputs, which made it quite fun to hustle the Urban Cruiser through corners. We did, however, notice significant wind noise entering the cabin at highway speeds, which some buyers may find annoying.
Final thoughts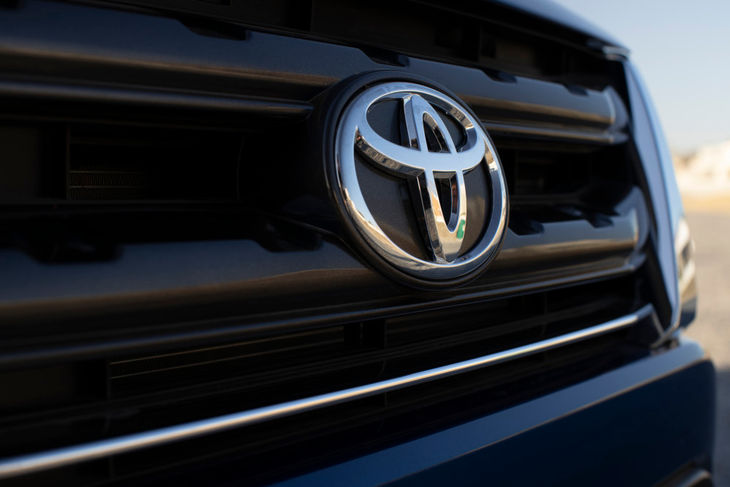 With a Toyota badge on the nose, the Urban Cruiser is likely to be very popular in South Africa.
As an overall product and much like its Starlet sibling, we think that the Urban Cruiser will find favour with many local buyers who are looking for a basic, affordable compact car, or in this case, a crossover. Toyota South Africa aims to sell upwards of 600 Urban Cruisers per month and it will be interesting to see how well it will be received by consumers in the coming months.
Even so, consumers must remember that this is essentially a budget crossover and cost-cutting measures are evident throughout the vehicle's interior, either in terms of fit-and-finish or with the materials used. Ultimately, you get what you pay for… We will have the Toyota Urban Cruiser for a full test soon, so be sure to look out for a thorough evaluation.
How much does the Toyota Urban Cruiser cost in South Africa?
The Toyota Urban Cruiser is sold with a 3-year/100 000 km warranty and a 3 services/45 000 km service plan. Intervals are every 12 months or 15 000 km. Customers can purchase an additional service plan and warranty options via the 220-strong dealer network. Prices are as of March 2021.
| | |
| --- | --- |
| 1.5 XI Manual | R247 900 |
| 1.5 XS Manual | R267 800 |
| 1.5 XS Automatic | R289 000 |
| 1.5 XR Manual | R294 500 |
| 1.5 XR Automatic | R315 700 |
Related Content:
Suzuki Vitara Brezza (2021) Specs & Price
Suzuki Vitara Brezza (2021) Launch Review
2021 Suzuki Brezza Review - We test Suzuki's new crossover in South Africa