The radically-styled new-generation Toyota RAV4 has landed in SA and we have revelled in the chance to get to know it thoroughly. Will the sharper looks polarise the popular family car's target audience or will its all-round package continue to bring it tremendous sales success?
We like: Overall refinement, masses of space, bold styling, brand reputation, gravel competence.
We don't like: Sluggish petrol engine, lack of a turbodiesel option, no Apple CarPlay/Android Auto compatibility.
Fast Facts:
Price: R508 100
Engine: 2.0-litre i4 naturally-aspirated petrol
Gearbox: CVT
Fuel economy: 6.7 L/100 km (claimed)
Power/Torque: 127 kW/203 Nm
Own a Toyota? Tell us about your experience here.
SERIOUS ABOUT BUYING?
Where does it fit in?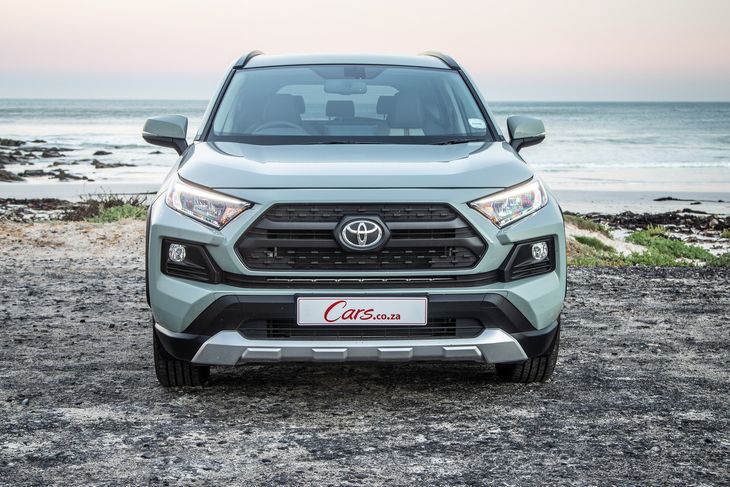 The RAV4 gets a bold new look, which we really like. The Urban Khaki finish adds to the presence
For those who don't know, the Toyota RAV4 is one of the most popular family cars in the world. Since the first RAV4 model was launched back in 1994, the Japanese family car has enjoyed massive success both internationally and here in South Africa. In 2018, 427 170 RAV4 units found homes in the USA alone, which is an indication of its incredible popularity.
Now in its 5th generation, the all-new RAV4 (codenamed XA50) broke cover at the 2018 New York Auto Show. The styling was inspired by the FT-AC concept and from the first glance, we were blown away by this eye-catching SUV. It's even better-looking in the metal and when it arrived at our office resplendent in its Urban Khaki exterior finish, we were reminded of Toyota's newfound conviction to bring visually-striking new vehicles to market. Like the Prius, C-HR and Corolla Hatchback, the RAV4 is based on Toyota's New Global Architecture (TNGA) platform, which bodes well for the newcomer.
The South African line-up for the new Toyota RAV4 is interesting: there's no turbocharging or diesel power to be seen. There are 5 derivatives to choose from, with 2 engines and 2 trim levels. There's a solitary manual gearbox option (on the entry-level 2.0 GX) and the GX-R derivative, which we review here, features some offroad-focused bodywork.
How does it fare in terms of...
Comfort & standard features?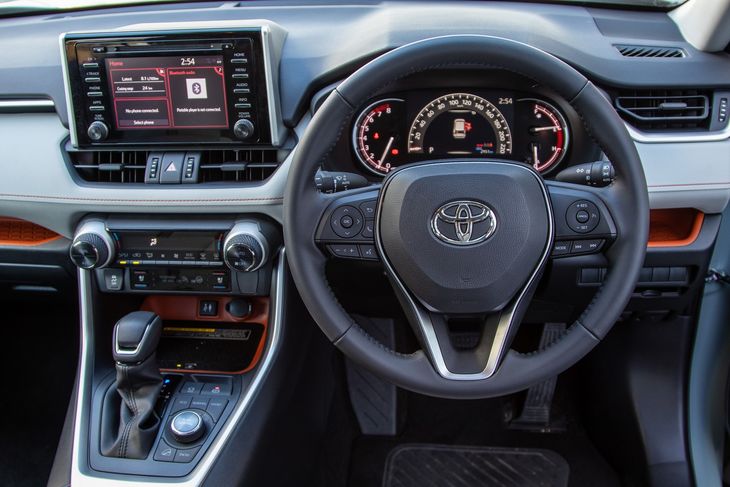 The orange interior accents in the GX-R give the new RAV4 a fresh dose of personality.
When a vehicle's list price crosses the half-million Rand threshold, one expects a high level of specification as standard. The GX trim is not at the top level offered in the RAV4 range, but we're impressed to find luxury items such as heated and cooled partial leather seats, a wireless charging pad for your smartphone, 3x USB ports, a reverse-view camera, LED daytime running lights, LED headlights, automatic wipers and cruise control to name a but a few features. The next trim up adds things like heated side mirrors with blind spot indicator, adaptive cruise control, as well as a powered tailgate.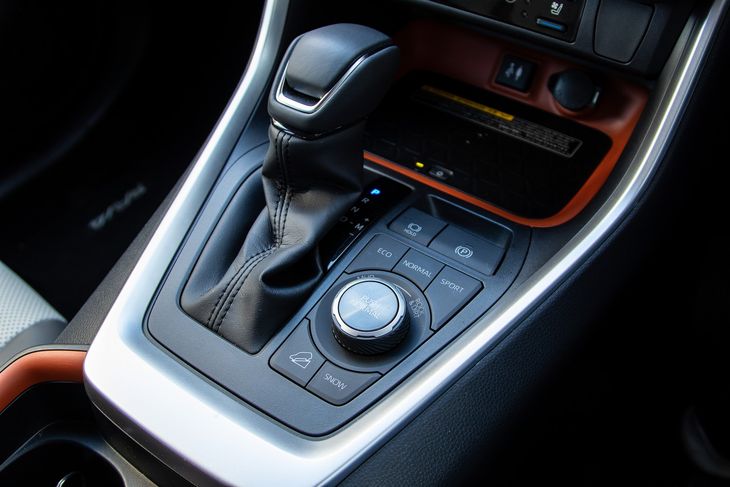 Off-road modes give it additional capability. Note the wireless charging pad, which also keeps your smartphone out of sight.
Good space utilisation is a hallmark of the TNGA platform. Most family cars either offer marginal rear legroom and a large load bay – or the inverse, but in the new RAV4 and you can have the best of both (provided the driver is not unnaturally tall). The luggage capacity is rated at 698 litres, which is decent considering there's a full-size spare under the boot board.
There's a core focus on practicality and there are plenty of cupholders and storage compartments. The second row of seats can fold down in a 60/40 fashion, enabling larger items such as mountain bikes. In fact, the RAV4 is one of the few vehicles to swallow a 29er mountain bike without the front wheel needed to be taken off.
Performance & Efficiency?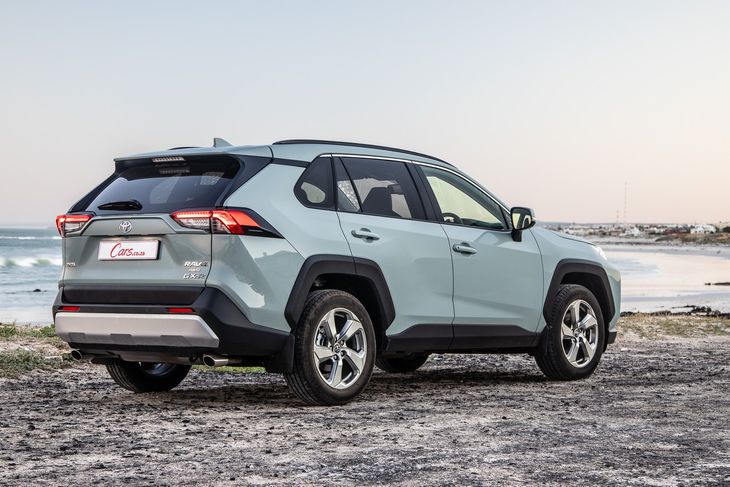 No turbodiesel or turbopetrol engines are available in this generation of Toyota RAV4.
As we've already mentioned, there are only 4-cylinder naturally-aspirated engines in this range. The 2.0 AWD GX-R has peak outputs of 127 kW and 203 Nm, with power going to all 4 wheels via a continuously variable (automatic) transmission. We suspected the middling torque output might be an issue if you are transporting a full complement of passengers and their luggage, and our suspicions were confirmed when we drove the vehicle up a particularly-steep mountain pass. While the GX-R doesn't actually struggle to climb, the engine has to work hard and the hum from the CVT rises considerably.
There's an upshot to this workmanlike power delivery, however. The 2.0-litre motor is commendably fuel efficient. Toyota claims the GX-R will, on average, consume 6.7 L/100 km and towards the end of the RAV4's tenure in our test fleet, we saw (a still impressive) 7.5 L/100 km on its trip computer. Even though naturally-aspirated engines tend to be revved harder to keep (typically chunkier than hatchbacks) SUVs at a canter, but to the detriment of fuel economy, the RAV4 has a kerb weight of just around 1 600 kg and its CVT is calibrated for efficiency; it keeps engine revs low whenever possible.
Ride & Handling?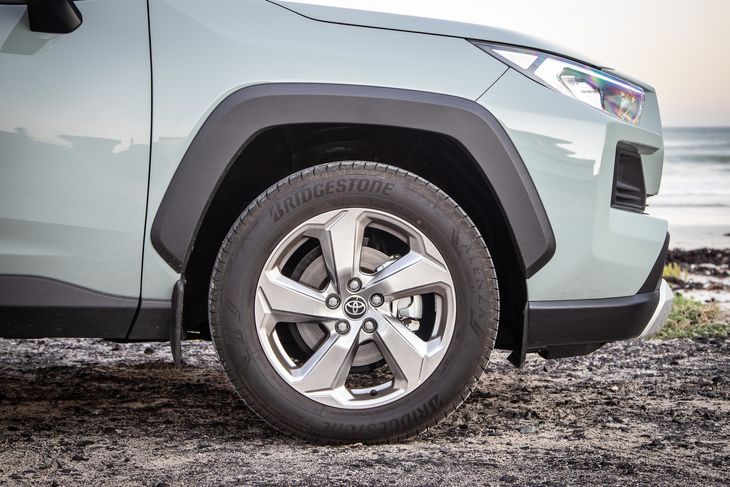 18-inch alloys wrapped in 225/60 rubber contribute to the decent ride quality
Another strong trait of the TNGA platform is its ride/handling balance. We've been impressed by the C-HR's on-road refinement and the new Corolla Hatchback's agility; they underline what this modular architecture is capable of and the new RAV4 is no exception – it rides with a maturity that thrusts it towards the top of its segment. There's a core focus on ride comfort (the GX-R's 18-inch alloy wheels are wrapped in thick 225/60 rubber) and on-road refinement (quietness). The steering has a relaxed feel to it, but there's sufficient directness to give you some feedback, which is par for the segment.
Given this derivative's appearance, you'd think some mild offroading would be possible and you'd be correct. There's 195 mm of ground clearance and the GX-R's mechanical all-wheel drive features dynamic torque vectoring with various off-road modes available (there's even a graphic on the instrument cluster showing what each wheel was doing).
During the evaluation, we did a shallow water crossing and climbed a dirt road riddled with holes with the RAV4 and it emerged unscathed at the end. The rough road would best be crossed by something with a diff lock, but somehow the Toyota scrambled through the course. We wouldn't recommend doing this on a regular basis, but it's reassuring to know the GX-R is reasonably handy off the beaten track. The all-wheel-drive system offers excellent stability on gravel.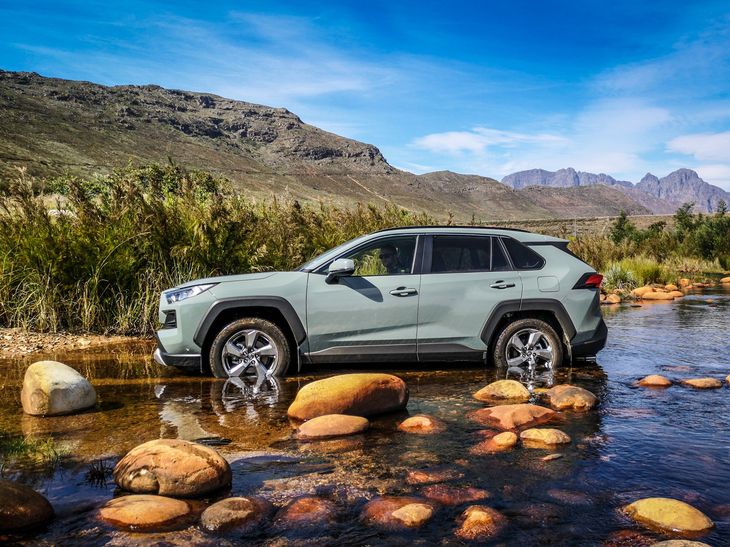 While it's not marketed as an offroad vehicle, the all-wheel-drive RAV4 was impressive on gravel and even completed a river crossing.
Pricing and warranty
The Toyota RAV4 range kicks off with the 2.0 GX derivative, the price of which begins at R416 400. This version is the 2.0 AWD GX-R, which retails for R508 100, while the top-of-the-range 2.5 AWD VX comes in at R577 900. A 3-year/100 000 km warranty and a 6-year/90 000 km service plan are standard across the range.
Verdict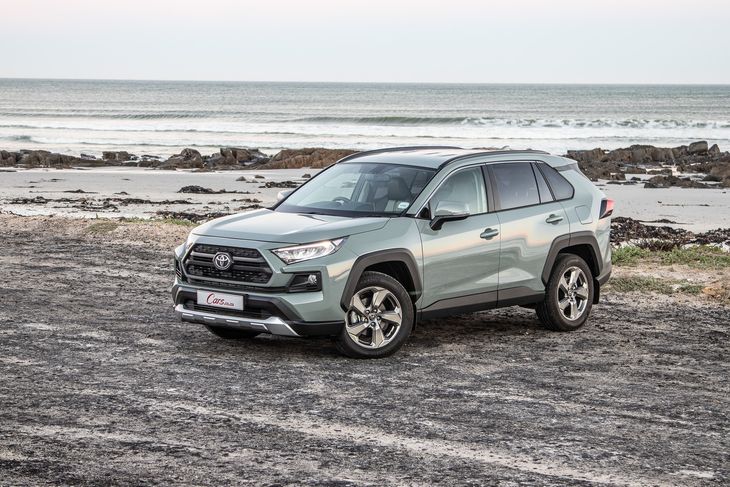 The new RAV4 has already won many fans over and outsold the Fortuner in April 2019.
When we first shared images and info about the new Toyota RAV4, not all of our users were convinced by the newcomer's outlandish (by RAV4 standards) looks. Comments such as "it looks like a Jeep" were bandied about and while social media commentary is to be taken with a hefty pinch of salt, the underlying sentiment was valid. Most South African consumers are conservative by default: vehicles that are extreme, too "out of the comfort zone" and quirky are at risk of selling poorly.
However, our fears of the RAV4 not carrying on where its previous generation left off were totally unfounded as customers looked beyond the product at face value and explored its other talents. The result? As many as 839 units of the RAV4 were sold in April 2019, which is 23 more than the entrenched-in-SA Fortuner could muster. It's not surprising: the look-at-me styling grew on us during the RAV4's tenure and we found its build quality, practicality and refinement deeply impressive.
Should you buy one? The lack of a torquey turbodiesel option or another form of forced induction dents the aspirations of those who wish to tow and if you do need to tow trailers regularly, then we suggest you fork out a bit more for a diesel-powered entry-level 2.4 GD-6 Fortuner, which is similarly priced. No need to tow (and not all people do)? Good, because then you'll be satisfied with the levels of comfort, space and refinement in the new RAV4. Granted, the engine is not the most enthusiastic – you'll encounter some mildly unpleasant noise when the GX-R ascends a steep hill while fully loaded.
If you have a relaxed driving style, however, you'll be hard-pressed to find a gentler cruising experience in the family car segment. The new RAV4 is one of those vehicles in which you can effortlessly cover hundreds of kilometres and emerge from the cabin feeling reasonably fresh. There aren't many drawbacks to the package, but we would have liked more connectivity options. Overseas models come with fancy JBL sound systems, Apple CarPlay/Android Auto compatibility and Amazon Alexa, but perhaps the inclusion of such a high-end setup would have driven up the range's asking prices too far.
All in all, the new RAV4 feels thoroughly fresh and represents a big leap forward for Toyota's popular family car offering. With rugged styling, a well-thought-out cabin and ample space, it's virtually guaranteed to remain a popular choice.
Looking to buy a new/used Toyota RAV4?
Find one on Cars.co.za by clicking here
Rival Comparison