Toyota Japan has quietly introduced the Offroad Package trim for the RAV4.
We've suspected the 5th-generation Toyota RAV4 is adept at the offroad stuff and our past experience with the GX-R all-wheel-drive version proved it was a lot more capable than previously thought. We did a river crossing as well as some steep gravel climbs and the RAV4 never skipped a beat.
Confirming our suspicions of offroad credibility is the announcement that Toyota has released an Adventure Offroad Package for the Japanese market RAV4. Visually, the changes aren't blatant, with a special edition matte-black 18-inch alloy wheel wrapped in all-terrain rubber and some proper roof rails. Inside, there are synthetic leather seats with red stitching and subtle badging on the dashboard.
Under the skin is where the real changes are to be found. There's a special suspension and ground clearance has been increased by 10 mm. As it stands the current ground clearance is 195 mm, so this Offroad Package setup takes that to 205 mm. In terms of powertrain, there are no changes and the Offroad Package-equipped RAV4 features the same 2.0-litre naturally-aspirated 4-cylinder petrol engine which produces 127 kW and 203 Nm.
While this Offroad Package is marketed for the Japanese market only, we reckon it wouldn't take much to convert SA-spec RAV4s to something similar. Toyota South Africa did announce some updates to the local RAV4 range in 2020, but its not as striking as the murdered out RAV4 offered in the UK.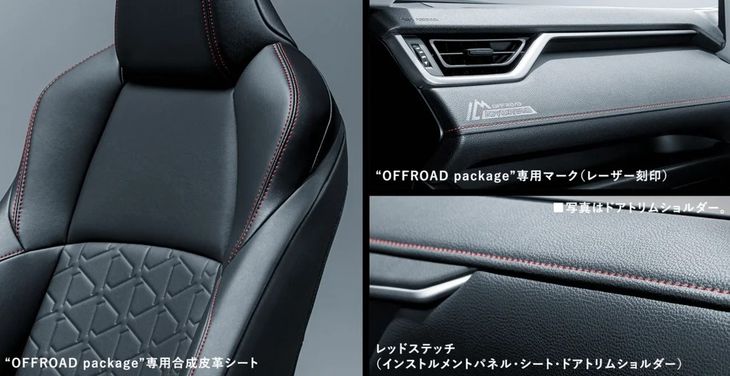 Further Reading
Toyota RAV4 (2019) Video Review
Toyota RAV4 (2019) Launch Review
Toyota RAV4 2.0 AWD GX-R (2019) Review