Is the Toyota Hilux 2.4 GD-6 4x4 SRX the sweet spot in the Hilux range? We took it for a drive in Mozambique to find out...
The new Toyota Hilux has arrived in South Africa and garnered strong sales since its launch. Much media attention has been given to the new range-topping 2.8 GD-6 derivatives (replacing the previous 3.0 D-4D), aimed squarely at leisure-orientated buyers. Although the new Hilux hits the mark in the leisure department, buyers looking for more of a workhorse have lots of choices too. To shed some light on its workhorse offerings, Toyota invited us to Mozambique to sample the credentials of the mid-range Hilux double-cab powered by a new 2.4-litre turbodiesel engine, and what an engine it is!
The engine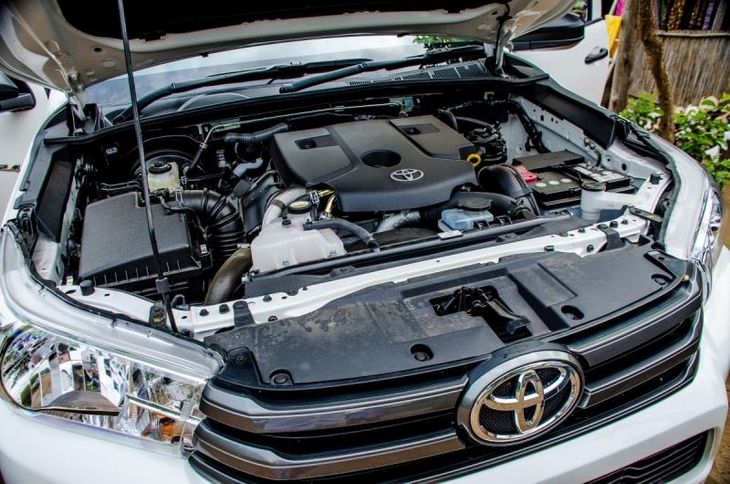 The new 2.4-litre turbodiesel engine delivers a whopping 400 Nm of torque and is very refined.
This new 2.4-litre turbodiesel engine replaces the previous 2.5 D-4D engine and is offered in two states of tune. The standard version offers 110 kW and 343 Nm, which is considerably more powerful than the engine it replaces. To be exact, those are increases of 35 kW (47%) and 143 Nm (72%) respectively. This engine is mated with a new 5-speed manual transmission (offered on workhorse models only).
For the mid-range Hilux 2.4 GD-6 SRX 4x4 derivative we drove in Mozambique, this same engine produces 110 kW, but with class-leading torque of 400 Nm. This engine version is matched with a new 6-speed manual transmission with wider gear ratios contributing to improved efficiency. In fact, Toyota says this engine is 16% more efficient than the motor it replaces with a claimed combined fuel consumption of 7.3 L/100 km. Low-end torque has been beefed up and a reduced compression ratio has resulted in lower emissions and less strain on the engine. As we discovered, it's quiet and refined out on the road, too.
Furthermore, towing capacity for this 2.4 GD-6 4x4 SRX derivative is rated at a not-insubstantial 3 200 kg.
Features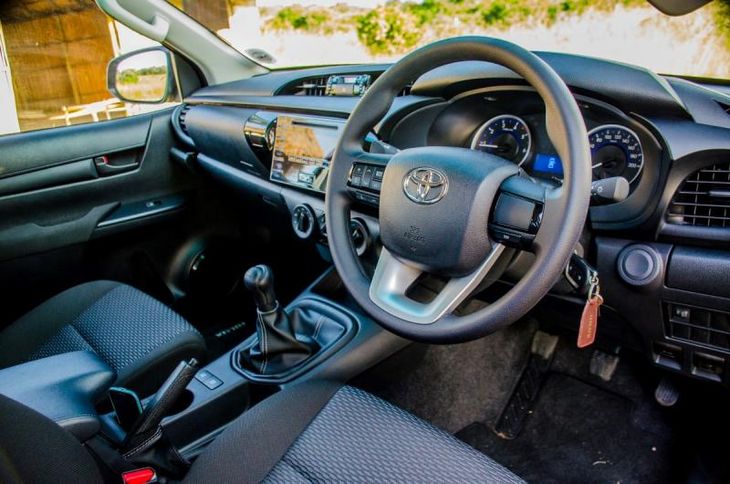 As is the case with the flagship Hilux, the new 2.4-litre model has a comfortable, modern cabin.
The interior of the new Hilux is much improved over the previous generation and this particular derivative offers a number convenience features including mounted controls on the rake/reach adjustable steering wheel, economy meter, multi-information display and an audio system with Bluetooth and USB compatibility. Other features include electric windows, 12-volt socket, remote central locking and an all-new anti-theft system.
In terms of safety, the 2.4 GD-6 4x4 SRX is fitted with ABS with EBD, brake assist and three airbags. Double-cab models are fitted with Isofix mountings too.
How does it drive?
Toyota's engineers have improved the Hilux's ride quality appreciably and the fruits of their labour were greatly appreciated on the sandy and bumpy tracks in Mozambique. With a simple flick of the new electronic 4WD switch, the driver can easily engage toggle between 2H, 4H and 4L modes (the system supersedes the secondary lever that featured in the previous-generation Hilux).
The sand roads were no obstacle for the new Hilux – it simply glided over them with absolute confidence. We were impressed by the bakkie's steering feel, which was accurate and direct and the engine's extra torque came in handy in deeper sand sections, where the new 6-speed manual transmission proved smooth to use. Even on the toughest sections of the route, the engine kept plugging away quietly to get the job done (watch the video below).

On tar, the Hilux felt composed too. Acceleration is ample and that sixth gear is welcome on the open road. Sitting in this Hilux, you wouldn't think that you are driving a "workhorse". The ride quality is right up there and whether you are a foreman or farmer, you will appreciate its comfortable, forgiving ride.
Overall, this new 2.4-litre turbodiesel engine was very impressive. It packs a punch in the rough stuff and is refined and quiet on the road. If there is one major criticism to air, it's those rather unattractive 17-inch steel wheels, which don't do the Hilux any justice. Even so, this Hilux in SRX guise is well worth a look if you can't afford the top-spec 2.8 Raider derivatives.
Toyota Hilux 2.4 GD prices in South Africa
Single-Cab
2.4 GD 5MT – R259 900
2.4 GD 5MT A/C – R267 400
2.4 GD-6 RB SRX 6MT – R319 900
2.4 GD-6 4X4 SRX 6MT – R379 900
Xtra Cab
2.4 GD-6 RB SRX 6MT – R333 900
Double Cab
2.4 GD-6 4X4 SRX 6MT – R439 900
2.4 GD-6 RB SRX 6MT – R414 900
Mining Models
2.4 GD-6 4X4 SR 6MT Single Cab – R382 900
2.4 GD-6 4X4 SR 6MT Xtra Cab – R333 900
All models are sold with a 3-year / 100 000 km warranty and a 5-year / 90 000 km service plan with service intervals set at 10 000 km.
More Bakkie Content
In-Depth Comparison: Toyota Hilux vs Ford Ranger vs Isuzu KB vs Volkswagen Amarok (Video)

2016 Toyota Hilux vs Ford Ranger - Offroad & Review

2016 Toyota Hilux - 5 Things you need to know (Video)

Bakkie Drag Race: Hilux vs Ranger vs Amarok vs KB

New Hilux vs Old Hilux - an Expert's Opinion on What's Changed
Interested in buying a new Toyota Hilux? Click here
Want to buy a used Toyota Hilux? Search for one on Cars.co.za