The new Toyota GR Supra is a welcome addition to a small but growing class of purpose-built sportscars. The newcomer, which will arrive in South Africa in July 2019, clearly has great potential, but not all of it has been realised yet, our UK correspondent Andrew Frankel reports.
What is it?
More than anything, this Supra is remarkable for the fact it exists. The imperative that it "must make money" meant Toyota couldn't do the car by itself, but the joint venture with BMW that created it (and the Z4) has been so fraught that Tetsuya Tada, its refreshingly honest chief engineer, told me "there were many times when I believed it simply would not happen."
So you might fear some unsatisfactory compromise between Toyota's craving for a balls-to-the-wall Porsche Cayman rival and BMW's no less strong (but more commercially-motivated) desire to build a broadly defined sporty roadster. If so, you're not alone: Toyota did too. Which is why, once the hard points had been agreed – platform, powertrain, wheelbase and so on – the 2 projects became separate entities, to the extent that Tada-san has driven a Z4 just once and has no idea how his car differs from theirs in terms of settings for suspension, steering and electronically controlled differential. "If you're going to compare the Supra to another car, compare it to the Cayman," he said. Some might call that fighting talk!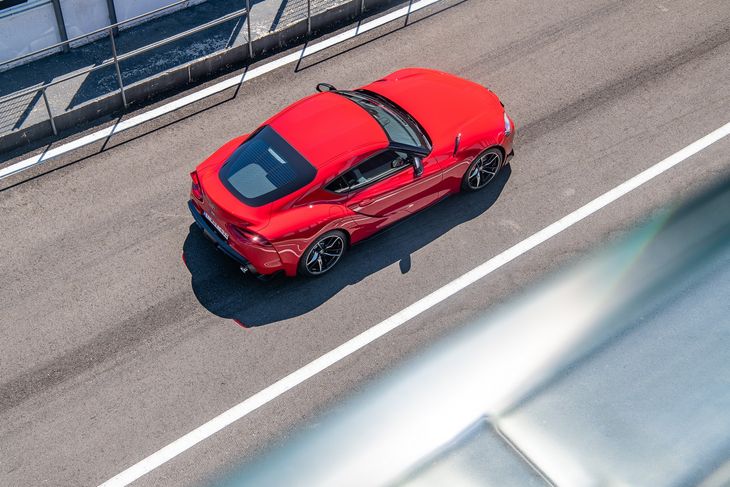 From the outside, it doesn't look anything like the Z4 it shares parts with.
It's an intriguing car even before you've fired up its BMW-sourced 250 kW twin-scroll, single-turbo 3.0-litre straight 6. Remember it's the first car developed from scratch by Toyota's in-house Gazoo Racing high-performance division, hence its full title of Toyota GR Supra. I think it looks great, save for some fussiness around the tail, but the BMW/Toyota interior takes acclimatisation. I don't suppose too many Toyota customers will be outraged by the clear and effective iDrive interface and the bespoke instrument pack is informative and attractive. But the BMW switchgear looks odd in here...
Of the 2 transmissions you might expect to find in a Cayman rival – a manual or dual-clutch gearbox – there is no sign. Instead, ZF's ubiquitous auto 'box directs the power to the rear wheels via a multi-link rear axle. There are struts upfront. The driving position is excellent and while the glasshouse is small, visibility all round is good enough by coupé standards.
Own a Toyota? Tell us about your experience here.
What's it like to drive?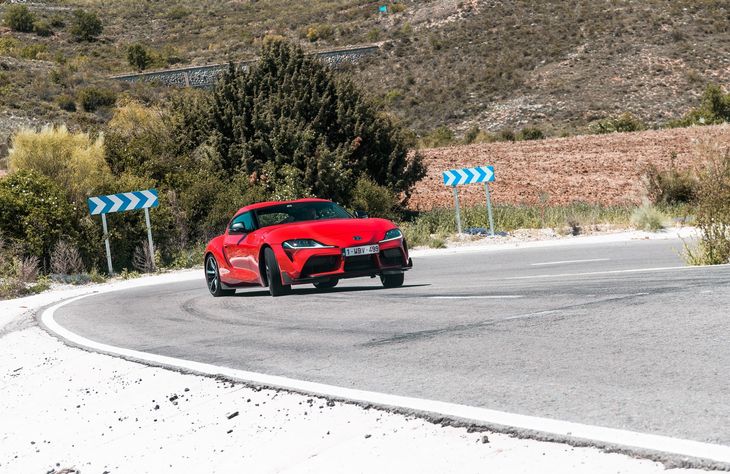 The Supra takes a fair bit of provoking to unstick.
The most obvious benefit brought by such a combination of assets is that the Supra is extremely easy to drive, be it at a fast or slow pace. And while that might not be the most exciting of attributes to attach to a once achingly cool nameplate returning after a 17-year lay-off, out there in the real world, it matters. But, for the derisory amount of onboard storage space, this would be an exceptionally easy car to live with. The engine is smooth at part throttle and the transmission smoother – even the steering lock is incredibly generous. You'll like the big boot too.
Forgiving ride quality
But you just want to know what it's like to drive, don't you? From the outset the signs are good, perhaps even a little too good. The first thing you notice is the ride quality: we're used to cars like the Cayman riding well, but to achieve such plush comfort with a sizeable motor sitting at the opposite end to the driven wheels is a different challenge and one to which the Supra rises with ease. It positively glides down the road in a way you'd be happy to find in a soft-bottomed GT car, let alone one billed to be as sporting as the Supra.
That 6-cylinder engine is terrific, too. It's not an M Power marvel, yes, but certainly far more charming in both voice and power delivery than anything you'll find under the engine cover of a 718 Cayman. There's essentially zero lag and the power band is so wide that you can deal with almost any decent road in 3rd and 4th alone. You'll like the way it handles, too: its steering is quite quick, while avoiding the off-centre aggression engineered into some rapid racks to make cars feel more sporting than they really are. Lateral grip from the fat Michelins is impressive, longitudinal grip in the form of traction more impressive still. It's a very easy car to get into a corner and an even easier one in which to power away.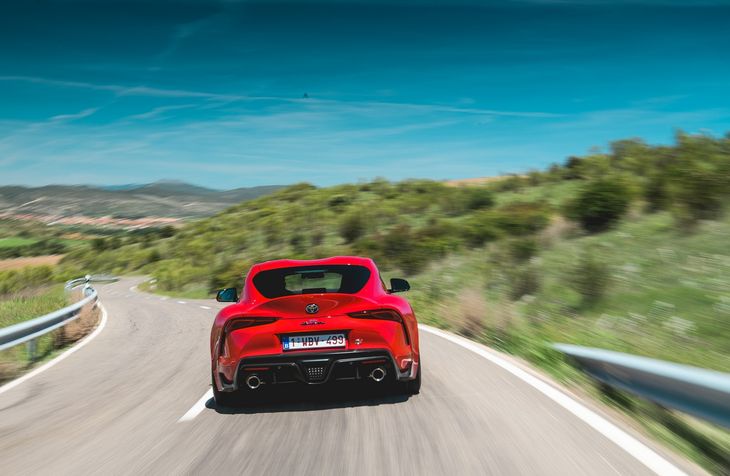 It rides as comfortably as a GT cruiser.
So all good, then? Yes, and if this car has an issue, that's it, right there. There's goodness here, lots of it, but not so much that you'd more readily identify as being truly great. Which in this small, but highly-select class, is problematic.
Torque-converter auto doesn't do it justice
Whatever Toyota's engineers say, the 8-speed auto is not the right gearbox for this car. It's quite quick, but it doesn't rip through its ratios as would the dual-clutch transmission (DCT) it needs. It can seem a little slow to take up downshifts too. Toyota says a DCT was ruled out because of weight, but the Cayman, which is a lighter car, is so equipped.
But the real reason the Supra falls slightly (yet significantly) short in the all-out sportscar role chosen for it by its creators, is the way its chassis is configured, and in 3 key areas. First, there is that suspension softness: standard adaptive damping means the body's never going to flop about, but there is still too much movement when you start to drive the Toyota hard.
The car is always stable, but it needs guiding down a great road, where either one of its mid-engined rivals can simply be lobbed. Its body movements need a degree of anticipation and management that theirs do not. It resists understeer commendably well and will only oversteer on a dry road if provoked, and that's impressive, but its angle of attack is less throttle sensitive than those of mid-engined cars', lacking as it does their near-balletic, on-the-limit grace.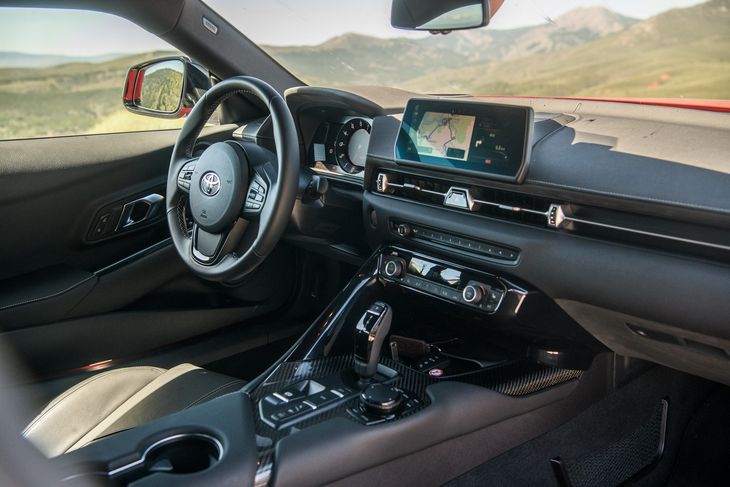 Getting used to BMW buttons in your Toyota may take a while.
Secondly, the steering is fine at guiding the car, but less good at filling your fingertips with information about how the wheels are interacting with the road surface. Finally, the brake pedal has a slightly dead feel and should you ever take your Supra near a track, the discs will likely need some management if full performance is to be maintained lap after lap.
But none of this is what irks most about this new Supra. It's the indelible impression it leaves that within that sensuous shape a truly great car lies imprisoned. I can almost hear it rattling the bars. My feeling when I drove it was not so much how good a car this is – and don't let anyone tell you otherwise – but how much better even than this it could so easily be.
It doesn't even need more power. But a 6-speed manual gearbox like the one BMW already ties to this engine would be a huge improvement and would shed some kilos, too. What's more, I hate oversprung cars, but I'd still sacrifice some of that peachy ride quality if it would result in a little more composure in extremis. A set of big brakes would not go amiss either.
Should I buy one?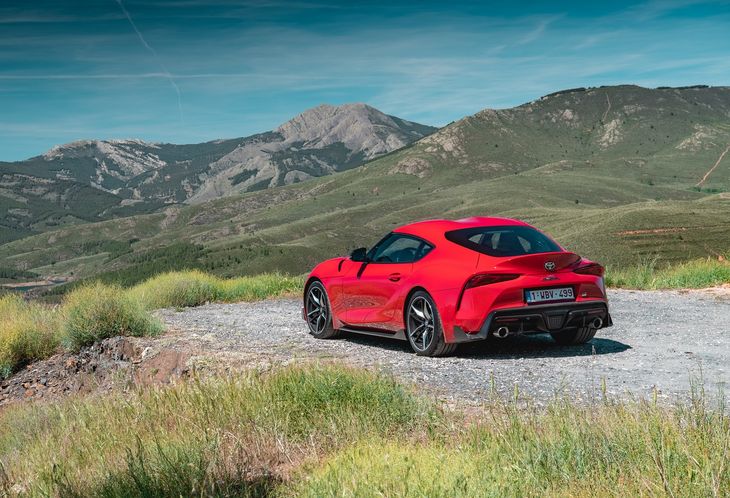 There is a good car here, its just not this one, yet.
Toyota says that this Supra is just the start of the story. We know the 4-cylinder version of the car (already on sale in Japan) is heading towards Europe and Tada-san is absolutely not ruling out higher performance versions.
I hope he rules them in soon. To me "Supra" is a special name and it deserves only to be attached to very special cars. For all Toyota's claims that the new one has not been compromised by its BMW DNA, compromised is how it feels. It's as if Toyota knew exactly how to make this a landmark sportscar but pulled back, just a little, right at the last moment. Until the Japanese firm can find the courage of its convictions and deliver a visceral, engaging version of the car the Supra could so transparently be, impressive though the newcomer is in so many ways, it will remain a "work in progress" in my opinion.
Related content:
Toyota Unveils TRD Goodies for Supra