In this week's news that you need to know, Audi gets spammed by Tesla fanboys during its e-tron GT reveal, Suzuki launches snacks, a polaroid camera and a Vitara Brezza and the new C-Class is very nearly here. Brent vd Schyff tells it like it happened.
Sparking the debate – Audi E-Tron GT
If you want to realise a lifelong dream of winning the 100m sprint at the Olympics, you need a singular vision… to sacrifice a big chunk of your life, experience the odd divorce and resist the temptations of all the self-indulgences you see on social media. You have to train every day, sweat bullets for decades, pay all the "school fees" and suffer many injuries, from which you'll recover slowly. But then, when you reach the start line for the 100m one day, an overweight 7-year-old, wearing a pair of those hideous Balenciagas and a "save the trees" T-shirt, starts behind you and still ends up beating you by 0.2 sec.
That is what's happening in the world of performance motoring, one in which the overwhelming majority of benchmarks were set by internal combustion engines that were developed over many decades, at great cost – both human and financial. A Porsche Turbo S accelerated from 0 to 100kph in 2.6 sec, the Tesla Model S went 0.2 sec faster. Deflated much? We'll get to that. It's Audi's time to shine now.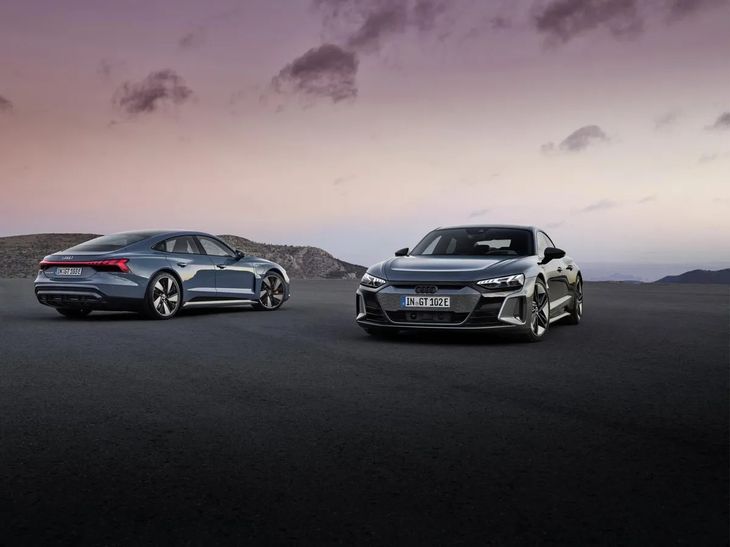 Audi's new e-tron GT claims to accelerate from 0 to 100 kph in 3.3 sec with a range of between 433- and 472 km.
Audi's E-Tron GT, which was released this week, is the latest, greatest EV weapon. The VW Group and Tesla have drawn their battle lines and this cyber-motoring war is only going to intensify... In fact, the tussle is turning into something similar to the IOS vs Android battle that has raged for many years (well, arguably since the very first app was downloaded). Tesla has its fans (avid ones) and yes, the brand attracts non-car people to motoring by virtue of all its fancy gadgetry, which is a great thing and decidedly to Elon Musk's advantage. The cult of Tesla has, however, surpassed typical fanboy levels and attracted the attention (and cheque cards) of the most die-hard petrolheads… Convincing Tesla's faithful disciples to distantiate themselves from their beloved brand will be high on the list of priorities for Audi's marketing team and yes, the GT might be trailing behind at only 3.3 sec from 0 to 100 kph, but for someone comfortable with a lack of inflated ego, let me assure you those figures are just FINE.
Read: Audi e-tron GT Revealed
Tesla may have had a head start in the EV game, but just like when Myspace started, Facebook proved that you don't need to be first. You just need to be the best. You can bet your bottom Bitcoin that Audi's going to be taking a page out of this e-book.
And now to revisit that point about "feeling deflated"… Is the internal-combustion engine community deflated by this performance eclipse? I don't think so. Quite the opposite – and the reason for that is linked to basic human stimulus. Emotional provocation. There is something about understanding the sum of the parts of the internal combustion engine (and how its oily bits all work in unison) that underpins that "provocation". The visceral feeling you get when you put your foot down and the carburettor sucks in air, mixes with fuel and injects it through the inlet into the combustion chamber, pushing a cylinder down, driving the crank and gearset to the wheels to propel the car forward, accompanied by the soundtrack of a controlled explosion through the exhaust – THAT is the root of that emotion. The way EVs make themselves go faster can't deliver the same emotive response. EVs will always be quicker, more efficient and environmentally friendly, but all that will not make driving them any more engaging.
Spending wisely – Vitara Brezza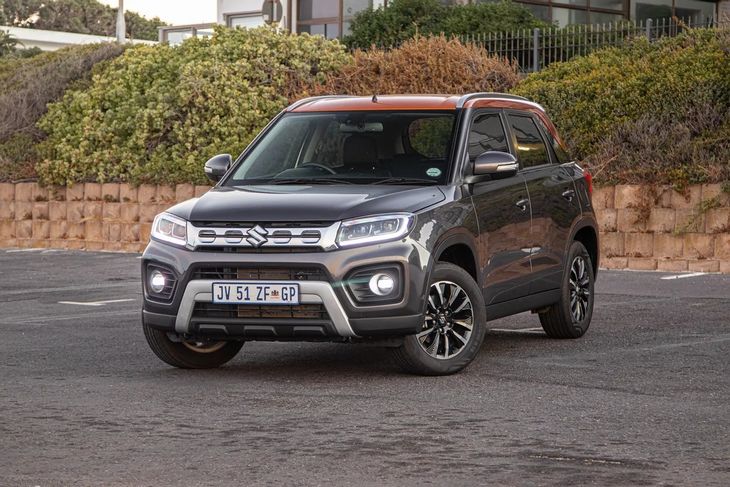 Cheaper than a VW Polo by R100k, the Brezza is punching hard.
When you wade through the social posts of your favourite local motoring influencers, in which they gush about the corporate gifts they received this week, including Polaroid cameras and a selection of edible treats (none of which I received) as part of the local Vitara Brezza launch, you'll notice two things. Firstly, the Suzuki PR team has been hard at work and secondly, the brand is veraciously attempting to establish itself as the budget buster of manufacturers in a past-the-worst-of-covid world where smart spending is a major point of focus, specifically in ordinary households, where entire families have been forced to tighten their belts. R244 000 for a new car that can host a small family is a more affordable option that will get the attention it deserves. I love a bargain; it has certainly piqued my interest.
Watch: Ciro drives the new Vitara Brezza
Despite the hype surrounding this newcomer, which has spilt over from India, where it's the best-selling "SUV", but where quality control is, well, "a little more relaxed", Suzuki must keep reminding buyers it's a quality brand (and a 2-time #CarsAwards Brand of the Year winner, although it last won the trophy in 2018). To be fair, the marque grew its local market share significantly in 2020, which is a good sign.
Out with the old – New C-Class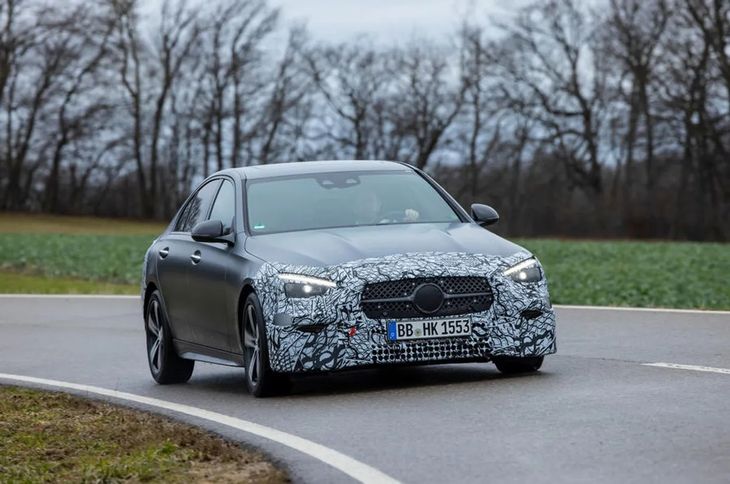 The new Merc C-Class will be shown at the end of February 2021.
Here's another thing I've learnt over the years: Mercedes-Benz C-class owners are a faithful bunch. They are dedicated followers who desire each and every iteration of the Three-pointed Star's sports executive sedan, from base derivatives to the range-topping AMG-fettled C63s. They keep coming back for more and Mercedes ensures that their expectations are met. It's a mutually beneficial relationship.
Read: Key Insights: 2021 Mercedes-Benz C-Class
The latest iteration looks to be ushering in some radical tech changes, but from an aesthetic point of view, Mercedes-Benz has kept things sleek, sophisticated and painfully understated. Despite grumblings from the more, say, adrenaline-craving sections of the fanbase about a lack of a V8 (we had a go at that last week), Benz alleges the compact layout of the engine bay wouldn't be able to accommodate a 6-cylinder. My friends, I know several backyard mechanics who would love to consult on the matter – or, better still, prove quite the opposite. In many ways, the technological advancements incorporated in the W206 are absolutely praiseworthy, but my only concern is that in the world of rapidly changing ideas and sharper design cues, which BMW and Audi seem to be charging ahead with, good old Benz might be falling behind... and worse, be slipping back into the "Old Man's Car" stigma. This is always the challenge for manufacturers: How do you keep the faithful happy while attracting new blood to the brand?
Despite this and whatever's been said about the new C-class, one thing we can put our money on is that the W206-generation sedan will be a triumph, even if an altogether downsized and buttoned-up one. Mercedes-Benz is a "sure" bet in the luxury sedan segment; it has demonstrated that time after time. Now for some tea and scones.