The world has changed a great deal since 1951 – the year in which Toyota built its original Land Cruiser. Lance Branquinho travelled to Angola in a Toyota Land Cruiser, the original vehicle that conquered Africa.
In 1951 few people owned personal vehicles. In 2019, we can't find enough space to drive and park them. You'd expect that a world with more paved roads and surging urbanisation would see the Land Cruiser's success waver, but quite the opposite has happened.
Toyota sells nearly 400 000 Land Cruisers per year in 170 different markets. And its customers are some of the most demanding owners imaginable: people who use their vehicles to run businesses and emergency services where there are none. For them, vehicle durability is sacrosanct and breakdowns, simply intolerable.
In an automotive world where brands are drowning in the technological anxiety of evolving customer expectations, Land Cruiser remains the outlier. Its range manages to hold true to the most fleeting marketing concept: authenticity. These are vehicles that sell strongly, (with respect) little marketing effort on the part of Toyota.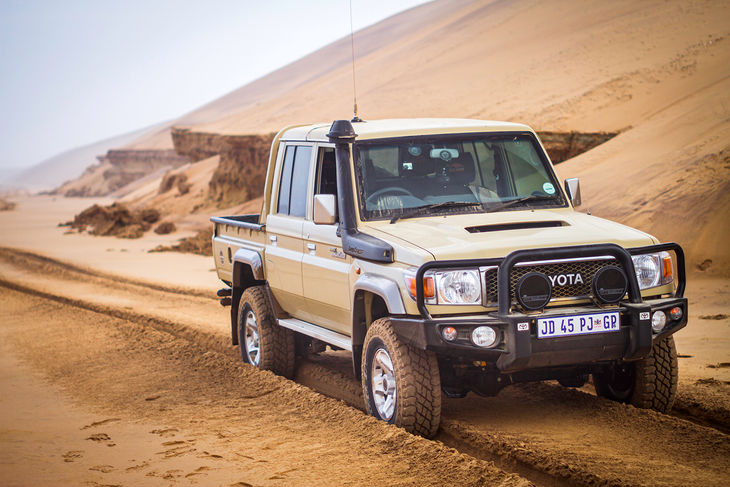 The Namib edition's lift kit and larger volume tyres give it a terrifically purposeful stance.
There is no pretence with a 'Cruiser and they are definitely not designed-to-follow-the-trend vehicles. The 70 Series might have some novelty appeal due to its 1980s styling, but both Prado and Land Cruiser 200 are neither fluid nor particularly attractive designs. Contrasted with any urban environment, Land Cruiser luxury SUVs look ungainly – unlike their European rivals, which merge gracefully into cityscapes or lifestyle-estate architecture.
But what happens when you take a 'Cruiser where it is supposed to go? Toyota was keen to provide an answer to that. Instead of celebrating 10-million Land Cruiser sales in 68 years with a jaunt around some local nature reserve, they opted for a place without virtually any European SUVs: República de Angola.
The Death Acre is not just a name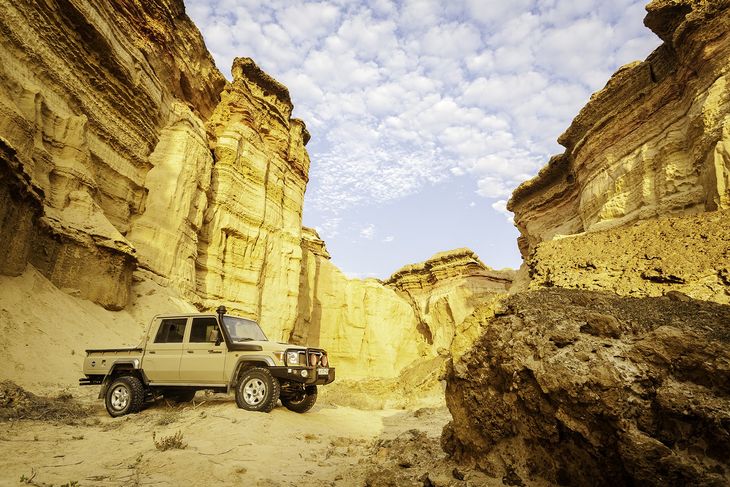 In the deep canyons north of Tombua, the only way to can get out is in a Cruiser ​
Angola is a harsh place. Withered by civil war and containing some of the most astounding geographies you'll ever encounter, it is about as true a test for off-road exploring as you'll ever find. If you get stuck, lost or have a mechanical issue in southwestern Angola, nobody is going to come help you.
In the country's coastal border corner with Namibia, there are towering sand dunes and deep wind-erosion-sculpted canyons: both inspiring and forbidding. At the helm of a 'Cruiser, you feel strangely at ease in this unforgiving, but evocative landscape.

Land Cruiser 200s are the only luxury SUVs you see in Angola's deep south.
The Namibe province of Angola also contains a treacherous stretch of coastline, which is unofficially known as the Death Acre. It runs from Foz do Cunene to Tombua and over the years, many vehicles have been lost here.
In a coastal zone where there has never been human habitation or development, the dune fields remain undisturbed in their position, sloping down right to the hightide watermark. This leaves virtually no passable beach for driving. You can only attempt this stretch of coast during a full moon, at low tide and, if you get it wrong, the consequences are severe...
In 2007 a convoy including the former sergeant major of South Africa's special forces brigade was forced to abandon their vehicles up a dune slope after the surging surfline trapped them. Barely escaping with their vehicles intact, during the next low tide, this group christened the area 'Death Acre' – a name which has stuck.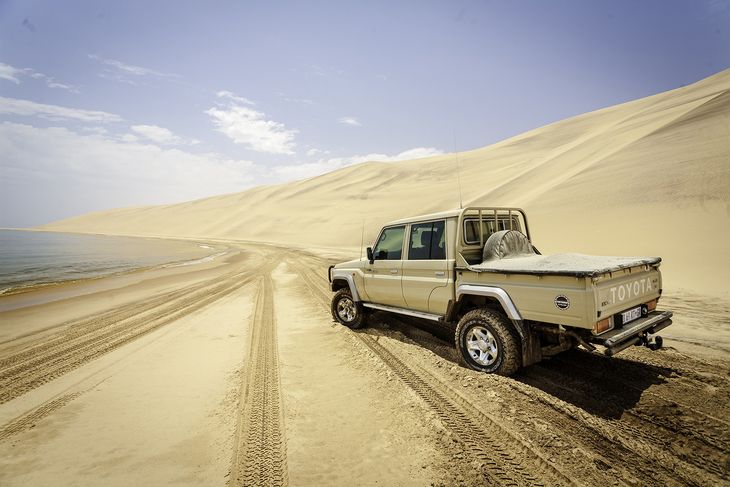 The Death Acre is a 60km stretch of coast between the Cunene river mouth and Tombua. It has claimed many vehicles and egos.
For those most hardcore 4x4 adventurers, the Angolan Death Acre is akin to an off-road Nürburgring. In distance, it equates to about three laps of the 'Ring (just over 60 km) and is seen as one of the world's ultimate off-road risk routes. To prove how confident Toyota is in its Land Cruisers, we did what you are never supposed to: two Death Acre runs in one day.
Most 4x4 convoys time the tide and then rush to clear the Death Acre in haste, either going north or south, but never returning on the same day. Once you enter the Death Acre there are only 1 or 2 escape points – and statistically, they will not be where you need them. Even the escape routes feature treacherous dune portages.
Right tool for the trade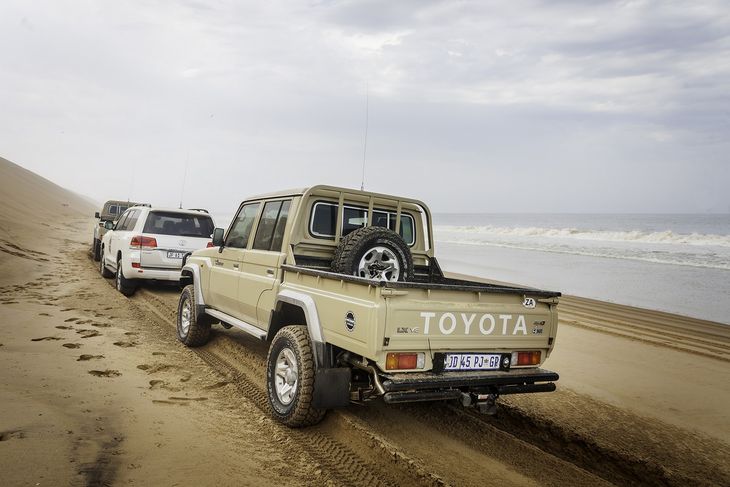 Namib edition double-cab is the envy of many global off-roading enthusiasts – and exclusively for local customers.
Having all 3 variants of the Land Cruiser range in 1 testing environment was a unique opportunity to experience the evolution and legacy of these remarkable vehicles.
There are components in the "new" 70 Series Namib edition double-cab which could qualify for classic vehicle status, but it remains charmingly effective in the same way a chronograph timepiece is superior to any Smartwatch.
When you are churning along the narrowest space between a surging tide and inescapable dune slope, in the unambiguously named "Death Acre", you don't want driver assistance systems blunting your inputs or an overload of technology to distract your attention.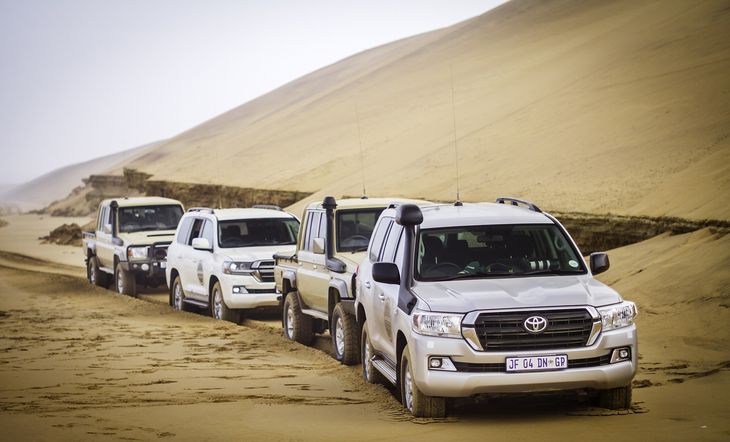 GX-R at the front, building the tracks for others to follow through the Death Acre.
It's the purity of mechanical interaction and trust between driver and 'Cruiser that make these Namib double-cabs so beguiling. The long-throw gear lever might initially feel awkward, but it never fails to engage, even when you are shifting under full power, in low-range. And a 'Cruiser Namib's V8 turbodiesel will run all day long, in searing heat, breathing the iron oxide-contaminated air churned up by the convoy, without even a trace of complaint from any of its engine sensors.
Unlimited capability limousines
Transitioning from the Namib bakkie to a 200 VX-R is like upgrading from Edge to 5G: you gain a lot of speed and convenience.
Like any Land Cruiser, the 200 Series is entirely dismissive of terrain. And that is exactly what you want in a place like Angola's Namibe province: a vehicle that allows you to be awestruck by the scenery you are navigating through, without having to become a victim of it.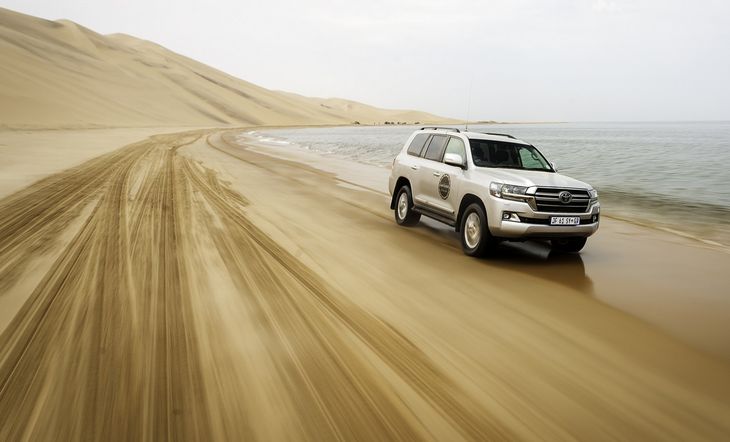 Land Cruiser 200 VX-R along the Death Acre.
Most of its luxury SUV rivals have transitioned to monocoque construction, but Toyota believes that separating bodywork, cabin and platform is vital for a true Safari specification overlander. After 200km of corrugated gravel terrain that would vibrate the tracks of a battle tank, the Cruiser 200 didn't have a single spec of dust in its cabin. Or any trim squeaks. Or annoying system check lights illuminated between the dials.
In a world where people are paradoxically buying more SUVs, yet becoming increasingly intertwined with their sanitised urban existence, the Land Cruiser range offers its South African followers a reason to use your passport without passing through an airport.
There is no other Land Cruiser market that has the diversity of domestic terrain for exploring and escaping urban life that we have. And beyond our borders, in places like Angola, that diversity just keeps compounding in value. American, Australian and European adventurers dream of the kind of year-end journeys that South African Land Cruiser owners can easily undertake.
The first amongst equals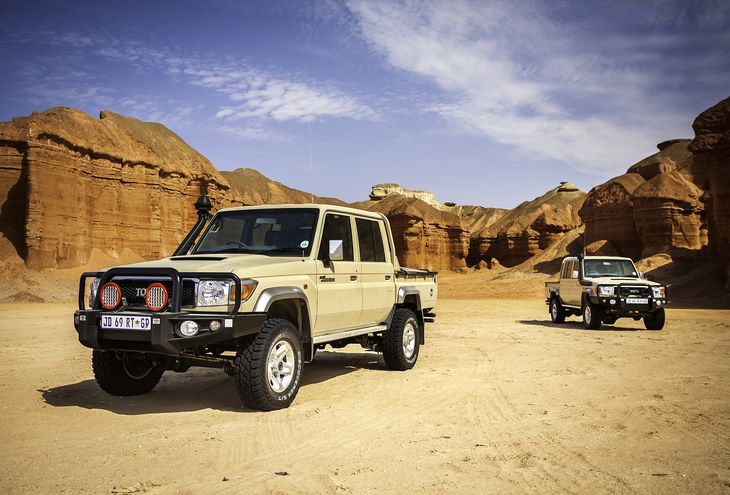 Two Namib edition 70s, ready for duty in Angola iconic Red City cliff formations.
A Land Cruiser 70 or 200 makes no sense in Europe. Which is why they don't really bother even trying to sell them there anymore. But in South Africa, if you make the sacrifices to adjust your schedule, these remain unrivalled exploration vehicles.
It is amazing that Toyota manages to sell so many Land Cruisers because if you buy one, you'll probably never need another. And in a world where the digital detox is becoming a necessary purge to rediscover your own personality, a Land Cruiser can take you to places where your Smartphone doesn't work – and real adventure memories are made. Naturally, it can bring you back too – which is why they are so popular.
Asking which Land Cruiser is best would be like choosing between Springbok try-scoring phenomenons (Makazole) Mapimpi or (Cheslyn) Kolbe. I admire the Namib edition for its sheer strength and trio of lockable differentials. The 200 VX-R is a competent luxury SUV that will go places most adventure off-road motorcyclists won't.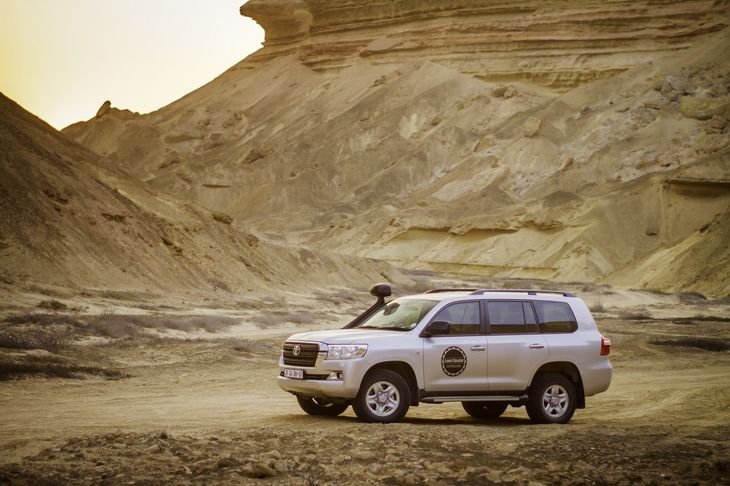 This is the chosen one, Toyota's GX-R specification Land Cruiser, overlander perfect, straight from the factory.
The one which truly blends the best bits of luxury and robustness would be the 'Cruiser GX-R. It is lighter than the VX-R, with a slightly more responsive throttle- and transmission mapping, which is what you want to conquer huge dune fields. It also rolls on steel wheels and comes equipped with a snorkel.
I would never recommend that anyone try and do the "Death Acre" solo, but if I had to, my choice of vehicle would definitely be a GX-R.
Related content:
Land Rover Discovery Workhorse launched
Five Times Carmakers Over-customised Cars for Hobbies
Race! Toyota Hilux GR Sport vs Hilux Legend 50 - Off-road Shootout