Tesla remains the master of electric motor performance.
Image credit: S. Baldauf/SB-Medien
Porsche's show-stopping Taycan electric sportscar might have a problem.
September has been an amazing month for Porsche, as it revealed the brand's first all-electric passenger vehicle.
There were huge expectations for Taycan, and these were met with sophisticated design and massive power outputs. The most potent Taycan is a Turbo S variant, which is good for 560 kW, with its launch control powertrain setting enabled.
Porsche did what most thought it would and set the Taycan upon the Nürburgring to see how fast it would be around the world's most demanding stretch of road.
The Taycan posted a 7:42 lap of the Nürburgring, which is not outrageously fast for a Porsche, but quicker than any other battery-powered vehicle before.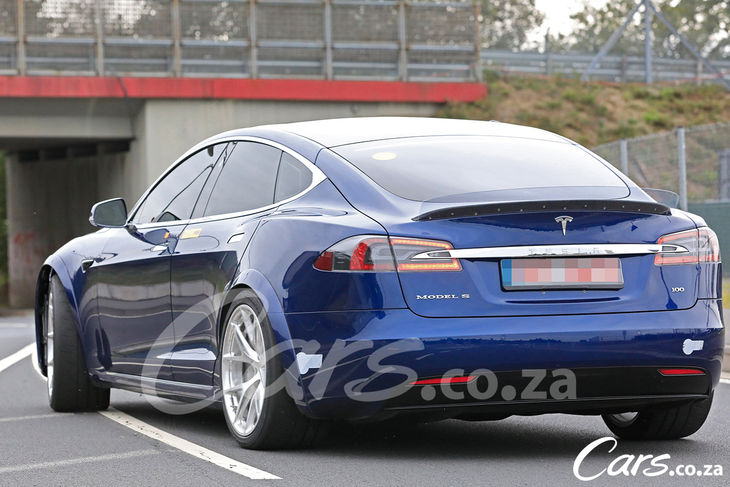 The Tesla was spotted using a set of special tyers provided by Goodyear.
Determined to defend its billing as the best electric car brand in the world, with the most potent performance, Tesla has a team at the Nürburgring, keen to wrest the record lap time from Porsche.
Tesla's engineers and driving team are using a Tesla S prototype, which features a new three-motor configuration. Power outputs remain unknown for now, but it is quicker than any other Tesla around the Nürburgring.
Eyewitnesses have confirmed that a hand time lap of 7:23 (unofficial) was achieved by the Tesla Model S prototype, which is nearly 20 seconds faster than what Porsche could do in their production Taycan. The inaccuracy of hand timing could mean that the actual margin of superiority achieved by Tesla could be higher.
An interesting aspect of Tesla's Nürburgring venture is that its Model S was rolling an unfamiliar Goodyear tyre. The American electric car brand had previously lapped the Nürburgring on Michelin Cup 2 R tyres, but the 7:23 lap was completed rolling Goodyear Eagle F1 Supersport RS tyre.
Nürburgring lap times are about a balance between power, deceleration and mechanical grip. A superior tyre, from Goodyear, would undoubtedly have assisted in Tesla's cause to unseat Porsche's Taycan as the fastest electric car around the Nürburgring.
Related content
Electric Porsche Taycan Brings Big Power