The numbers are huge – and so are expectations.
After a series of agonising teasers, Porsche has finally revealed the production version of its first electric vehicle, the Taycan.
Billed as perhaps the most important vehicle in Porsche's esteemed history, the Taycan will be available in 2 derivatives: Turbo and Turbo S. Despite being powered by batteries and electric motors, Porsche has chosen to associate its Taycan with the company's legendary Turbo naming heritage.
Both Taycan trims are powered by a similar dual-electric motor drivetrain, fed by a 93.4 kWh lithium-ion battery pack. To place its battery capacity in perspective, the latest iteration of Tesla's Model S, is powered by a 100kWh battery.
The electric motor power outputs are deeply impressive. Although both the Turbo and Turbo S run in a default 460kW mode, additional power is available on demand. The Taycan Turbo can deliver up to 500kW when its launch mode function is enabled, and Turbo S amplifies that to 560kW.
As with all contemporary electric vehicles, the Taycan is a heavy vehicle, at 2 295kg. Despite this, acceleration is starling, with Porsche claiming 0-100kph in 2.8 seconds for the Turbo S and top speed is limited to 260kph.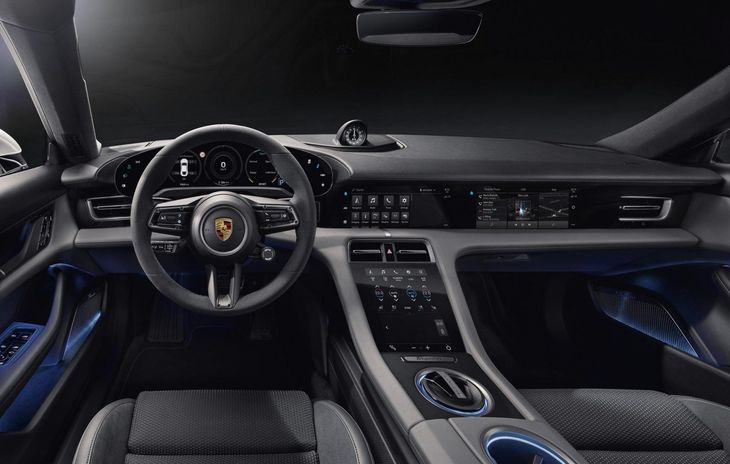 The Taycan's interior design is impressive with digital screens dominating the cabin.
In the realm of electric vehicle engineering, Tesla has been without rival but Taycan has emerged as a legitimate challenger. It features the calibre of engineering detail and commitment that Porsche is celebrated for.
The Taycan's electric motors are permanent synchronous, instead of a cheaper asynchronous configuration, which means that Taycan is a lot less susceptible to heat-induced power loss. Porsche's technical people have also managed to wind the electric motors in such a manner that copper content could be increased by 70% in the stator coils, compared to a conventional electric motor. More copper means a greater power yield.
There is a 2-speed transmission too, allowing for those stupendous acceleration runs – when required.
Both these technologies, the electric motors and 2-speed transmission, were incubated by Porsche's engineers and not acquired from a supplier.
Porsche's chassis engineers have also fitted Taycan with an upgraded version of the brand's 3-chamber air-suspension system, which has been carefully recalibrated to account for the Taycan's weight, lower centre of gravity and shorter suspension stroke. At the rear there is an electronically controlled limited-slip differential, biasing the all-wheel drive system.
Range and recharging? Porsche claims the Turbo S will run 412km and the slightly less potent Turbo, 450km. To recharge either of the Taycan derivatives to 80% power density, requires 22 minutes if you are plugged int a 270kW capacity fast-charging station.
Without the presence of a conventional petrol engine or driveshafts, Taycan has a split luggage capacity of 81-litres at the front and 366-litres in the boot.
It's a car of predictable technical excellence by Porsche. But it does not come cheap. Positioning for the Taycan starts at $150 900 (R2.2 million) and peaks at $241 500 (R3.5-million).
Buy a new or used Porsche on Cars.co.za
Related Content
Porsche Taycan Claims 4-Door EV Record at Nurburgring