Indian auto giant Tata has been promising a product overhaul for some time now, and while there is a lot more still to come, we were recently given the opportunity to sample the brand's Bolt compact hatchback for an extended test period. How big an improvement is the Bolt compared with its cheap, but unrefined, predecessors? And, given stiff competition from more proven brands, should you consider the Bolt at all?
We like: Much improved cabin design & fit/finish, standard features list, ride/handling balance, long warranty
We don't like: Engine refinement, lack of storage spaces
Alternatives
The country's favourite: The Volkswagen Polo Vivo is a massively popular vehicle in South Africa. It may be sparsely equipped as standard, but the optional extras are not too pricey and at its core the Vivo is a quality product with a particularly attractive interior, superior refinement and the backing of one of the largest dealership networks in South Africa. For similar money you can get the Vivo 1.4 Conceptline, but bear in mind, it does not come with a service plan, whereas the Tata, Toyota and Suzuki do.
The trusted one: Going up against any product from Toyota is tricky. The recently refreshed Etios may not be the most stylish or refined product to ever come from the Japanese giant, but it has proven reliable for tens of thousands of owners. It is also spacious and surprisingly nippy. The recently launched 1.5 Sprint model also gets more attractive styling.
A brand on the rise: With strong sales in the first quarter of the year to back up its excellent showing in the Cars.co.za Consumer Awards - Powered by WesBank, where it scooped the Brand of the Year trophy, Suzuki is on the rise. For similar money to this Bolt you can get the Swift 1.2 GL, a solid little runner that is nearing the end of its product lifecycle. However, this means you may be able to strike a good deal on it, and as the award testifies, after-sales service should be excellent.
Compare the Tata Bolt 1.2T XT with the Volkswagen Polo Vivo 1.4 Conceptline and Toyota Etios 1.5 Sprint
What is it?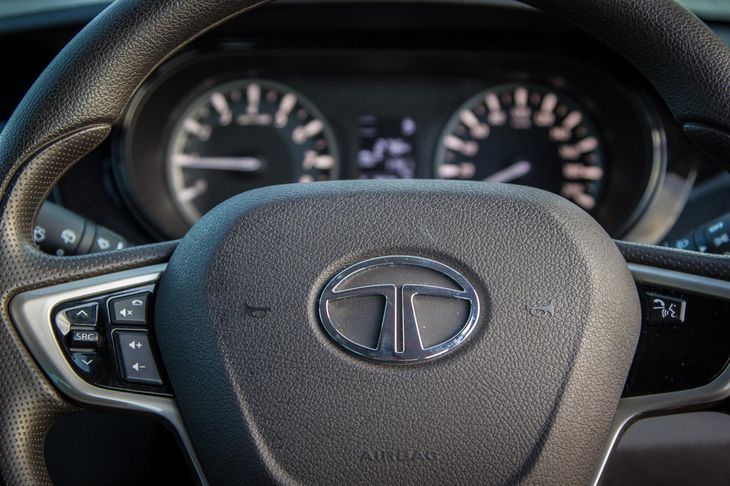 The Tata badge has not always been synonymous with good quality and attractive design, but the Bolt displays great progress.
Being synonymous with cheap cars and bakkies is no longer good enough for Indian auto giant, Tata. The company is on a major product drive – introductions of vastly improved models in a variety of segments are said to be on the cards – and the major focus areas are quality and refinement (aspects in which previous Tata products have not fared particularly well).
The Bolt is the first of these new-generation Tata products to reach South Africa and it faces a stiff challenge. On the one hand it needs to radically change consumer perceptions and expectations of Tata cars and, on the other, it has to compete with some of Mzansi's favourite hatchbacks, namely the Volkswagen Polo Vivo, Toyota Etios Cross and Renault Sandero.
Do you own a Tata product? Please tell us about your experience by completing this survey here. It will assist us in guiding thousands of other new-car buyers in South Africa.
How does it fare in terms of...
Design & packaging?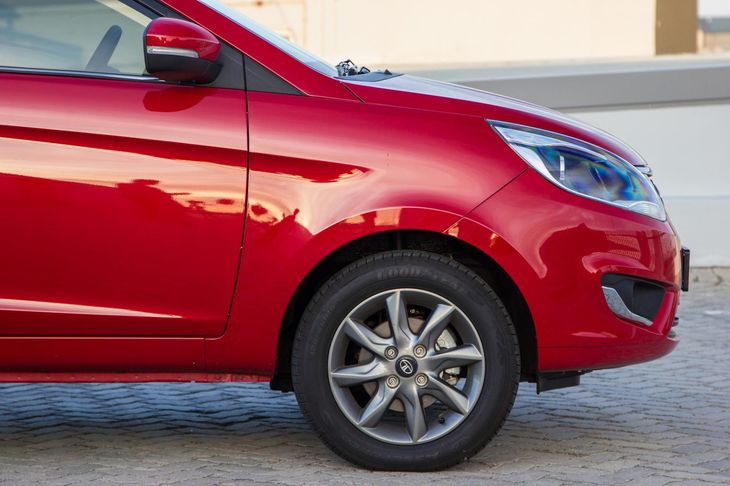 The Bolt XT rides on 15-inch alloys as standard. Neat, inoffensive design and much improved quality impress.
Compared with its somewhat awkward-looking predecessors, the Bolt is an inoffensive, modern-looking compact hatchback. As for the test unit, which is finished in deep-red paint and rides on (standard) gunmetal grey 15-inch alloy wheels, well, some may even find it... attractive. The Bolt boasts a particularly neat front-end with stylish headlamp clusters featuring projector lamps, fog lamps front and rear and blacked-out C-pillars. Another important factor to highlight is that it looks and feels much better put together than the Indica ever was.
Inside, an even greater improvement awaits. The facia design is simple and the use of piano black plastic finishes, combined with chrome and darker grey works well to make a great first impression. The attention to detail extends to the inner door trim, where you'll find dark cloth inserts – most cars at this price point feature hard plastic everywhere. There are still a few sporadic rough edges in the cabin, but it is nevertheless Tata's best car interior to date – and by some margin.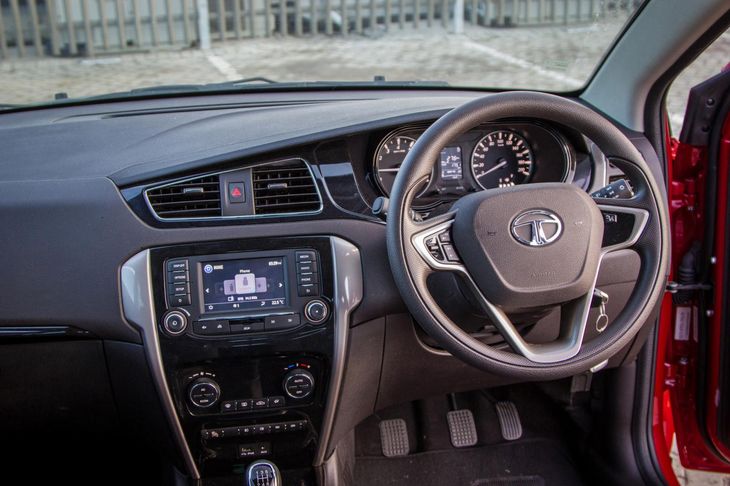 The Bolt is easily the most well-made passenger car Tata has ever produced.
In terms of size, the Bolt is about 100 mm shorter than a Polo Vivo, but is wider and also has a longer wheelbase than the Volkswagen. Rear legroom is good, with enough space for a 1.8m tall adult to comfortably sit behind a similarly tall driver or front passenger. The driver's seat is adjustable for height (another rarity at this price point), while the attractive steering wheel is rake adjustable. A comfortable driving position is easy to find..
The luggage bay, on the other hand, is quite short and lags the Vivo's for overall capacity. The rear seatback is not split, but can flip forward as a single unit. The base of the rear seats can be tipped forward to make sure the floor is flat(ter), when the rear seatback is tumbled. Unfortunately the exposed foam underneat the bench's base is quite an eyesore.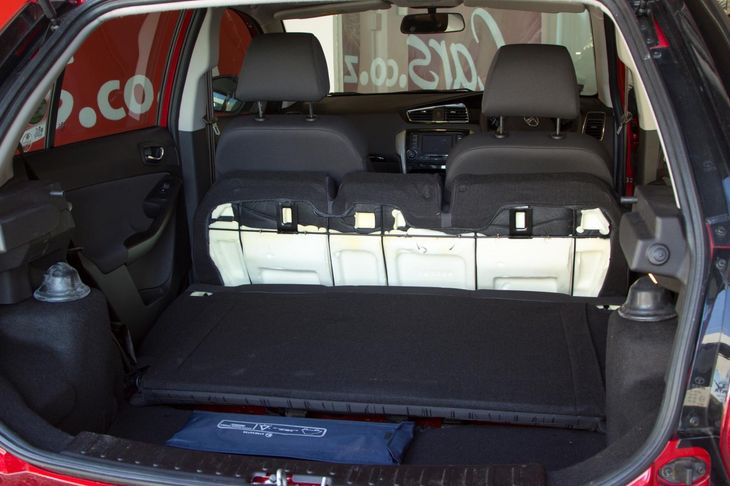 The rear seatback folds as a single piece. Rear bench's cushion tips forward to create a flat(ter) load area.
Niggles? Well, there's a lack of oddments stowage spaces around the cabin. In front there is a single (small) drinks holder and the door pockets are small all-round. There are also no seatback pockets in the rear. At least the glove compartment is large and there is a useful drawer underneath the front passenger seat. A small irritation is that the tailgate can only be opened by pulling a lever near the driver's feet, or by standing behind the car, inserting the ignition key in the lock and turning it.
Performance & Economy?
The Bolt is powered by a 1.2-litre, 4-cylinder turbopetrol engine that delivers 66 kW and 140 Nm of torque, both figures being very competitive with what's priced around this model. Tata claims that maximum torque is available from 1 500 to 4 000 rpm, suggesting great mid-range performance. The engine is mated with a 5-speed manual transmission, which provides an easy, positive shift action when the 'box is up to operating temperature. However, changes can feel "scratchy" when the car's driven first thing in the morning, for example.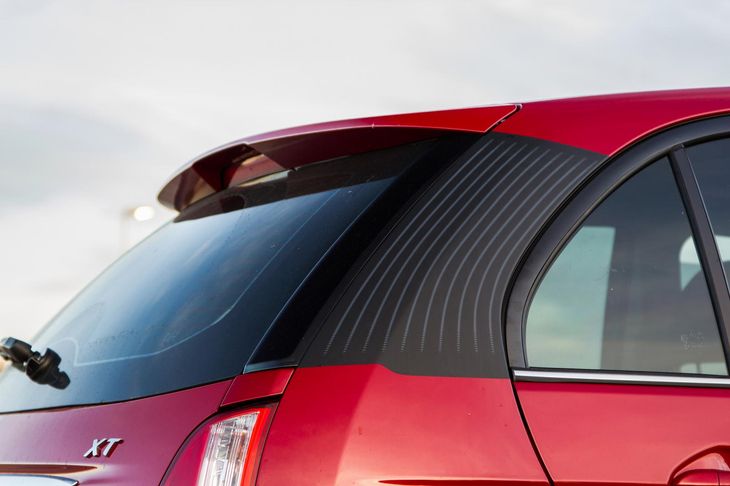 Blacked-out C-pillar and subtle rear wing endow the Bolt XT with an almost-sporty appearance, but performance is average.
Upon commencement of the test, the Bolt didn't like cold starts very much. The engine sounded rough at idle, almost as if it was misfiring. Stalling was quite easy when pulling away, too. So we took the vehicle to a local Tata service agent, and though nothing was replaced, a few mechanical settings were tweaked, including spark plug gaps and tappet settings. These fixes appear to have made a significant impact. The Bolt idled smoother after it had been seen to and the engine felt more response, but it still seems more sensitive to operating temperatures than other cars out there. And the engine isn't a particularly free-revving unit – it can feel "constricted", particularly in the mid-range which, ironically, is where the figures suggest it should be most impressive.
Tata claims a fuel consumption figure of 6.5 L/100 km for this model, which is quite high compared with its rivals. In the real world, we achieved figures of around 7.7 L/100 km, which are also on the high side for a small turbopetrol.
Ride comfort & handling?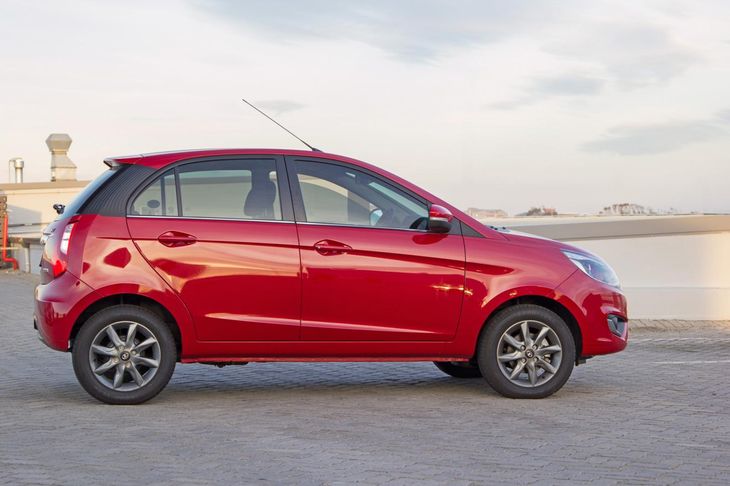 With its high ground clearance and soft suspension, the Bolt is poised and comfortable on varying road surfaces.
There is ultimately nothing fancy about the Tata Bolt's suspension set-up, but it proved to be one of the highlights of the car. The compact hatchback's built for a developing nation such as ours, so the ground clearance is generous (165 mm) and the ride tuned for optimal on-road comfort. It rides well on most surfaces, and... surprise, surprise, also handles decently, offering good grip from its Goodyear tyres and a resistance to body roll, which was wholly unexpected. Perhaps the JLR (Jaguar Land Rover, which is owned by Tata) influence is starting to show...
Overall, the Bolt is a pleasant-enough vehicle to drive. The steering is light and visibility out of the vehicle is excellent. You can even select between Eco and City modes, with the former cutting back quite severely on throttle response and power to save fuel. City mode also cuts back on the power, but in a less pronounced manner.
Standard features?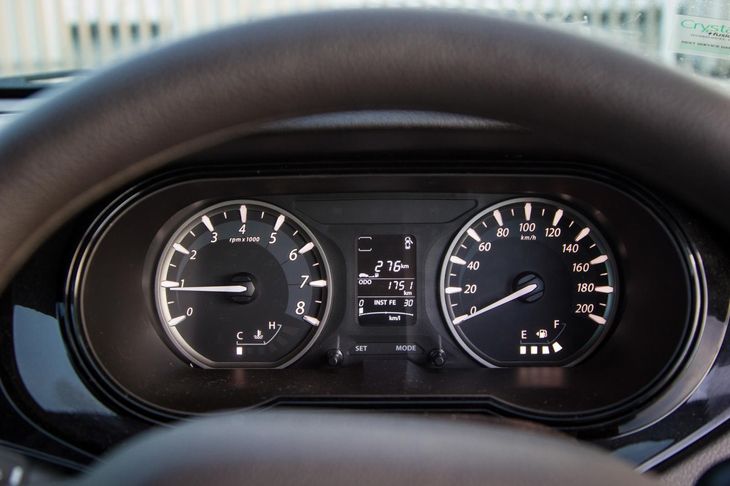 Neat instrument cluster with comprehensive trip computer.
Given the fact that the Tata Bolt is up against seriously stiff competition from more established brands, one would expect it to counter with a long and enticing features list. To a large degree, the Bolt complies. As detailed in the "Design and Packaging" section of this article, the Bolt's interior represents a big step forward from its predecessors, and there are other impressive details at this price point, too. For one, it is nice to find a very comprehensive information display between the speedo and rev counter – still a relative rarity in the near-budget segment. It also offers the convenience of climate control, rather than normal air-conditioning and, as is to be expected, electric windows all-round and power steering are standard.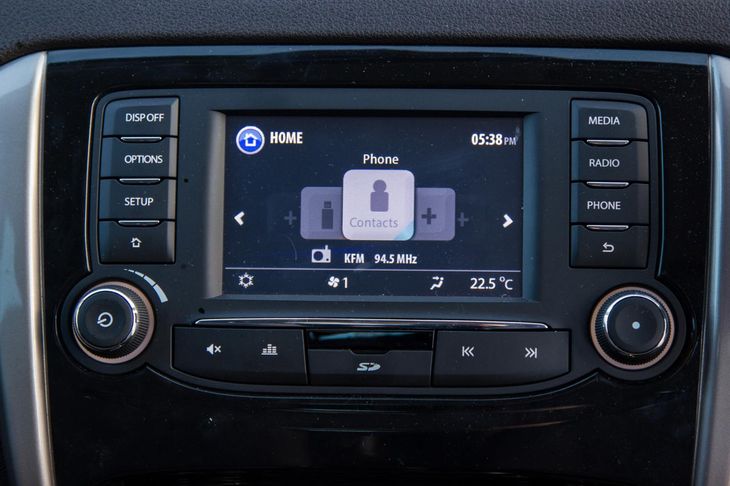 Neatly integrated and comprehensive Harman infotainment system is standard – it even boasts SD card support.
Possibly the highlight of the interior, and an item that gives the Bolt considerable showroom appeal, is a touchscreen infotainment system by Harman. Although the screen is relatively small and there are still hard buttons around it, the audio unit offers impressive functionality and neat displays. It also comes with USB/Bluetooth/Aux and even SD card support and there are remote audio controls on the handsome steering wheel.
In terms of safety specification, it matches the competition by offering 2 front airbags and ABS. There is no electronic stability system or ISOfix child seat mounts.
Pricing and Warranty
The Tata Bolt 1.2T XT currently sells for R167 995 (May 2017), which includes an impressive 5-years/100 000 km warranty and 2-years/30 000 km service plan. Service intervals are scheduled for every 15 000 km.
Verdict

The Bolt is easily the best product yet from the Tata stable and a sign of good things yet to come.
At the time of penning this review, we were about halfway through our extended evaluation of the Tata Bolt. The mere fact that the vehicle has been made available for such a test speaks volumes of Tata's confidence that its latest products are now up to scratch – the 5-year manufacturer's warranty is further proof. So, look out for the full wrap-up (including a video) soon. As it stands, we can only applaude Tata for the progress it has made. In our experience, the Bolt is by far the most attractive product the Indian manufacturer has ever built. What's more, it is much better finished than its predecessors and nicer to drive as well. In several areas, it runs its rivals in this tough segment very close.
But... and there was always going to be a "but", the Bolt still has some way to go before it can be considered as "safe" a purchase as a Volkswagen or Toyota, for example. Our upcoming Cars.co.za Ownership Satisfaction Survey will shed some light on what it's like to live with a Tata in South Africa (and all other brands), but as it stands, the Bolt's drivetrain refinement lags the best in this class, and its listed price puts it among some seriously competitive rivals from more established brands. If you can live without some of the Bolt XT's fancy features, you may want to consider the R10 000-cheaper XMS derivative. Also keep in mind that Tata regularly offers special deals on the Bolt, in which case the purchasing proposition becomes much stronger. But in conclusion, the Bolt shows that Tata has the potential to rapidly improve its competitiveness in all the segments it competes in.
You may also be interested in:
Tata – Dramatic product overhaul on the cards
5 Cheapest new cars in SA (2016)
VW Polo CITIVivo Video Review (2017)
Toyota Etios Video Review (2017)
Looking to buy a new / used Tata Bolt?