Although Tata trucks have achieved good success in South Africa, its passenger vehicles are not highly regarded. With an aggressive roll-out of much-improved products planned for South Africa, that negative perception could soon change. 
The current perception of Tata's products isn't good. In fact, it is downright negative. Poor engineering and design, bad quality, and even worse aftersales service is what the brand is associated with. Tata wants to change this with its Horizonext strategy, incorporating its DesigNext, DriveNext and ConnectNext campaigns.
In short, Tata Motors is gearing up for a show of power and real progress in the local car market and the first example of this new approach is the imminent arrival of its new Bolt.
The newcomer hatch and sedan, set to replace the outdated Vista and Manza, will be launched here early next month and will spearhead a massive model assault from Tata – with no less than ten new model ranges to be introduced over the next five years.
Just how dramatic this new market campaign will be became clear during a recent visit to Tata's headquarters in Mumbai and its massive manufacturing facility in nearby Pune.
Here we were given an exclusive preview of the new Bolt, and briefed in detail on the car giant's future plans for South Africa which includes an "enriched customer purchase experience and a more consistent quality of service."
A Bolt assault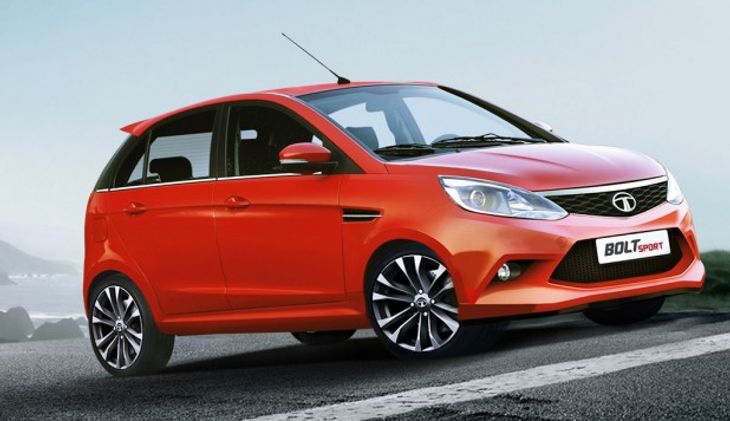 The new Bolt is the first model to be developed as part of this strategy, but the name has nothing to do with sprint athletes or small animated dogs.
Underpinned by Tata's X1-platform it is the Indian manufacturer's new contender in the highly competitive sub-B segment, facing off against the likes of VW's popular Polo Vivo, the Toyota Etios, Chev's Aveo, the Ford Figo, Hyundai i20, Renault Sandero, Suzuki Swift and Nissan Micra.
Tata Motors has not just lost market share in South Africa, but also in India. Within six years it has dropped from a strong third to a struggling sixth in its home market, so the Bolt has a tough task ahead.
Not only will it need to make buyers start considering Tata again, it will also have to change their perceptions on quality.
Judged on first impressions, is it good enough to effect these changes?
Well, its "confident dynamism" styling, refined by Tata's design studios in Pune, Coventry in Britain and Turin, Italy, is quite modern and flowing with an Hyundai i20-esque design line around the blacked-out C-pillar.
In this sense it compares well with its closest competitors. Also on the power front it is on par – sporting a newly developed and quite advanced turbocharged 1.2-litre MPFi Revotron petrol mill delivering 66kW at 5000rpm and 140Nm at1500-5000rpm, or a 1.3-litre Quadrajet turbo diesel (55kW at 4000rpm and 190Nm at 1750-3000rpm).
While making it no speed machine, the small power plants are smooth and willing, giving the Bolt derivatives quite acceptable performance.
Similarly, its newly developed suspension clearly benefitted from Jaguar and Land Rover input and the small newcomers' compliant ride and quite nimble handling attest to this.
Vast quality improvement
Another major attribute is the Bolt models' advanced infotainment system. Developed with audio company Harman the system is not just easy to use, it also boasts fantastic sound quality.
Perhaps the most impressive aspect, and a pleasant surprise, is the tactile feel of the interior materials used, the solidity of the cabin and the overall perceived build quality.
It is a clear indication of the progress Tata has made in this respect; in no small part due to the transfer of advanced technology and quality control measures from JLR (Jaguar Land Rover).
In this sense it is light years removed from what we have come to expect from Tata, and if this level of quality can be consistently replicated in future models it bodes well for the Indian manufacturer.
Upcoming models
After the introduction of the petrol-driven Bolt derivatives next month the unveiling of the 1.3-litre turbodiesel models will follow. Their introduction is set for early next year, and it may also a derivative with F-Tronic auto-manual transmission.
The small entry-level Nano has also recently been facelifted in India with the Nano Gen-X model, but the chances are slim that this small car will find its way here…
Other possible models for 2016 include the sporty Bolt Sport, endowed with a more powerful version of the 1.2-litre Revotron engine (delivering 90kW and 170Nm), and the Hexa SUV, successor to the premium medium-sized Aria.
The attractive Hexa, now in its final stages of development, will come equipped with a 2.2-litre Varicor turbodiesel engine and Tata's first six-speed automatic transmission.
Also on the cards is the A-segment Kite (the hatch version will most probably be called Glade in India, and the notchback Boom), Tata's new challenger in the A-segment against the Hyundai's i10, Suzuki Celerio, Chev Spark and Kia Picanto.
By all accounts this supermini will also use the 1.2-litre Revotron turbo mill, as well as a newly developed 1.0-litre 3-cylinder turbodiesel engine.
The Kite will possibly be followed by the Nexon, a small crossover SUV on the same platform as the Bolt, squarely aimed at the likes of the Ford Ecosport, Renault Captur and Hyundai Creta.
A concept model of the Nexon was displayed at the Auto Expo in Delhi last year and a production version is expected late next year, to be introduced to South Africa by 2017.
Other possible models include a Bolt-sized MPV aimed at the Suzuki Ertiga, Toyota Avanza and Ford B-Max, the long-awaited successor to the Xenon pickup, as well as a new version of the Safari MPV.
Given the perceived improvement in styling, quality and driveability of the Bolt range it seems the Indian giant is set on making some real inroads into the market, not only locally, but also worldwide.