Earlier this year, the Suzuki Swift won a category of the #CarsAwards – powered by WesBank for a 3rd consecutive time. Although the Japanese budget compact hatchback has since undergone (what casual onlookers might regard as) the slightest of updates, we think the latest iteration of the Swift is the best one yet.
We like: Astoundingly great value, fun to drive, light on fuel, well specified.
We don't like: We'd be nitpicking, but the load bay and fuel tank are smaller than those of its rivals
Fast Facts
Model Tested: Suzuki Swift 1.2 GLX
Price: R218 900 (April 2021)
Engine: 1.2-litre naturally-aspirated 4-cylinder petrol
Power/Torque: 61 kW and 113 Nm
Transmission: 5-speed manual
Fuel efficiency: 4.9 L/100 km
Load space: 268-579-953 litres
Serious about buying?
Some Suzuki dealerships regularly offer great deals. See our Car Specials page here!
What is the Suzuki Swift?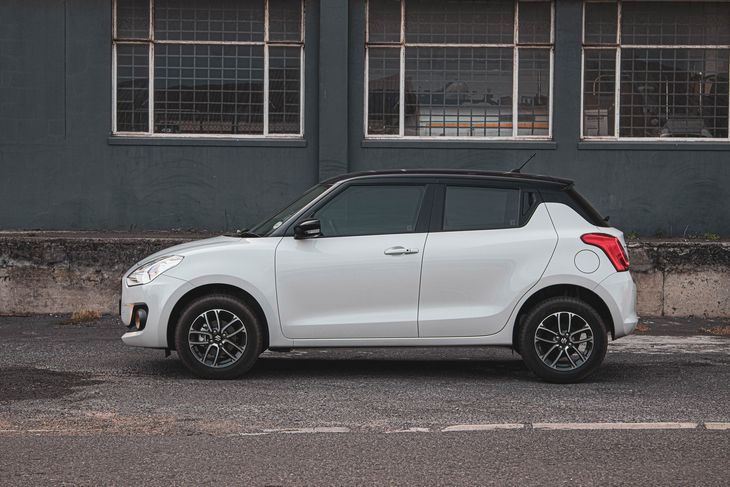 The Suzuki Swift is a compact budget hatchback that's powered by a 1.2-litre naturally aspirated (non-turbocharged) 4-cylinder petrol engine mated with either a manual gearbox or automatic transmission. There are 3 levels of trim to choose from and, for driving enthusiasts, Suzuki also offers a pugnacious 1.4T Sport flagship model. We've been impressed by the Swift's low cost of ownership and fun-to-drive factor and this and the previous model have repeatedly won budget-oriented categories of the #CarsAwards. Not only is the product excellent, but Suzuki offers great after-sales support and customer care.
Suzuki South Africa recently launched an updated version of the Swift (essentially a 2021 model-year update). At face value, there aren't many changes other than a dual-tone paint finish; even Suzuki calls this a minor update... The revisions range from a slight visual update in the form of a chrome line in the grille and the aforementioned (optional) paint finish... to some spec upgrades across the line-up. The base derivative now features full wheel covers and rear parking sensors, while the GL also gains parking sensors and the GLX gets a reverse-view camera and new 15-inch alloy wheels.
The most notable update, however, is the introduction of electronic stability control throughout the range. How does it work? The Swift's braking system is equipped with sensors that can detect when one or more tyres lose grip (because of wheelspin or skidding) – it automatically applies the vehicle's brakes to help the driver maintain control. Interestingly, this technology is compulsory in the Canadian, US and European car markets since 2011, 2012 and 2014. Does it work? Well, according to the US National Highway Traffic Safety Administration, a third of fatal accidents could be prevented by an ESP system.
How much of an impact have the changes had on what's already an award-winning product? Let's find out.
How it performs in terms of...
Performance and efficiency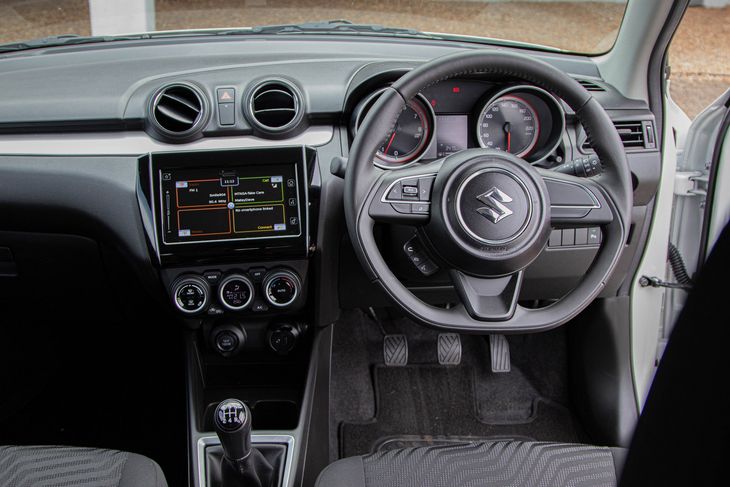 Neat and functional would be the best way to describe the Suzuki Swift's interior.
We have gained substantial experience with the Swift's willing 1.2-litre powerplant throughout the years and the motor continues to impress us by virtue of its rev-happy nature, combined with frugal average fuel consumption. Its outputs of 61 kW and 112 Nm may not seem all that impressive, but considering the Swift's trim kerb weight of just 875 kg, the Suzuki's powertrain feels eager in every gear; the little hatchback is eminently nippy. The engine may be old-school naturally-aspirated in an era of downsized, turbocharged engines, but the power delivery is linear and the car never feels short of breath.
The 5-speed manual gearbox is another element that facilitates the Swift's drivability. Granted, the market has shifted dramatically away from 3-pedal cars (and Suzuki does offer a trio of self-shifting Swift derivatives), but the manual is what you want if you like to feel as if you're driving something fun and engaging, which is such a welcome bonus in the budget-car segment. Not only is the shift action light and effortless, but the clutch is a cinch to use. If you do feel the car's running out of momentum, such as when it's climbing a steep hill, there's nothing a quick down-change and a heavier right foot can't fix.
Like many of the cars assembled in India, the Swift's gearing is short, which does create the sensation of quick acceleration, but then the car's rev counter will hover around 3 000 rpm at the national speed limit, which results in a slightly buzzy sound in the cabin. There's nothing you can do about it (apart from slowing down), but you can drown out the noise by playing your favourite tunes via USB or Bluetooth.
And the best part? You can drive the Swift in practically whichever style you like – your vehicle's indicated fuel consumption is unlikely to stray too far from its manufacturer's claimed figure of 4.9 L/100 km. During its tenure in our test fleet, the 1.2 GLX returned 5.7 L/100 km despite some enthusiastic corner-hugging driving antics on the part of some of our testers. Drive a turbocharged rival in the same manner and we reckon you'd see consumption climbing into the 9s... The Suzuki Swift has a 37-litre fuel tank, which is a touch smaller than its rivals' (those models' tanks are bigger than 40 litres).
Ride and handling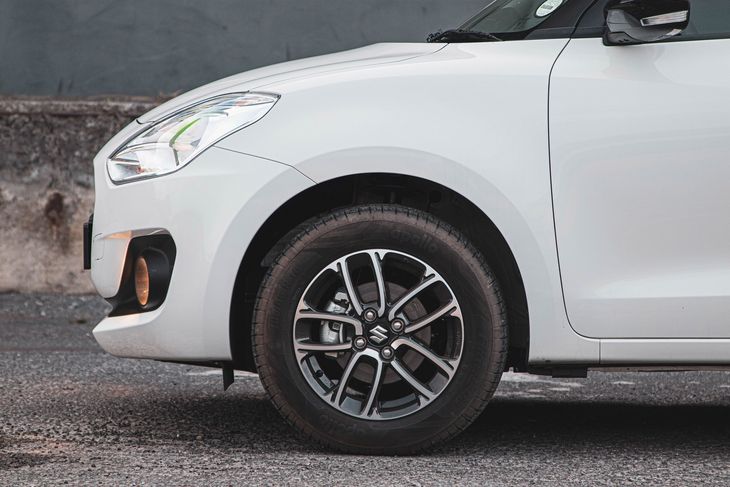 These stylish 15-inch alloy wheels are new for this update
The Suzuki Swift's platform change (when the current model was introduced in 2018) heralded many positives. Physically, the Japanese hatchback is 10 mm shorter, but 40 mm wider, than its predecessor. Both tracks have been widened; the front by 40 mm and the rear by 35 mm. Consequently, the car offers better road-holding, not that many drivers had issues with the way the old Swift negotiated corners.
The 1.2 GLX's steering setup is light and quick, but there's just enough heft to the 'wheel to inspire confidence when you're cruising on the open road. That light steering, plus the rear parking sensors and reverse-view camera, make it palpably easy to parallel park the Suzuki.
Meanwhile, if you're in a hurry and need to zip through some corners on the way to your destination, the Swift creates the impression that you're at the helm of a lively, agile "warm budget hatchback" – it's a far cry from some of the budget-car offerings on the market that are rather bland and insular to drive. The seating position is not perfect; we'd have preferred to have the driver's seat a bit lower, but at this price point (given the model's primary role of providing affordable personal transport) and this tester's taller-than-average height, it's not a major criticism.
To reiterate, we've experienced multiple Suzuki Swift derivatives throughout the years and they're wonderfully easy to drive. If you can appreciate some driver involvement from a budget hatchback, the 1.2 GLX is likely to put a grin on your face. Finally, while wind noise tends to be bothersome at the national speed limit in many budget cars, we found the Swift to be well insulated, considering its price point.
Interior execution and features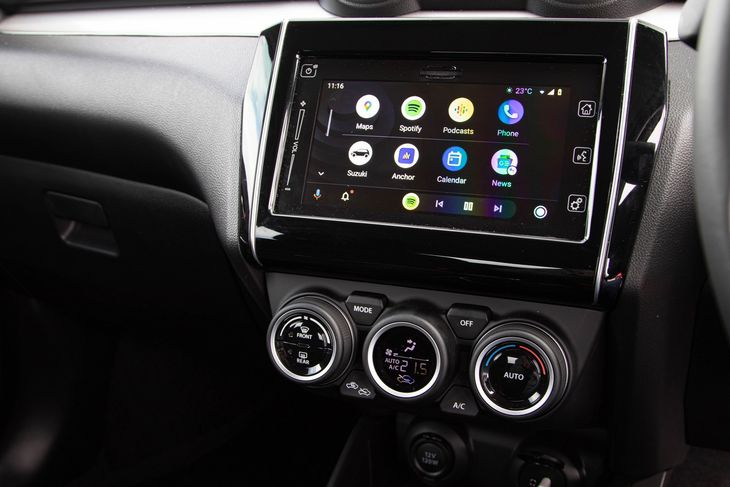 Climate control and Apple CarPlay/Android Auto for under R220 000? What's the catch?
As we mentioned earlier, the Suzuki Swift is available in three trim levels: GA, GL and what you see here, the GLX. Every derivative in the range features electric windows, air conditioning and central locking. Compared with the base GA, the GL additionally features fog lamps, a basic audio system with USB/Aux inputs, a rev counter and electrically adjustable side mirrors. The GLX, meanwhile, also features climate control, push-button start, keyless access, a reverse-view camera, rear parking sensors and a touchscreen infotainment system compatible with Apple CarPlay and Android Auto.
The interior is not the most striking or visually appealing, but at this price point, that's to be expected. However, the Swift's cabin has a functional and intuitive layout that doesn't feel cheap and nasty.
As far as safety features go, the updated Suzuki Swift 1.2 GLX comes with electronic stability control (ESP), front and passenger airbags, as well as anti-lock brakes (ABS) with emergency brake assistance (BA) and electronic brake-force distribution (EBD).
With all of its standard creature comforts, not to mention the enhanced safety features, the Suzuki Swift represents impressive value for money. It's little wonder the Swift is the brand's top-seller in Mzansi.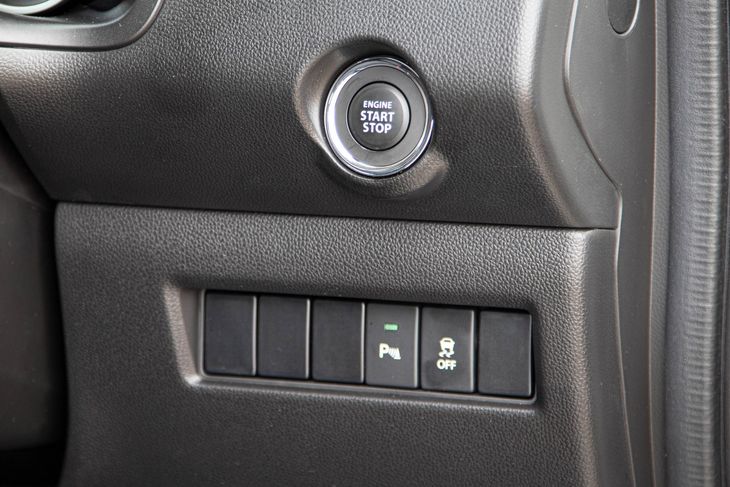 One button makes all the difference. All Swifts now come with stability control.
Practicality
Although its luggage capacity improved with the introduction of the current model in 2018, the Swift's load bay is still smaller than that of its (admittedly more expensive) main rival, the Volkswagen Polo Vivo. Suzuki claims the load bay will hold 268 litres, which increases to 953 litres with the rear seats folded. The seatback splits 60/40, so you don't have to sacrifice the entire rear bench to free up utility space.
When it comes to legroom, taller rear passengers will have just about enough room to squeeze in, which is only a problem if the driver and front passenger are tall. A quick test with some shorter-sized family members proved you could easily seat 4 people in the Swift (in relative comfort, of course).
Two cupholders (for the driver and front passenger) are located in front of the gear lever. What's more, a small shelf is provided for your smartphone and the door pockets offer some extra oddment space.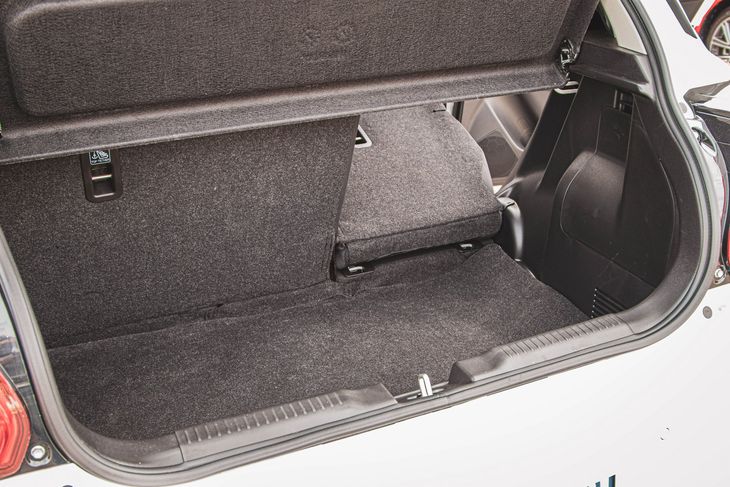 The load bay remains on the small side, but it's still useful.
How much does the Suzuki Swift cost in South Africa?
The 1.2-litre derivatives in the Suzuki Swift range start from R180 900 and go up to R234 900. Our test unit was a 1.2 GLX manual, which costs R218 900, including a 2-year/30 000 km service plan and a 5-year/200 000 km manufacturer warranty.
Buy a new or used Suzuki Swift on Cars.co.za
Verdict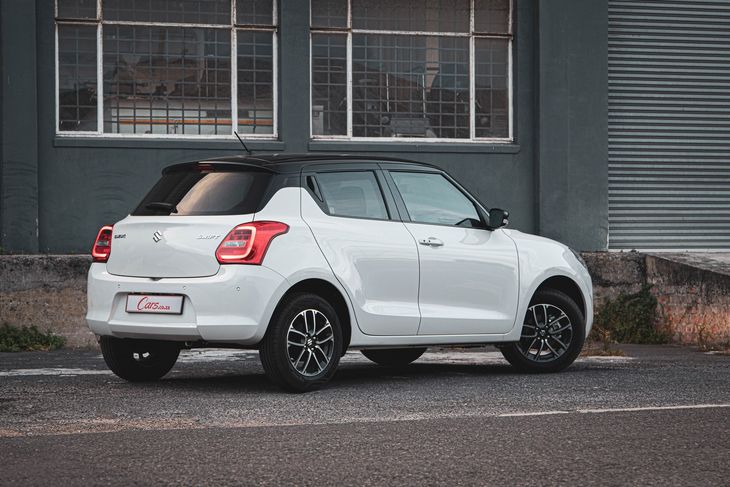 Winners keep winning. The Suzuki Swift will continue to fly out of showroom floors thanks to excellent value for money.
The changes to the Suzuki Swift might be minor, to say the least, but the addition of stability control makes the package hard to beat. We also like the dual-tone paint option; it adds some personalisation –and attitude! A cursory glance at the comparison tool at the bottom of the page will highlight the exceptional value that the Suzuki represents when you consider what else is in this pocket-friendly segment.
Thankfully, Suzuki Auto SA has not messed with what's clearly a winning formula for the Swift. While the latest update does coincide with small price increases, Suzuki's top-seller still offers phenomenal value for money from a fun-to-drive city car that's now safer than ever. The next iteration of the #CarsAwards – powered by WesBank is bound to have the Swift's competitors sweating even more...
Further Reading
No, Toyota is not squashing Suzuki
Suzuki Swift (2021) Launch Review
#CarsAwards - Best Entry Level Cars in SA