The smallest pukka off-roader in the world just got a whole lot better, writes Aaron Borrill.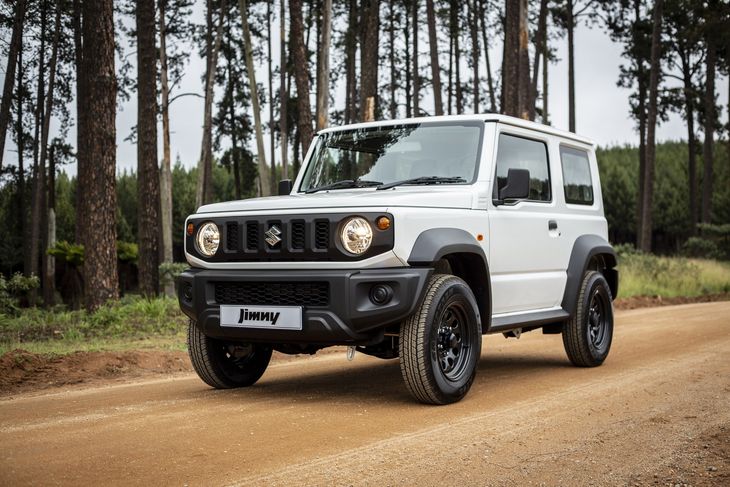 The new retro-styled Jimny; the GA derivative rides on 15-inch steel wheels.
What is it?
We've had to wait 20 years for an all-new Suzuki Jimny to arrive, but it's finally here. With this fine-looking successor to the ever-popular Mk3, Suzuki hopes to attract a whole new demographic altogether thanks (largely) to the newcomer's funky, retro aesthetics that pay homage to the original LJ and SJ Series – not to mention its much-improved cabin space.
It's available in 2 trim options: GA and GLX, the former of which comes with a 5-speed manual 'box and the latter of which is available with either a clutch pedal or with a 4-speed automatic transmission. While the new model follows very much the same diminutive Kei-car recipe of its forebears, the dimensions have grown marginally (30 mm shorter, 45 mm wider and 20 mm taller) to improve the extent of the vehicle's off-road articulation, as well as overall interior space. The engine, although slightly bigger in capacity than before, has foregone the turbocharged route and remained naturally aspirated – in this case, a 4-cylinder 1.5-litre unit powering all four wheels.
Visual revolution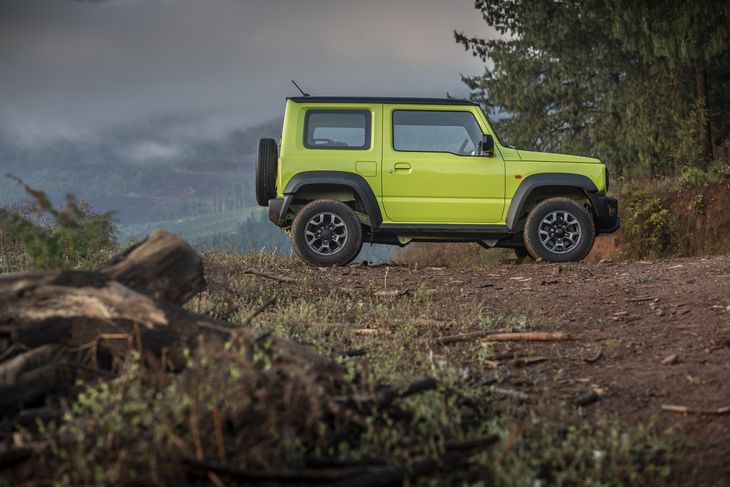 Somehow the new Jimny is shorter than its forebear, even though its interior space has been improved...
With version 4.0, it is clear that Suzuki wanted to recreate the legend of the original LJ and SJ and the Japanese firm has done a pretty decent job. The new Jimny's dinky-car-like appearance endows it with a truly charming quality that does little to compromise any of the ruggedness it's become famous for over the years. As such, it gets rounded headlamps with standalone indicators, a clamshell bonnet with side slits and pronounced fenders – all elaborations of features seen on the original LJ model. In fact, look closely enough and you're bound to see elements of every iteration scattered about – consider the 5-bar grille, for example, it's a subtle, but contemporary, nod to the Mk3 Jimny.
The exterior is, of course, super practical; the squared-off body shell and moulded black bumper cladding are just some of the visual clues that point towards the Suzuki's off-road bent. Depending on which derivative your choose, 15-inch wheels are standard – the only difference is whether they're steel or alloy (we do prefer the utilitarian look of the steel wheels).
In terms of colours, there are a host of combinations to pick from. The available 2-tone colour schemes include a new high-visibility Kinetic Yellow, Brisk Blue Metallic and Chiffon Ivory Metallic finished off with a complementing gloss-black roof. The single-tone colours are Jungle Green, Bluish Black Pearl, Medium Grey, Silky Silver Metallic and White.
Retrospective cabin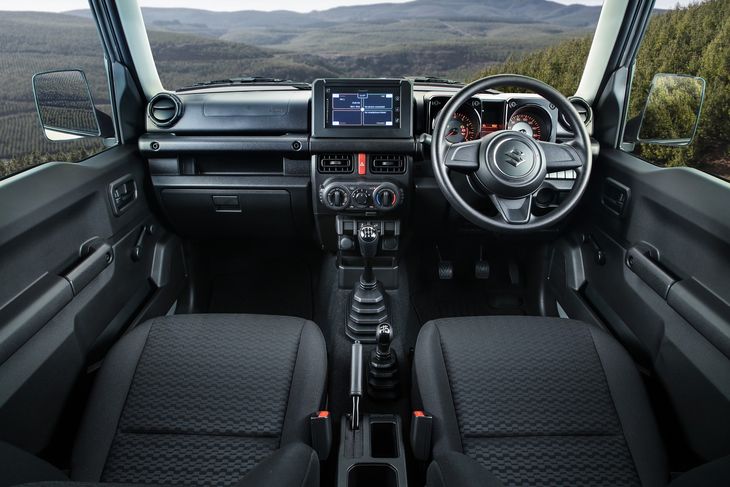 A more modern cabin technically, but still full of rugged and hard-wearing materials.
Like the exterior, the cabin has a retro twist to it. The colour palette is predominantly black to minimise distraction for the driver, but several metallic surfaces add a somewhat premium feel. The angular and geometric dashboard layout, while old-school, is said to aid the driver with orientation in heavy off-roading manoeuvres. There's no soft-touch panelling (that would go against the Jimny's core ethos!). Instead, the cabin is practical rather than precious with scratch resistant plastic featuring heavily in the composition. These surfaces are claimed to reduce glare and "enhance concentration". Okay, then. The dashboard arrangement references the SJ Series with the speedo and rev counter housed within 2 separate binnacles. Space is much improved over its predecessors and despite the 2-door body layout, ingress/egress is relatively easy owing to the improved sliding range of the front seats (240 mm).
Speaking of the seats, they are 55 mm taller and have wider cushion frames than before (for the sake of improved seating comfort and shock absorption), plus rear legroom has increased by 40 mm, so it's now far more comfortable for adults to travel in the back of a Jimny. Furthermore, the Suzuki offers 377 litres of luggage space, but that figure's misleading because the load bay can only accommodate 85 litres' worth of cargo when the rear seats are in their upright position – that's barely enough room for a couple of grocery bags.
That said, the squarer geometry of the roofline has freed up additional headroom. Meanwhile, in terms of creature comforts, the GLX comes standard with a 7-inch touchscreen infotainment system with smartphone integration, electric windows and mirrors, climate control, auto LED projector headlamps, remote central locking and cruise control. Other than those mod-cons and the 15-inch alloys, there's no tangible difference between the GLX and the GA. In fact, I found the GA more appealing and more hearty, especially in manual guise.
1 engine, 2 transmission choices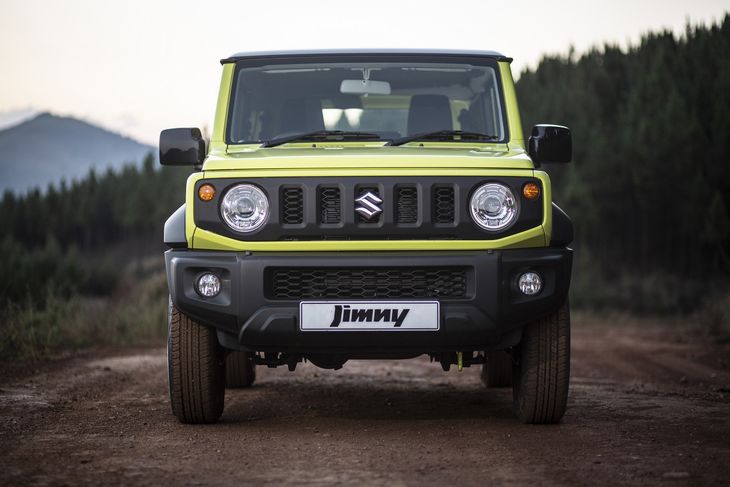 A new 1.5-litre engine offers way more power and torque than the old 1.3-litre unit.
Suzuki engineers have finally scrapped the 1.3-litre petrol unit that powered the Jimny's predecessor and replaced it with an all-new 1.5-litre K15B powerplant. By virtue of delivering peak outputs of 75 kW and 130 Nm of torque, it's not the fastest set of wheels around, but the engine is still perky enough to deliver a reasonably fun experience when scooting around town. As a result, it will complete the 0-100 kph sprint in around 13 seconds, before topping out at a middling 145 kph.
While both transmissions supply decent gear ratios, particularly for off-roading adventures, an extra gear in both formats would radically aid fuel economy and reduce some engine-whine at higher revolutions. In terms of fuel efficiency, Suzuki claims the Jimny will register a combined cycle figure of 6.3- and 6.8 L/100 km respectively for the manual and automatic.
What's it like to drive?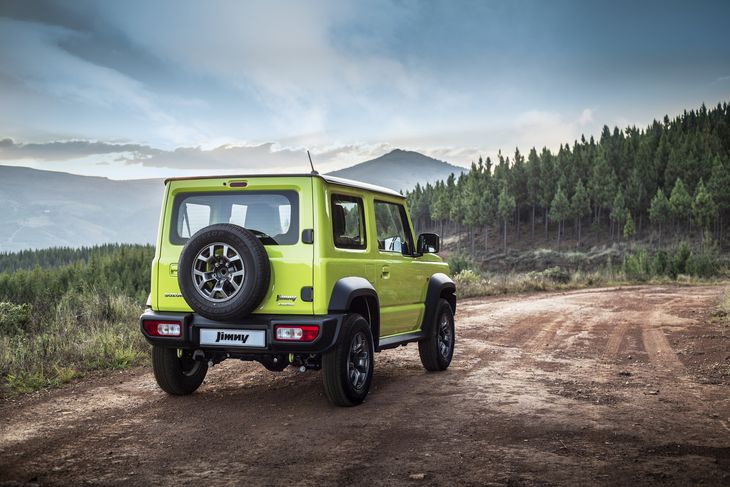 Still fitted with low range, the Jimny offers go-anywhere ability at a diminutive price tag.
While the Jimny is a competent performer on the road, it truly excels in an off-road environment. In terms of the suspension layout, there is a 3-link rigid axle arrangement with coil springs. It's a fairly compliant set-up and (in most circumstances) it does a fine job of ironing out imperfections and bumps. Its underpinnings have been radically altered with an improved cross-braced ladder frame chassis to increase torsional rigidity. Point the Suzuki's nose towards a trail and it immediately comes alive – even with the standard Dunlop AT20 195/80 R15 tyres. Grip is always in abundance and this comes down to the clever use of the traction control system, as well as the Jimny's appreciably low kerb weight of 1 090 kg (manual model).
Tested in the forest roads of the Sappi plantations near Sabie, Mpumalanga, the Jimny impressed us with its superb off-road pliancy and impressive grip levels. Shifting between 4x2 and 4x4 High can be done on the fly, while 4x4 Low has to be selected at standstill by way of the low-range transfer case. There's also a Hill-Descent Control function, which makes negotiating steep descents a relatively easy exercise. Much of the Suzuki's off-road finesse can be attributed to its improved approach (37 degrees), break over (28 degrees), departure angles (49 degrees) and impressive ground clearance (which is 20 mm higher than before). The mechanical 4-wheel-drive arrangement comprises a Brake LSD system that apportions torque away from the wheels with slip to the wheels with grip. This system is assisted by Hill Hold Control, which is a standard feature on both GA and GLX derivatives.
Safer than ever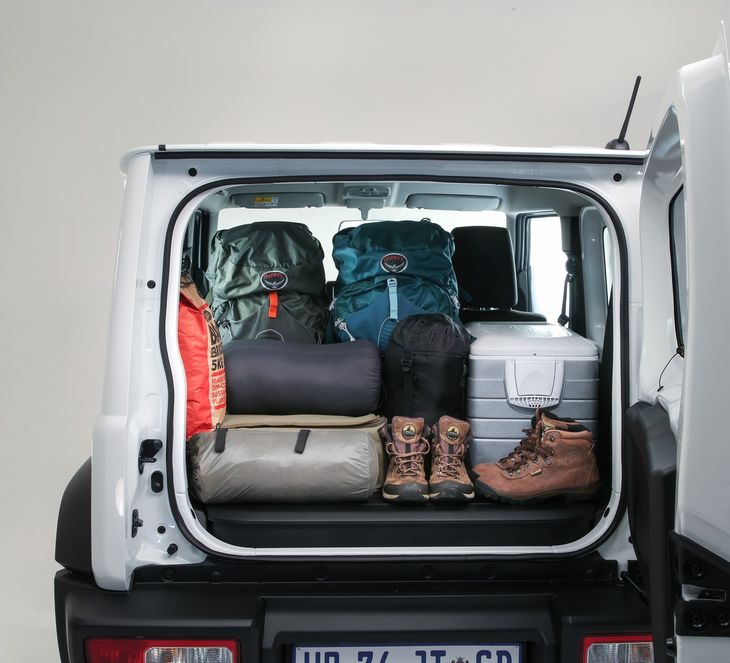 As a 2-seater, it offers reasonable packing space, but when the rear seats are in use, there's not much room for things.
Safety was a big priority with the new Jimny and some impressive measures have been implemented to ensure passengers are well looked after in the event of a vehicular accident. The new model benefits from improved impact-absorbing zones in the bumpers, wipers, bonnet and hinges, and the fenders (to latter to protect pedestrians). For occupant protection, additional side impact bars and dual front airbags are fitted. There's a bouquet of active onboard safety systems, which includes such innovations (for the Jimny!) as ABS with emergency brakeforce distribution, ESC, ISOfix child seat anchor points, a high-mounted rear brake light and an emergency pedal release system.
Summary
The all-new Suzuki Jimny has taken all the winning qualities of its predecessors and shoehorned them into a retro-looking, yet contemporary-feeling, package. There's no question that the Jimny 4 is desirable on myriad fronts; the combination of nonconformist styling, a superbly crafted and functional cabin, plus robust (but reasonably modern) engineering is a tribute to every Jimny that's come before it. Add its proficiency off the beaten track and the new Jimny makes an intriguing case for itself. Whether you're belting along the motorway or threading it through your favourite trail there's always fun to be had and, while it's a little rough around the edges as far as refinement is concerned, it's this no-frills experience that has endeared it to fans all over the world. Does it live up to its forebears? Without a doubt. In fact, this 4th-generation dirt tracker is, in many ways, the most complete Jimny ever produced. We want one.
Pricing and after sales
The GLX model comes standard with a 4-year/60 000km service plan while the GA specification gets a 2-year/30 000 km service plan. All models feature a 5-year/200 000 km technical warranty.
Suzuki Jimny 1.5 4X4 GA Manual R264 900
Suzuki Jimny 1.5 4X4 GLX Automatic R299 900
Suzuki Jimny 1.5 4X4 GLX Manual R319 900
Related content
5 Moments that Defined the Suzuki Jimny
Fiat Panda 0.9 TwinAir 4x4 Cross (2018) Quick Review
Renault Duster (2018) Launch Review