Suzuki has introduced its Ignis budget crossover to the local market. It's a decidedly funky newcomer from a brand renowned for practically-minded and reliable (read: unspectacular) products. We took it for a quick drive in the Western Cape to see if it's that big of a departure from the norm.
Very few can justifiably lambaste Suzuki's cars. I can't recall in my lifetime (as short as it is) a Suzuki that was disappointing. Functional, economical and reliable are the words I would use to describe the likes of the Vitara and the recent Baleno. The thing about functionality is that it often gets traded for personality. For example, the Baleno is not the most quirky hatchback on the market, but it resonates more with mature buyers than the charming Swift. This isn't a bad thing, obviously, but is "neat" and "predictable" what most consumers want? Not always, they can be lured and seduced by novelty, bright colours, fancy lights and trick infotainment systems. Therefore, the boldness of the new Ignis' design and packaging is encouraging to see...
For the full specs and prices of the Ignis click here
Getting a feel for the Ignis' exterior execution requires more than one perusal; your mind is likely to take a while to make sense of the car's front end with the headlamps embedded in the grille. The side profile is a combination of curves and "boxiness" while the rear is strangely narrow. As a whole, it's striking and quite controversial, which is why I personally quite like it. Some say it's ugly, others say it looks fantastic, but everyone has an opinion on it. Inside is a glimpse of everyday Suzuki functionality, but again it's met with quirkiness: the HVAC console is capsule-shaped and there are splashes of colour on the door panels. Another surprise is the more-than-useful interior space, something you wouldn't have guessed from the outside.
A crossover or hatch?
So, is it the black sheep of the Suzuki family? The Japanese firm punts the Ignis as an ultra compact SUV/crossover, which may seem strange due to its proportions. Its ground clearance (180 mm) is very good for a car of its size, so let's keep that in mind. Its 1.2-litre engine may also seem "un-SUV-ish" especially considering it's not turbocharged, but because the Suzuki weighs only around 850 kg, it's pretty light on its feet. In fact, one can even go as far as to say the Ignis is fleet of foot, because at sea level, the newcomer proved quite sprightly.
Our driving route consisted of tar, light gravel and of course a mountain pass. Each challenge didn't seem to destabilise the car, in fact, you start to see what I feel every crossover should have: character. The Ignis has loads of it. It feels lively from behind the wheel. It's not fast, but it's not slow either, which keeps you content in the city and appeased on the open road.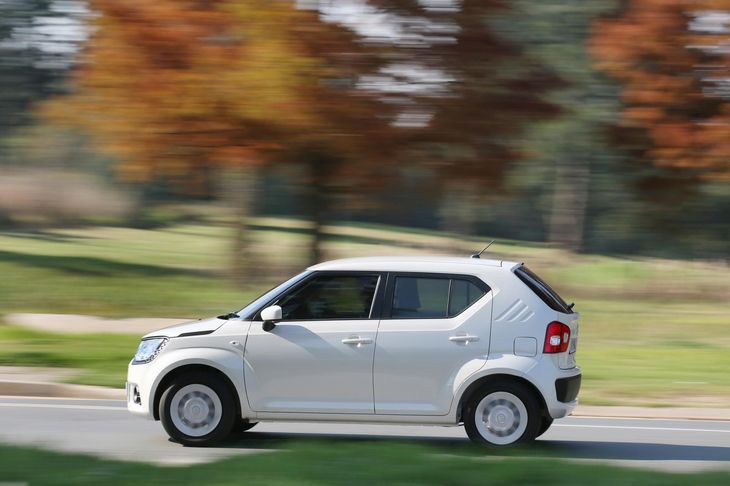 No matter how you look at the Ignis, it's interesting.
The range
Should you be considering it as your next purchase, your choices are the GL or GLX derivative. The GLX allows for more customisation, such as two-tone colour choices, whereas the GL comes in a single colours. Suzuki claims "no one Ignis should look the same" which is a tad optimistic, but the option to customise your car's look is always a winner for trendy buyers.
All models use the same 1.2-litre 4 cylinder engine, producing peak outputs of 61 kW and 113 Nm. There is the alternative of an automated manual transmission for those who fancy giving their left leg a rest. I cannot speak for the 6 AMT gearbox, but the manual 5-speed is more than adequate for the little car.
There is a hint of the Celerio's intimate cabin feel to the Ignis' inteior, but it feels much roomier and modern. You'll also notice a radio/CD audio unit equipped with Bluetooth and USB functionalities – which are prerequisites in this day and age. The option of a touchscreen infotainment is available (approx R7 000), which will equip you with Apple CarPlay and Android Auto.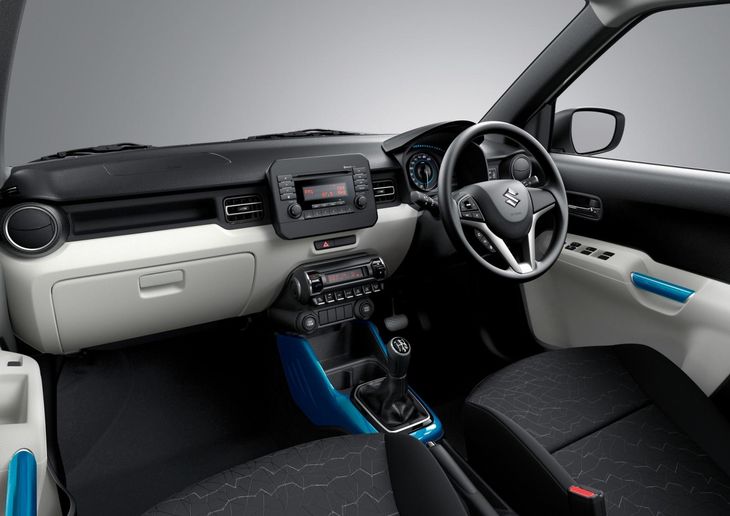 Touches of colour within the cabin can be customised to match the Ignis' exterior finish.
Sassy with some space
The crossover clientele is probably the most fickle of the lot – not only must their cars be very attractive, they have to offer space and practicality too. To that end, the Suzuki's luggage bay measures 260 litres and the rear seats can fold with a 60:40 split, making it easier to fit surfboards or prams. The fact the Ignis weighs so little also aids everyday running costs; combined fuel consumption is 4.9 L/100 km (AMT) and 5.1 L/100 km (manual). ABS and EBD are also standard across the range, as well as front airbags and electric windows both front and rear.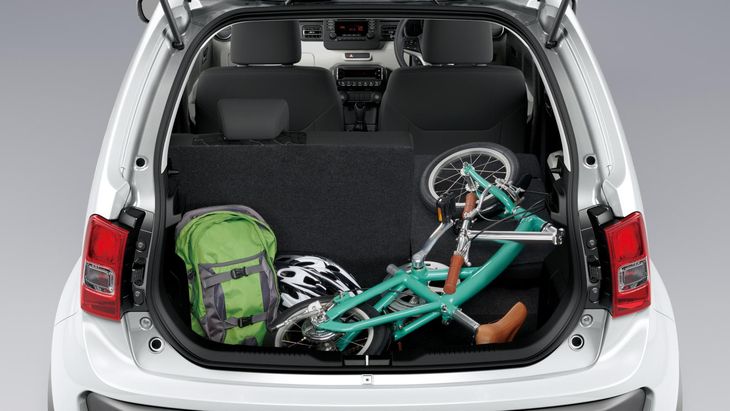 A 260-litre boot is an average size for the segment, seats can also be folded down.
Summary
Overall, the Ignis comes at the right time for the brand. Suzuki's newcomer joins a very buoyant segment, has notable hipster appeal and a good variety of standard features (on both the GL and GLX derivatives). On top of that, pricing starts at a very competitive R169 900. Strong contenders such as the Volkswagen Cross Up! play in the same field, but the Ignis offers a different look and feel (to products based on conventional hatchbacks), which will suit some buyers to a tee. What we can tell you is that it's quite the cool little new kid on the block.
Related content:
Suzuki Ignis (2017) Specs & Prices
New Suzuki Swift (2017) First Drive
Crossover Group Test: Suzuki Vitara, Hyundai Creta & Renault Captur [with Video]
Suzuki Baleno 1.4 GLX (2016) Review
Renault Kwid (2016) Video Review
Renault Kwid Dynamique (2016) Review
Interested in buying a Suzuki Ciaz?