Based on our site traffic, user interest in the new-generation Volkswagen Tiguan has not abated. It's a vehicle that appears to tick so many boxes that consumers are willing to forgive it for what appears to be a premium price positioning. Here we review the lower output 1.4-litre turbopetrol model, equipped with a manual transmission. Could it be the pick of the range?
We like: Upmarket feel & solid build, spaciousness, fuel economy
We don't like: Turbo lag, pricey, ride on 19-inch wheels
Alternatives:
For better value: Mazda CX-5 2.0 Dynamic may not be the most modern offering around, but it still looks the part and is loaded with standard features as standard. It is still R40 000 cheaper than the Tiguan, even when you forego the R-Line kit on the Volkswagen. What you don't get, however, are a few of the more modern features that make the VW so desirable. The Mazda is also not as spacious. It sells for R377 700.
For more power: The new-generation Hyundai Tucson has been selling up a storm of its own in South Africa. Available for similar money to this Tiguan is the 1.6-litre turbopetrol Executive offering (R439 900). It offers significantly more power and torque and is decently equipped. It offers an excellent warranty, but is also not as spacious as the VW.
For something with all-wheel drive: With Ford's Kuga due for a refreshment in the next couple of months, a new Honda CR-V on the way and the Kia Sportage line-up not currently offering a direct rival for this Tiguan derivative, you may also want to consider the underestimated Subaru Forester 2.0 X. Priced at R389 000, it is cheaper and more basic in terms of surprise and delight features, but it offers rock-solid build, great gravel-road ability and is more spacious and practical than you may expect.
Stepping Up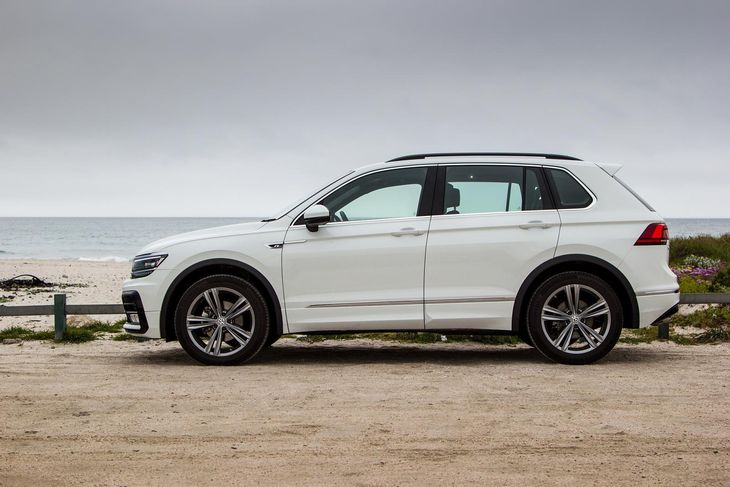 Handsome new Tiguan arguably brings previously unseen levels of desirability to its segment.
It's still too early to say whether the massive interest in Volkswagen's new Tiguan will translate into continued strong monthly sales figures. We wouldn't bet against it, however, especially considering the fact that the range must still expand to include turbodiesel models. Based on our experience with the Tiguan thus far, it is, however, very clear that the Tiguan has established new benchmarks in this segment for technology and desirability. At first glance those talents may not be regarded as traditional requirements for success in the family crossover/compact SUV segment – practicality, space and comfort have always been the pillars – but the Tiguan (and to some extent, the Hyundai Tucson), appear to have moved decisively upmarket.
Which brings us to this test unit... With its lower output engine, manual transmission, sporty R-Line bodykit and seemingly hefty pricetag. Can it cut the mustard as a "entry" premium-level offering?
How does it fare in terms of...
Design & finish?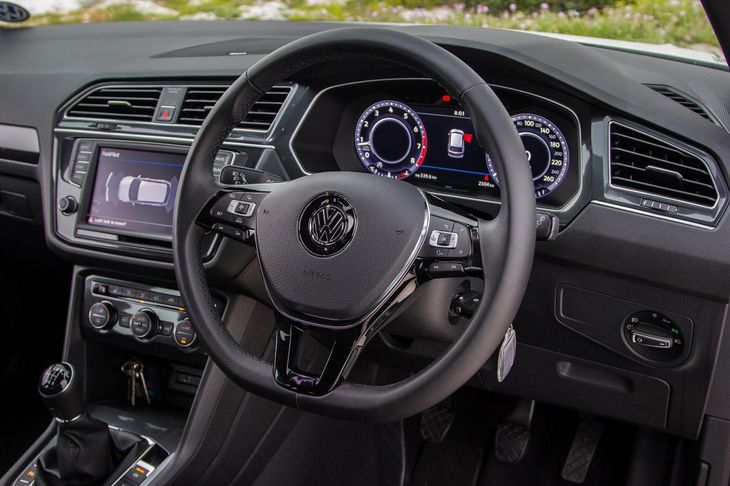 The facia of the Tiguan, fitted here with optional digital instrumentation, would not look out of place in a premium German sedan.
In a time when SUVs and crossovers are no longer niche offerings, but seemingly the preferred choices of most family car buyers, it is only natural that fragmentation within segments will start occurring. With the Tiguan, Volkswagen has readied itself to compete strongly when this happens. In its base form, and without any of its glitzier options fitted, the Tiguan is a fairly conservative proposition that will appeal to those looking for a practical, well-made and efficient family mover. In that sense, it competes very strongly with established vehicles such as the Honda CR-V, Toyota RAV4 and Ford Kuga.
But this Tiguan, as you see it here, is a completely different kettle of fish. The R-Line package, which consists mainly of fender blisters, a more aggressive lower airdam treatment and striking 19-inch wheels, endows the Tiguan with significant kerb appeal. In fact, the amount of attention that this vehicle attracted during its test term was similar to what we usually experience only with exotic motor cars. A key point to keep in mind here is that the base offerings from BMW's X1 and Audi's Q3 are in no way able to compete in the style stakes with this Tiguan, yet are more expensive...
It's a similar story inside, where the design and execution are typically "modern Volkswagen". The design is straightforward, but the attention to detail and quality of finish are class-leading. There is a consistency of quality evident in the selection of plastics that the competition can't match. As is the case with most Volkswagens, the driving position is spot-on, courtesy of a wide range of adjustment on offer from the rake/reach-adjustable steering wheel, and a driver's seat adjustable for height.
Features & technology?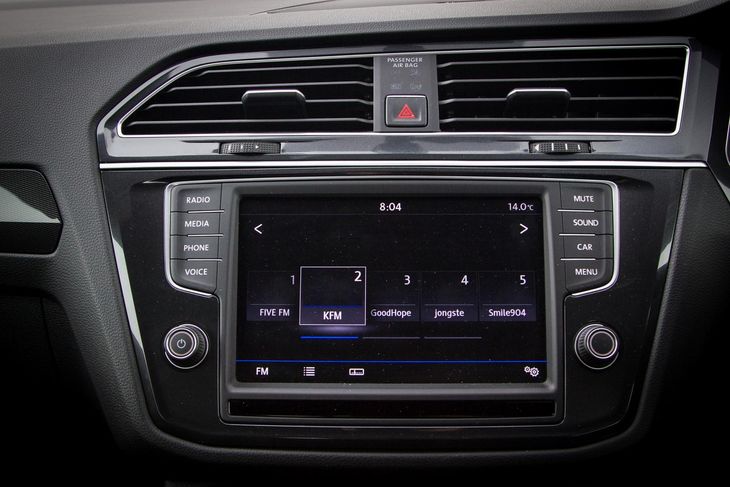 Easy-to-use infotainment system interface combines hard buttons and touch functionality. (optional system shown)
One of the reasons why the Tiguan boasts such star quality, is because it brings some of the most cutting-edge VW Group bits and pieces into a mainstream segment that has until now been more about meat and potatoes than caviar and foie gras. So, sitting inside a fully specified Tiguan – such as this test unit – is likely to evoke senses of achievement, status and success in its owner. That having been said, you have to pay extra for the really nice things...
As standard the Tiguan 1.4 TSI Comfortline R-Line offers an acceptable specification level, but one that is easily beaten by the competition. You get cruise control, park-distance control and a 5-inch infotainment screen that offers SD-card and Bluetooth support. Of course, air-conditioning, electric windows, auto lights/wipers etc. are all there, but there's nothing that really leaps off the standard spec page.
The options list, however, is peppered with attractive features. You can go for a sligthly larger 6.5-inch touchscreen system (R4 350) or the flagship 8-inch version with navigation (R12 000). The smart digital instrument cluster will set you back R8 000, and if you want to add head-up display (HUD), that'll be a cool R9 000. Adaptive cruise control with forward assist is reasonably priced at R5 000, the same cost as the Parallel Park Assistant. Vienna leather is pricey option at R11 850.
The lesson? Well, like the premium-badged vehicles that the Tiguan appears to be targeting, the standard specification is relatively meagre, but at least you can – if you want to and/or can afford it – enjoy the latest in automotive technology.
Practicality?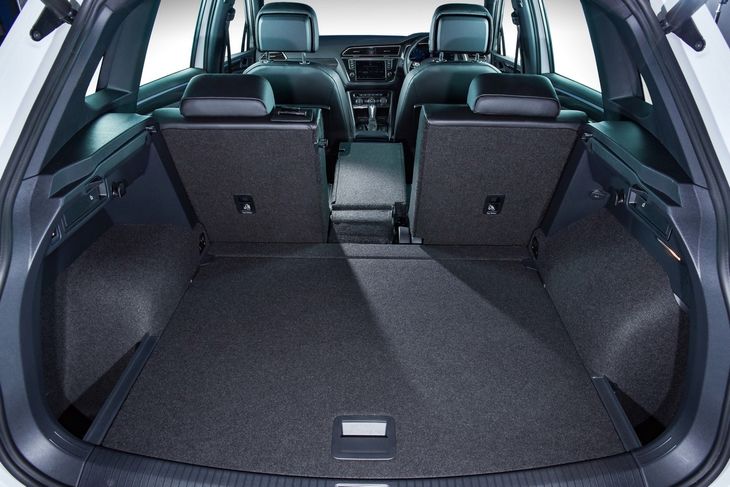 It may be stylish, but the Tiguan is also very spacious, with class-leading boot space.
The new Volkswagen Tiguan looks broader and sleeker than before, and in reality it's slightly longer and lower than its predecessor. Somehow, however, Volkswagen has managed to package the interior in such a way to give its newcomer class-leading practicality. The luggage area is vast, and is claimed to be able to accommodate 520 litres' worth of stuff. Fold down those rear seats – easily done via levers accessible from the rear – and total utility space is a claimed 1 655 litres, which outguns even the CR-V and Nissan X-Trail. Convenient hooks for shopping bags are provided on both sides of the luggage bay.
Note, however, that if you opt for the optional Dynaudio sound system (R13 000), you'll have to make do with a space-saving spare wheel. Other options worth considering, but from a more practical point of view, are the swivelling tow hitch (R7 500) and electric tailgate (R5 000).
The versatility isn't restricted to the luggage bay, though. Rear seat space is excellent, and you can adjust the amount of legroom on offer by sliding the base of the row over a range of 180 mm. Airline-style flip-up tables are provided for rear-seat passengers, replete with integrated pop-out drinks holders.
The drive?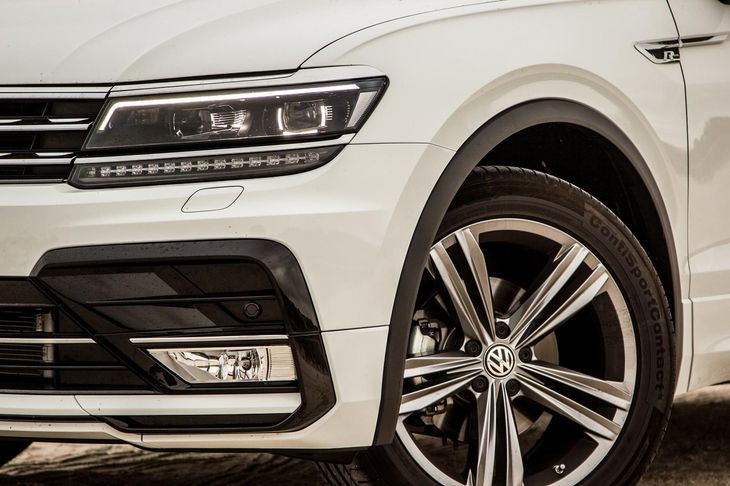 The Tiguan's ride is firm on 19-inch wheels. It's worth considering a different wheel/tyre combo.
This Tiguan derivative is powered by the brand's lower-output 1.4-litre turbopetrol engine that delivers 92 kW and 200 Nm of torque. These figures may not appear that impressive, but in reality some of its naturally aspirated rivals offer even less torque and in theory, the VW's turbocharger should give it punch from earlier on in the rev range than those competitors. Unfortunately, this is not quite the case in the real world.
Though Volkswagen claims the maximum torque is on tap from 1 400 rpm, it is quite easy to catch the Tiguan flat-footed when a burst of power is needed – for overtaking, to name one example. Perhaps the problem is not the lack of power as much as the contrast in feel when the power is there and when it is not... Either way, you will have to make use of the 6-speed manual transmission quite often if you tend to be a hurried driver.
For what it's worth, Volkswagen claims a leisurely 0-100 kph sprint time of 10.5 seconds and a top speed of 190 kph. But these performance deficiencies are unlikely to deter potential Tiguan buyers. They're likely to be more interested in the fuel economy on offer. Volkswagen claims a combined cycle consumption figure of 6.1 L/100 km, but we achieved a real-world figure of just below 7.0 L/100 km – which is still excellent.
In terms of ride and handling, this test unit also features the R-Line package which includes a "sporty" suspension and 19-inch wheels. Consequently, the ride is on the firm side. Those family buyers willing to sacrifice some style are advised to consider the standard 17-inch wheel and higher-profile tyre combination. We're willing to bet that this will considerably improve the ride quality, given that the Tiguan rides on the same MQB platform as other new Volkswagens, all of which boast impressively supple ride setups.
Pricing & Warranty
The Volkswagen Tiguan 1.4 TSI Comfortline R-Line (manual) costs R437 000 and comes backed with a 3-years/120 000 km warranty and 5-years/90 000 km service plan. Service intervals are scheduled for every 15 000 km. For more budget-conscious, practically-minded buyers it may be worth considering the same model, but without the sporty R-Line add-ons. Specified as such, the Tiguan will cost you a somewhat more reasonable R419 000. Interestingly, this model has 17-inch wheels and plumper tyres, so you could end up paying less and enjoying a vehicle with an improved ride quality. Worth considering...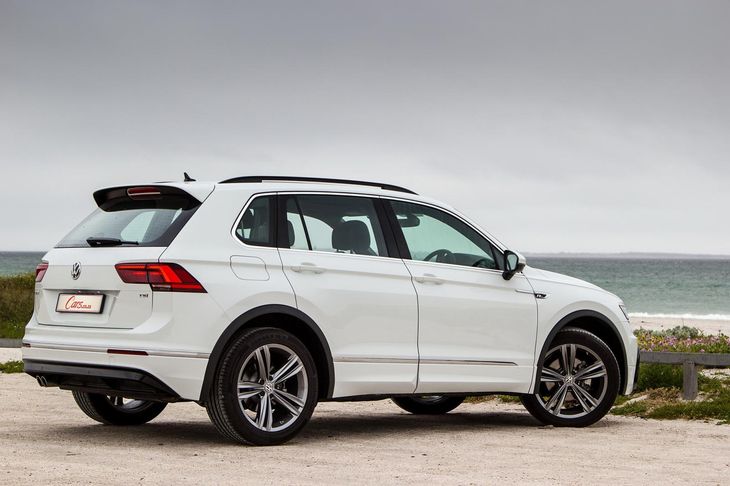 With its R-Line pack the Tiguan is a genuine premium segment contender. Without, it's a highly practical family car. Either way, a win.
Verdict
We continue to rate the Tiguan highly. Volkswagen took its time in developing this model, but the Wolfsburg-based firm appears to have read the market's requirements very well. Practicality is one piece of the puzzle, and a very important one, but besides doing the basics very well, the Tiguan also offers generous helpings of desirability and technology that this segment has not yet previously seen. It's by no means perfect – the ride is overly firm with the R-Line wheels, there's too much turbo lag and the asking price is high – but the Tiguan exudes a premium ambience that no other vehicle in its segment can (seemingly) match. In that sense, the Volkswagen appears to have successfully stepped out of the battle with its "mainstream" rivals and seems to be vying for the more hallowed scalps of the premium league (BMW X1, Audi Q3 etc.). And compared with those... the Tiguan suddenly looks like pretty decent value.
Further Reading
Volkswagen Tiguan 1.4 TSI (110 kW) DSG Comfortline R-Line (2016) Review
5 Cool thinks about the new VW Tiguan
Spy Shots: Volkswagen Tiguan XL
Cars.co.za Consumer Awards: Best Family Car Semi-Finalists (2016)
Interested in buying a VW Tiguan