Spy shots of the next-generation BMW 2-Series have emerged. Here's what we know so far.
Picture credit: S. Baldauf/SB-Medien. We have paid for these photos and at the photographer's request, have watermarked them.​
With the imminent arrival of the BMW M2 CS scheduled, that's pretty much this generation of BMW 2-Series wrapped up. Work has already begun on the next-gen version and these photos show it out testing. Camouflage is very heavy and there's not much to go on as it's still quite early in the development phase. What we can see however are two large exhausts, evidence of either an M-Sport or a fully-fledged M model.
The 2nd-generation Series Coupé (codenamed the G42) is scheduled to go on sale in 2021 and, unlike the current 1 Series and 2 Series Gran Coupe (GC), which have transverse engine layouts and are based on BMW's Front Architecture platform, the newcomer will adopt an evolution of the brand's Cluster Architecture (CLAR) platform and be closely based on the Z4 Roadster. This means the compact 2-door coupe will be rear-wheel drive, which will keep the purists happy.
In terms of engines, BMW has quite the arsenal of powertrains to call upon. There's an array of modular 2.0-litre 4-cylinder motors in both petrol and diesel versions, with a huge variety of power options. There's also the 3.0-litre 6-cylinder motor available. It is expected the 4-pot to make around 190 kW while the M240i could pack 285 kW. There should be an M2 model as well, and that should punch out at least 310 kW. Some sources have suggested it will be a detuned version of the current X3 M motor, which sounds like a sensational idea.
As far as a production reveal goes, we expect it to arrive in SA in 2022, with the flagship BMW M2 potentially in 2023.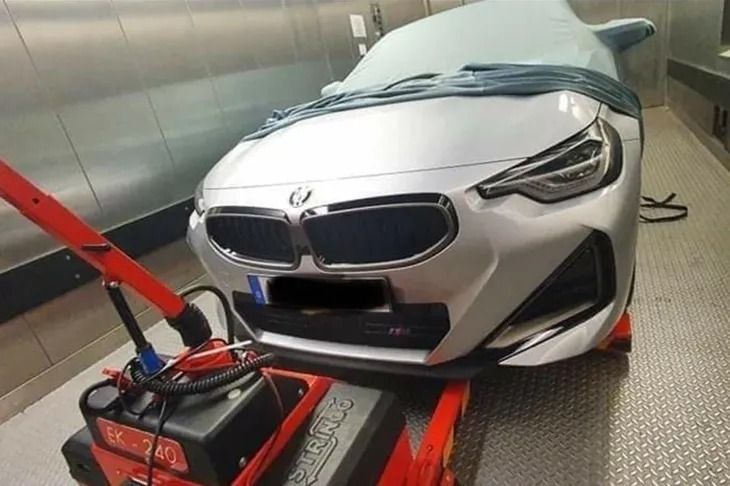 The BMW 2-Series was leaked earlier in 2020, giving us a glimpse of the new face.
Further Reading
Leaked images: BMW 2 Series Coupe
BMW 2 Series Gran Coupe Price Announced
BMW 2 Series Gran Coupe (2020) International Launch Review
BMW M2 CS (2020) International First Drive