Mercedes-AMG is putting the finishing touches on its monster GT 4-door. The Mercedes-AMG GT73 was spotted wearing light camouflage and will be a plug-in hybrid.
Picture credit: S. Baldauf/SB-Medien. We have paid for these photos and at the photographer's request, have watermarked them.
At first glance, it just looks like your standard Mercedes-AMG GT63 S, but on the rear you'll spot the flap for charging. Mercedes-AMG has already confirmed that its next-generation of powerplants will be electrified. Good news for AMG fans is there's no downsizing here as the 4.0-litre twin-turbocharged V8 petrol engine has been retained, but this time there's additional shove from an electric boost.
Official figures have yet to be confirmed, but we know that Mercedes-AMG has said it will offer at least 600 kW. Even for the most ardent of AMG fans, that's a lot of power and we suspect that the hybrid powertrain will have added a substantial amount of weight onto the package. To negate the heaviness, big outputs are required. Some have claimed there'll be 1000 Nm! We have had considerable experience with the AMG GT63 S already and its outputs of 470 kW and 900 Nm were very impressive, so we can only begin to imagine just how fast this electrified AMG will be.
The electric tech is impressive with 9-speed automatic transmissions on the front axle, with electric power units on the rear axle. This power unit will comprise a lithium-ion battery, cooling system, powerful electric motor, electrically controlled differential as well as a 2-speed gearbox.
The flagship model is expected to be revealed by the end of 2021, but we'll see this 4.0-litre twin-turbocharged V8 engine in many applications, like the soon-to-be revealed SL range.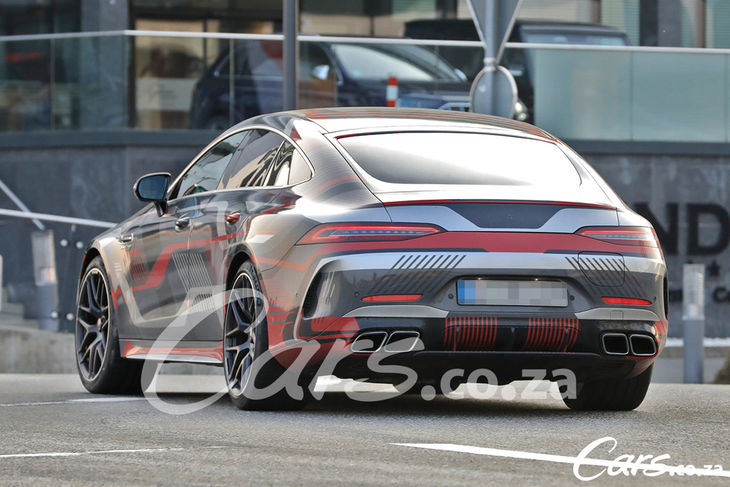 There's no mistaking that charging flag below the right rear light.
Further Reading
Update: New Mercedes-AMG SL to Replace GT Roadster
Mercedes-AMG GT Black Series Claims Ring Record