Remember the Mercedes-AMG Project One hypercar? It's still on track as these latest spy shots show.
Picture credit: S. Baldauf/SB-Medien. We have paid for these photos and at the photographer's request, have watermarked them.
We remember the reveal of the Mercedes-AMG Project One hypercar. It was 2017 and the Frankfurt Motor Show was about to commence. No-one saw it coming. No-one could have predicted that Mercedes-Benz was going to try to convert a Formula One powertrain into a road-legal car. Three years have passed since that jaw-dropping announcement and to be fair, it was never going to be an easy gestation as the technology involved with this engine is highly advanced.
As a reminder, the engine is an F1-sourced, turbocharged 1.6-litre V6 engine from the championship-winning WO7 Hybrid, coupled with a "purely electric and wheel-selective front axle drive concept". The engine will idle at 4 000 rpm and will redline at an eye-watering 13 500 rpm. According to reports, the engine will be good for at least 50 000 km before needing a rebuild, which is probably alright, seeing as most hypercars do so little mileage. The engine will work in conjunction with 2 electric motors. The first 80 kW electric motor is tasked with keeping the turbocharger on the boil at all times while the second 120 kW motor is linked directly to the crankshaft.
An additional 2 electric motors at the front axle will allow for pure electric driving with a range up to 24 km on electric power alone. Essentially, we're looking at a vehicle powered by five engines! Power outputs? Around 760 kW is the claim, with power headed to all 4 wheels. A claim of 2.5 seconds to complete the 0-100 kph run, but perhaps more impressive is the 0-200 kph time of just under 6 seconds.
Deliveries were expected to kick off in 2020, but we don't think this will happen as a lot has happened this year to throw this highly-niche project off course. Our spy photographers spotted it testing at an undisclosed location and suggested it will be launched as a 2021 model.
Watch this space as this will surely be one of the most iconic hypercars of the modern era.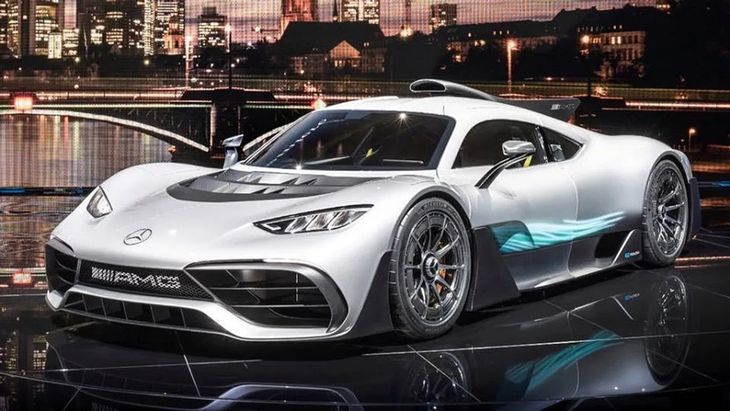 Further Reading
Mercedes-AMG Unleashes Project One: 350 kph Hybrid Monster (Video)
Mercedes-AMG unleashes facelifted E63 S