BMW is readying a hardcore version of its M5 supersedan which will be badged as M5 CS. Here's what we know.
Picture credit: S. Baldauf/SB-Medien. We have paid for these photos and at the photographer's request, have watermarked them.
These photos are proof that German carmaker BMW is working on an even hotter and more hardcore version of the M5. Dubbed the BMW M5 CS, this will undoubtedly be the ultimate iteration of the M5, surpassing the outputs and performance of the M5 Competition. This news comes at an interesting time as towards the end of April 2020, the all-new Mercedes-AMG E63 S was spotted at the Nurburgring. Keen to not have Affalterbach's latest trample all over the BMW M5 Competition, BMW's M division is planning this hardcore M5 CS model.
How do we know this is something special? Take a look at the front grille as well as real spoiler. That lip on the boot is very similar to that use on the current BMW M CS portfolio and if you compare it to the M2 CS and M4 CS, it's a near-perfect replica. There's also a front lip spoiler which we haven't seen before. At this stage there's no official mention of engine and performance, but sources like BMW Blog have suggested that the new BMW M5 CS will get an all-new turbocharged V8 petrol engine. Not much is known about this new powertrain, but many reckon it will be physically smaller as well as boast some form of electrification.
Typically, CS models focus on mild power upgrades, weight reduction and aerodynamics. That being said, the current BMW M5 Competition is no slouch at all, with its 460 kW and 750 Nm giving it a claimed 0-100 kph of just 3.3 seconds. Who knows, we may even see a 2.9 second claim when the BMW M5 CS is officially revealed...
Speaking of, we expect an official reveal of the BMW M5 CS alongside the LCI BMW M5 which was leaked in early May 2020 and the vehicle will be hitting showroom floors before the end of 2020. As for a South African arrival, we'd guess and say early 2021. The super sedan arms race is about to kick off again!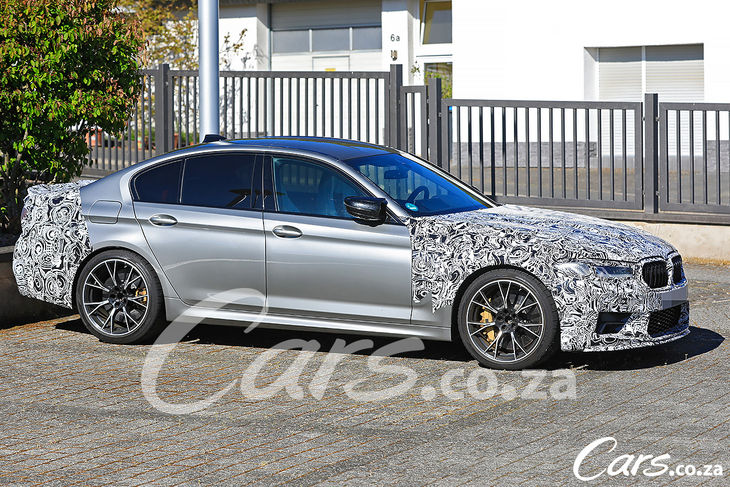 Note the BMW M CS spoiler on the boot, a tell-tale clue that BMW is working on a hardcore M5 CS.
Further Reading
Spy Shots: 2021 Mercedes-AMG E63 S
Another BMW leaked: Facelifted 5 Series
BMW M5 Competition Review - Do we need a faster M5?