The BMW M2 range will be bolstered by a flagship high-performance offering in 2020. While we don't know what it'll officially be called, rumours are rife that what you see is the new BMW M2 CS.
Spy shot credit: S. Baldauf/SB-Medien
If the BMW M3 CS was anything to go by, we're in for a treat. Not only did the BMW M2 win some Cars Awards - powered by WesBank from us, but its Competition sibling was a finalist too. It's safe to, therefore, assume that we're fans of this lithe and agile compact performance model, with some members of the team dubbing it 'the only M I'd buy."
So, what do we know of the BMW M2 CS? Officially BMW denies it's existence but BMW fan sites and spy photographers have been spotting hotted up M2 mules for quite some time, so we know that either BMW is already preparing its next-generation M2, or making a halo version, or a combination of both.
What you can see here is definitely an M2, but with added go-faster bits. We can see a more aggressive front end and how awesome does that rear boot lip look? Also, if you look closely, you can see high-performance brakes. Our spy photographers also gave us a peek at the cabin where we spotted a 6-speed manual transmission.
What's under the bonnet, you may be asking? We expect the existing M2 Competition engine to be used, although power and torque will be increased. The M2 Competition currently produces 302 kW and 550 Nm, so it's not unreasonable to predict that around 320 kW is possible. We're not going to see much more than that, as that would be too close to the halo M3/M4. The real changes will be to the suspension and brakes. The vehicle will also undergo a diet and lose a few kilograms, to make it even more exciting to drive.
Potentially, we may be seeing this model revealed in 2019, and we'll keep you posted if new information arises.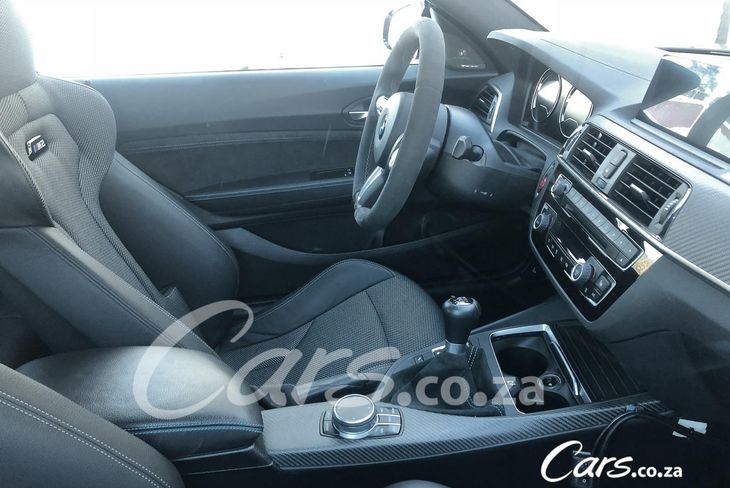 The BMW M2 CS should get a 6-speed manual gearbox, which will keep the purists happy.
Further Reading
BMW M2 for Sale (Used) - Cars.co.za
BMW M2 Competition International Launch Review
BMW M2 Competition (2018) Specs & Price
Audi RS3 vs BMW M2 (2017) Track Race
Track Race: Audi RS3 vs Merc-AMG A45 vs Honda Civic Type R vs BMW M2 [Video]