In a world...where hot hatches have nearly 300kW and cost R1million, these two contenders fight for supremacy. It's Part Two of our feature with the BMW M2 and the Audi RS3.
That does sound a bit Hollywood but we do think this video is a bit of a blockbuster. Recently, we hired the Killarney race circuit outside Cape Town and staged a drag and track race featuring the 2017 Audi RS3 Sportback and 2016 BMW M2.
The best way to compare these two cars in detail is to use our compare tool, simply follow this link:
https://www.cars.co.za/compare-cars/Audi-RS3-RS3-Sportback-quattro-vs-BMW-M2-M2-coupe-auto/04030519/050155502/
If you haven't yet watched the drag race, here it is:
https://www.youtube.com/watch?v=L87OsWqfNQo
In part 2, we headed to the full circuit, made sure Ashley had consumed sufficient calories to sustain himself and unleashed both cars. The aim was to set two times for each car, one standing start hot lap and one flying lap. Both cars were rigged with Racelogic V-Boxes for the most accurate timing possible and both cars were driven within a few minutes of each other, to ensure track conditions were as close to identical as possible.
Watch the full video here:

However, we didn't want to stop there. We wanted to provide you, the viewer, with as much data and footage from our race day as possible. The V-boxes provided a tonne of great data and videos which you'll find below.
Hot lap videos - POV
Let's kick it off with the Audi RS3's hot laps POV video. The V-box has also added speed and G-forces:
And now onto the BMW M2. These videos are a great way to compare how each car went about setting its lap times.

Key Data
Here are some headline figures which we've pulled from the V-boxes.

Telemetry
Below is a screengrab from the V-box desktop software. Here you can see how each car compares, according to the graphs. The Audi is represented by the blue line, with the BMW in red.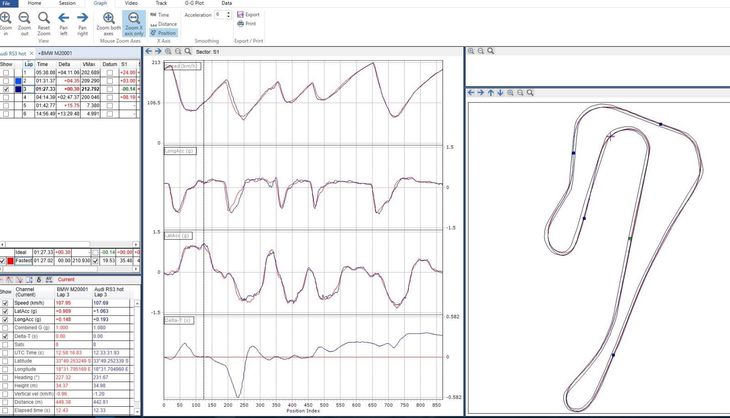 - Graph 1: Speed differential
- Graph 2: Longitudinal acceleration, g-force. Denotes acceleration and braking g-forces.
- Graph 3: Latitudinal acceleration, g-force. Denotes g-forces experienced during cornering
- Graph 4: Time difference over the course of the lap
- Large graph: The racing line taken by each car over the course of the track.
Summary
If you haven't worked out which car took the track title, you'll just have to watch the video above...
In short, this is how Ashley Oldfield, our racing driver, summed up the two cars:
"The Audi RS3 just gets better and better, and the new one is particularly fast. However, it does feel like a one-lap special. The average driver can climb in and with relatively little practice, push the car to its limits and set decent lap times. The M2 remains an exceptional driver's car. It feels like the more you drive it, the better it gets, and the better you get as a driver. It's definitely the car I'd take home."
Searching for a used Audi RS3?
Searching for a used BMW M2?