Lamborghini gives itself a pretty impressive 63rd birthday present. Or two.
As summer peaks in the Northern Hemisphere car enthusiasts gather in the exclusive Californian enclave of Monterey, for a week of celebrating exotic cars.
A highlight of this year's Monterey car week will be two limited-edition offerings from Lamborghini, both debuting at the American event.
The Aventador SVJ 63 Roadster and Huracan Evo GT Celebration are the latest releases from Lamborghini and for keen followers of the brand, these two new cars are sure to become future classics.
With even bolder styling than the standard Aventador SVJ, the '63' car adds additional carbon-fibre roof and cabin trim, special edition badging and a set of forged titanium wheels. Its purpose is to celebrate 63 years of the Lamborghini brand.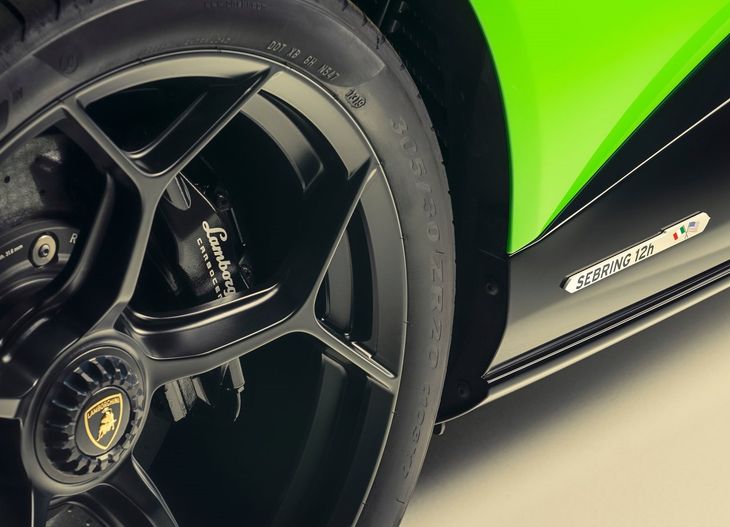 Huracan Evo GT pays tribute to its Sebring 12h wins.
Powering the Aventador SVJ 63 Roadster is Lamborghini's celebrated 6.5-litre naturally-aspirated V12 engine, producing 566 kW and 720 Nm. Performance is guaranteed to be dramatic and Lamborghini claims 0-100 kph n 2.9 seconds and a top speed well in excess of 300 kph.
Lamborghini will only be producing a total of 63 of these special edition roadsters – as you might have guessed from the naming convention.
If you prefer a smaller special edition Lamborghini, with a fixed metal roof, the Huracan Evo GT Celebration might pique interest.
With a total production run of only 36 examples, it more exclusive than the V12 SVJ 63 Roadster and traces Lamborghini's motorsport heritage, celebrating the brand's the 24 Hours of Daytona and 12 Hours of Sebring wins.
The Huracan Evo GT's striking livery and colour combinations are inspired by the same graphic work present on the Grasser Racing Team cars. Besides the exclusive exterior colour finishes, these Huracan Evo GTs feature an array of number '11' badges, applied to the frunk-lid, wheel centres and door trim.
Related content
Lamborghini Huracan Evo (2019) International Launch Review [w/Video]
Lamborghini's Gravel Travel Huracan