Featuring 9 uniquely South African cars, this new, limited-edition SentiMETAL artwork has just been added to the company's online store.
South Africa has a rich history of producing cars unique to this country – many of them were developed with the single purpose of motor racing in mind. Most of these cars were also made in extremely limited numbers, so were rare to start with, and most have since become valuable collectors' pieces. To celebrate our motoring heritage, Cars.co.za's SentiMETAL lifestyle brand has launched a limited-edition A2 print featuring 9 of the most memorable South African cars.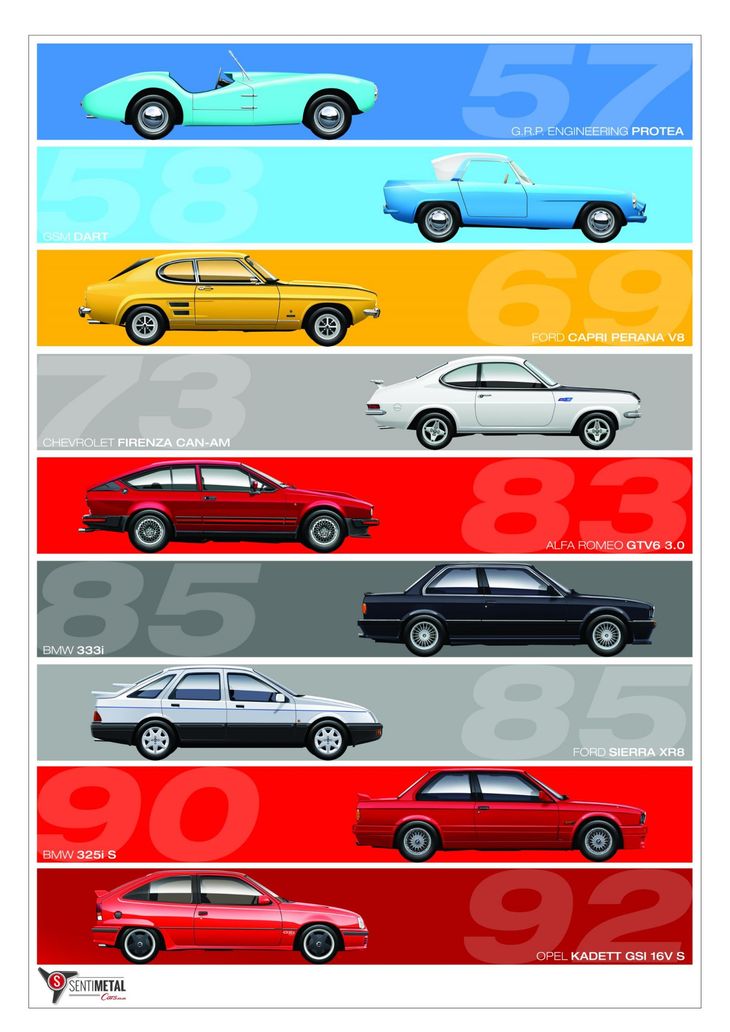 The SA-Specials print features 9 of South Africa's most iconic cars. Only 150 prints will be made.
"We're very proud of this piece," says Hannes Oosthuizen, Consumer Experience Manager of Cars.co.za. "We believe these South African cars deserve a lot more respect, not only from local petrolheads, but the international classic car community. We need to celebrate and treasure them."
Cars.co.za earlier this year used its annual Consumer Awards – powered by WesBank programme as a platform to announce the start of a car collection focusing initially on South African specials. The first car in the collection, a nuts-and-bolts restored Opel Kadett GSi 16V S "Superboss", was revealed in January, and the company is currently simultaneously restoring 3 more South African specials. "We believe we have to play our part in protecting this local automotive heritage, and we want people to remember and cherish these cars," Oosthuizen says.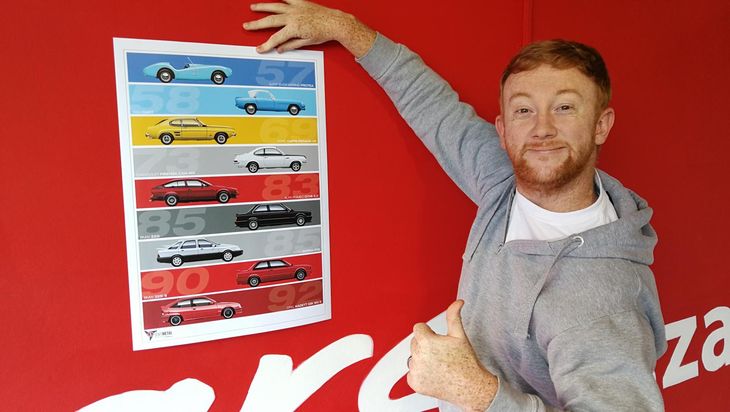 Cars.co.za senior content creator David Taylor illustrates the size of the new print.
The A2 print, of which only 150 will be produced (each one is numbered by hand), features 9 uniquely South African cars; the Protea, GSM Dart, Ford Capri Perana, Chevrolet Firenza Can-Am, Alfa Romeo GTV6 3.0, BMW 333i, Ford Sierra XR8, BMW 325iS and the Superboss (Opel Kadett GSi 16V S). "There are of course many more South African specials," says Oosthuizen, "and we will produce more artworks that feature them in the future, but we feel these 9 are among the most important and memorable."
To produce the the piece, SentiMETAL called on Wayne Batty, former local motoring journalist now residing in the UK, and a man who is a wizard when it comes to computer-aided automotive drawings. "Working from (in most cases) quite limited reference photography, I first drew the profile and main character lines, then began to paint in the colour, adding detail and highlights. Recreating these homegrown icons has been a wonderfully nostalgic exercise and has given me a whole new appreciation for the significance of the homologation era, in particular," Batty says.
Don't miss out! Order your print here for R699 (including nationwide postage).
You may also be interested in;
SentiMETAL OutRun Bastille Day
SentiMETAL OutRun: Cars, Coffee & the Cape Coast