The Smart brand is back in SA and its products offer a mix of funkiness and city practicality. In typical Smart fashion, the ForTwo is very different from anything else out there so we tried out the Prime-specification derivative to see how it copes in SA's most congested city.
We like: tight turning circle, funky styling, decent storage space
We don't like: pricey, not great at freeway speeds
Alternatives:
For a better engine: Opel Adam 1.0T Enjoy – the 1.0-Litre turbocharged Opel is equally at home around town and on the freeway, plus it returns excellent economy.
For something bigger: The aforementioned Adam or Volkswagen Up!, but if you have to have a Smart, the ForFour has two more seats and doors.
For a better driving experience: The Opel has a lower driving position and is just as agile around town. It doesn't turn as tightly in a parking lot, though.
For a less pricey option: Opel Adam or… Volkswagen Up! The Smart gets pricey when you start adding options and doesn't offer much more than the equivalent Adam. Volkswagen's Up! is a comparative bargain, but is sparsely equipped.
Unique?
The Smart ForTwo aims to be something different that stands out from your average city car. It delivers this on multiple fronts, including its design with two-tone colouring options, tiny proportions and a vibrant interior. The layout is also quite unique in that the engine is at the back and drive goes to the rear wheels – a configuration normally reserved for sportscars. It's not alone in this setup however as the Renault Twingo sold overseas has identical running gear, in fact, the smart is actually 70% Renault Twingo...
How does it fare in terms of…
City driving?
The Smart is built to live in the city, where parking spaces are few, gaps in the traffic are rare and where u-turns are seemingly impossible. Thanks to its incredibly short length (2,695 metres) the ForTwo takes care of all those situations. To put that length into perspective, if you park the smart next to a Ford Figo, the Smart ends before the Figo's rear door openings begin. As a result, the Smart can nip into minute parking spaces that other cars could never hope to occupy and will zip into gaps in traffic other drivers will hate you for.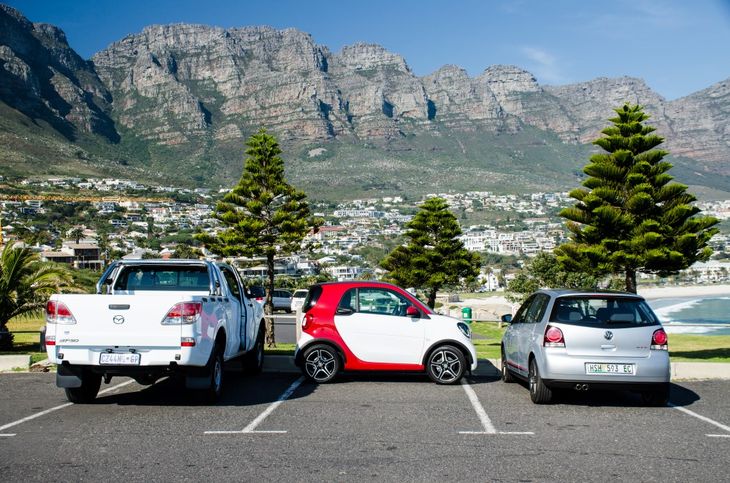 Small enough to fit into a parking space, sideways...
The steering angle allows the Smart to perform a u-turn in just 6.95 metres so there's almost never any need to pull off a stressful 3-point turn with it. The steering action is so light at parking speeds that you can easily whip the ForTwo around in a hurry. As a tool for traversing a cramped and congested urban environment, the Smart represents a near-perfect mobility solution... provided you like to travel light.
Practicality?
Despite its tiny dimensions, the Smart offers a variety of useful little hidey-holes (places to store oddments). The hatch has a split-folding tailgate system which can withstand a 100 kg person sitting on it. The tailgate also opens up to reveal an extra loading compartment and neat place to hide small things. The luggage space is reasonable and can store up to 350-litres once you fold the front passenger seat down. In fact, when the left seat is folded flat you can actually load a surfboard in the ForTwo.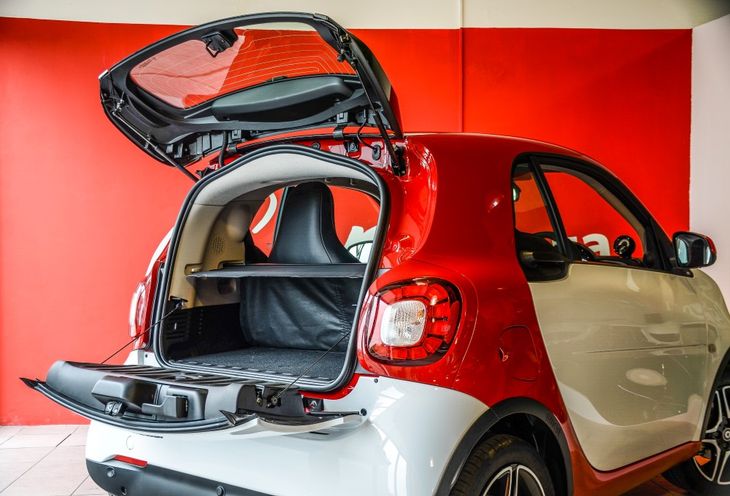 Tailgate on the smart can hold up to 100 kg and has a storage compartment hidden within
Good loading space is available in the door pockets and there's an extra drawer underneath the gear lever for things like your phone, keys and wallet. The cupholders are a bit shallow so be careful when cornering fast and carrying hot drinks – they will spill hot contents onto your feet. Overall, the Smart's design works well (if you consider it as a one-person vehicle), it's able to deal with small amounts of shopping and the odd local surfing trip.
Engine?
The engine is a 3-cylinder naturally aspirated unit similar in configuration to those of the Volkswagen Up! and Toyota Aygo. The Smart's motor puts out 52 kW and 91 Nm of torque in total. That's enough to get its 880 kg body off the mark and to 100 kph in a claimed 14.4 seconds. There's a typical 3-cylinder rasp from the engine and at anything under 60 kph, the ForTwo delivers perfectly acceptable performance. The Smart does, however, struggle somewhat outside city limits and on the freeway in particular. It can do 120 kph but getting there takes a while and any loss of speed takes ages to regain. In-gear acceleration above 80 kph is a struggle and you will find yourself with the throttle mashed to the floor more often than not.
The Smart is claimed to be quite economical with combined fuel consumption figure of 4.1 L/100 km. During its time with us, we couldn't match that figure and even on an economy run we were only able to achieve 6.2 L/100 km. The test united averaged 7.4 L/100 km over its 10-day stay at Cars.co.za, which demonstrates that outside of pure city driving the 1.0-litre engine has to work much harder.
Interior funkiness?
The interior of the Smart is interesting and quirky and adds to the Smart's unique character. It's here where the Renault parts are visible: the gear lever, steering wheel and just about every button that controls an electric function. It's not a bad thing; most buyers are unlikely to notice it.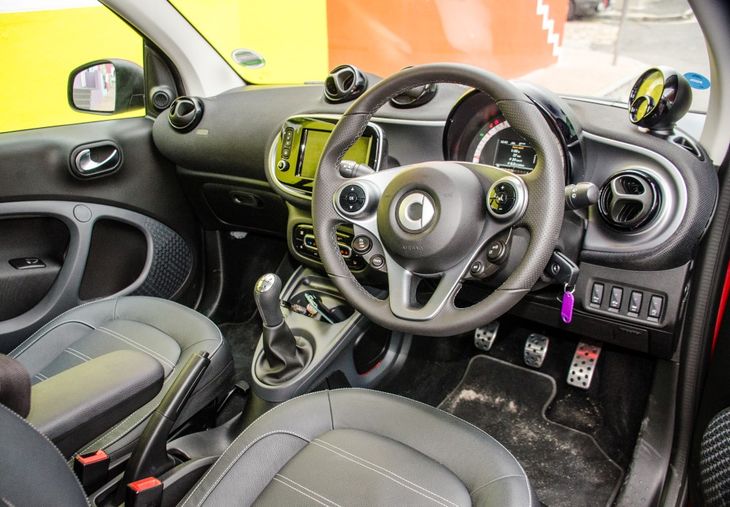 Most of the touch points in the Smart come from the Renault parts bin. The steering wheel is thick-rimmed.
The interior is highly customisable in that you can have a two-tone colour inserted to match the exterior of the car. The dashboard is covered in a carpet/cloth material that's much better to touch than bare plastic. The infotainment system is available with either a 7-inch touchscreen system or a smaller, digital system. Both connect to your smartphone and offer apps for your phone to stream or play music. There are USB and auxiliary ports available on both systems but the touchscreen system offers MirrorLink navigation. There are a lot of options to choose from on the Smart brochure, some of which should really be offered as standard. The comfort package, for example, includes a height-adjustable seat, -steering column and -electric mirrors – all of which should really be standard, but cost R3 500 extra.
Safety?
Just because the Smart looks like it will get knocked around like a pinball in a collision doesn't mean it isn't safe. There's a high strength safety cell beneath the paintwork that ensures occupants the best possible protection in an accident. All Smarts come standard with 5 airbags, ESP, ABS and crosswind assist. If you want to up the ante on the safety spec, there's a forward collision system warning and lane keeping assist available.
Ride and drive?
The Smart's handling is a massive improvement over the previous model's. Change of direction no longer confuses the ForTwo and it can be driven quickly through town; it's quite dexterous. It can however, be quite noisy over uneven tarmac. The five-speed gearbox is easy to flick through and the shift indicator prompts you to change up a gear just after 2 000 rpm for economy's sake. The clutch action is light, which helps in start/stop traffic.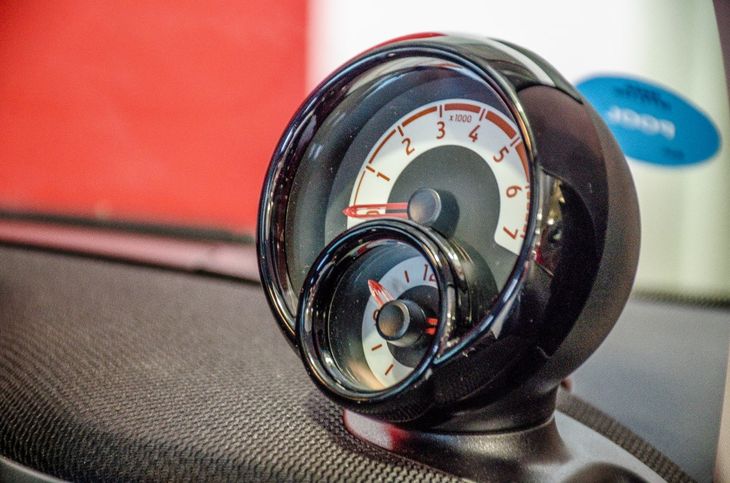 The rev counter/clock pod is a quirky addition and not really in the driver's eye-line.
Price and warranty
The ForTwo is offered with a 2-year/unlimited km warranty and 3-year/60 000 km service plan. The service plan can be upgraded to an 80 000 km plan.
Verdict
The Smart ForTwo offers loads of appeal for trendy urbanites. The vibrant colour options and cute proportions made it eye-catching and the 2-seater model makes sense as a second car where it will only ever perform short trips with one or two passengers on board. There isn't much in the way of luggage space if you want to go away for the weekend and it is also a bit expensive when you factor in the competition. The Smart ForTwo as we have it here is fully specced with all options and costs in excess of R250k. That's the same as a fully loaded Opel Adam and R25k more than a Fiat 500...
Quick Specs: Smart ForTwo 52 kW Prime
Related Content
Smart ForFour (2016) First Drive
Interested in buying a Smart?