Smart has introduced its third-generation ForTwo and ForFour models in South Africa (with a turbocharged version expected to arrive in July 2016).
A small, stylish and fuel-efficient car makes most sense in built-up cities where space is dwindling and Smart, Mercedes-Benz' urban mobility brand, is on a mission to transform the urban landscape with the introduction of its newcomers. Smart has been most successful in Europe and although its footprint in South Africa is tiny, bouyed by the Mercedes-Benz network, Smart is determined to infiltrate the local market with its new product aimed at younger buyers.
The launch of the new Smart ForTwo (two-seater) and ForFour (four-seater) took place in Cape Town's bustling city centre and we were there to give the new Smart cars a whirl. Let's see what's on offer…
Smart range
At launch, both the ForTwo and ForFour models are powered by a 1.0-litre 3-cylinder engine that produces 52 kW and 91 Nm of torque through a 5-speed manual transmission.
A 0.9-litre turbocharged ForFour derivative (offering 66 kW and 135 Nm) with a 6-speed dual clutch transmission is expected to arrive in South Africa in July 2016. A total of four trim levels are available, including Base, Prime, Passion and Proxy.
In terms of safety, all models are fitted with ABS with EBD, Brake Assist, traction control, stability control and a total of five airbags. A number of optional safety features such as crosswind assist, forward collision assist and lane keeping assist can be specified.
Styling features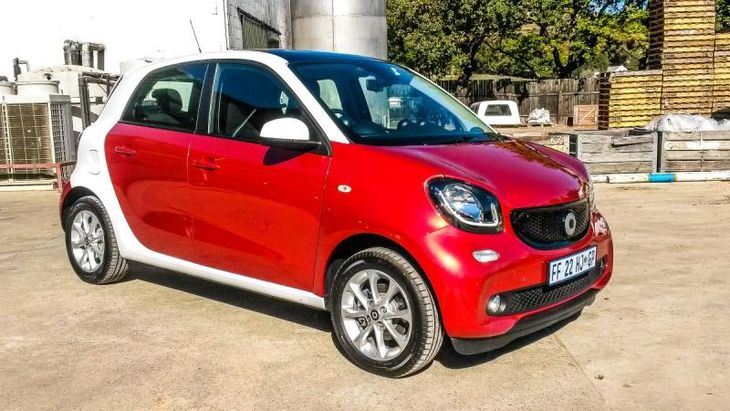 With its compact dimensions, the Smart ForFour is ideal for life in the city.
A new rear-engined, rear-wheel drive Smart ForFour now joins the ForTwo and they're hard to tell apart! The new Smart car features a larger honeycomb grille with three colours on offer including black, silver and white to match the rest of the body. The headlights are now sportier with U-shaped daytime running lights and there are more than 40 colour combinations for the body panels to personalise your Smart. The ForFour features a single upward-opening tailgate, while the ForTwo comes with a nifty two-piece tailgate to easily load items into the boot. There is a choice of 15- and 16-inch wheel designs.
The interior is funky with integrated seats and mesh fabric covering much of the dashboard and door panels (also available in a variety of contrasting colours). Large, circular air vents protrude from the dashboard, which add to the youthful interior design. A three-spoke multifunction steering wheel is optional and controls the audio, trip computer and cruise control. A JBL sound system with 8-speakers is fitted in the ForTwo, while the ForFour comes with a 12-speaker JBL system.

The interior is infused with youthful design elements. Note the rev counter and clock on the dashboard.
A Smart audio system is fitted as standard and is USB, MP3 and Bluetooth compatible. No navigation is available for this system, but with a smartphone cradle you can connect your smartphone to the system and access navigation directly off your phone. You can also specify the optional Smart media system that incorporates a 7-inch touchscreen that "floats" ahead of the centre console and puts all your infotainment at your fingertips.
Smart also offers a number of packages to spice up your car and these include a Sports Package, Urban Style Package, Comfort Package, Stowage Space Package, LED and Sensor Package, Cool & Media Package and Cool & Audio Package. In addition to these packages, a large number of accessories and features can be chosen to further enhance the look of your smart car.
How does the Smart ForFour drive?
The launch route took us from Cape Town's city centre to Warwick Wine Estate near Stellenbosch. We spent most of our time in the ForFour and although the route was short (65 km), it gave us a good idea of what the new Smart was capable of in both urban and highway situations.
In the city, the smart ForFour is right at home. With its small turning circle of only 8.65 metres, it's easy to manoeuvre and park, even in the tightest of parking spaces. The ForTwo is even more impressive in this regard with a turning circle of only 6.95 metres. Manoeuvrability is by far Smart cars' strongest trait.
In close-quarter driving situations, performance is adequate. The transmission is relatively smooth in operation and both the driver and front passenger have enough space to travel in comfort. Rear seat passengers are, however, compromised in the ForFour, there isn't much leg- and headroom at the back.
Out on the highway, however, the Smart ForFour struggled to cope with the expanse of the open road. In-gear acceleration is slow and overtaking requires careful attention. There's simply not enough power and torque to instil much confidence on the highway. At 120 kph, the engine revs at 4 000 rpm in fifth gear, hampering fuel consumption. Smart claims 4.2 L/100 km for the ForFour (4.1 L/100 km for ForTwo) and on the highway we were averaging around 7.0 L/100 km. We also noticed a fair amount of wind noise entering the cabin.
In terms of practicality, the ForFour offers 185 litres of boot space, which expands to a total of 975 litres with the rear seats folded down. The ForTwo, on the other hand, offers 260 litres of luggage space. Overall, we feel that the Smart ForFour and ForTwo are more suitable for inner city commutes and longer trips out of the city are better left to bigger cars.
We will have both the Smart ForTwo and ForFour on test soon to give them a thorough evaluation. Stay tuned!
Smart prices in South Africa
Smart ForTwo 52 kW manual transmission:
Base R174 900
Passion R194 400
Prime R203 400
Proxy R207 400
Smart ForFour 52 kW manual transmission:
Base R179 900
Passion R199 400
Prime R210 900
Proxy R212 400
Smart ForFour 66 kW automatic transmission: (from July 2016)
Base R210 400
Passion R229 900
Prime R241 400
Proxy R242 900
All Smart models are sold with a 3-year/60 000 km service plan.