The 2018 SEMA show has come and gone, and one of the highlights was this visually striking Toyota Corolla. Should Toyota enter the hot hatch segment with a potent Corolla?
The Speciality Equipment Market Association (SEMA) show is held annually in Las Vegas and represents the custom automotive segment of the market. It's almost impossible to gain access to as it's a trade show, but nevertheless, motor manufacturers support it. One such motor manufacturer is Toyota which gave 3 of its 2019 Corolla Hatchbacks to tuners and aftermarket publications to use as a blank canvas. One publication, Super Street, built something quite remarkable and we think this could inspire Toyota to craft a proper hot hatch out of the new Corolla hatchback.
"Corolla Hatchback is at the forefront of Toyota's current interaction with automotive enthusiasts," said Ed Laukes, Group Vice President – Toyota Division Marketing. "The all-new Hatchback is well-suited to customization and personalization, be it for appearance or performance." Super Street's goal was to turn the factory Corolla into something that looked like a track-ready hot hatch. While engine modifications are regarded as very mild by tuner standards, the HPS intake and A'PEXi quad exhausts give the engine a bit more noise.
Stopping power has been increased with Wilwood Superlite calipers and the rotors have been drilled and slotted. In terms of suspension, there is an RS-R coilover upgrade. This Toyota Corolla rides on tasty Volk Racing alloy wheels wrapped in Falken performance rubber. There are some tasty bodywork upgrades in the form of a carbon fibre lip, side skirts, and rear spats. Inside, the Super Street Toyota Corolla boasts heated Corbeau bucket seats and sporty pedals, with a considerable audio upgrade from Pioneer neatly fitted into the boot.
While this Corolla is a one-off project, we can't help but think that the potential for a GRMN-tuned Corolla is massive? After seeing the success of the GRMN Yaris both locally (it decimated its competition in a drag race) and internationally, surely Toyota is in the process of returning to the performance segment? Nothing is set in stone yet, but you can be sure we'll be asking the hard questions when the Corolla launches in SA in early 2019.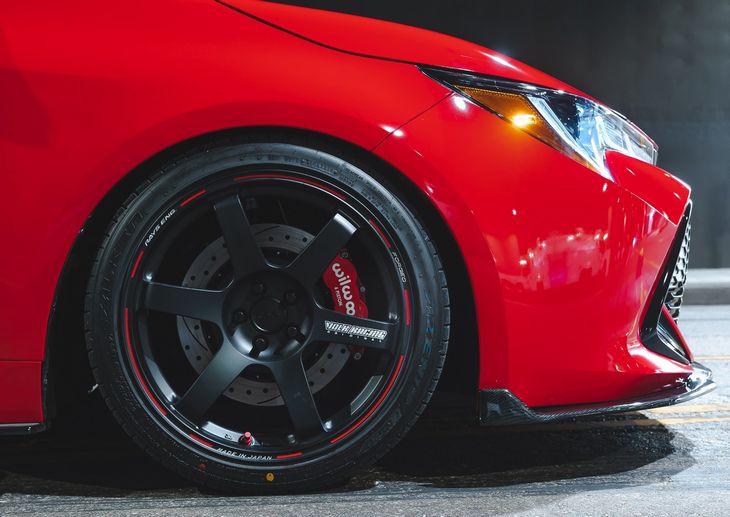 This Toyota Corolla is not just for show as it features a racing suspension and performance brakes
Further Reading
Want to buy a Toyota Corolla?