Performance Centres in Centurion and Pietermaritzburg now offer a 529 kW/827 Nm Roush Stage 3 upgrade for the 2019 Ford Mustang 5.0 GT Fastback, replete with a number of mechanical and cosmetic upgrades and backed by a 3-year/60 000 km limited drivetrain warranty.
Performance Centre SA, US tuning firm Roush's agent in South Africa, has offered several stages of upgrades for Mustang derivatives since 2016 – the year the Blue Oval's muscle car was introduced in South Africa. Now, to coincide with the recent local introduction of the facelifted Mustang, Performance Centre SA has released details of its ultimate upgrade for the 5.0-litre V8 derivative, which produces 331 kW in standard form.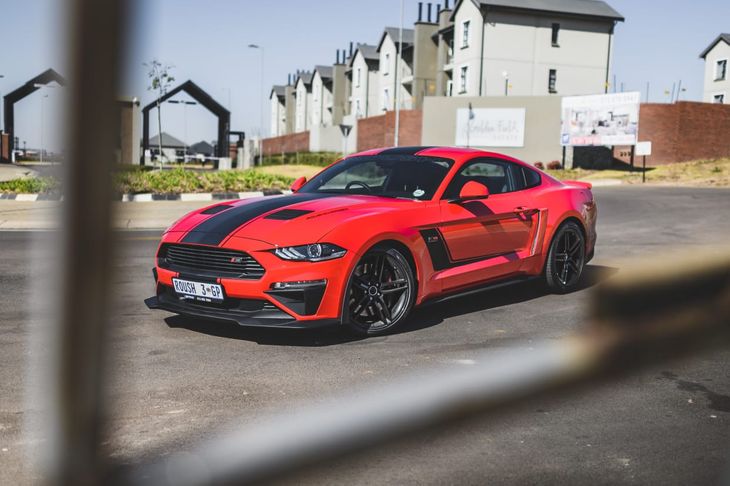 A host of aerodynamic addenda and racy graphics set the Roush Stage 3 Mustang apart from its standard siblings.
The meteoric hike in maximum power (+198 kW) and torque (+298 Nm) from the standard car to the Roush Stage 3 offering come courtesy of the fitment of a R2650 TVS (Twin Vortices Series) roots-type positive-displacement supercharger, which features Eaton's new twin 4-lobe rotors with an added helix angle of 170-degrees, in combination with newly-designed air inlet as well as outlet ports for the 5.0-litre V8 engine.
Performance Centre SA claims the supercharged setup is preferable to turbocharging because "it provides instant throttle response and… increased power through the engine's entire power band". Other benefits include: "enhanced thermal efficiency, higher volumetric capacity, higher operating speeds, more efficient airflow into the engine, and improved noise and vibration characteristics".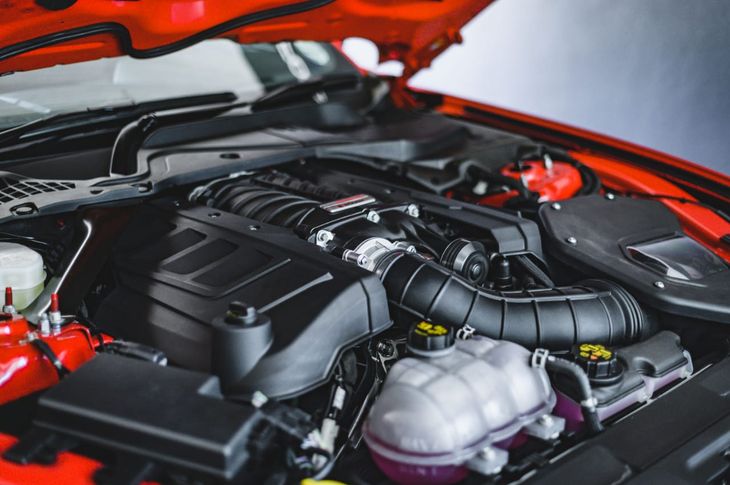 With peak power in excess of 500 kW, the Roush Stage 3 Mustang should offer performance to embarrass some supercars.
Although the US-based tuning firm has not released claimed performance figures (but given the engine's extreme peak outputs, they should be in another league to the off-the-showroom 5.0 GT), the Stage 3 upgrade looks a lot faster… The bespoke Roush aero package features a high-flow upper grille with an iconic "3" badge, functional bonnet vents, a widened lower grille, chin spoiler with wheel shrouds, a body-coloured rear wing, aero corner pockets, body-side scoops and more.
In terms of finer aesthetic details, the Roush Stage 3 Mustang's exterior treatment bears an accented hockey-stripe graphic, Roush-branded fenders, -windshield banner, -bonnet graphics and -rear blackout panel, while on the inside, the much-fettled muscle car features a Stage 3 serialised dashboard plaque, as well as branded embroidered floormats, illuminated door-sill plates, black leather upholstery (with either silver or red contrast stitching) and billet performance pedals.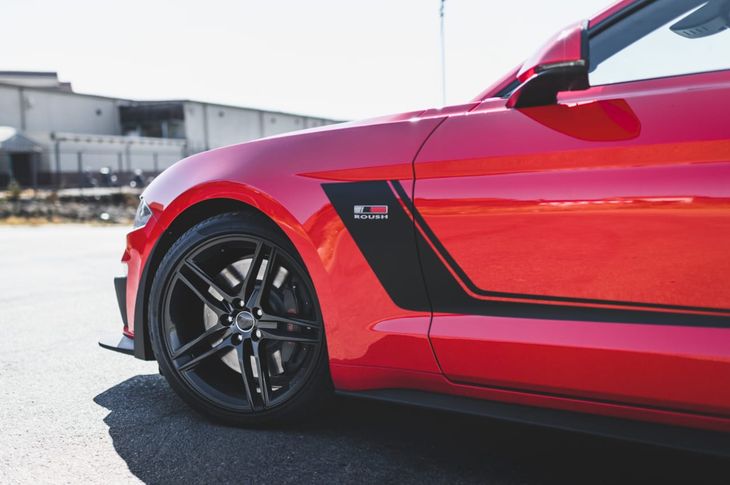 The "hockey stick' black side stripe is complemented by the "Jack Black" Roush-designed 20-inch wheels.
The standard wheels are custom Roush-designed 20-inch items finished in black and wrapped in Continental ExtremeContact tyres. They're optionally available with ebony or quicksilver finishes, plus buyers can add a number of extras, such as 1-way or 3-way "TrakPak" adjustable coilover suspension setups, or an active exhaust system. The latter allows owners to download a smartphone application to create a customized tone and volume for the Stage 3's exhaust system, so that they can drive in "stealth mode" or "race mode"... or anything in between.
Performance Centre SA states that each Roush-upgraded vehicle is uniquely serialised and registered on the US firm's international registry. Each Roush stage (the firm also offers Stage 2 on 5.0-litre and Stage 1 on 2.3-litre Mustangs) has its own M&M Code and, therefore, individual trade and retail "book" values. "Therefore all major banks will finance the upgrade value of your vehicle and insurance companies can insure the full value of the vehicle," the company said in a statement.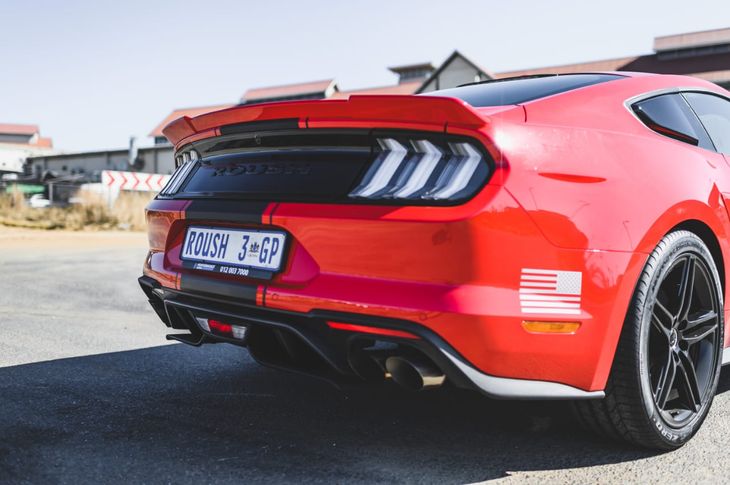 When optioned with an active exhaust system, the Roush Stage 3 Mustang's exhaust note can be tailored to taste (and mood)...
Furthermore, Roush upgrades are fully supported by Ford Motor Company of South Africa. Each vehicle is built and certified by a Ford-accredited Level 3 master technician, is covered by a Ford Protect (3-year/60 000 km) drivetrain warranty and registered on the firm's "Service 2" system.
Although Performance Centre SA has not released pricing for the Stage 3 kit, the ultimate upgrade on pre-facelift Mustangs was stated at R700 000 (or thereabouts). Should you be interested in procuring the Roush Stage 3 upgrade or other enhancements, visit performancecentre.co.za.
Related content:
Ford Mustang (2019) Launch Review
Updated Ford Mustang in SA (2019) Specs & Price