Rolls-Royce has unveiled the roadster variant of its Dawn cabriolet. The evocatively-named Silver Bullet is inspired by the brand's iconic roadsters of the '20s and this car – the 1st of only 50 Collection Cars that will be produced ­– is finished in exquisite Brewster Silver.
When the Goodwood-based manufacturer released teaser images of the Dawn Silver Bullet earlier this year, it described the newcomer thus: "an ode to decadence, to frivolity, to heady heydays and irreverent past times. Traversing the landscape with supreme accuracy, travelling great distances with speed and precision, this open-top roadster iteration of Dawn is like a silver bullet." Rolls-Royce's flowery (if garrulous) discription could also be substituted with "the embodiment of bespoke drop-top opulence."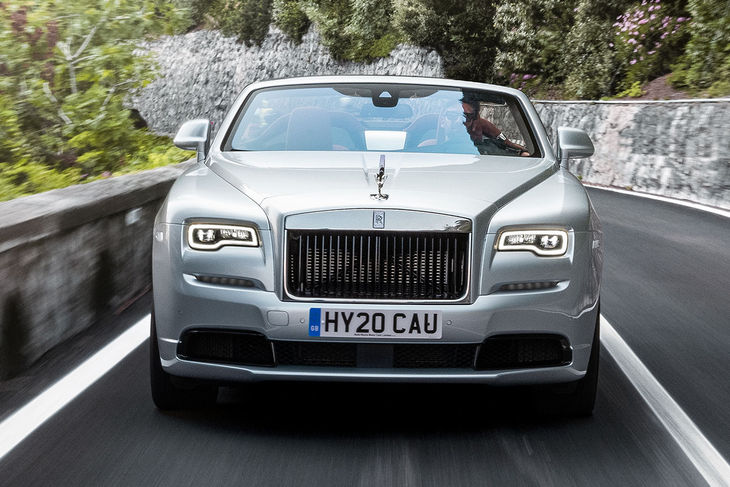 The Brewster Silver finish is such a light silver than it almost looks like polished platinum.
The Dawn Silver Bullet is strict 2-seater (as opposed to a cabriolet – hence its roadster designation) because the rear seats are substituted by the 2-part "Aero Cowling" as well as rakish centre spine, which extends the bodywork into the cabin. A vapour-blasted titanium finisher windbreak, which is positioned between the domes (or cowls, if you prefer), features an engraving of the car's profile (at the front) and the Silver Bullet name on the back.
The bespoke, ultra-metallic Brewster Silver exterior finish is said to pay tribute to the paint(s) that was (were) used on the marque's historic Silver Dawn, Silver King, Silver Silence and Silver Spectre models. It contrasts with darker elements such as the headlight lenses and bumper finisher. The wheels are part-polished with a translucent shadow finish and a single silver pinstripe.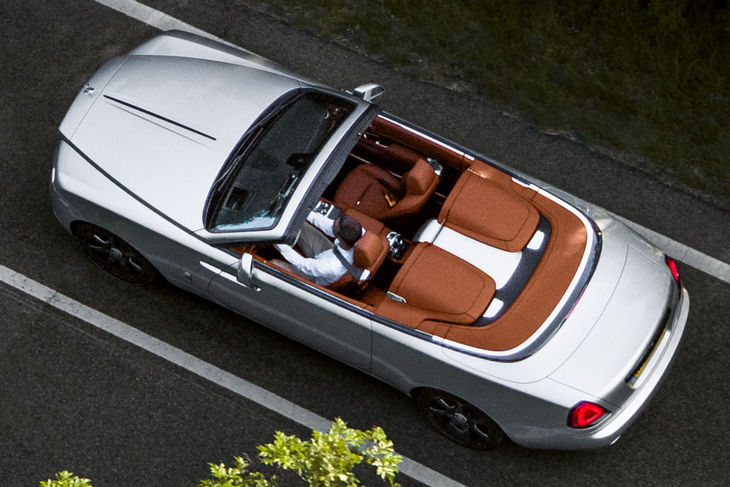 The Rolls-Royce Dawn Silver Bullet's roof can retract fully in 22 seconds.
Inside, the Silver Bullet uses open-pore carbon-fibre for the dash, the bulkhead (directly ahead of the Aero Cowling) and, by the looks of it, on the rear deck surround. Tan-coloured leather, meanwhile, features almost everywhere else, apart from the transmission tunnel, which uses a quilted version of the same tan leather.
The Dawn Silver Bullet is powered by a twin-turbocharged 6.6-litre V12 that produces peak outputs of 420 kW and 780 Nm and is said to accelerate from 0 to 100 kph in 4.9 seconds (if you're in a rush to reach the Côte d'Azur). Deliveries of the newcomer are underway, but Rolls-Royce has not revealed how much each of the 50 roadsters cost.
Related content:
Rolls-Royce's puzzling Wraith Kryptos
Rolls-Royce Dawn Silver Bullet Collection
Doing Silly Things in Rolls-Royces
Rolls-Royce Black Badge (2017) First Drive
Rolls-Royce Dawn (2016) First Drive