After years of teasing, Rolls-Royce has finally showcased its first ever SUV. It's called the Rolls-Royce Cullinan and some examples of this ultra-luxurious SUV will be making their way to South Africa.
Named after the famous Cullinan diamond, which was discovered near Pretoria more than a century ago (1905) and subsequently cut up to form part of Britain's Crown Jewels, this new SUV represents a new direction for ultra-luxurious carmaker Rolls-Royce, based in Goodwood. First announced back in 2015 with the tagline, "the Rolls-Royce of SUVs", the Cullinan is aimed at a younger generation of high-net-worth people.
The Cullinan is available with two rear-seat configurations; Lounge and Individual; and being a Rolls-Royce, no 2 units are likely to be identical thanks to an array of personalisation features. There's a glass partition that separates the front and rear occupants and, upon opening the tailgate, the luggage area offers 560 litres of luggage space, with 600 litres available when you remove the parcel shelf. Fold all the seats down and you gain 1 930 litres of utility space, which, Rolls-Royce claims, is enough to transport, "a Mark Rothko from the Art Gallery or a newly discovered artefact from the latest archaeological dig." You cannot make this stuff up!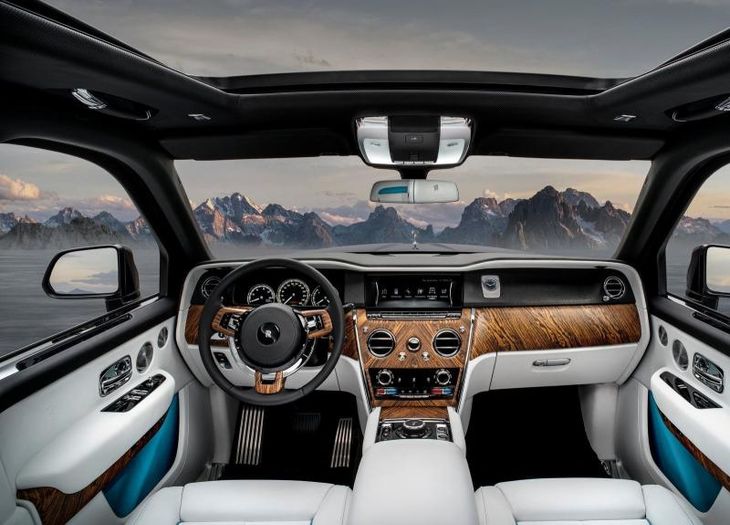 The fully-connected interior of the new Rolls-Royce Cullinan SUV
The cabin of the Rolls-Royce Cullinan is a special place to occupy, as these pictures attest. It has every conceivable gadget and piece of tech you can think of. Open the door and the vehicle lowers itself by 40 mm to make entry easier. The steering wheel is heated, all seats feature heating and cooling functions and those rear doors will automatically close themselves. The instrument binnacle is fully digital and, don't be fooled by the old-school wood trim and vents: it includes touchscreen infotainment.
Features such as Night Vision and Vision Assist including daytime and night-time Wildlife & Pedestrian warning; Alertness Assistant; a 4-Camera system with Panoramic View, all-round visibility and helicopter view; Active Cruise Control; Collision Warning; Cross-Traffic Warning, Lane Departure and Lane Change Warning; an industry-leading 7x3 High-Resolution Head-Up Display, WiFi hotspot, and of course the latest Navigation and Entertainment Systems are all standard. There are five USB ports too, with a wireless charging pad afforded to front passengers.
Under the large bodywork sits an all-aluminum architecture, self-levelling air suspension and a reworked version of the 6.75-litre twin-turbocharged V12 engine. In its latest incarnation, it has peak outputs of 420 kW/850 Nm and drives all four wheels through an automatic transmission. For off-road applications, the Cullinan features an "Everywhere" button, which activates and dynamically adapts the behemoth's offroad capability. Now we're not sure how many Cullinans will ever venture off the tar, but Rolls-Royce is claiming it can tackle rough track, gravel, wet grass, mud, snow and sand. It also boasts a wading depth of 540 mm.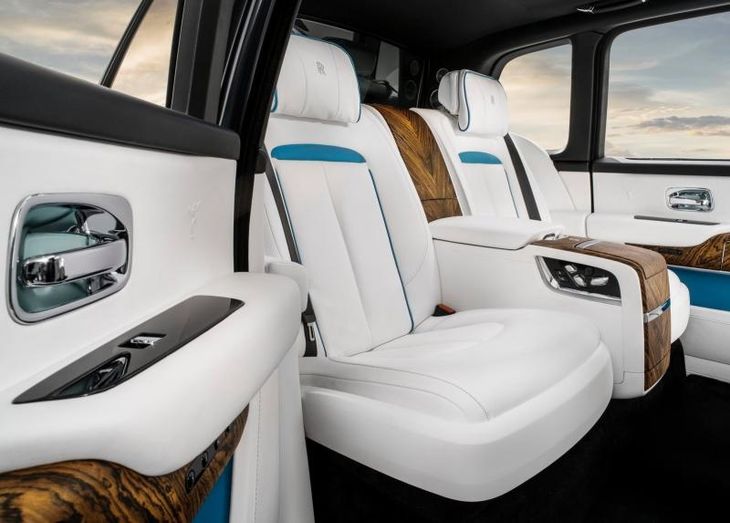 The automatically-closing rear doors reveal a luxurious and comforting cabin
The reveal has only just happened this past week and already the first Rolls-Royce Cullinan customer has been identified. Someone in Saudi Arabia has reportedly taken delivery of a Cullinan after paying close on 2.4 million Saudi Riyals (Almost R8 million). As for the South African market, local supercar blogger Zero2Turbo claimed that half a dozen Cullinans were on their way here. The first four will land in 2018, with two arriving in 2019.
You may also be interested in:
Rolls-Royce shows Vision Next 100 concept
Rolls-Royce Cullinan spy shots (new SUV)
Rolls-Royce Ghost Black Badge first drive
Rolls-Royce Ghost Series II video review
Rolls-Royce Phantom II - Truly Bespoke
Looking to buy a new / used Rolls-Royce?