More plastic cladding and a new face for Sandero and Stepway.
Renault has revealed a facelift of its Sandero range with improved drivetrain options, safety specification and infotainment.
The company's popular emerging market hatchback features subtle exterior styling upgrades. These include a new grille, bumpers and C-shaped LEDs, which all combine to give the Sandero a more contemporary and familiar Renault design identity front appearance. Around the rear there are reshaped taillights with a new LED illumination signature. Renault has also added the protective wheel arch and rocker panel cladding, which was an exclusive Stepway design detail, to its Sandero models as part of the 2020 facelift. Inside the new Sandero and Stepway models you'll find a standard 7-inch touchscreen infotainment screen, which is pre-loaded with both Android Auto and Apple Carplay and better trim.
The steering wheel now features a leather covering, with improved fabrics used on the door inlays and roof lining. Renault has addressed the issue of occupant comfort too, with new Sandero and Stepway featuring ergonomically redesigned seats which are wider and padded with better memory foam. Powering the updated Sandero and Stepway is Renault's 1.6-litre naturally aspirated petrol engine (85 kW), or the company's turbocharged 1-litre triple (58 kW). Both engines drive a five-speed manual transmission as Renault's default factory-built, although customers of the 1.6-litre can now option a CVT transmission if they wish – something which was previously unavailable.
Safety specification for the new Sandero Stepway tallies four airbags and electronic stability control, on those 1.6-litre models which are equipped with a CVT transmission.
The new Sandero and Stepway are currently confirmed for debut in the Brazilian market, with the global rollout and South African distribution still to be confirmed.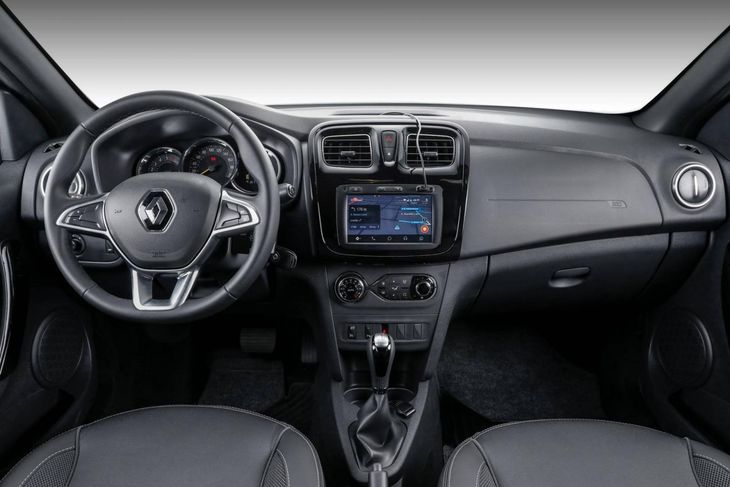 Further Reading
Renault Sandero Stepway Plus (2019) Review
New Renault Sandero Stepway Plus for SA