Renault has updated its Sandero budget-car range in South Africa through the addition of a new Stepway Plus flagship derivative. Should this keenly-priced, feature-packed crossover be in your crosshairs?
We like: Value for money, safety spec, a generous list of standard features, space.
We don't like: The Plus isn't punchy when fully laden, odd USB ergonomics, some cheap plastics in the cabin (but we're really nitpicking)
Fast Facts
Price: R213 900
​Engine: 0.9-litre 3-cylinder petrol
Gearbox: 5-speed manual
Fuel economy: 5.4 L/100 km (claimed)
Power/Torque: 66 kW/135 Nm
Own a Renault? Tell us about your experience here.
SERIOUS ABOUT BUYING?
Where does it fit in?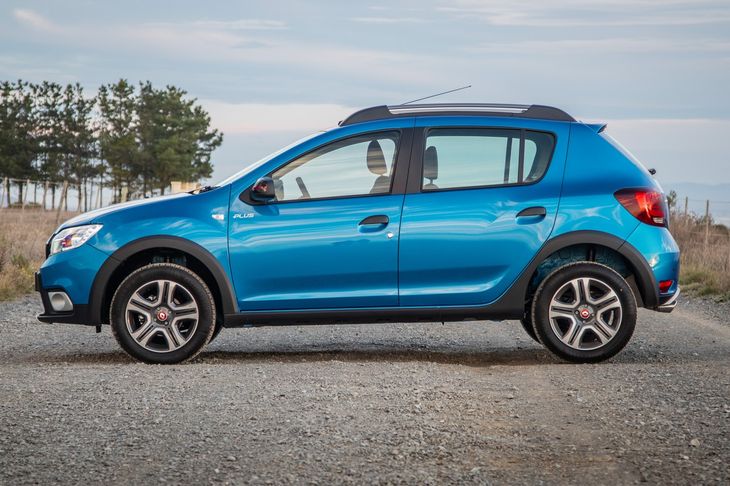 Look closely and you'll notice the Plus stickers located subtly underneath the side mirrors. The 16-inch wheels catch the eye!
Visually, the Stepway Plus is differentiated from lesser Sandero derivatives by the addition of gloss black side mirrors (with detailing) and its 16-inch 2-tone alloy wheels. Given their price points, the Sandero Stepway Expression and Plus are effectively a bridge between the entry-level Kwid and compact family Renaults such as the Duster and Captur. Buyers are increasingly favouring crossovers and SUVs, and the Stepway is a version of the budget Sandero with added ground clearance, front and rear skid plates and wheel arch mouldings. Is it a good proposition? Find out below.
How it fares in terms of…
Carting a small family around
The Stepway Plus shares its powertrain with the Clio. Its 0.9-litre turbocharged 3-cylinder motor develops 66 kW and 135 Nm, which do not sound like lofty outputs, but when you consider the car's low kerb weight (just 1 055 kg) you realise the engine doesn't really have much mass to shift around. Granted, things are little different when you start factoring passengers and cargo into the equation. When the Stepway Plus has 3 adults and some cargo on board, its engine labours and fuel economy takes a hit. There's a little bonus though. When you depress the accelerator pedal fully, you'll feel a little button click at the end of the pedal's travel. This triggers the motor's overboost and a little bit of extra power (and urge) ensue.
On-road refinement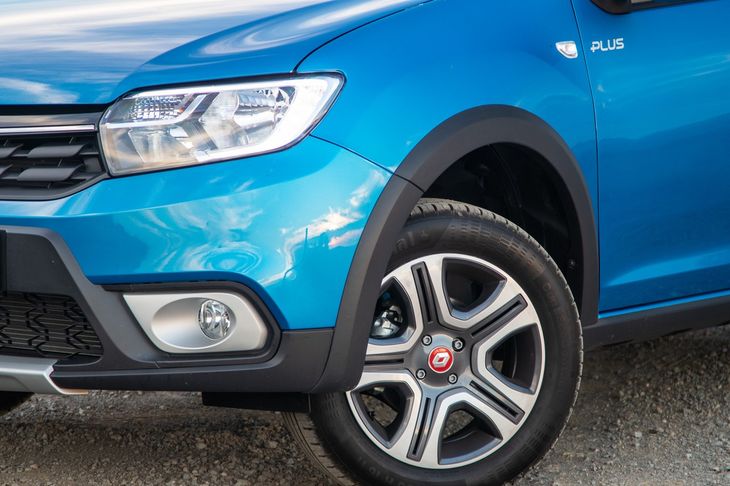 The Stepway Plus has a 5-speed manual 'box with a light shift action, combined with an easy-to-modulate clutch pedal, which is just as well, seeing that you are likely to change cogs quite often in cut-and-thrust traffic. The Sandero has what's termed as a narrow powerband, an area in the rev range where the engine is at its most responsive (maximum torque arrives at 2 500 r/min) and you'll be seeking that sweet spot often, like when you need to execute overtaking manoeuvres. Use the aforementioned overboost functionality and you should be able to dispatch slower traffic easily.
Usually, 3-cylinder engines tend to sound a bit gruff, but we think Renault has done a good job of suppressing the triple's vibration and noise characteristics. At full throttle, there's a cute little rumble coming from the engine bay, typical of 3-cylinder engines. In terms of economy, the little Stepway Plus displayed 6.8 L/100 km on the trip computer, which we think is fair. It's pleasant to drive too, with a fair ride quality and light steering. The suspension is adept at soaking up moderate road imperfections, which is helped by the fact that the 16-inch alloys are wrapped in thick rubber.
The Renault may lose some puff at freeway speeds, but it's nimble around town. "Plus" the reverse-view camera and rear parking sensors, allied with the light steering, make it easy to park in a confined space. Finally, despite it not being marketed as an SUV, the newcomer offers a useful 193-mm worth of ground clearance, giving it some credibility off the tarmac. You can effortlessly mount a kerb and traverse gravel in the Stepway Plus.
Features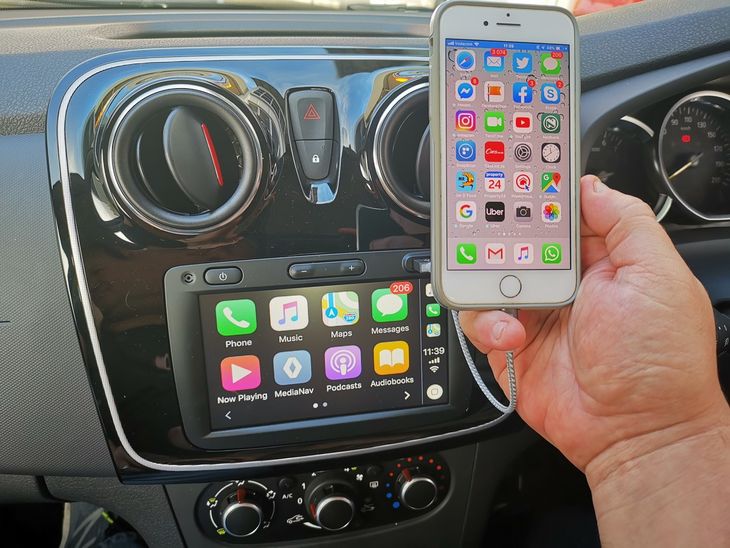 It does not take much effort to activate Apple CarPlay; simply plug an iPhone's cable into the USB slot above the touchscreen.
The Sandero Stepway has always been generously equipped and the Plus is especially so. The top derivative gains all-round electric windows, rear parking sensors, satellite navigation, cruise control (with speed limiter), a reverse-view camera and trip computer. For the first time, Android Auto and Apple CarPlay are available on this vehicle and you connect via a USB port and Bluetooth. Annoyingly, the USB port is positioned at the top of the infotainment screen, meaning you'll have a cable dangling in clear sight. It's odd, as most USB ports are positioned in more remote locations.
Despite its budget aspirations, the Stepway Plus' safety spec is ample. It features 4 airbags, ABS with EBD, hill-start assist and impressively, electronic stability control. The latter can't be switched off and proved its worth when 1 of our testers drove through a big puddle on a rainy evening.
Practicality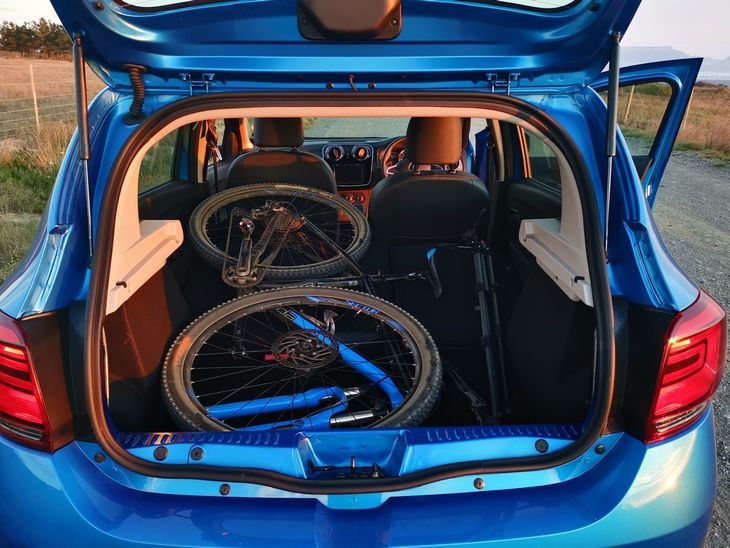 The ability to load in a 29-inch mountain bike was a boon.
Despite the Sandero Stepway being marketed as (and priced equivalent to ) a compact city car, it's surprisingly spacious inside. Rear passengers are afforded ample headroom and just about enough legroom to render the Renault a small family car. With the rear seatback in its upright position, luggage space is commendable, with substantial length and depth to the loading area.
And, with the 60/40-split seats folded down, there's even more space available. This author was able to load in a 29-inch mountain bike, mountain bike accessories and camera gear (including a tripod) with ease. Renault claims 292 litres of space, which is a touch larger than its nearest rival, the Volkswagen Polo Vivo. The cabin itself is well thought out, with sufficient compartments and storage slots for mobile phones, keys and so on.
Price and after-sales support
The Sandero Stepway Plus costs R213 900, which includes Renault's 5-year/150 000-km warranty and 2-year/30 000 km service plan. Services are at 15 000 km intervals.
Verdict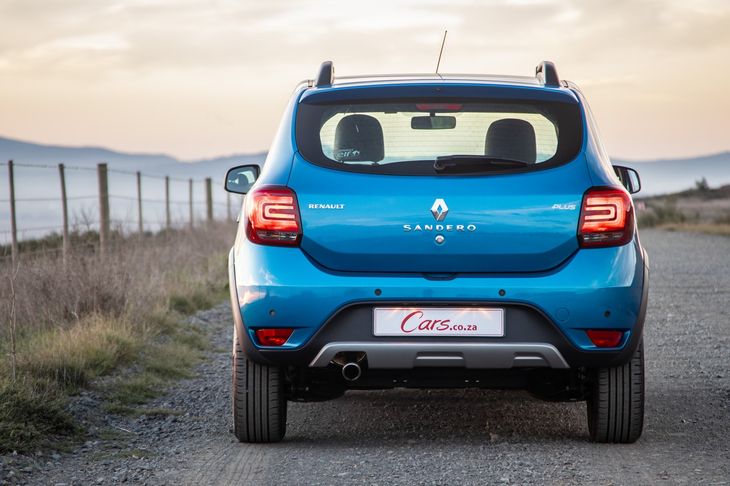 Should you buy one? Many consumers complain that new cars are too expensive and that the kind of financial outlay required to buy a vehicle of substance "out of the box" is beyond the means of most of the population. The Sandero Stepway Plus is Renault's antidote to that sentiment – the newcomer offers a lot of specification and tech, is pleasant to drive and is honestly priced. There's more kit in the Sandero Stepway Plus than in some more expensive new cars and, despite our criticism of it being underpowered when fully loaded, chances are the majority of customers will be singles or couples who won't experience that issue. The Plus is charming; you'll be hard-pressed to find more new-car value at this price point.