Renault's performance division RenaultSport has announced a facelifted version of the Clio RS hot hatchback. What's new for this yellow pocket rocket?
From its introduction, customers will be able to choose from 3 types of chassis and either a 147 kW or 162 kW version. The previous 1.6-litre turbocharged 4-cylinder has been retained, but there's a more potent derivative that packs 15 kW extra and will sprint from zero to 100 kph in a claimed 6.6 seconds. Power reaches the front wheels through a 6-speed dual-clutch gearbox and while we weren't particularly enamoured with the first incarnation of this 'box, this transmission has received some tweaks and we understand that it has been improved.
The car doesn't look radically different to the outgoing model – the single biggest change is the addition of the daytime running lights that were lifted straight from the Renault Clio RS 16 concept car that made an appearance at the 2016 Monte Carlo Grand Prix. The new Renault Clio RS will still be well-equipped (at least when compared with its traditional rivals) and it will feature launch control, a trio of driving modes as well as the RS application, which is a brilliant tool for those obsessed with performance driving data.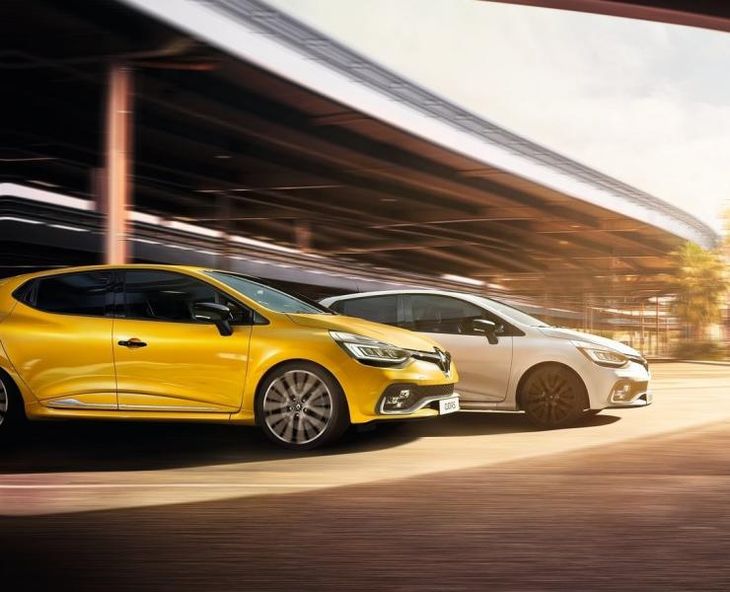 The new Renault Clio is available in Sport, Cup and Trophy derivatives. Power options include 145 kW and 162 kW.
In terms of "chassis", you can opt for Sport, Cup or Trophy, with each version becoming a little more hardcore and track-focused. The Sport is best suited for daily driving, Cup has a sportier suspension setup, with Trophy being ideal for the driver who likes to visit race tracks on weekends. Sport comes with 17- or 18-inch alloy wheels, Cup comes with a revised chassis with 18-inch wheels, while Trophy comes with big wheels and the entire car sits lower to the ground. The front has been dropped by 20 mm while the rear is 10mm closer to the ground. Meanwhile, the Trophy can be specced with an Akaprovic exhaust system that will save a bit of weight and also sound fantastic.
We'll be seeing the new-look normal Renault Clio launch in South Africa by the end of 2016, while this performance model should be here in 2017.
Related Content
Watch the Renault Clio RS take on the Peugeot 208 GTI (Video)
Grab a used Renault Clio RS here.