Not so long ago, rumours were rife that Renault's performance arm, RenaultSport, was planning to introduce the ultimate Clio. It's finally confirmed and it's every bit as wild as predicted. Meet the Renault Clio RenaultSport RS16...
Rumours? We had leaked photos of this car last week! Let's get the bad news out the way first - it's a concept car, meaning it's most likely a one-off project to give some idea of where the company is headed. So, don't expect to see hoards of them on the roads anytime soon. The good news, however, is that the Renault Clio RS16 is the ultimate version of the Clio RS. Given the brand's illustrious success with the bigger Megane RS, many wondered if it was possible to transfer some of that goodness into the smaller Clio.

It sounds crazy, but in just under five months, RenaultSport managed to build this Clio RS16. It features the 205kW and 360Nm 2.0-litre turbocharged four-cylinder engine from the Megane RS275 Trophy-R as well as a whole host of go-faster racing goodies. There's an enhanced chassis, revised suspension, 19-inch alloys and a body that's 60mm wider. It looks manic and with that sort of power lurking under the bonnet, it will be fast too.
Renault Clio RS16 Origins
Where did this mad thing come from? MD of RenaultSport, Patrice Ratti, wanted to celebrate the 40th anniversary of RenaultSport in a big way and during meetings with his team, engineer Christophe Chapelain pointed out that a Clio chassis would be able to handle the performance levels of a 300bhp (205 kW) engine, based on his rally expertise. "We all recalled the impact made by Clio V6. We wanted to create a technical concept car with extraordinary performance levels but which was more realistically priced. We therefore had to keep our feet on the ground and use simple, ingenious solutions to achieve a vehicle that could be type-approved. Furthermore, we wanted this project to be entirely developed by RenaultSport," said Patrice Ratti.

"In theory, a Clio R.S. fitted with our most powerful engine - the 275bhp, 2.0-litre turbo engine - was an attractive proposition, but we had to conduct more serious checks as regards its feasibility. In less than a month, a small team had completed a preliminary study that confirmed it was possible to house this engine under the bonnet."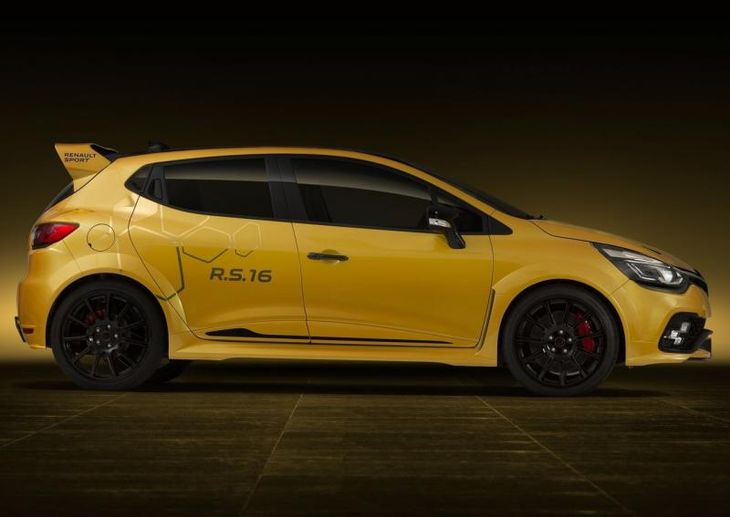 What's Under the Hood?
As mentioned earlier, the engine, gearbox, and cooling from a Renault Megane RS275 Trophy had been selected and dropped into the Clio's engine bay. However the 2.0-litre unit is bigger than the current 1.6 and that meant a few changes were needed to make it all work. Parts from a Megane, Kangoo and Espace were used to make everything fit. The exhaust also received a makeover and an Akrapovič twin-exhaust silencer was fitted. RenaultSport's skill and focus is on handling and the new Clio RS16 features the same damper system as the Megane RS275 Trophy-R as well as one-way adjustable shock absorbers. The brakes are also from the Megane with 350mm discs up front while the rear axle was taken straight from the Clio R3T rally car.
Just Look At It
With a wider bodykit, big wheels, outrageous rear wing, yellow paint and graphics, the Renault Clio RS16 certainly looks the part. A big diffuser at the rear is not just for show as it provides 40kg of downforce at 200kph. The daytime running lights have been cleverly designed in the RenaultSport vision logo shape and the cabin has also received some treatment in the form of bucket seats and six-point racing harnesses. The rear seat bench and air conditioning unit have been taken out to reduce the weight of the car.
The Renault Clio RS16 will be shown off to the crowds at the Monaco Grand Prix in May 2016 and will make an appearance at the Goodwood Festival of Speed.
Watch the Renault Clio RS16 Promo Video