The new Megane RS Trophy hikes up the power and has a lighter rotating mass. Get ready for new Nurburgring records...
Renault has taken the wraps off its new Megane RS Trophy, which is set to go on sale internationally around the end of the year. As far as the local market is concerned, the standard RS will be launched in late August 2018, so this Trophy version is sure to whet hot-hatch enthusiasts' appetites.
Firstly, compared with the RS, the Trophy's peak power output increases from 280 hp (208 kW) to 300 hp (223 kW) and the torque gets a kick from 390 Nm to 400 Nm (with a 6-speed manual), or 420 Nm (with the EDC dual-clutch 'box).
Renault has used technology from its F1 engine programme to improve turbo spooling time and responsiveness. The turbine – which rotates at close to 200 000 rpm – is now fitted on a ceramic ball-bearing system. Lighter, harder and smoother than steel, ceramic helps reduce friction.
In addition to the turbo, the new exhaust system is the second area in which engine performance has been improved. The rear silencer has been fitted with a mechanical valve that enables engine noise to be adjusted. When the valve is shut, the exhaust gases are routed along a path specifically designed to filter out the low frequencies that cause throbbing noises and process the medium frequencies. When the valve is open, the reduced flow resistance enables the gases to be routed along a more direct path. This then delivers more in terms of both performance and noise.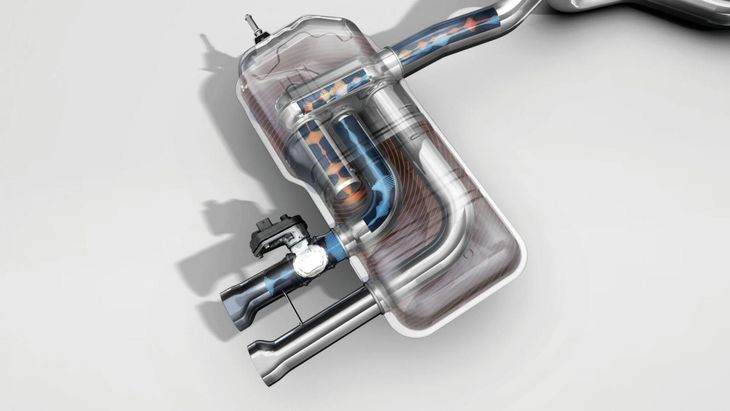 The exhaust flap that improves performance and sound at speed and reduces the wallowing sounds at low speed.
The Trophy sits on the Megane Cup chassis, which already features a stiffer suspension and a Torsen mechanical limited-slip differential. The Trophy takes things a step further by introducing bi-material front brakes that shed 1.8 kg a corner and improve heat dissipation. Lighter alloy wheels (by 8 kg), combined with high-performance Bridgestone tyres, top off the Trophy's optimisations.
The interior can be specified with specially designed Recaro seats. The new seats can be lowered by a further 20 mm compared with those of the standard car, giving the driver a sportier driving position, as well as reducing the car's overall centre of gravity slightly.
Renault South Africa has not confirmed the exact date of the Trophy's local introduction, but we expect it will be early in 2019.
Related content:
Renault Megane RS 280 (2018) International Launch Review
Renault Megane (2016) First Drive
Volkswagen announces 'Most Powerful GTI'
Searching for a used Megane RS?