The race for front-wheel-drive records at the Nurburgring seems to be a major boasting point for hot-hatch manufacturers. The long-time record holder - RenaultSport - has a new hot contender, the Megane RS 280. Cars.co.za contributor, Matt Saunders, drove it at the international launch in Spain...
Few performance cars have been lavished with a more consistent tide of praise by hot hatchback aficionados than the Renault Mégane RS. This car has bossed the fast front-drive niche for most of its life, having appeared with that memorable 'bustle–back' styling in 2004 and promptly set new class benchmarks for driver involvement and handling poise.
But it'll take something to reclaim that familiar old perch now, with the new Honda Civic Type R having become a brilliant driver's car in its own right, and the Volkswagen Golf GTI and four-wheel-drive Ford Focus RS suddenly making competition in the segment seem little less fierce than that which Renault has been coming up against in Formula 1 of late.
For that reason and others, you could call the launch of this new Mégane RS something of a watershed moment. Can the firm that brought us the flawed Clio RS 200 rediscover its sparkling form of old?
Has RenaultSport still got what it takes?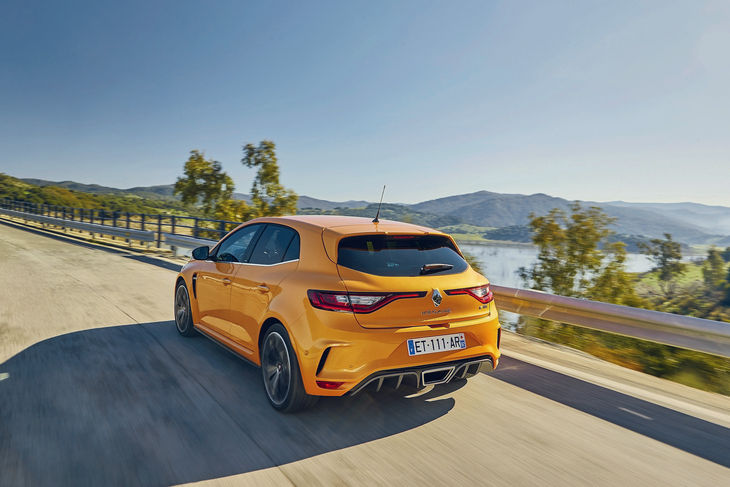 For so long, Renaultsport owned the top spot in the hot-hatchback world. The competition has since improved, can the new Megane compete?
Whatever it was that made so many of its hot hatchbacks so good for so long – has Dieppe still got it or is it lost forever? Meanwhile, has Group Renault's Alpine A110 sports car, brilliant as it may be, swallowed up so much valuable engineering attention and resource that what could be considered Renault Sport's most important model has been left undernourished?
It'd be understandable. But forgivable? I'm not so sure. Some good news would definitely be welcome – and maybe we're about to get some. Although it retains front-wheel drive, the fast Mégane has been through an overhaul that would seem every bit as thorough and attentive, on paper, as that of any of its rivals. It has a new 1.8-litre turbocharged engine that's smaller and lighter than the old car's 2.0-litre yet delivers more power and torque than the Mégane 275 bowed out with – and it can be partnered with a choice of six-speed manual or dual–clutch automatic gearboxes.
Unlike in the Clio RS 220 Trophy, then, you needn't be stuck with two paddles if you don't want them. Told you there was good news. For suspension, the Mégane RS sticks with struts up front and a torsion beam at the rear, but its front configuration has new geometry and retains RenaultSport's PerfoHub technology, which reduces kingpin angle offset and therefore better resists torque steer and bump steer.
New chassis tweaks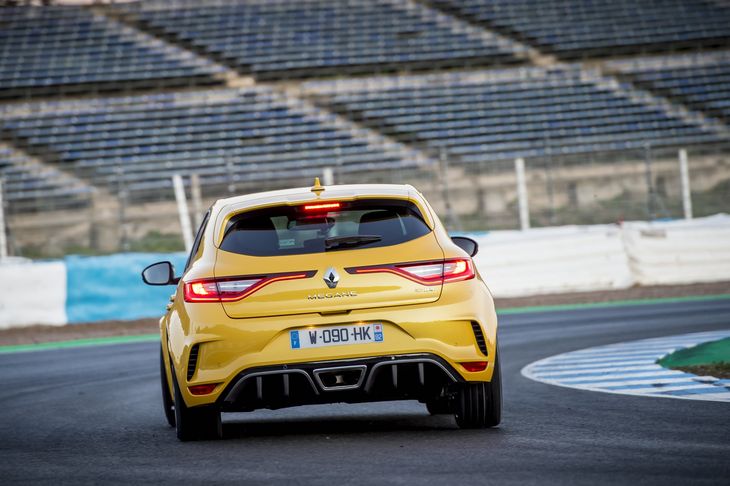 With 4-wheel-steer up to 100 kph, the Megane RS has a distinct advantage over its traditional rivals.
The RS rides 5 mm lower than a Mégane GT and has axle tracks widened by 45 mm up front and 30 mm at the rear. The chassis features two key technical departures: a four-wheel steering system and a set of rally-style hydraulic suspension bump stops. In a more familiar vein, you can have the Mégane with a slightly softer Sport suspension tuning (partnered with an electronic brake-actuated torque vectoring system) or firmer Cup settings. With Cup, you also get a Torsen mechanical slippy diff configured for greater lock-up under power and less drag effect on a trailing throttle than the outgoing Mégane 275's GKN slippy diff was configured for.
Enlarged, 19-inch wheels fitted with Bridgestone tyres and uprated lightweight brakes with aluminium hubs are options on Cup–spec cars. Prices are still unofficial but are tipped to start at R550k with models hitting showrooms from mid-2018. We probably wouldn't have chosen a 2-pedal Mégane RS with Renault's EDC transmission for our first taste of the car, but, as it transpired, we hadn't had access to one with a manual gearbox as these words were written, or one with Cup suspension, so impressions of those configurations will have to wait until later. At least it's probably fair to suggest that if the Sport-level dual-clutch car hits the right notes on driver appeal, we can have plenty of reason for optimism about the stature of the other versions.
Questionable insides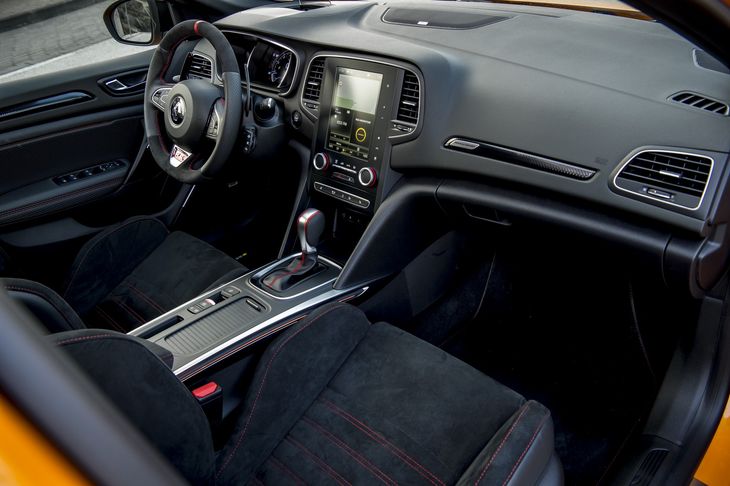 The seats are a sporty touch, but like the previous generation, the interior is still very grey and bland.
The current Mégane's cockpit makes for a decent departure point for a performance treatment, albeit one with some minor frustrations. The RS 280's Alcantara sports seats are good and supportive, and the driving position they grant is also good by class standards: you don't sit uncomfortably high and the controls are well located in front of you. Renault Sport's attempts at enriching the cabin materials are mixed, though. The RS's red-striped seatbelts and red trim accents are bright and effective but its part-Alcantara sport steering wheel has fairly ordinary-feeling leather where your hands rest on the grips (at quarter to three) and soft suede at six and 12 o'clock where you seem to touch it less.
Equally odd are the part-analogue, part-digital instruments, which consist of a square digital screen made up mainly of differently themed analogue rev counters and a digital speedo but whose available screen space is drastically curtailed by oversized analogue fuel level and water temperature gauges to either side of it. A bigger screen, with temperature and fuel information shown when needed (or at least scaled to your preference), would have been a much more intelligent layout.
Those shift paddles?
Details, perhaps. Still, they matter, especially since details also initially prevent you from enjoying this car's driving experience as much as you might, at least until you become familiar with the task of driving around them. Chief among those is the positioning and action of the shift paddles for the Mégane RS 280's EDC gearbox. Oh dear, I know, the same record. But having been criticised so strongly for the Clio RS 200's flimsy feeling paddles, it's amazing that RenaultSport should have repeated almost exactly the same offence with that car's new bigger brother.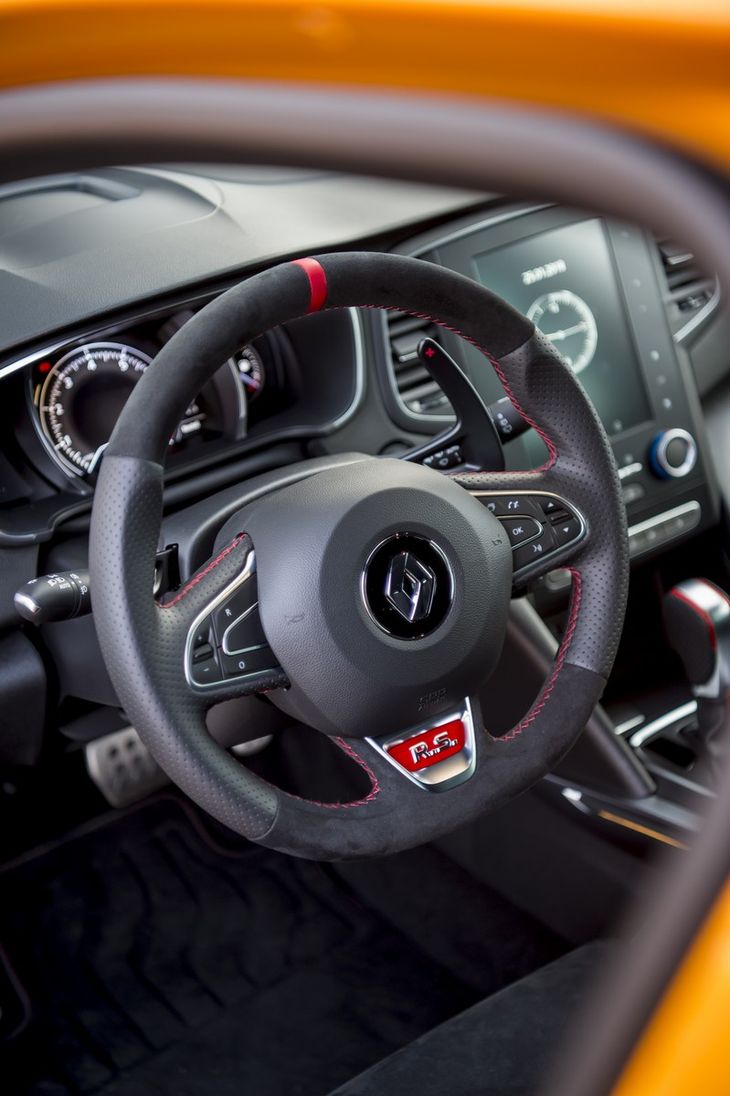 The paddles feel better on the Megane but are still mounted to the column. Thankfully, it can also be ordered with a manual.
The Mégane's shift paddles have better haptic feel than the Clio's, to be fair, and the 'crushed cornflake' action is notable by its absence. But they remain awkwardly placed on the steering column (displaced upwards by Renault's trusty old column-mounted audio remote control) so they're a slight stretch for your fingertips every time you need to grab a gear. They also lack that solid, defined action that'd tell you beyond question when you've successfully selected the next gear. As they are, they feel light and woolly and it's easy to half-pull one, then tug it again just to be sure, only to find you've accidentally upshifted twice.
Renault's EDC gearbox itself does a respectable job of managing the car's gear ratios and gives you something more like that close control you want over the driving forces going into the front wheels than the Clio RS 200's gearbox ever managed. It's much quicker on the upshift than on its way down the 'box, though, and nothing like as smooth or judicious with its shift timing in 'D' as the better 'flappy-paddle' hot hatches with which you might compare it.
Smaller engine any better?
And what about that critical new mechanical oily bit that gearbox is connected to: the engine? On this evidence, I'd say it's strong enough; competitive with the prevailing standard for the average full-sized hot hatchback, certainly. But as a replacement for the old Mégane 275's blown 2.0-litre engine, I'm not sure 'better than average' makes it worthy. Because although the Mégane RS 280 has abundant real-world on-the-road performance, it's not thanks to its engine. The motor is torquey and free-ish revving but also sounds a bit ordinary, suffers a little with iffy throttle response throughout the accelerator pedal travel and doesn't breathe in and keep hauling with anything like the high-range urgency of a Civic Type R's 2.0-litre. As hot hatch engines go, it's just all right.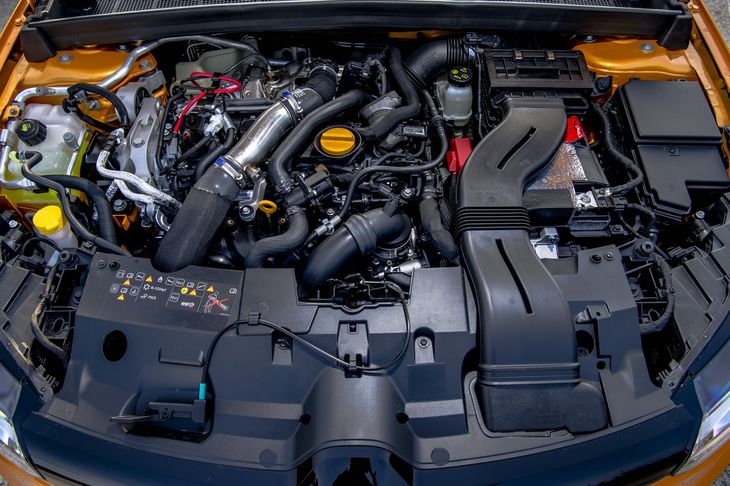 Gone is the 2.0-litre Darth Vader sounding engine, replaced with a 1.8-litre that lacks the same sort of emotional clout.
Now guess what's better than all right. The Mégane's chassis: yup, better than all right. Balls to understatement: it's sensational. The car steers faithfully, with useful weight and plenty of feel. But the deftness, suppleness and fluency of its ride is outstanding on bumpy roads, and is somehow set off against first-rate, progressive body control in a combination that no rival hot hatchback could match, I'd wager.
But better still are the Mégane RS 280's true showstoppers: totally absorbing handling agility, brilliant cornering balance and a flair for playfulness that might even make a Type R seem straight-laced. The Mégane RS 280's four-wheel steering system contributes tellingly to all three, and to greatest effect when you use Renault Sport's Race driving mode, which raises the threshold speed at which it switches from steering against the front wheels to steering in the same direction as them. In most four-wheel-steered cars, this happens at around 60 kph. In the Mégane RS 280 – and in Race mode, remember - you get a counter-steered rear axle all the way up to 100 kph. And so the car turns in with amazing alacrity and carries big mid-corner speed so effortlessly on a balanced throttle.
On a trailing throttle, meanwhile, you'll be amazed by how easily you can just flick it into delicious little neutral-steered drifts, the rear wheels effectively guiding the back of the car ever so delicately into the slide. That's an incredibly enlivening influence on the driving experience of a front-driven performance car at fairly low speeds, when the bends you're tackling are tight, clear and well sighted.
Where does it rank?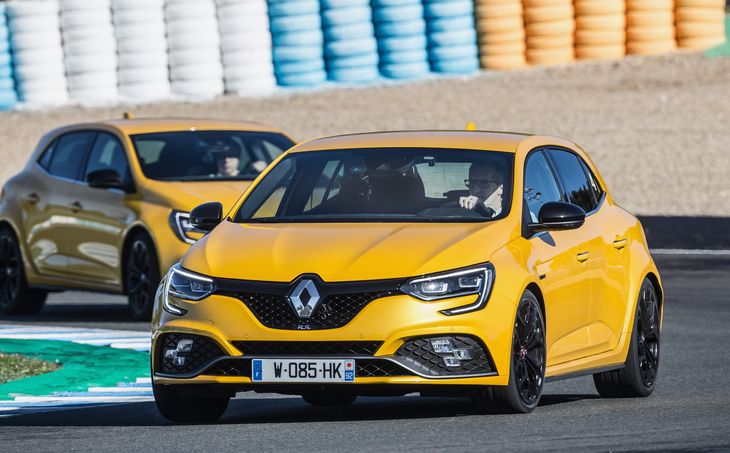 We shall reserve ultimate judgement until we have driven the Cup chassis version.
And where does that leave the Mégane RS 280? Pretty plainly, it's staggeringly good in some ways, 'alright' in others – and not without the odd frustration. In this form, it wouldn't cut it for me next to better, slicker and more complete dual-clutch options from the Volkswagen Group stable. But that's not the end of the story. Because although I'm not convinced this car has the engine it really deserves, the paddle-shift gearbox is an option you need not have. Meanwhile, the handling could yet prove itself capable of hitting even greater heights in Cup specification than it has already in Sport trim.
If it does, how much will a slightly ordinary engine and some curious fixtures and fittings really matter to a devoted petrolhead? Could this be yet another landmark new affordable performance car, set to cut short the Civic Type R's reign as the front-wheel-drive Nurburgring champion? I'd suggest the possibility is very real indeed. Perhaps RenaultSport didn't let all of its best engineers don those new-season Alpine polo shirts, after all.
Related content
Renault Megane RS Coming to SA in 2018 [w/Video]
New Honda Civic Type R Smashes FWD Ring Record (Video)
Volkswagen Golf GTI (2017) Video Review
Searching for a used Megane RS?