RenaultSport (RS) versions of the Megane have arrived and we couldn't wait to give the Lux derivative a full review. The RS division promises enough firepower, but not at the expense of practicality. How does the newcomer fare?
We like: Performance, handling, RS Monitor, exhaust note, responsive transmission, specification
We don't like: Rear legroom
Fast Facts
Price: R549 900 (Dec 2018)
Engine: 1.8-litre 4-cylinder turbocharged petrol
Gearbox: 6-speed electronic dual clutch
Fuel economy: 7 L/100 km (claimed)
Power/Torque: 205 kW/390 Nm
Own a Renault? Tell us about your experience here.
SERIOUS ABOUT BUYING?
Where does it fit in?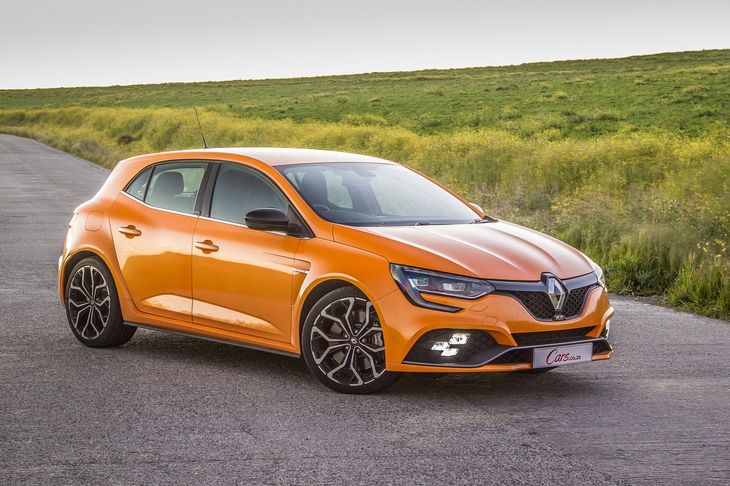 The Renault Megane RS 280 certainly looks the part
The latest iteration of Megane RS has undergone some serious work. There's a new 1.8-litre engine which is both lighter and physically smaller than the outgoing 2.0-litre. This new mill also produces more power and torque, and for the first time, you're able to choose from either a manual gearbox or a dual-clutch gearbox. The best part? There's no price difference between the hardcore Cup and the comfort-focused Lux. Renault SA offers the Cup with a manual gearbox, while the Lux makes do with the EDC 'box. It's interesting to note that the manual-equipped Megane RS Cup goes the analogue route with a manual handbrake, while the Megane RS Lux features an electronic parking brake.
We think the Lux will be the more popular of the two derivatives, thanks to its softer ride and ease of use automatic transmission. It's just as well, then, that its the "softer" RS derivative that we're testing here. Before we get stuck into the details, first impressions count for so much and visually, the new Renault Megane RS280 Lux delivers on-road presence in spades. The vibrant yellow paint sells the package as a whole, but it's the details, such as the big central exhaust, numerous vents and aerodynamic aids, and our favourite, the RS logo-shaped daytime running LEDs/fog lamps that have us salivating. The Megane RS is a vehicle that will be quite an impressive sight in other road users' rearview mirrors.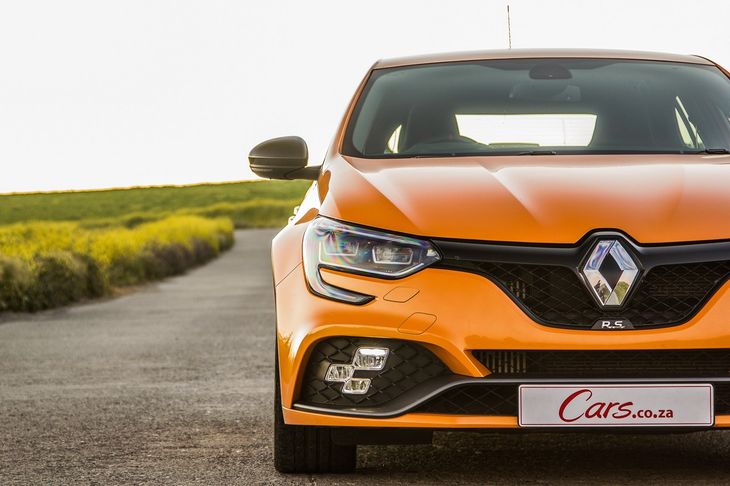 The flared wheel arches, vivid paint finish and RS logo fog lights are imposing
The good stuff
Performance
The new 1.8-litre engine (shared with the new Alpine sportscar) is a masterpiece. Usually, downsizing has negative implications, but there's more power and torque which is appreciated in a performance hatchback. Renault claims a 5.8 second sprint time to 100 kph and thanks to the RS monitor (see below) and launch control, we were able to time our test runs and came very close to matching the factory time. With a sweet 6.15 seconds to 100 kph on the display and the confidence knowing you're comfortably ahead of both the Volkswagen Golf GTI and Ford Focus ST in acceleration prowess, the Renault Megane RS 280 ticks the box marked 'straight-line antics'.
Engage the RS mode and in Sport and Race modes, the exhaust opens up and each gearshift is accompanied by a terrific bang that scares other road users. We're pretty sure that pulling off a gunshot gearshift like this next to a traffic officer would result in a routine stop, but we don't care. Hot hatches are supposed to be about theatrics, entertainment without sacrificing day-to-day comfort. Annoyingly, there's some artificial drone coming through the speakers in the sportier modes. We're happy to report that this EDC gearbox is better than that of the one found in the Clio 4 RS. Sure, the paddle positioning isn't perfect as it is mounted to the column and not the wheel, but there's more than enough feedback and tactile feel to satisfy.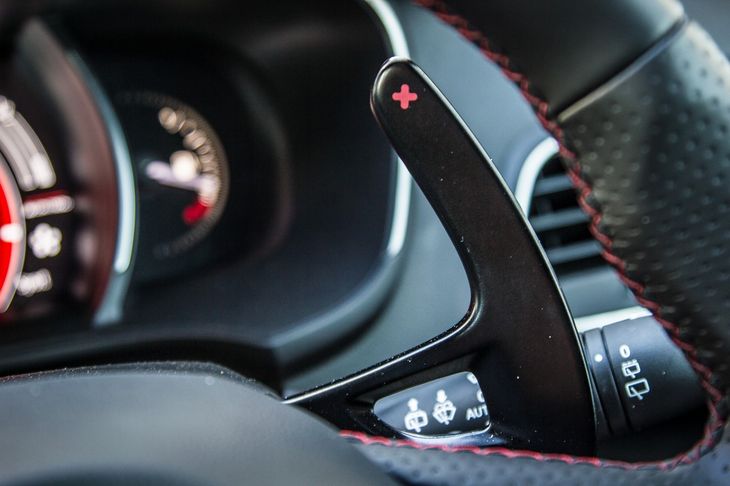 The gearshift paddles are nice to use, but unfortunately are mounted to the column, as opposed to the wheel
Handling
The key changes in the handling stakes is the addition of 4-wheel steer and hydraulic suspension bump stops, which Renault best describes as a 'damper within a damper.' This softer Lux derivative makes do with an electronic torque vectoring system in comparison to the more track-focused Cup, which has a full-fat mechanical slip differential. As clever as the former system is, it just doesn't offer the sort of track carving ability, you'd have to drive the Cup derivative if you're obsessed with precision driving. A past fault of previous Megane RS models was the hard ride quality, even in the Lux derivative. This new model softens things up and even with the optional 19-inch alloys, the ride is never crashingly firm.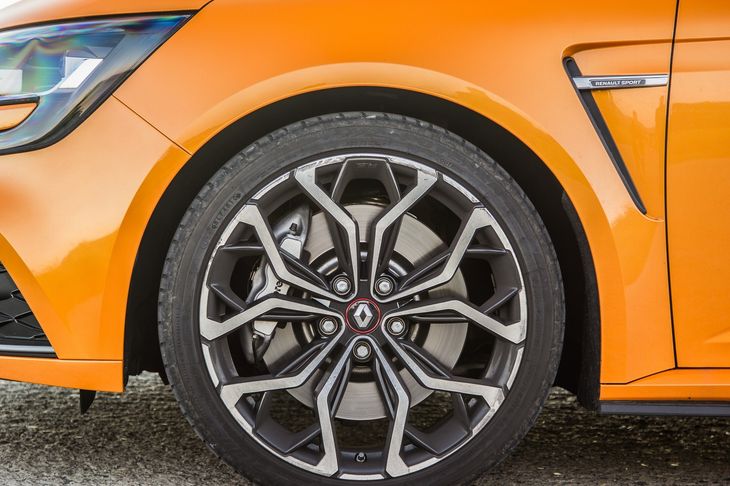 These are the optional 19-inch alloy wheels (which come standard with the Cup model). Note the big Brembo brakes and brake vent
We will admit that the 4-wheel steering setup (4Control) caught us off guard many times. You'd fly into a corner only to find you had turned in too early, thanks to the back wheels working their angles. Get it the cornering right and the Megane rotates beautifully, and you can even provoke it into some completely manageable tail action, which sounds a lot like it bends the laws of physics for a front-wheel-drive hatchback. It's clever tech though and it works at low speeds by turning the rear wheels in the opposite direction to the front wheels. Once you're over 60 kph (or 100 kph in Race mode), all 4 wheels turn in the same direction.
What's particularly interesting is that if you dig into the different driving modes like Perso, you can actually adjust the 4Control behaviour and powertrain responsiveness, and much more.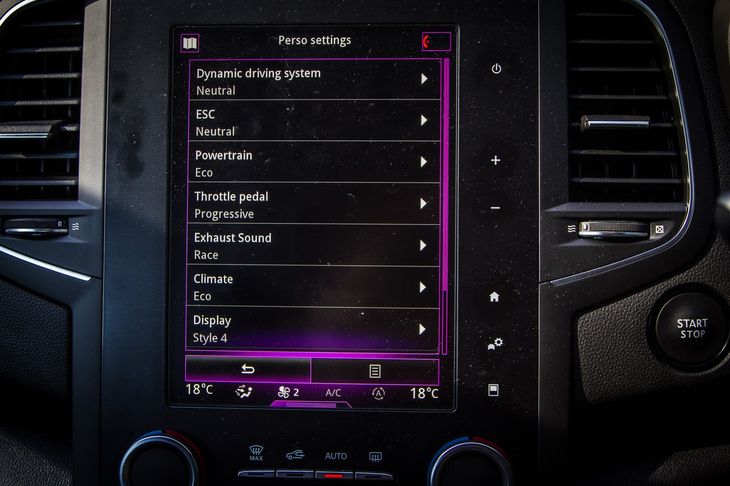 The steering setup is not quite as precise as the previous-generation Trophy, but we're happy to let this slide as this the comfort-focused model after all. That being said, it delivers credible feedback, is accurate and is quick to respond. Also, you won't need much lock to turn, irrespective of the tightness of the corner. With all that pace, you're going to need some serious stopping power and it's in abundance thanks to big 355 mm Brembo anchors. There's not much pedal travel and you can stand on them hard, bringing the Megane RS 280 to a prompt stop. When you deploy full anchors and call upon ABS, the hazard lights come on automatically.
RS Monitor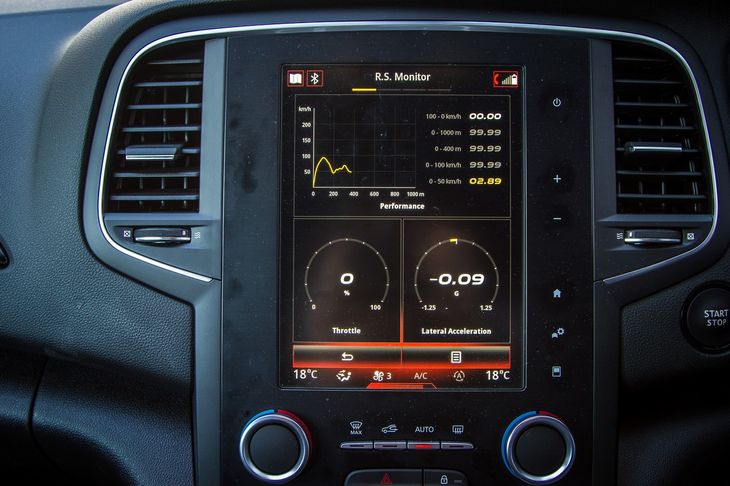 The second generation RS Monitor takes telemetry and performance data to the next level
We loved the previous version of the RS Monitor in the 275 Finale and Clio RS. However, Renault has taken it up a notch with this new-look performance system. It's essentially a telemetry system and features things like a lap timer, with memory function; performance data (acceleration times, g-force), data for the main engine functions, including oil temperature and brakes plus real-time engine performance data (torque, power etc). If you into raw data and consider yourself a driving nerd, the new generation RS Monitor will be right up your alley.
Standard features
The list of standard features at this price point is incredible. In fact, the only options are the RS-specific metallic paint and 19-inch alloy wheels. There's tyre pressure monitoring system, rear parking sensors, cruise control / speed limiter, rain and light sensors, heated front seats and a comprehensive infotainment setup. This includes satellite navigation, Bluetooth connectivity, USB/Aux inputs and Android Auto/Apple CarPlay.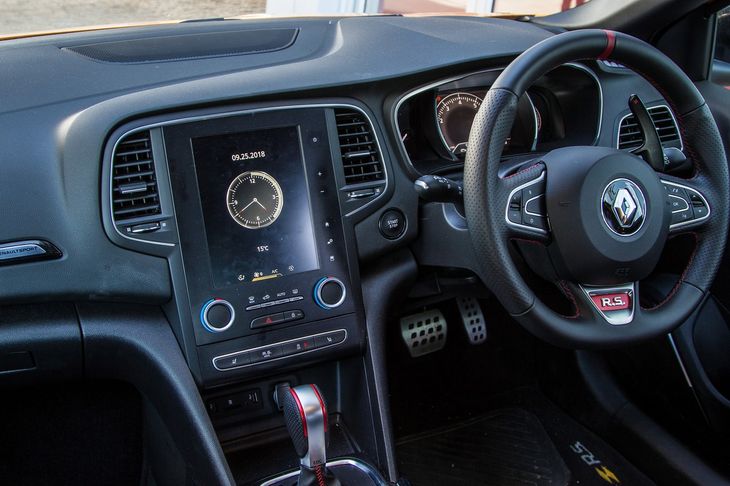 The not so good
Rear legroom
Despite the move to a 4-door practical shape, the rear passenger area is not the most generous. If you're a tall adult, you're going to battle with legroom and headroom, and it feels a bit tight in the back. The boot, however, makes up for things and is almost up there with the segment-leading Honda Civic Type R in terms of space.
Pricing and Warranty
The Renault Megane RS 280 is available in 2 flavours: Lux EDC and Cup manual. Both cost exactly the same amount at R549 900. The Renault Megane will be sold as standard with a 5-year/150 000 km mechanical warranty, a 5-year/150 000 km service plan (with service intervals at 15 000 km intervals on the core range and 10 000 km on R.S. models) and a 6-year anti-corrosion warranty.
Verdict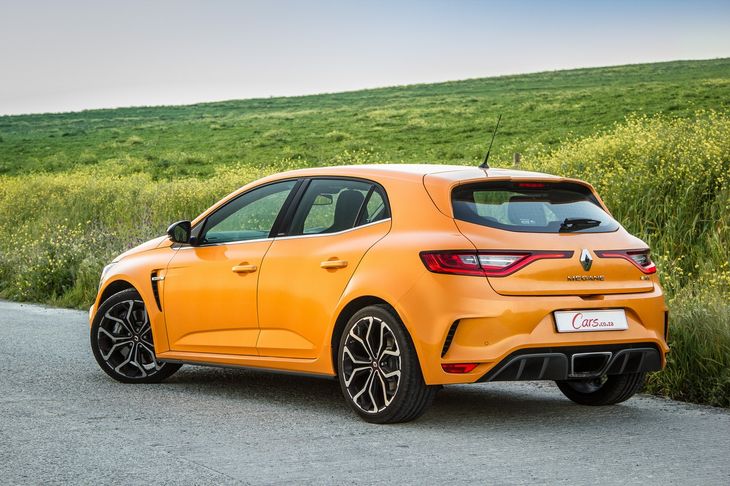 The Renault Megane RS 280 Lux: Fun, without too much compromise. Want some more craziness? Wait for the Trophy?
The Renault Megane RS is one of those cars that has to set the benchmark for dynamism – if not in its segment, then certainly at its price point; each successive model is expected to pull off a repeat performance. Can this 4th-generation Megane RS satisfy hot hatchback purists? "Effortlessly so", is the short answer. Which is a relief because, with the switch from Clio 3 RS to Clio 4 RS, Renault's hot supermini lost some driver engagement in the pursuit of user-friendliness. Many feared the Megane RS would suffer the same fate. The last Megane RS275 Finale was a majestic driving tool, which was compromised owing to manual-only 2-door hatchback packaging. Megane 4 RS addresses these compromises, and much more.
Yes, the addition of a 5-door body style has made the RS a practical proposition, which hadn't been the case since the 2nd generation RS 225. Practicality and day-to-day driveability are but 2 reasons why the Volkswagen Golf GTI is rampantly successful in the compact hot hatch segment and while we all dream of setting front-wheel drive lap records on race circuits, the cruel reality is that these cars will often be required to patiently creep through gridlocked traffic with the kids buckled up on the rear seats. The Megane RS280 Lux's automatic is certainly a boon in that regard and besides, the availability of numerous driving modes means you can easily switch from Commute mode to full-on GTI hunter at the touch of a button. And, when you're not pressing on, this derivative of Megane RS is not only quite socially acceptable, but its overall refinement is quite satisfactory.
Driving enthusiasts and RenaultSport traditionalists will bemoan the "dynamic softening" of the Megane RS 280 Lux, but they can look to the more-focused Cup version, which we've yet to drive, and for those who want the ultimate Megane RS, the Trophy derivative, which has even more power and is specifically engineered to attack lap times, will be coming in the 3rd quarter of 2019. As an opening salvo for the 4th generation of the Megane RenaultSport in the South African market, the Lux offers sufficient driving thrills complemented by a host of talents that broaden its appeal.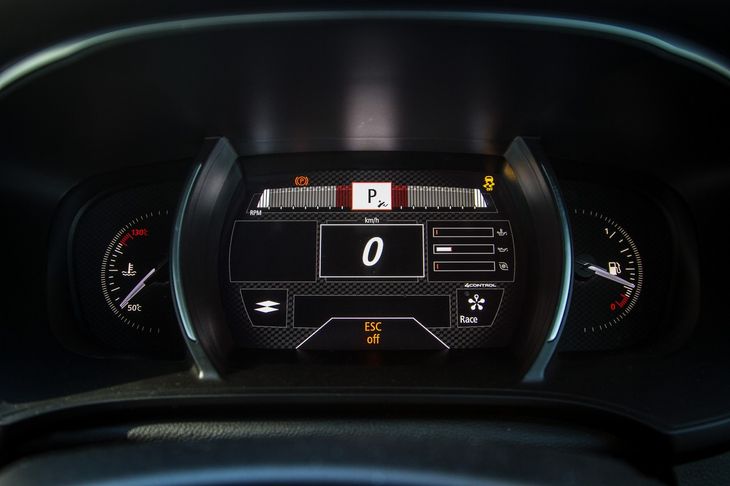 The part analogue / part digital dashboard is crisp and clear, and offers different themes. This readout is in Race mode
Alternatives (click on the names for specification details)
The segment's bestseller is priced in a similar bracket to that of the Megane, but substantially down in power and performance by comparison. It also lacks driving thrills and doesn't feel quite as special as its iconic nameplate suggests. Still the most complete offering, though.
Although its production was recently discontinued because of the imminent arrival of a new generation Focus, the ST's 2.0-litre turbo is closer in terms of outputs and performance to the Megane RS than the Golf GTI. As an overall package, it's pretty impressive if you consider that it's R50k cheaper than the Renault. How appealing is a car that will soon be obsolete, however?
It currently holds the Nurburgring record for front-wheel-drive hatchbacks. While some may not like its outrageous styling, we believe its appropriate and besides, it's more practical than you'd expect. Its 2.0-litre engine produces 228 kW and 400 Nm, making it a little bit more powerful than the RS.
The turbocharged 3.0-litre 6-cylinder BMW brings something extra to this party by having rear-wheel drive. It is getting a bit long in the tooth and is due to be replaced by an all-new BMW 1 Series in the near future.
Looking for a new/used Megane to buy?
Find one on Cars.co.za today by clicking here
Related content