RenaultSport's famed Cup chassis is now available in the Megane RS. Unlike its 280 Lux sibling, which has an EDC automatic transmission, the 280 Cup comes with a manual 'box and favours handling prowess and an involving driving experience over cosseting road manners and everyday comfort. Does it live up to expectations?
We like: Blindingly quick everywhere, great manual 'box, 4-wheel-steer gives it a unique character.
We don't like: Lost a bit of the hard-edged feel of the previous Cup. Exhaust note/engine rasp not that entertaining.
Fast facts:
Price: R569 900 (Feb 2019)
Engine: 1.8-litre, 4-cylinder turbopetrol
Transmission: 6-speed manual
Power/Torque: 205 kW/390 Nm
Fuel economy: 7.2 L/100 km
Own a Renault? Tell us about your experience here.
SERIOUS ABOUT BUYING?
Used examples of the Renault Megane RS are offered for sale on Cars.co.za.
Some Renault dealers regularly offer specials: Have a look here.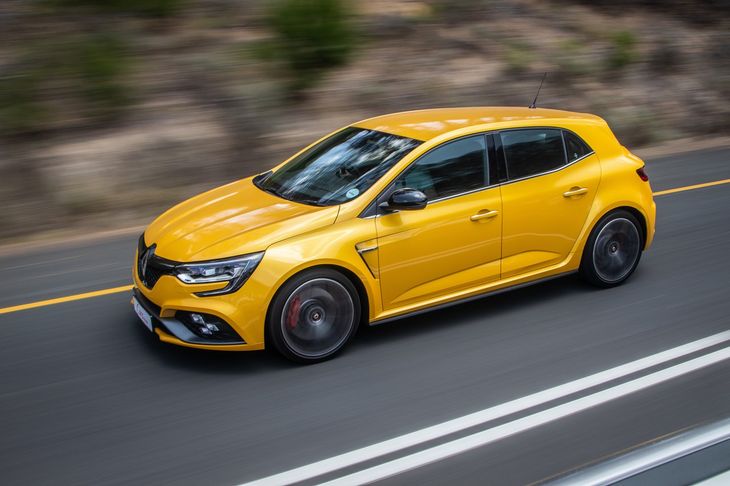 The new Megane RS Cup is a good looking hatch with a few tricks up its performance sleeves.
Where does it fit in?
The last few generations of Megane RS have really challenged the perceptions of what compact-sized hot hatchbacks, let alone front-wheel-drive cars, can achieve dynamically. The RS 280 is available in the Lux, which offers rapid performance, but has a more comfortable suspension setup (and dual-clutch auto) and the Cup is simply a more driver-focused machine made for hot hatch aficionados; it's offered exclusively in manual guise. Moreover, the latter comes with a mechanical limited-slip differential, red-painted Brembo brake callipers and a 10%-stiffer damper setup.
The good
Front-driven and then some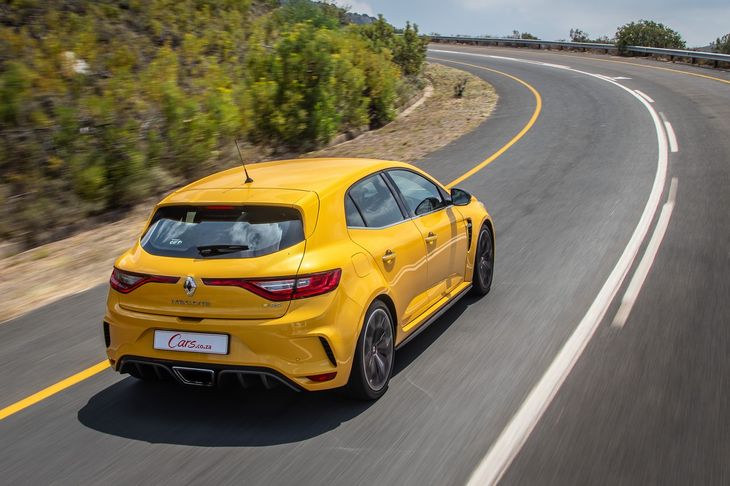 The 4-wheels-steer system gives the RS a character no other car has.
As a driver's car, which is exactly what the RS is supposed to be, the Cup has a unique feel that makes it far more interesting to pilot than most of its hot-hatch rivals. It all comes down to the 4-wheel-steering, which turns the car more at low speed and then keeps it stable during high-speed cornering.
The system requires some familiarisation, especially when you drive the Cup enthusiastically on a public road (not a race track). Front-driven cars usually offer lots of grip, but inevitably push their noses when their front tyres reach the limits of their adhesion. In this iteration of the RS, such understeer is mitigated by more turn-in as the rear wheels rotate the car further, effectively giving you another level of grip and agility. While we were still getting the hang of the test unit's 4-wheel-steering – in extremis – we found ourselves turning into corners too sharply, which prompted us to turn out the 'wheel midway through bends; such was the Cup's propensity to hug apexes with vigour, despite our best... even overeager... efforts.
After a few days' practice, however, you should get the hang of it and realise just how much the 4-wheel-steering system, in combination with the car's low centre of gravity, augments the Cup's handling. Whether you're cornering off-throttle or powering out of a bend, there's no need to back out of the steering and wait for grip; it's always there. As ever, the front-end inspires much confidence, but the (subtly pivoting) rear wheels do their bit.
Engaging to drive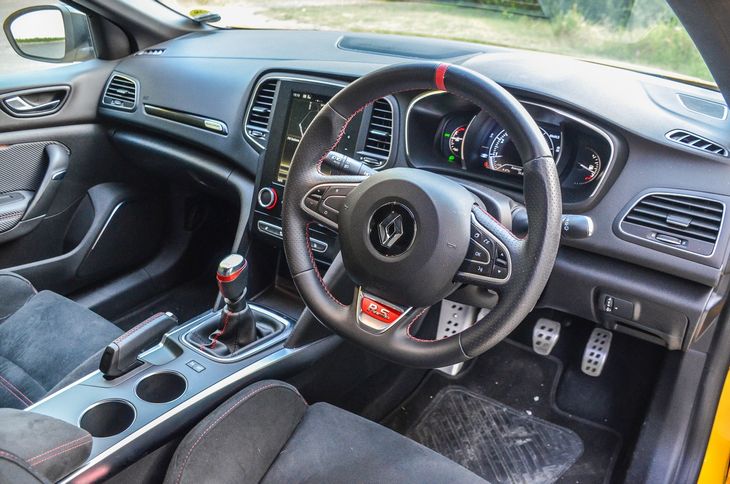 Yes, manual gearboxes are still a thing. An increasingly rare thing, mind you.
The current trend in hot hatches is to have electronic control for virtually everything: the car's central processor will adjust how much weight the steering 'wheel needs, how firm or pliant the dampers should be and alter the shift pattern of the dual-clutch transmission to suit whichever mode the driver has selected. And yet, it feels so good to have a manual 'box and a heavy clutch combined with a mechanical slip diff. You can really be the driving force and engage with the experience when you're slipping your hand off the wheel to grab another gear or reel off a heel-and-toe downshift.
Compared with its predecessor, the Cup's engine has been downsized to 1.8 litres (from 2.0 litres), but it's more responsive and cranks out a few more kW (205 kW up from 195 kW). This motor exhibits less turbo lag too, which means you can use a higher gear when pulling out of corners.
The steering in the Megane RS range has always been a highlight delivering a quick and very mechanical feel to the tiller that's responsive and returns razor-sharp feedback. The new model remains sharp and delivers a lightspeed connection to the front wheels but some of that pure feedback has gone missing. It may be something to do with the electronics that slightly numb the feedback, but for an electric steering system, it's very well-weighted and instils great confidence in the front end.
Always get good seats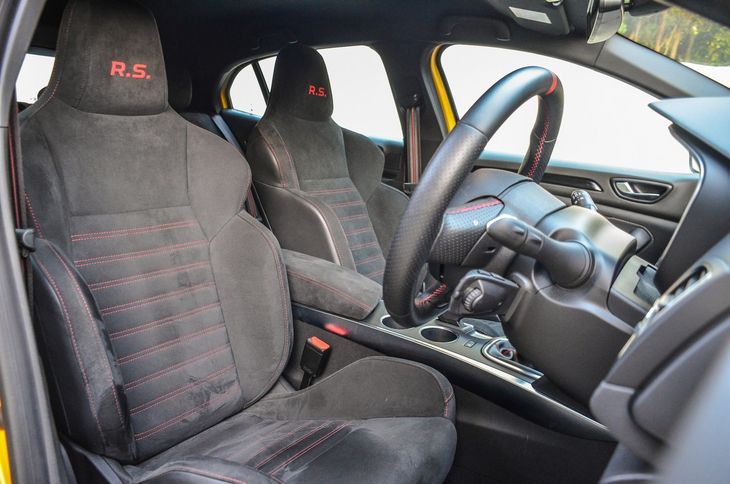 The best seats in the hot hatch segment.
The Alcantara seats in the RS are supportive everywhere and the adjustability is substantial. You can get the seat really nice and low - for those who covet this sort of position and the minor centre of gravity improvements that come with it. A tightly supportive seat is a must for track day enthusiast and on that note, the Renault offers a vast array of track tools in the form of downloadable telemetry. The on-board system captures data from steering, throttle, brakes, speed, and g-forces and then allows the driver to analyse them afterwards - every track day driver needs this tool - after all, data analysis the fastest way to go quicker.
The not so good
A little softer than old Cups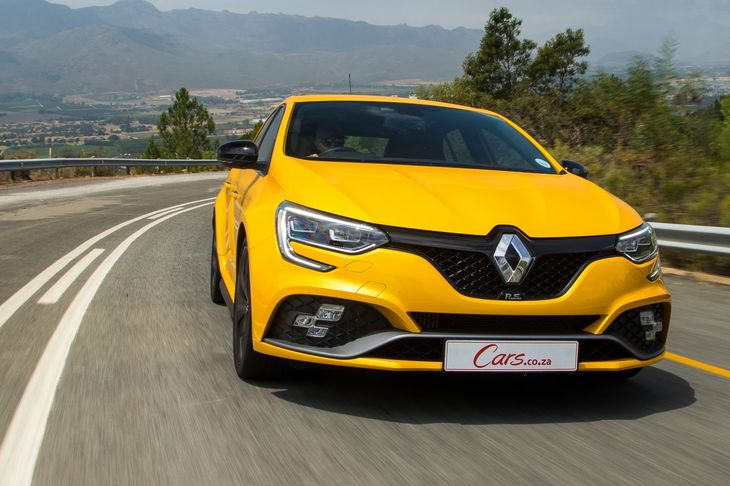 True track day enthusiasts may find this new Cup chassis softer than the previous model.
There were no doubt more than a few prospective buyer and owners that complained about the previous RS Cup chassis being far too hard for every day and being a little tiresome. For this gen, the Lux model has really filled that hole well as a proper Golf GTI rival that's capable in all conditions. The Cup then should remain a hard-edged racer's tool, right? Well, it's harder, yes, you can feel the added stiffness and performance gains when sending it into corners and really giving it a good rip on track. It does, however, feel softer than you'd expect from a track tool. There's a hint more body roll than expected and though the front end is quicker than any rival within sight of a Civic Type R, there's still room for a bit more improvement.
Where's the sound gone?
The raspy induction noise has gone and is replaced with a bit more of a mellow and less violent hum. A quick flick through the drive setting modes and an off-throttle popping and banging accompanies you down the road. It's artificial, but a decent noise nonetheless.
A difficult infotainment screen
While the infotainment screen isn't unique to the RS, it does make it quite difficult to manoeuvre through screens and the touchscreen needs a solid prod to accept a command. Considering some of the clean, hi-res screens in the competitors this is a weak point in the Megane range.
Pricing and warranty
In spite of the more racy equipment on the Cup, it costs exactly the same as the Lux at R569 900. Considering the closest thing to it in terms of all-round performance is the Honda Civic Type R at R648 300 it represents a decent offering, for the price. It's also just about the same price as a VW Golf GTI. The Megane RS is sold with a 5-year/150 000 km warranty and a 5-year/90 000 km service plan.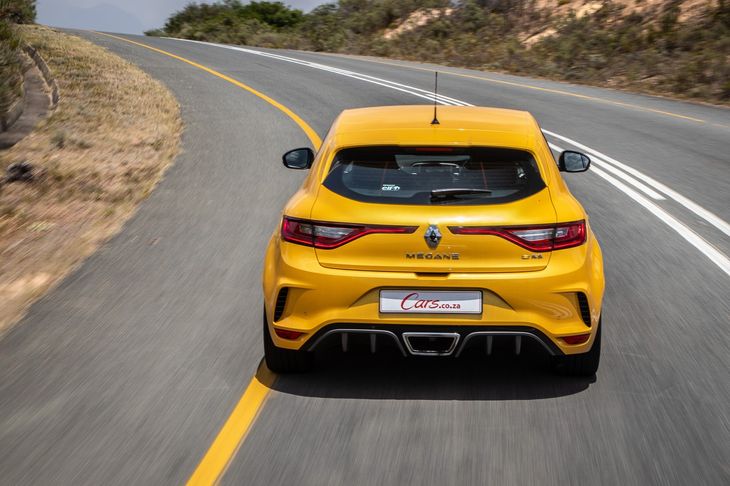 It's nice that a hot hatchback maker still values some good old diver input in its cars.
Verdict
The new Megane RS is a looker and, in Cup form, it offers sharper handling and greater driver involvement than its Lux sibling. The stiffer chassis, mechanical limited-slip diff and Brembo brakes make it feel tractable, eminently wieldy and, when the opportunity presents itself, at home on a track.
The engine delivers great acceleration and the torque curve allows you to hold higher gears longer and power out of corners at full throttle. The introduction of 4-wheel-steering has made the biggest change to the Megane RS, however. Compared with its predecessor, the Cup offers better mid-corner turn-in and effectively quells that eventual understeer that tends to ruin the driving experience in many front-wheel-drive hatchbacks.
It does lack some of the real hard-edge of the previous Cup, which made that car almost unbeatable on a race track. And although this model is undoubtedly faster than the car it replaces, its driving experience is not quite visceral, seat-of-the-pants... or emotive... enough to fully satisfy hot hatch aficionados. For now, if you want a Megane RS, get the Lux and, if you seek a real track toy, wait for the RS Trophy; it's coming later in 2019.
Alternatives (click on the names for specification details)
The 2018/19 Carsawards winner for best Hot Hatch is a multi-purpose piece of kit that feels at home on a race track like no other car in its class. It's also eerily good on the daily grind too. It is a little expensive however.
The segment leader for many years now, the Golf GTI covers all the bases but offers a tame track experience compared to the Renault. There is a much hotter TCR version on the way.
The Mini JCW offers up sparkling performance in a pint-sized box. It's more a fun toy than a track tool but won't disappoint if you spend more time on mountain passes than race tracks.